Pumpkin Patch Nashville is dubbed to be one of the most favorite family-friendly activities to do in Nashville. During the fall festivals, families visit a farm that gives hayride tours, has a large cornfield to explore, lets you pick up your own pumpkin from pumpkin patch Nashville, and pet the animals in the petting zoo.
Kids enjoy these fall activities, and hence there are several pumpkin patch Nashville that residents and visitors of Middle Tennessee can visit. Pumpkins are used as fall decorations during Halloween, thanksgiving, and other fall festivals.
Hence you should definitely go for pumpkin picking through the best pumpkin patch Nashville has to offer. The pumpkin season starts in late September and goes through October.
Let's get into the farms that offer the most fascinating and stunning pumpkin patch Nashville.
1. Lucky Ladd Farms, Eagleville TN
Lucky Ladd Farms is one of the best farms when it comes to pumpkin patch Nashville. The pumpkin patch is said to be top five among all the pumpkin patch Nashville. You can get to pick your own pumpkin if you get a season pass to the farm.
You might not get to pick your pumpkin directly from the patch, but you can select your perfect pumpkin from their pre-harvested batch. The staff will guide you on which pumpkins are good for decorations and which are suitable for baking and cooking.
The farm also has a corn maze, which is declared to be the best. They design a new maze every year to baffle their visitors. Along with this, Lucky Farm has a park that has giant slides, adventure swings, climbing obstacles, and many other fun rides for kids as well as adults.
Besides their pumpkin patch and corn maze, they offer hayrides to the vegetable patches, pony rides for kids, a petting zoo, and sell a lot of their vegetables and fall decorations like colorful chrysanthemum, strawbales, gourds, and other yard and home decorations.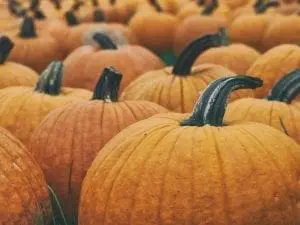 2. Cheekwood Harvest, Belle Meade TN
Cheekwood Harvest has an impressive pumpkin patch Nashville, is loved by everyone. They take their pumpkins from their pumpkin patch Nashville and turn into two pumpkin houses, for you to admire.
The 11-foot pumpkin houses are as astounding as you can imagine; you can pick pumpkins for your fall decorations and other purposes like carving and painting. They have various types of pumpkin for you to buy.
The garden estate also has colorful chrysanthemums for visitors to buy. They also organize a Pooch Parade and Dog Night Harvest for your dogs to enjoy. Don't forget the poop bags, and be ready to take your family and dogs with you.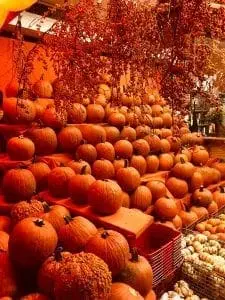 3. Shuckles Corn Maze & Pumpkin Patch, Greenbrier TN
The Shuckels Corn Maze and Pumpkin patch in Fiddle Dee Farm is an award-winning pumpkin patch and corn maze. The pumpkins from this pumpkin patch Nashville are available for sale for your yard decorations.
This pumpkin patch Nashville has the best enjoyment activities to engage your kids to a full day of fun. There is pumpkin bowling, carving and painting of pumpkin, pumpkin tic-tac-toe, hayride pumpkin patch, and a mega super pumpkin slide.
Along with all this, the Farm has an eight-acre corn maze, a rope maze, zip lines for kids, a Fiddle Dee fort, and Wild Fiddle Dee Kingdom. This pumpkin patch and Corn maze place are quite popular among the locals due to its fun and unique activities.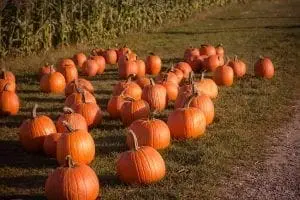 4. Honeysuckle Hill Farm, Springfield TN
One of the best option you can opt for visiting a pumpkin patch Nashville. Honeysuckle Hill Farm has a variety of activities and live entertainment to keep your spirits not to falter. You can get to pick pumpkin right from their pumpkin patch, which gives you a look into pumpkin harvesting.
You can also choose pumpkins from their pre-harvested patch too if you don't want to go through the hassle. You can find many spots to click pictures with perfect pumpkins and buy the pumpkins are sold by 43 cents per pound.
Moreover, you can also join the farm's autumn festivities, including amusement rides, a corn maze, farm animals, pig races, a song by chickens, a cow train, and festival food. So take your family and friends and enjoy a whole day on this fun farm while enjoying the fall weather.
This fam has the most fascinating and fun getaway for you and your family to enjoy, with 30 attractions to visit.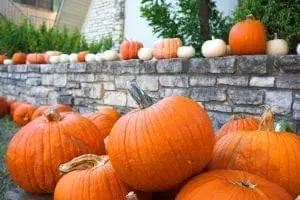 5. Keller's Corny Country, Dickson TN
Keller Corny Country has the biggest pumpkin patch Nashville, in the whole Middle Tennessee region. You can choose the best pumpkins, in your opinion, from their pre-harvested patch. Visitors can get a season pass and then visit the pumpkin patch every day.
The farm also has organized kid-friendly zip lines, jumping pillows, a corn maze hayride, and a playground. The food you can buy from their local food stall includes hamburgers, hot-dogs, and kettle corn, along with some beverages.
The farm can also be booked for weddings, corporate events, family reunions, and other events.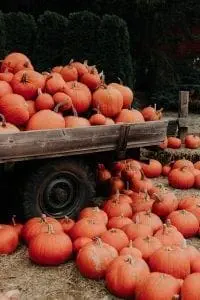 6. Walden Pumpkin Farm, Smyrna TN
Walden Pumpkinis a must-go when you want to have a family fun weekend. Their pumpkin patch Nashville is sprinkled with giant and tasty pumpkins waiting for you to buy it. Each pumpkin costs around 3$.
The farm also provides with a small wagon, which can be pulled by hand, on which you can keep your pumpkins, and sometimes your kids can sit and rest until they ready again to explore the farm.
You can go for pumpkin picking along with enjoying food like hot-dogs, BBQ, and hamburgers. You can also get desserts like brownies, pies, cookies, pumpkin bread, and pumpkin fudge. Visitors can also go for a hayride tour, explore a corn maze and sand art.
They also have kid-friendly attractions too. Fall decoration items, including scarecrow, wreaths, and candles, can also be bought from their store. Do not miss their locally sourced honey, jams, and pickles.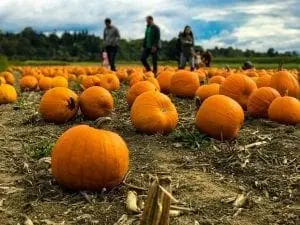 7. Cedarwoods Farm, McMinnville TN
In Cedarwoods, you can pick your own pumpkin from their extensive number of pumpkins grown in pumpkin patch Nashville. You can take as many as you can carry as the pumpkins are affordable here.
The farm also a hay maze, a corn maze, a pumpkin train, tire city, super slides, petting zoos, and many more attractions that should never be missed out. Both kids and adults can enjoy the attractions.
The food stall set up by the farm sells delicious corn dogs, chicken strips, BBQ, and desserts. You can also buy fresh chrysanthemums, gourds, corn stalks, straw bales, and many other fall decorations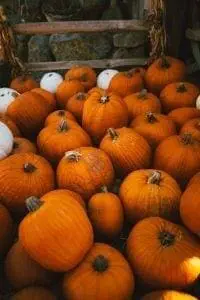 8. Wilson Family Farm, College Grove TN
Wilson Family Farm has the friendliest atmosphere of all the pumpkin patch Nashville places. The farm is run by a couple named Ace and Lynn, who greet their visitors when they come. They have a variety of pumpkins from which you can choose the most suitable one for you.
Visitors can pick your own pumpkin and pay for it when they exit the patch. Additionally, the farm also organizes a hayride around the vegetable patches and the farm. Their five-acre corn maze is challenging yet intriguing, which can be enjoyed by all ages.
They also have a hay mountain on which kids can climb and slide down. The family farm is very affordable and not at all commercialized. They also sell their fresh vegetable harvest along with homemade food items like kettle corn, pepper jellies, and hot sauces.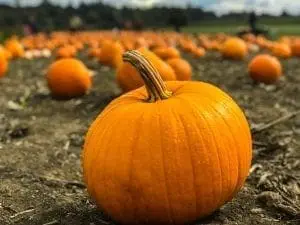 9. Loyn Family Farm, Taft TN
Loyn Family Farm has everything that you would require you and your family to enjoy a fun outing during the fall season. Visitors can handpick their choice able pumpkin from their pre-harvested pumpkin patch Nashville, which is said to be the biggest in the Tennessee valley.
You can either take a walk to their pumpkin patch or ride a wagon to reach there. Each pumpkin cost 5$ no matter what the size is. Loyn also has a giant corn maze, which is said to be the best place to get the feeling of autumn.
The family farm also organizes a petting zoo for kids to pet goats, horses, and other domesticated animals. Children can go for zipping lining, ball throwing, corn box, rat rollers, and jumping pillows. For adults, they have super slides, duck races, and pig races. These can be enjoyed by kids too.
You and your family can for tractor rides, cow train rides, and wagon rides. The farm also has excellent food to order like Hamburgers, French fries, various types of pies, funnel cakes, caramel apples, fried Oreos, pizza, pasta, chicken, and soft drinks.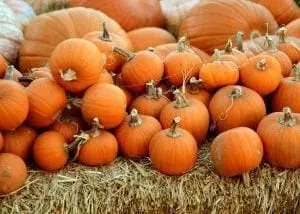 Pumpkin Patch Nashville
When the fall season arrives, don't shy away from the comforts of your home. Go out, take a car, and drive to one of these farms. Take a breath of the crisp autumn air and get on with the activities organized by each farm, which make you happy and joyous.
Visit a pumpkin patch Nashville, choose a pumpkin to bring it home with you. You can either carve and decorate the pumpkin or just make it into a pie. While you are at this, buy some yard decorations for your fall festivities.