As an affiliate-driven website, Icy Tales earns from qualifying purchases.
We all think there is not much difference between bourbon and whiskey, but people who are really into stiff drinks know their alcohol well. However, it is not necessary to only know alcohol if you are a consumer but no matter your preference on the bar, nothing should ever stop you from acquiring knowledge.
This article will precisely discuss the difference between bourbon and whiskey, two of the strongest and most trendy drinks. Not only this, but this article has also mentioned all other whiskeys and other spirits for your information.
Nowhere in this article is it supported or suggested to try alcohol. Alcohol is a dangerous substance that can make a person addicted to it and can even lead to severe consequences like cancer or death.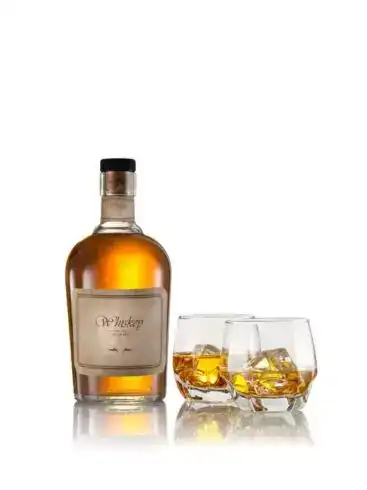 1. What Is Whiskey?
Whiskey or whisky is a distilled spirit alcoholic drink typically made by fermented grain mash, including fermented grains like wheat, barley, corn, etc. Whisky has a gold to dark honey-colored texture, a grainy aroma, and a strong acquired taste.
Whiskey is usually produced by fermenting grain mash into charred oak barrels made from wooden oak. Whiskies are made in whisky stills, usually stainless steel, to prevent them from reacting with sulfur-based compounds.
After this process, whisky is left to be aged in wooden barrels for years to taste great. This age of whisky between the wooden casks and the bottle counts and makes your bottle of whiskey from costlier to expensive.
After the aging process comes to the stage of packaging, filled in bottles, labeled with tax and precautions, and then sold to the nearby market, most whiskies are exported worldwide, counted as step four of its preparation.
2. History Of Whiskey
The distillation process has been evident in history since Mesopotamia and the time of the greeks in the 1st century AD. The alcoholic distilled mash whisky/whiskey was introduced in 13-the 15 centuries. But proper accounts of distilled alcohol were found in Italy for wine for medicinal purposes since then; alcohol distillation started happening in the areas of Ireland and Scotland, which led to the formation of scotch whisky.
In the beginning, whisky was used for medicinal purposes. Still, later, its popularity started creating its likeness, and it was all over the world from the 18th century until the 20th century, when many countries officially banned whisky.
3. Types Of Whiskey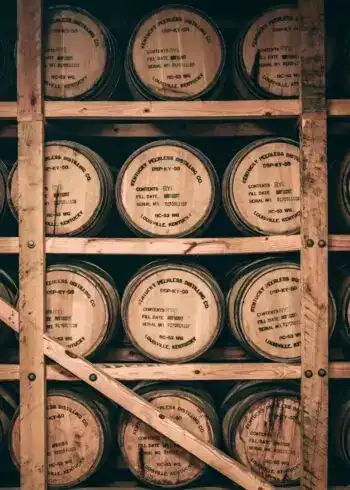 According to the types of whiskey barrels, and their grain mash bill, the way they are aged, there are currently several whiskies on the market. Some of the very common types of whiskey are bourbon; however, others are
Rye whiskey
Scotch whiskey
American whiskey
Tennessee whiskey
Irish whiskey
Kentucky bourbon and whiskey
Japanese whisky and other whiskies
One can find many types of whiskey in the liquor store, the native spirit, and many other caramel coloring alcohols, but not all whiskey is bourbon or scotch. Now is the time to read about the difference between bourbon and whiskey.
4. Difference Between Bourbon and Whiskey
4.1. What Is Bourbon Whiskey?
After the famous tv series known as the vampire diaries, bourbon whiskey had gained a lot more popular than before, especially when, after the series, its lead male actors started their bourbon whiskey brand, which is quite popular among the vampire diaries fandom. It is in the market with the brand name "the brother's bond whiskey," starting selling from the California region of the United States to almost every state in the United States of America soon.
Bourbon whisky is a brown liquor, a type of American whiskey made from corn after its barrel aging process. Whiskey is bourbon when it is made from corn mash and then left to be aged in one distiller.
There are several types of American whiskey like rye whiskey, Tennessee whiskey, Kentucky whiskey, and bourbon whiskey is one among it. The important part about these American whiskeys is that they are made from at least 51 percent corn.
The special part about bourbon whisky is its sweet vermouth flavor that tastes a little similar to vanilla and is finer with great taste. So the great difference between bourbon and whisky can be considered its taste, bourbon is a type of whiskey, and whiskey, in general, can have several tastes according to its type.
5. History of Bourbon Whiskey
It can be said that bourbon whiskey has no special origin mentioned in history. Still, it is sometimes referred to as the french dynasty of bourbon, even the bourbon county in Kentucky and even the bourbon street in New Orleans.
However, irrespective of its origin, it can be made anywhere with its authentic production ingredient or the mash bill that demands at least 51% of corn to be distilled for about 70-80% alcohol then; only a bourbon is whiskey.
A whiskey is called bourbon when it is left to be aged in the American charred oak barrels to gain its real taste of sugars and vanilla from the vanillins present in the charred oak barrels. After its maturing process, straight bourbon whiskey is usually transferred to be filtered and diluted for consumption. The more the age, the finer the taste and quality of bourbon, including its color.
The difference between bourbon and whiskey is not about what its origin or what its color is, but about how it was made and more about what people like, as whiskey can be Irish whiskey, scotch, Japanese, or any other type but not all whiskey is bourbon, it is in particular made from 51 percent corn and then aged in new charred oak barrels to gain its authenticity, unlike any other whiskey. Both bourbon and whiskey are the strongest of the spirit drinks and should be consumed with caution and accessibility guidelines stated by the health care precautionary.