A list of tips, tricks, information and easy painting ideas for beginners. Curated especially for the growing artists of today.
If you're one of those people who always wanted to develop a new hobby to feel more connected to themselves, you're in for a treat as I bring to you one of the easiest yet extremely engaging pastimes of all, painting.
I'm sure the urge to pick up a paintbrush and splatter all your ideas on a canvas and bring them to life seems like a terrifying process if you're starting with this. And it is no secret that we are all scared of making mistakes in doing things we are not the best at.
But to encourage you to participate in the wonderful learning process, I quote Bob Ross, the famous artist and art instructor: "We don't make mistakes; we have happy accidents."
Before starting, You must have all sorts of questions in your head, such as what are the kind of creative ideas you'd want to pursue? What medium to use? What kind of art supplies would you require? What textures to explore?
And In this article, I will cover all things painting for beginner artists.
How to Start Painting
Painting is an immaculate way for anyone from any age group to express themselves creatively and healthy. It helps them find the inspiration to deal with their emotions and individual issues.
To begin your journey as an artist, you need some basic painting supplies to help you through your way.
A few of the most basic simple tools required for you to start your creative process are:
Some paints
Brushes
Colour Palette or a flat plate to act as a palette
Paper/Canvas or any surface you would like to use for painting
Painter's tape (If you like clean-straight Edges)
And the most important of all is a mind full of curiosity and enthusiasm to create art And have fun with it.
How to Choose Your Paints
The first step to begin as an artist requires you to choose paints, And Here I'll be providing you with some helpful tips on how to get started and what materials you could use.
Now You can choose what you like best or use what you already own.
Watercolour
Watercolour paints are extremely convenient. All you require are a few high-quality papers for better absorbency, a washcloth and some brushes to work along with.
Watercolours are easy to use as they can be reactivated by water for easy blending. Watercolour provides a diversity of textures and techniques to work with, therefore is extremely user-friendly and so much fun to use.
From A home decor piece to a fun activity you'd want to do with your friends or family on a day out, watercolour paints may prove to be the perfect Aid to turn your Picnics or meet and greets Memorable in a fun way.
By creating cool Abstract art pieces together and give them a personal touch to make them a more intimate deal.
Acrylic Paint
Acrylic Paint is another very dependable and resourceful medium to begin painting with. It's a very negotiable medium and dries up quickly, giving you a chance to paint over anything that does not feel correct to you.
It is very adaptable as it can be made thinner in comparison and used like watercolours and gouache to accommodate layers in your painting ideas. It can be worked within a thick consistency like oil paints.
Acrylic paints are very durable and are appropriate for several kinds of surfaces, ranging from canvas and wooden blocks to other household items. Acrylic Paints are handy in adding a personal touch to all your gifts, as it is compatible with almost every surface.
Gouache
Gouache is a water-based paint medium; like acrylics, it dries up quickly and proves to be a good asset for direct paintings.
Along with drying up quickly like acrylics, it possesses characteristics of watercolour paints, as it can be reactivated with water.
Now there are, of course, more kinds of mediums to experience with art that you'll learn about gradually when you begin your journey as an artist.
But with this curated blog about art And paintings, I'm trying to make you a little familiar with the things you could start with.
Preparing Your Material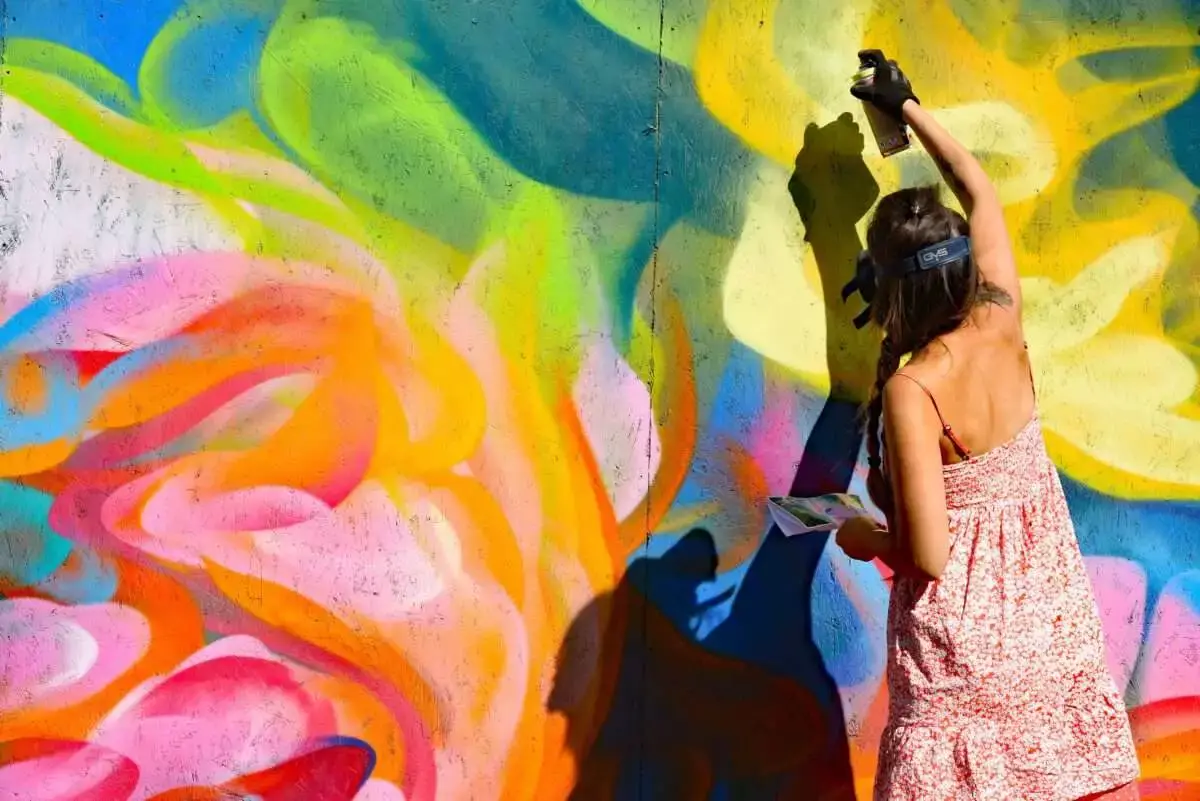 As relaxing as the abstract creation process feels, it is also pretty messy. So it would help if you were prepared with everything you might need during the process to avoid any distractions.
1. Old clothes
To begin with, a uniform is important if you're very particular about your clothes; instead of ruining a new pair every day, rummage through your closet and find your oldest, most comfortable T-shirt that you own for your Creativity sessions.
2. Toolkit And Techniques
If you're a beginner, it is important to invest in some simple tools that would be useful for a long time; for example, soft brushes are compatible with watercolours and watercolour paintings.
To make basic watercolour landscapes, you can easily paint hydrangeas and an Abstract Butterfly along with other projects by using soft brushes and watercolour techniques.
Whereas some hard brushes and palette knives are suitable for accomplishing easy acrylic painting ideas such as abstract painting, painting knives are often used to paint clouds and an Abstract ocean scene.
3. Taking Care of your Supplies
How you use your supplies and take care of them determines how long their shelf lives are. To protect your brushes, keep them in water during the painting process, so the colours don't dry in their bristles, but also clean, dry and wrap them up as soon as you're done with the day.
4. Tips And Tricks For beginners
Keep at least two jars of water around whenever you're painting, one jar for cleaning the brushes and another one for adding water to the paint as and when required.
To take good care of your paint supplies, you could use different brushes while using different colours from the palette to keep the paint clean and pure.
5. Washcloth – To keep your workstation clean
A waste cloth is necessary while painting to clean up after any messes caused during the process. Keep these few things checked off your list before beginning your creative process to avoid having to get up in between your painting sessions.
Now that we are all a bit more familiar with some art terminologies and techniques, I'm curating for you some easy painting ideas for beginners that you could try for a fun, relaxing experience.
Easy watercolour painting ideas for beginners
Watercolour Paints
Landscape and Mountain painting ideas.
To create a landscape and mountain painting, On a suitable watercolour paper, a base layer of any colour is made, systematically topped up by layers of mountains and trees. And finally, a few details such as birds and sunrays are added.
Sounds so easy-peasy, right?
It is; go ahead and try this one.
Watercolour flower doodles
you can either start by making a structure map of patterns you wish to create or have fun with the watercolour and soft brushes directly on the sheet.
Take a few vibrant colours and paint different textures and shapes of petals and floral leaflets with the brushes, and add details such as branches and buds.
Voilà! You're done.
Easier than it sounds, follow the simple painting tutorials on the given YouTube channel attached below.
Easy Watercolor Moon
You can start by tracing the shape of a moon and then have fun with the rest of the process.
You could experiment with different cool textures for the background, and I'm sure you would be more than amazed by the results.
Watercolour Trees
You can start with a light background layer and then add darker layers to add more details to the tree with a single paintbrush.
It is a fun way to experiment with darker and lighter tones, understand the 3-dimensional structure of anything in 2-dimensional space, and create satisfying results.
You could even experiment with different cool strokes and shapes, depending upon the results you expect. You can even add fun little details to your trees, such as small floral bunches, shadows, and leaves.
Watercolor Koi Fish
If you've already tried other abstract watercolour painting ideas, and you're bored with trying and learning the basics, you can work around this exciting idea with the help of the painting tutorials available online; one such link I've provided down below.
You can start the art piece with the vibrant background layer as shown in the video tutorial and keep adding vibrant layers to the background until the painting looks the way you want.
Then you can fill in the details of the koi fishes you traced before.
You can follow the step-by-step tutorial attached below
Easy Acrylic painting ideas for beginners
Acrylic medium is comparatively easier to work with when compared to watercolours, and they result in beautiful abstract painting pieces even if you don't have anything planned for them.
They're extremely compatible with almost all surfaces with a bit of varnish, which is another reason why they're so acclaimed.
Here I have curated a few simple painting tutorials and ideas that are achievable even with less Acrylic medium experience.
Easy sunset Painting Ideas
The most basic acrylic paints are the student grade paints that contain just a few basic hues such as Red, Yellow, Blue, Black and white.
You can start simply by blending the required hues onto the surface and then adding all the details over the first layer for a sunset painting.
To learn the process of blending with acrylics, you can follow the given step-by-step painting tutorial.
With art, you never have to keep following a step-by-step tutorial, and you can be as creative as you want; have fun with it.
Night Sky Painting Ideas
Very similar to sunset paintings, These can be made on any surface, such as a blank canvas; the ideas are very similar to any basic Acrylic Painting, just the colour palette differs.
After the blending of the paint is done, white paint is splattered all over to produce a very beautiful starry night sky effect.
Cherry blossom house – Acrylic painting ideas
If you're a beginner painter and are not very familiar with painting trees or floral structures with acrylics, this technique is for you.
Q tips are a very simple tool that you could use to paint small detailed flowers on a tree to give a gorgeous cherry Blossom effect.
You can try painting these on any size, be it a mini canvas or a large canvas; it comes out very elegant if you want to give it to someone as a gift or use it as wall art in one of your rooms.
How to paint bubbles – Easy Acrylic Painting Ideas
Another fun way to use a blank canvas is by using Black paint to cover it all over and then making vibrant rainbow coloured Spheres to depict Air Bubbles with the help Of a round Bangle and curved strokes.
It is one of the many 'Easy painting projects' we've curated for you in this list, but it is as effective as any other and gives swoon-worthy results.
How to Paint Easy Clouds – Acrylic Paints
There are a few different ways to paint clouds, and the intention is to learn how to create calm, fluffy clouds.
To paint abstract clouds on a canvas, you could use the sponge technique, where you dab paint all over the blank canvas with the help of a small piece of sponge.
You can also use cotton swabs and q tips to add more details to the fluffy clouds to create gorgeous clouds.
By using Traditional tools such as Paintbrushes and Pallete knives.
Easy Galaxy Painting ideas
This seems like a complicated painting at first look, but it is one of the easiest Canvas painting Ideas.
To create a Galaxy painting on a blank canvas, you need to cover the canvas with black paint and then take a dishwashing soap and dab colour on the canvas in a spiral.
Repeat the process until it feels right, voilà! Easy-peasy, right?
It's a very cool way to create a beautiful canvas painting in less time, and the results are amazing!
Wall Art
With a few simple tools such as masking tape and brushes, you can create fun and interesting Wall Art Compositions. For making cool abstract wall art, you can also use simple shapes and patterns.
Small flowers on a blank wall Structured and arranged with leaflets Also comprise to form a very beautiful wall art composition.
Gouache
Gouache is an easier medium to handle and add details with; therefore, many Beginner Artists use gouache For their more detailed Paintings.
Easy Japanese Garden Painting
If you've tried almost all other simpler painting styles and now want to explore a more detailed Art composition, Then this is where you start.
With the help of a few combinations of brushes, you could easily finish a very beautiful and detailed art piece and have fun while doing it.
To start the painting, you can follow the painting tutorial attached below.
Easy Gouache Rose
If you've started painting a bunch of flowers and need more details on how to Approach Roses, you can watch the step-by-step Painting Tutorial Provided below.
Gouache Sunset Landscape
One of the most common painting compositions is sunset Landscapes. Appealing as they sound, They are also very easy to create.
To understand and learn how to blend and mix the paint, you can refer to many step-by-step painting tutorials Available online.
Easy Mini gouache Painting Idea
Increasing interest in art in general as a hobby has led to the growth of mini art trends. Mini art compositions or mini paintings refer to small art pieces; they're very easy to paint and extremely fun to do.
Therefore, mini painting pieces are a definite yes with any medium. You can paint small birds, landscapes, butterflies or even beautiful night skies.
Easy DIY Art/Painting Projects for Beginners
Stone Art
Stone Painting is a very traditional way of painting. It has been passed on to us from historical times, but to bring a little twist and vibrancy to the art form, you could paint over stone instead of rock engravings with acrylic paints or chalk paint.
You could make and colour the stones with your favourite cartoon characters. You can even gift some of these to your family or friends.
Salt Art
Using salt onto watercolour can obtain some seriously amazing results and form different textures for your background compositions.
Coffee Art
It's been months since I've been watching these coffee art challenges, and I think it is a very clever idea to form your art supplies if you don't have them with you.
These provide some really easy painting ideas to pursue, and it also makes us wonder what else we can use as supplies?
Leaf Print Art
Another easy painting idea is Leaf print art; in this technique, we cover a real leaf with paint and then imprint it over a canvas or a blank sheet. This technique also leads to some very beautiful results.
These are some of the most interesting painting techniques we could find for you people out there, don't be hesitant to try any of them out.
We've tried to keep them all as accessible as possible.
If you're someone just starting in this genre, it is important to invest in good supplies and explore what kind of art style you might like the best or suit your personality.
And even if you're someone who believes in diversity and learning, then there are plenty of options for you to choose from.
But remember, it is not the result that counts. It's the process of making a difference; enjoy your learning Journey and have fun making these amazing painting compositions.