Often we hear that a piece of heaven descended on earth and lies between Mysore and the coastal town of Mangalore. It is Coorg, the smallest district of Karnataka but home to evergreen wildlife and an enriched fishing hub in River Cauvery.
So, if you ever want to add adventure and fun on your trip, fishing in Coorg is a must. 30% of Coorg abounds in the rainforest, which is home to various wildlife that offer unparalleled beauty and serenity to the environment.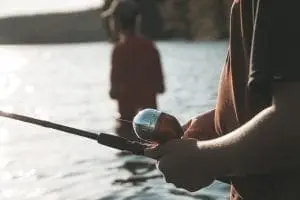 Even the most laid back individuals prompt to get up on their heels and start trotting around when in Coorg. The extensive adventurous tour this place provides includes river rafting, rappelling, rock climbing, mountain biking besides angling.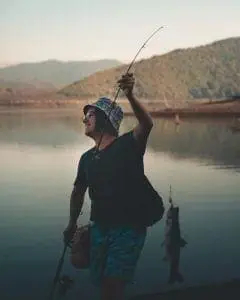 Also Read: https://www.treebo.com/blog/places-to-visit-in-coorg-at-night/
Relish Your Fishing Spree In Coorg
Fishing in Coorg has been one of the heartfelt experiences lived by the tourists and enthusiasts. Those keen in fishing never return empty handed without the happiness of getting a tug at the fishing string or net and the swirl of the fishing rods rolling the line gradually up, only to find a fish hanging!
The best fishing site in Coorg lies in Valnoor (also known as Vaalnuru), a small hamlet situated close to the Dubare Forest. This serene piece of land lies right in the backwaters of River Cauvery where the fishing camp of Vaalnuru is set up.
You can blindly bookmark the spot for fishing in Coorg as it will offer you the best of both worlds – a fulfilling fishing escapade and amniotic tranquility.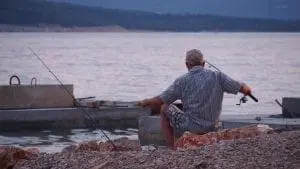 To undertake this journey, you don not have to make enormous preparations but plan an itinerary to keep things handy and oriented. The fishing site at Coorg Wildlife Society situated in the backwaters of River Cauvery will make you feel you have entered an entirely different, unseen part of the world.
The beautiful sight of trees and wild birds in the looming silence of this area will seem too mystic to be real. This place is located amidst the thick hilly forests of Coorg. Angling enthusiasts can begin their journey early and settle for fishing in Coorg.
The freshwater is a humongous fishing hub with various species lurking here and there, Mahaseer, Mapps, Eels, Marals dominating by dominance and magnitude. These are known to be the prized catches among the other species.
The freshwater of Cavaury promises a copious bunch of fish to satisfy the pangs of an angler. Regular fish cultivation maintains the thrill of anglers as more than five thousand fishes are available here. This is because the backwaters have a low tide.
All you need is some of the basic fishing equipment to bring: fishing rod, spoons, hooks, reels, and lines. Bamboo rods made from bamboo trees are provided here, but it is advised to carry your equipment.
Anglers are recommended to start their day early and arrive at the fishing site by 10 a.m. The peaceful surrounding of such a rich habitat is so mystifying that one might be disillusioned by the hauntingly silent territory while fishing in Coorg.
Mahaseer, also known as 'tiger among fish' (the nomenclature is mahi+seer, meaning fish and tiger) weighs up to a hundred kilos and is considered a bounty catch. There are certain rules to follow, ascertain.
Firstly, get yourself a fishing permit for fishing in Coorg, from Coorg Wildlife Society Fishing Camp located in Madikeri. Permits are easy to obtain and can be availed through Valnoor Fishing Camp or your homestay manager as well. Shell out only a few hundred bucks in exchange for a lifetime experience.
The protocols are strict and must be followed to maintain the status quo of peace and balance in the ecosystem. Fishing is permitted up to a limit which nobody should cross, due to safety and preservative issues.
The rule is to 'Catch and release' certain fish, i.e., some fish are allowed to catch but must not be carried. They must be returned to their habitat. Failing to adhere to the rules may charge penalty and inquiry from the government authorities. There are several fishes you can take back with you.
These game fishes are endangered due to excessive poisoning and are preserved. Nobody returns empty-handed from fishing in Coorg, except in October as that is the breeding period of fish, and hence, no fishing is permitted.
The wide variety of fish available here includes the renowned Mahaseer. It is said that these Mahaseers weigh up to One hundred kilos and are very powerful. Mahaseer (nomenclature is 'Mahi', which means Fish and 'Seer,' which means Tiger) indicates the dominant and resistive nature of this freshwater fish.
Apart from that, Marals, Mapps, Eels, and several other kinds are available in plenty. These game fishes are strictly under the policy of return, but you can bring back the different types in kilos. The instructions are declared beforehand, so just follow them, and you are good to go!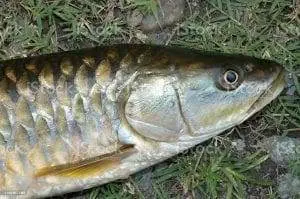 Besides fishing, there is also a beautiful provision of spending your time here – Bird watching. Beautiful birds like Macaws are visible here along with slender loris, along with Malabar squirrels and langoors; keep a watchful eye from the tree canopy as you devour in nature.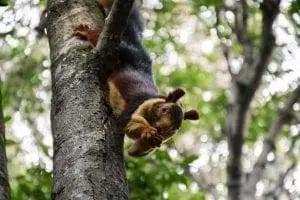 Besides fishing, there is also a beautiful provision of spending your time here – Bird watching. Beautiful birds like Macaws are visible here along with slender loris, along with Malabar squirrels and langoors; keep a watchful eye from the tree canopy as you devour in nature.
From 10 a.m. to 12 p.m., you can enjoy fishing to your heart's content. What follows next is a sumptuous lunch provided as per your itinerary schedule. You may conduct another round of fishing in Coorg, after which follows a short walk around the camp.
After an exhilarating adventure-filled day, it is time for retreat. You can come back with the fish you have successfully trapped and have been allowed to treat as your prize.
How To Reach The Fishing Camp In Coorg? 3 Best Ways
Madikeri, the district headquarters, is the only gateway to Coorg.
By Air: The two nearest headquarters are Mangalore (135 km) and Bengaluru (260 km). Flights to Mangalore are available from Mumbai, and to Bengaluru from Chennai, Kochi, Hyderabad, Ahmedabad, Pune, Mumbai, Delhi, Kolkata, and Goa.

By Rail: Nearest railheads are at Mysore, Mangalore, and Hassan.

By Road: You can drive to Coorg through two routes from Bangalore. Both of the roads cover almost the same distance (around 250-260 km). The route more frequented is via Mysore. Another route is via Neelamangal, Kunigal, Chanrayanapatna.
Also read: https://www.couponxoo.com/robusta-coffee-price-today-in-coorg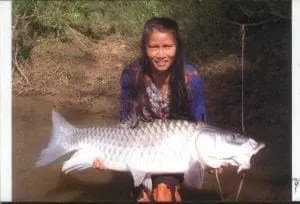 Once you reach Coorg, the Vaalnuru Fishing Camp is a quick drive from there. The best part about Coorg is that in spite of being in the heart of Karnataka, it is a complete contrast picture of the usual hullabaloo of the metropolitan cities
If you are exhausted or tired or annoyed or full of exuberance or in any mood, no matter what, Coorg will be your respite for a brief period, unfailingly. The tranquil composure of Coorg, filled with the aroma of spices and coffee, offers you peace in plenty.
If you love fishing, you will not have to wait for the fish to roll in your trap here. Coorg boasts of its hospitality and looks at how they offer!
Here, in the fishing camp of river Cauvery, you can catch a plethora of varied kinds, without having to sit and wait for hours for the fish to fall in your trap. The freshwater of Cauvery below and the sight of beautiful birds cooing and flying around will never let you feel dull or bored.
Just a heads up, if you forget your fishing equipment behind, sitting an enjoying the serenity of this mystic land won't be a worthless experience at all.
Know What You Must Bring While Fishing In Coorg
The fishing site at Valnoor permits you to fish and see around the whole day. If you wish to stretch your time in the lap of nature, you can stay in one of the local cottages. The cost is meager.
However, you have to carry your own food, emergency medicine, first aid, lanterns, and drinking water. Any substance of intoxication, like drugs and alcohol, is strictly prohibited. Refreshments and cigarettes are available, which might charge extra.
Also Read: goibibo.com/…Is/budget-hotels-in-coorg-cg
You can bring fish baits with you to make your fishing day-out a lot more fulfilling. Earthworms or dead fish are good baits for Mahaseer. You can also roll up kneaded wheat flour or millet and put it on the hook. These foods attract the fish immensely and the chances are that they fall on your baits faster.
Is Valnoor The Only Fishing Destination In Coorg?
The answer is NO. As a matter of fact, Valnoor is the less frequented fishing camp among avid anglers. 
The Bheemeshwari Fishing Camp harbors a generous amount of fish for the anglers to stay for at least a week and fish unlimited. The wilderness of Cauvery and the hauntingly beautiful surrounding of the Bheemeshwari Fishing Camp promises an eventful trip on a weekend's journey.
Bheemeshwari Fishing Camp fosters a wide variety of Mahaseer, and the splendid beauty of Mahaseers is worth a catch. Since these game fishes can not be tagged along, you can instead take a picture and archive in your memory forever. Wild animals like feral buffalo and deer are also a treat in the eyes.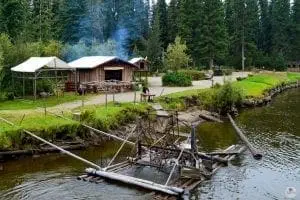 Another is the Doddamkkali Fishing Camp, which also offers a beautiful site for fishing in Coorg. The Galibore Nature Camp is also on the bucket list of passionate anglers.
In fact, compared to Bheemeshwari, Galibore, and Doddamkkali, Valnoor is quite underrated. These places are touristy and so, popularity-wise, gets ahead Valnoor. They are located in the Mandya District.
Also Read: https://www.icytales.com/places-you-only-saw-your-imagination/
Valnoor Fishing Camp is more private in essence as there are fewer tourists for fishing in Coorg. October is the fish breeding season. So, the best time to go fishing in Coorg is from November to April. Otherwise, Coorg is a place where you can visit at any time of the year.
The beauty of Cauvery is daunting and attracts several wild animals too. Wild elephants come for a bath in a herd. You can already imagine what a beautiful sight that is! 
All the camps have their individual itinerary for fishing in Coorg. You can do a quick research and choose accordingly. Every camp provides breakfast, lunch, and refreshment breaks (to be charged) and a sightseeing venture.
You can go on and figure out the trails on your own. If you look out for the less popular fishing site, Valnoor IS your destination. It is also closer to Coorg.
Apart From Fishing In Coorg, What are the Top Activities?
Well, there are a lot of activities that you can enjoy besides fishing in Coorg. To catch the breathtaking view of the misty landscape of Coorg, you can climb to the Brahmagiri Hills. The panoramic view from the top of the hills will blow your mind. Go to Nisargadhama, which lies across the rope bridge for a breathtaking experience. It is a sixty four acre island, enough for you to have a lifelong memory with friends and family.
If you have time, stop by Bylakuppe, India's largest Tibetan settlement, and immerse in the brimming peace environment among the Buddhist monks. Thus, Fishing in Coorg will provide a delightful experience overall. Hurry and head out to Coorg! Let us know in the comments if you found our article helpful, also if you've been here before, do share your experience with us.