As an affiliate-driven website, Icy Tales earns from qualifying purchases.
All fruit juices are nutritional and act as healthy beverages.
Pomegranate juice is rich in antioxidants and has a vibrant color, making it look like wine.
Let us be honest, how many of you have sipped on a pomegranate juice and pretended to be drinking a classy red wine?
I did. Fun times for sure!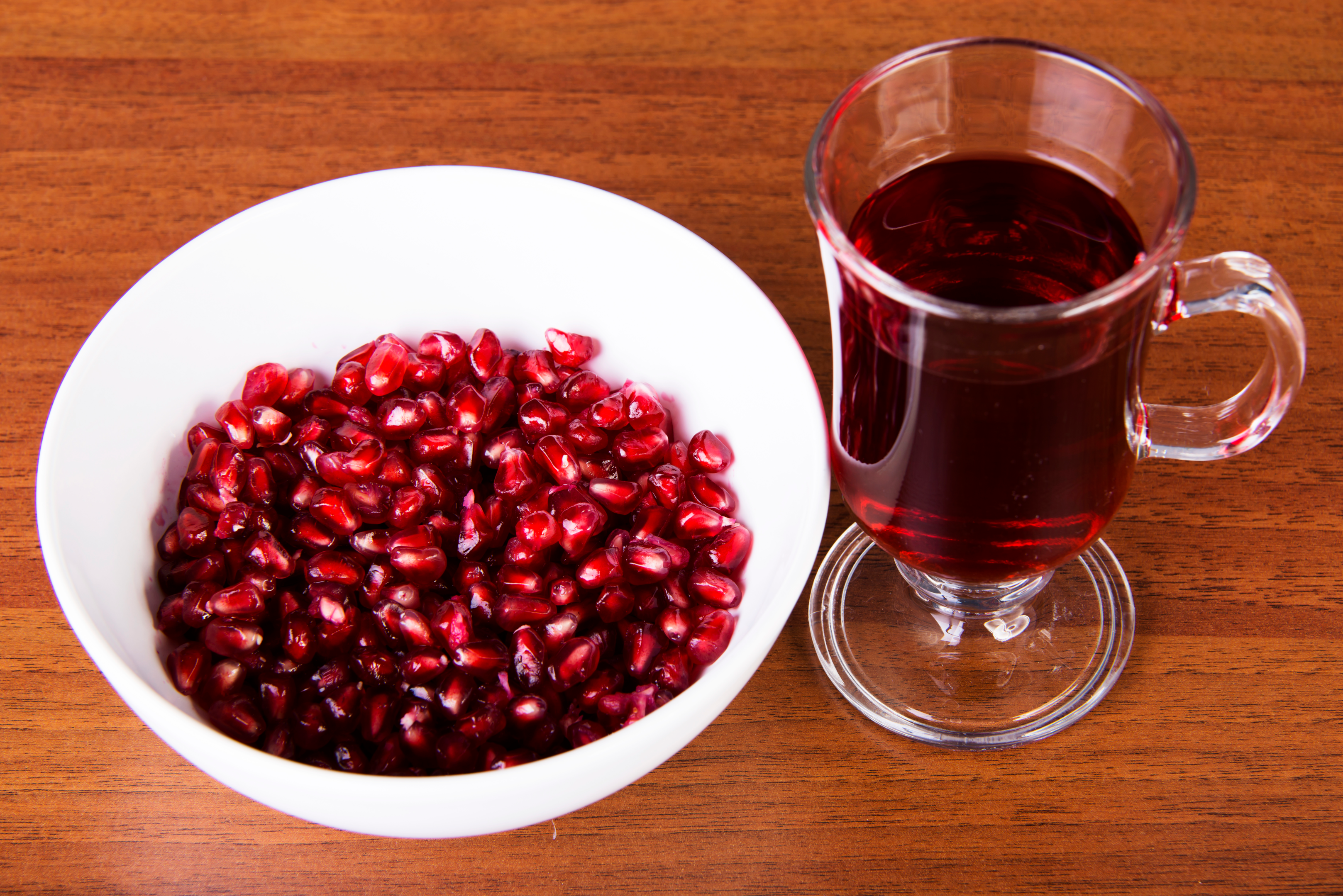 Deseeding the pomegranate can be a very messy process, but regardless, the result is worth it.
We get fresh pomegranate juice with a very refreshing flavor.
Now let us see how to juice a pomegranate to make delicious fruit juice.
How to Cut and De-seed Pomegranates?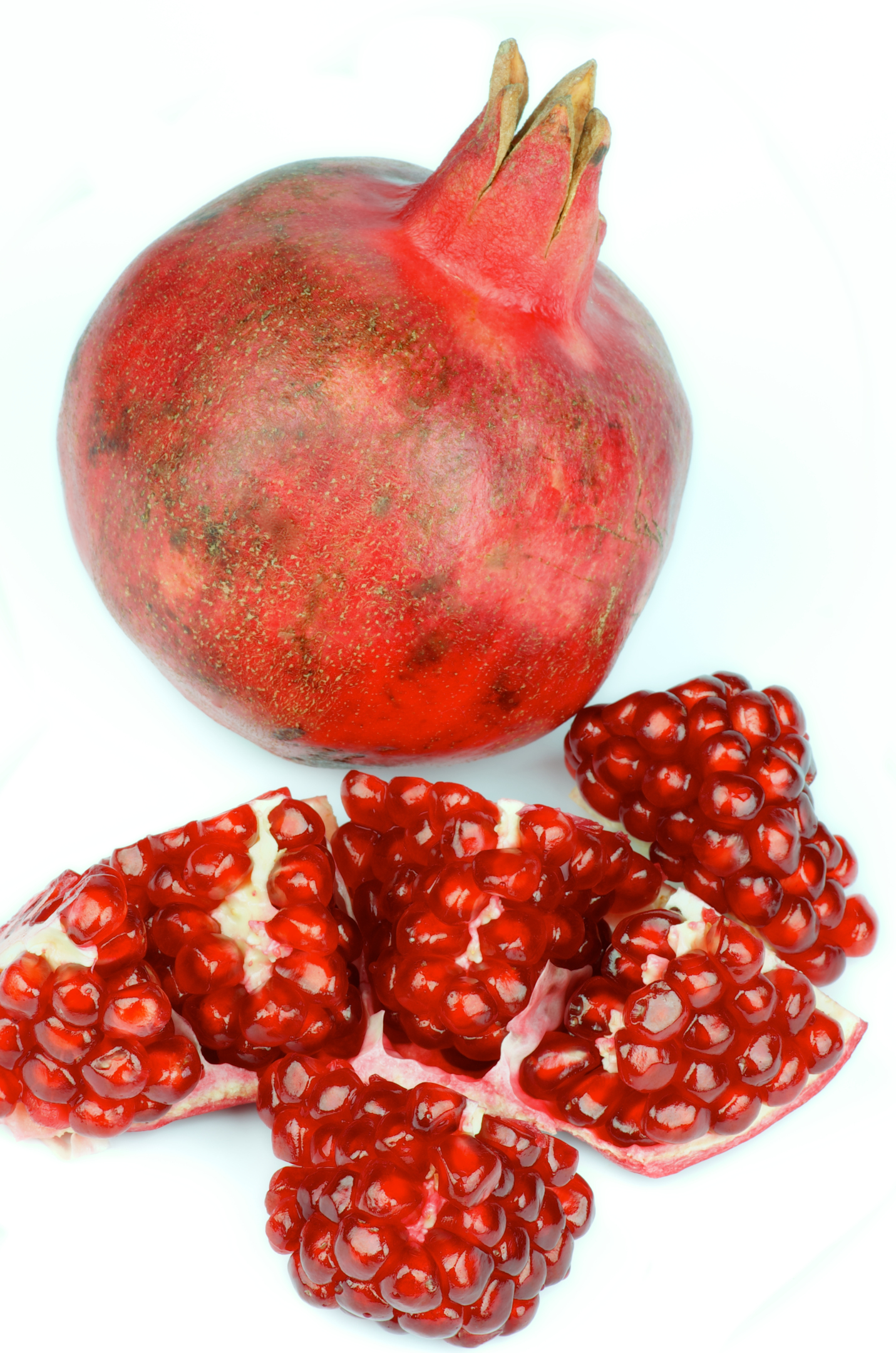 To make pomegranate juice, we have first to split open the fruit and get the arils or seeds out.
Since it contains compartments cutting the whole fruit open may seem like a task, as if you cut it in half, you would be slicing through a lot of seeds making the juice in them seep out.
This leads to juice getting all over the place.
It is very important to keep in mind that pomegranate juice stains. So make sure not to have any cloth nearby or wear an apron not to get it on your dress.
For this reason, using a wooden spoon and board or steel plate is recommended instead of plastic equipment.
Cutting open a pomegranate on an empty slab or a cylindrical, even the bottomed plate, is best.
Step 1:
Wash the pomegranates with water.
Cut the crown of the pomegranate and the top portion of the pomegranate.
The cut should be such that you can see the pomegranate arils or pomegranate seeds and not just the white membrane.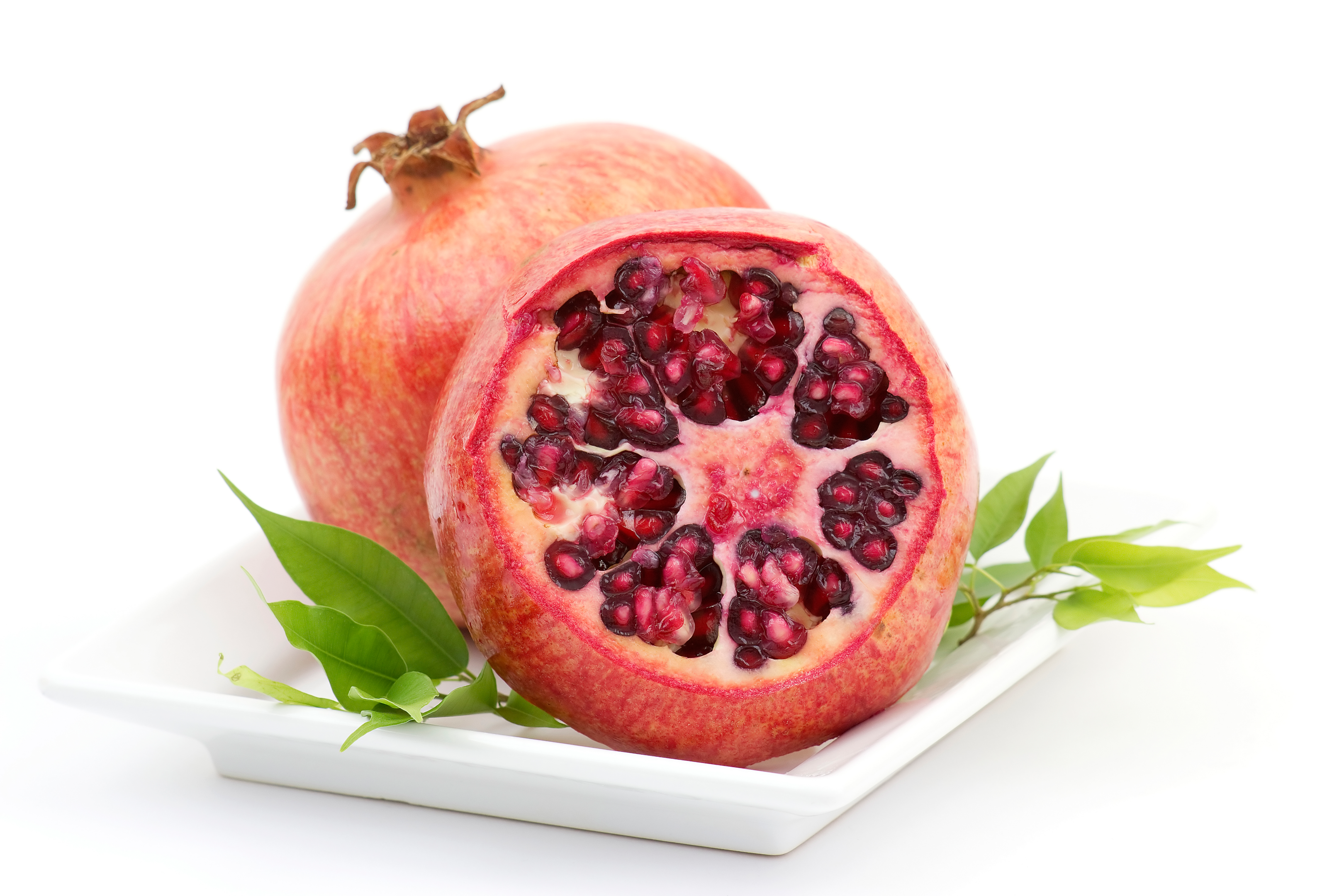 Step 2:
Similarly, cut the bottom part of the pomegranate.
This makes it easier to pull apart the pomegranate sections.
Step 3:
With the top portion of the pomegranate cut, the membrane sections of the pomegranate can be identified.
Make shallow slits on the outside of the fruit, i.e., the bumpy outer wall of the pomegranate, alongside these sections.
Usually, it comes up to 4 to 5 slits.
Step 4:
Now gently push on the center of the fruit with both your thumb and with minimum pressure, and using your fingers, pull them apart slowly.
This separates the sections that were slit earlier to come apart easily and does not mess up the arils of the pomegranate, which would have been a messy affair if it had been cut open with a knife.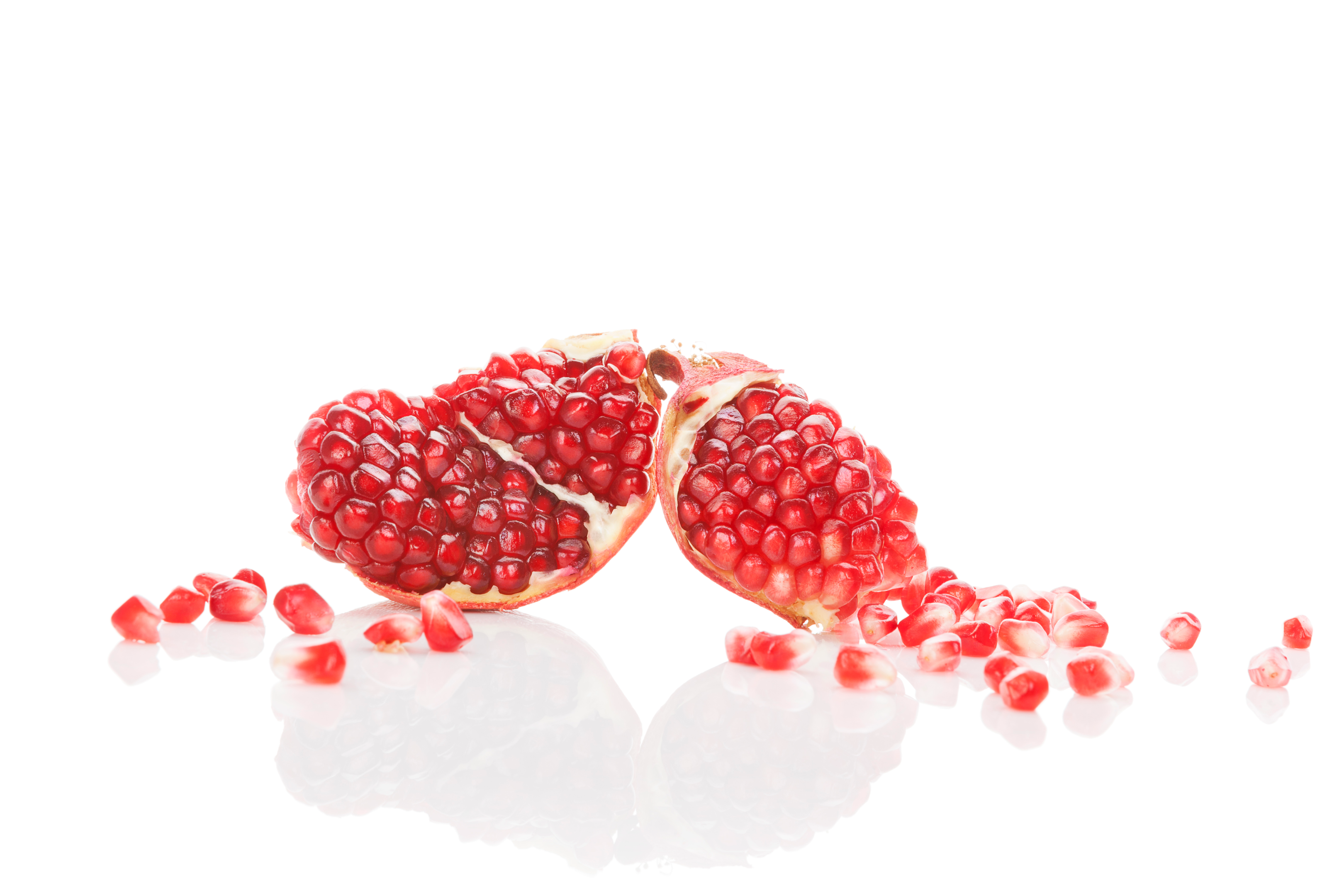 Step 5:
Overturn the pomegranate in a large bowl and hit it with a spoon.
This will make the pomegranate seeds fall out easily but not all the arils.
Some inner seeds would still be left in the fruit; pull them out gently with your fingers.
If the pomegranate arils are to be used immediately, you can also separate the seeds underwater in a bowl filled with cold water.
This makes the process of separating the seeds from the fruit even faster.
Step 6:
Along with arils or seeds, even the white membranes would be present.
Remove these with your hands.
If it was plucked underwater, spoon the white membrane particles and pieces as they float up easily while the arils sink to the bottom of the bowl.
These can then be strained using a strainer.
Do not wet the seeds if they are to be used later, as they cannot be stored for a long time if it becomes wet.
When kept dry, the arils can be stored for a long time in an airtight container.
Now the pomegranate seeds are ready to be juiced or used as per requirement.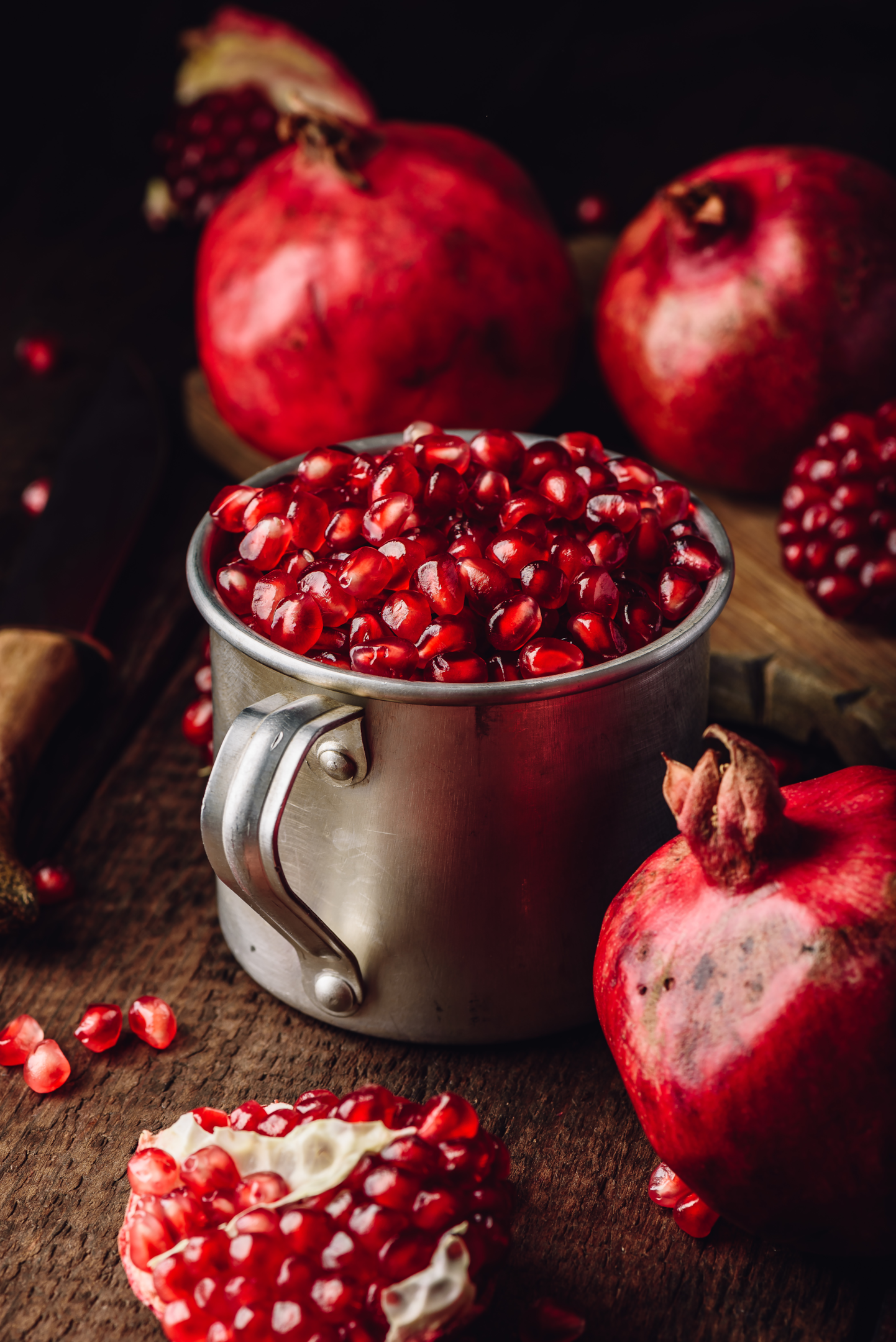 Homemade Pomegranate Juice Recipe
We saw how the pomegranate seeds could be removed without making the whole place a war zone.
Now that we have the pomegranate seeds ready, let us see how to make pomegranate juice.
Since the pomegranate juice is from the pulp surrounding the pomegranate seeds, we have to grind the seeds to get the juice.
Ziploc Bag Method
One way we can juice the pomegranate would be by placing the pomegranate seeds in a Ziploc plastic bag and sealing it by squeezing it out of the air.
Then place the bag on top of a counter and crush it with your hands or using a rolling pin.
Pour this mixture into a strainer, and your juice is ready
It is better to use this method in the case of one or two pomegranates, but not all the juice will be extracted.
Blender or Citrus Juicer?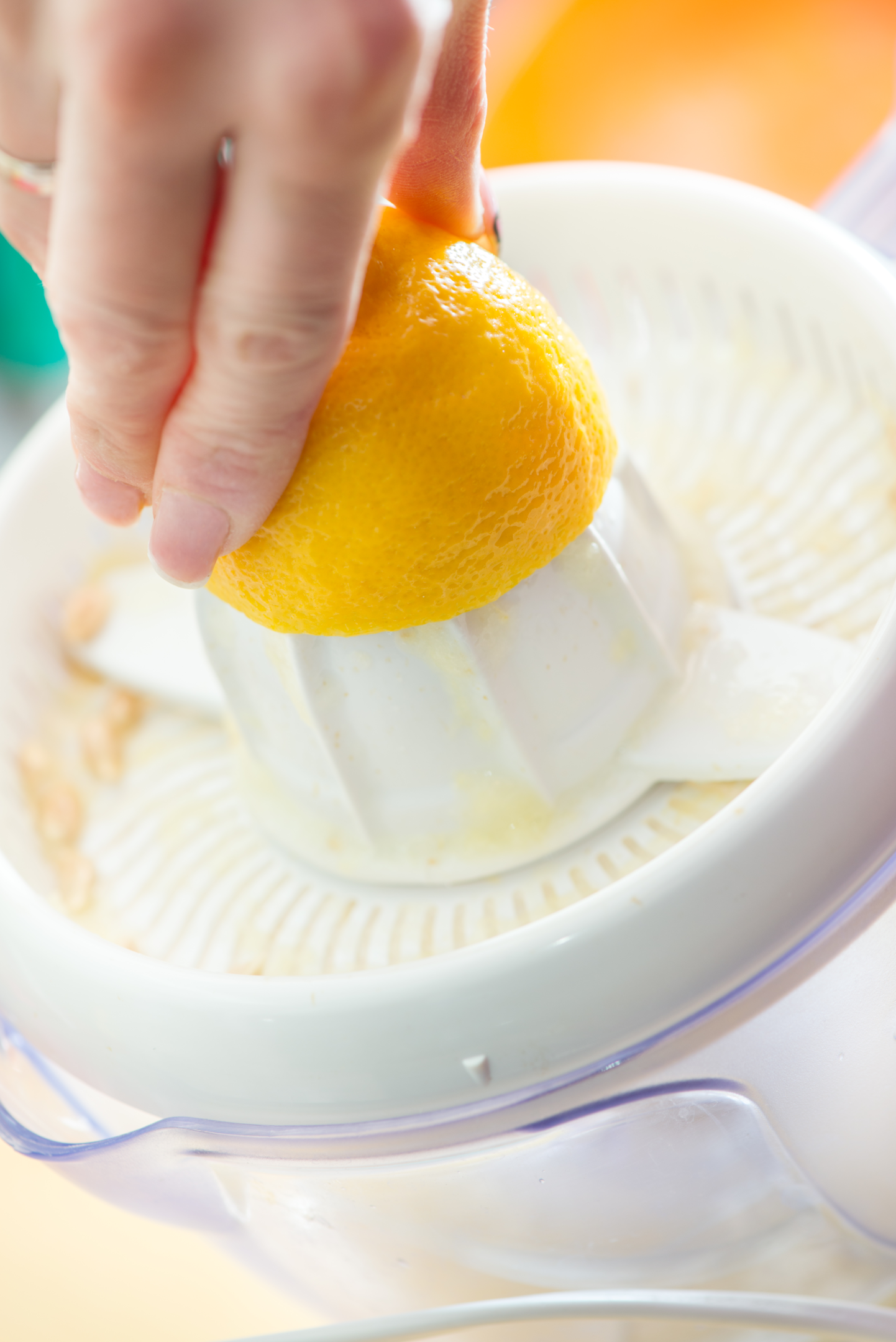 Otherwise, to grind the pomegranate seeds, we can use a high-power blender, a food processor, or even a mixer to get more juice out of the pomegranate seeds.
A citrus press or citrus juicer can also be used for juicing pomegranate, but in this case, we do not have to separate the seeds from the pomegranate.
However, to get all the juice out of the pomegranate seeds, it would be better to use a blender or a mixer rather than a citrus juicer.
Now that we have decided on the blender let us see how to get the maximum amount of juice out of all the seeds.
It is a super easy and quick process from now on.
Pomegranate Juicing
Put the pomegranate seeds into a blender or a mixer.
In the case of one pomegranate or two pomegranates, put in all the seeds at once or do it in parts.
Add a pinch of salt or a few teaspoons of sugar as per preference.
It would be advisable to skip the sugar if you want to keep it a hundred percent healthy.
On and pulse the blender or mixer as per the blender's strength for 10 to 15 minutes just until the pulp around the seeds is crushed to release the juice.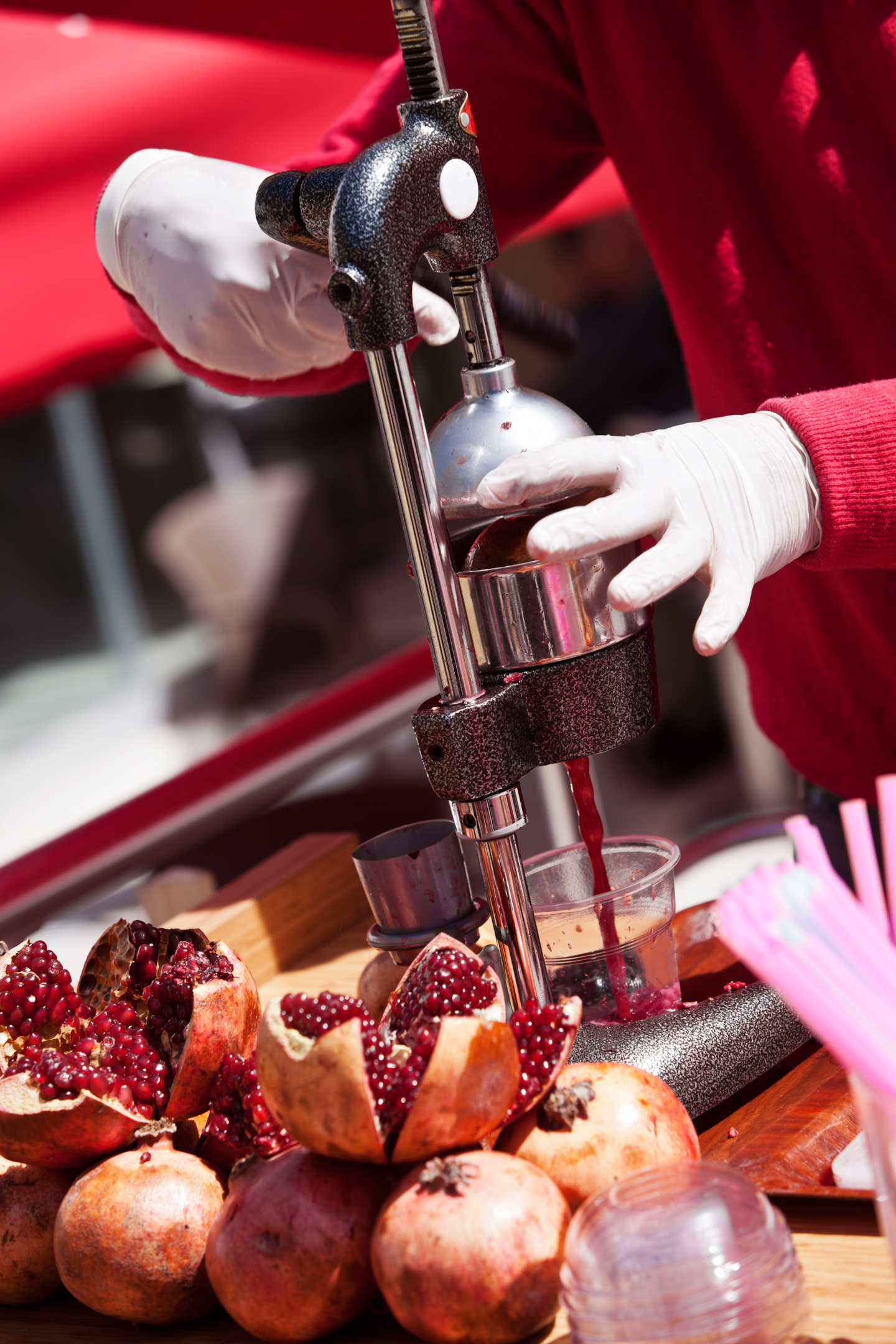 Crush the Seeds or Not?
The seeds can be kept intact, and you need not grind the seed without the pulp as it would make the juice gritty and a little bitter, which would not be per the taste of many.
Nevertheless, since pomegranate seeds have high nutritional value, those who prefer health over taste can go for it.
Besides, it does not taste that bad; the only major change would be the texture of the juice.
Separating the Pulp and Fresh Juice Using a Strainer
Once the pomegranate seeds are crushed, pour the contents of the blender into a large bowl through a mesh strainer.
This is to separate the seeds and pulp from the pomegranate juice.
It would be advisable to use a fine mesh strainer to reduce the grittiness of the drink.
Press the pulp in the strainer using the back of a spoon to squeeze out the remaining fresh juice retained in the pulp mixture.
We now get a cloudy juice, and this is because the pomegranate seeds are ground.
If you prefer a clear juice, you can again strain the fresh juice using a fine strainer or a thin cloth, whichever works better.
The pomegranate juice is best when consumed right after preparing it, as the drink's taste may change over time unless made into syrup.
This is how you make pomegranate juice. The delicious sweet-tart flavor of the drink will make you drink until the last drop.
If the flavor is a bit concentrated, you can add little water to dilute it.
Isn't pomegranate juice now one of your favorite drinks due to its sweet flavor?
Different Fresh Pomegranate Juice Blends
Now that you have learned how to juice pomegranates let us look at how the drink can be modified.
Those who like a blend of refreshing flavors can make variations of the pomegranate juice by adding one or more of the following ingredients:
Lemon

Ginger

Orange juice or juices of other fruits

Green tea

Iced tea

Milk

Honey

Cucumber or Carrot juice
You can experiment with more fusions, and who knows, you may become a recipe developer!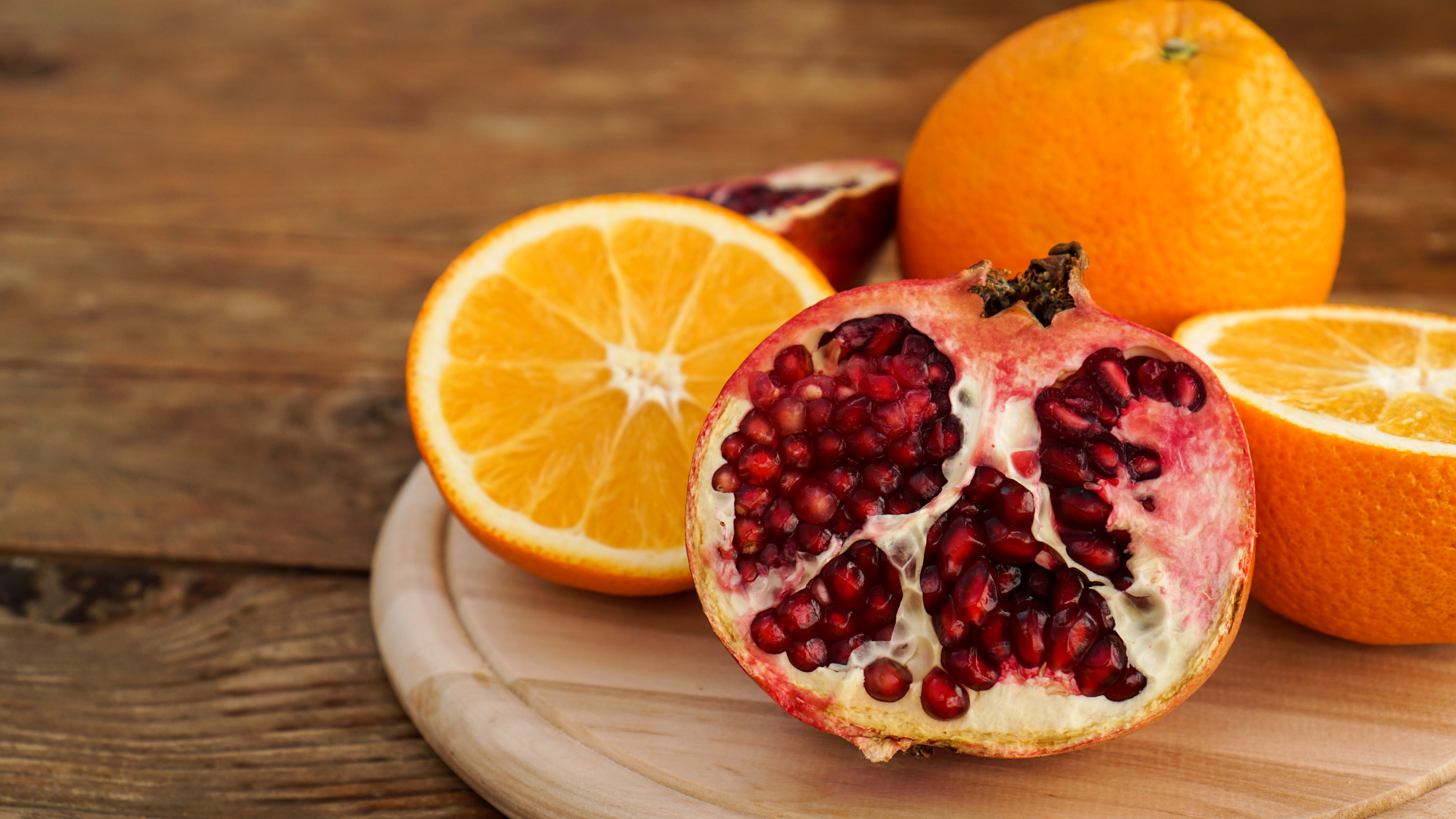 Health Benefits
Pomegranates have loads of health benefits. They are:
1. Fights Oxidative Stress and Prevents Cardiovascular Diseases
Lots of chronic diseases and health conditions are caused due to oxidative stress.
Oxidative stress also causes cell damage and is responsible for the faster aging of cells.
As a result, it also promotes skin health and is used in skin care products to nourish the skin.
The antioxidant nature of pomegranate juice helps prevent the damage caused by oxidative stress.
The powerful components of pomegranates enhance heart health and help prevent cardiovascular diseases.
Hence it is useful in alleviating coronary artery diseases by reducing stress or tension in the arteries.
As a result, they clear clogged arteries and help prevent diseases like Atherosclerosis.
They are good for increasing blood count or platelets, especially for people with Dengue.
The antioxidants in the pomegranate seeds act as blood thinners and prevent the blood platelets from forming bad clots or coagulating.
2. Rich in Nutrients.
Pomegranates are the storehouse of loads of nutrition.
The star among them is pomegranate's antioxidant and anti-inflammatory properties.
Pomegranates are rich in vitamin C (antioxidant), vitamin K (essential for blood clotting), folates, potassium, fiber, protein, magnesium (regulates blood pressure and glucose levels), etc.
3. Lowers Blood Pressure and Regulates Blood Sugar
Research has shown that consuming pomegranate juice or pomegranates helps reduce blood pressure.
The benefits last both short-term and long-term.
4. Aids in Digestion
The pomegranate seeds help boost digestion as they are rich in fiber and vitamin b complex.
Since it is rich in fiber, it also helps prevent constipation.
The anti-inflammatory properties of the fruit can also help treat gastrointestinal issues.
Nevertheless, keep a check on the intake of pomegranate as it is acidic with a ph. of 3 despite its high nutritional content.
5. Boosts Immunity
Vitamin C richness and anti-inflammatory properties make it the perfect combination to enhance your immunity by keeping infections at bay.
Vitamin C plays a very important role in treating and preventing immune-related disorders.
Therefore it is useful for those suffering from immune-related disorders.
6. Improve Memory and Reduce Stress
Pomegranate juice helps boost memory and brain health.
One reason for this can be increased blood flow to the brain caused by antioxidant compounds.
Protect from conditions caused by oxidative stress and inflammation.
Tests have shown that drinking pomegranate juice regularly increases memory and helps improve learning.
Some studies have also shown that the components of pomegranate help protect the brain from conditions like Alzheimer's disease and Parkinson's disease by protecting the brain cells from oxidative damage.
Due to its anti-inflammation property, certain cognitive conditions caused due to inflammation can be prevented.
7. Aids Weight Loss
The fiber in this fruit can be said to promote weight loss.
This property can be included in your daily diet as it is delicious and healthy.
8. Rich in Antioxidants
The main quality of pomegranates is that it is very rich in antioxidants.
Antioxidants help protect the cells of the body from free radicals.
Free radicals exist in everyone's body, and too many radicals cause many chronic diseases.
High antioxidant activity promotes the body's overall health and prevents chronic diseases.
The main compounds responsible for pomegranates' antioxidant properties are punicalagin, quercetin, hydrolyzable tannins, and anthocyanins.
Antioxidants help regulate DNA.
9. High Anti-Inflammatory Properties
Along with antioxidants, the next property of pomegranates is that they are rich in anti-inflammatory properties.
Inflammation is an automatic response of the body to injury and infection.
Inflammation left unaddressed can cause many chronic health conditions.
The anti-inflammatory and antioxidant properties are contributed by polyphenols found in pomegranates.
10. Strengthens Bones, Cartilage, and Muscles
Pomegranates are a very rich source of vitamin c.
This vitamin helps build bones, cartilage, muscles, and blood vessels.
It facilitates the absorption of iron and other essential nutrients.
Aids in faster healing of wounds.
Since the nutrients in pomegranate promote bone health and structure, it helps prevent diseases such as osteoporosis, arthritis, etc.
11. Have Anti-Cancer Properties.
Some studies have found that pomegranate juice or fruit helps kill cancer cells.
It also slows the spread of cancer cells in the body.
It has shown anti-tumor effects in skin cancer, liver cancer, prostate cancer, etc.
The anti-cancer characteristics of pomegranate, which helps kill cancer cells in the early stages or slows the rate of growth of these cells, have been tested and found through animal research.
They are yet to undergo human trials.
Nutrition Facts
Pomegranates are rich in nutrients, especially abundant in specific nutrients.
They are a rich source of fiber.
Some of the other nutrients provided by pomegranates include:
Vitamin K

Folates

Vitamin B6

Vitamin E

Potassium

Magnesium

Zinc

Vitamin c
Pomegranates are also low-calorie and low-fat fruit.
They are very rich in antioxidants, so much so that the antioxidant activity of pomegranate is three times higher than that of green tea or red wine.
Pomegranates contain a high amount of polyphenols.
They have high anti-inflammatory properties too.
Types of Pomegranates
There are many variants of pomegranates in terms of types.
They differ based on nutrients, color, place, and climate conditions.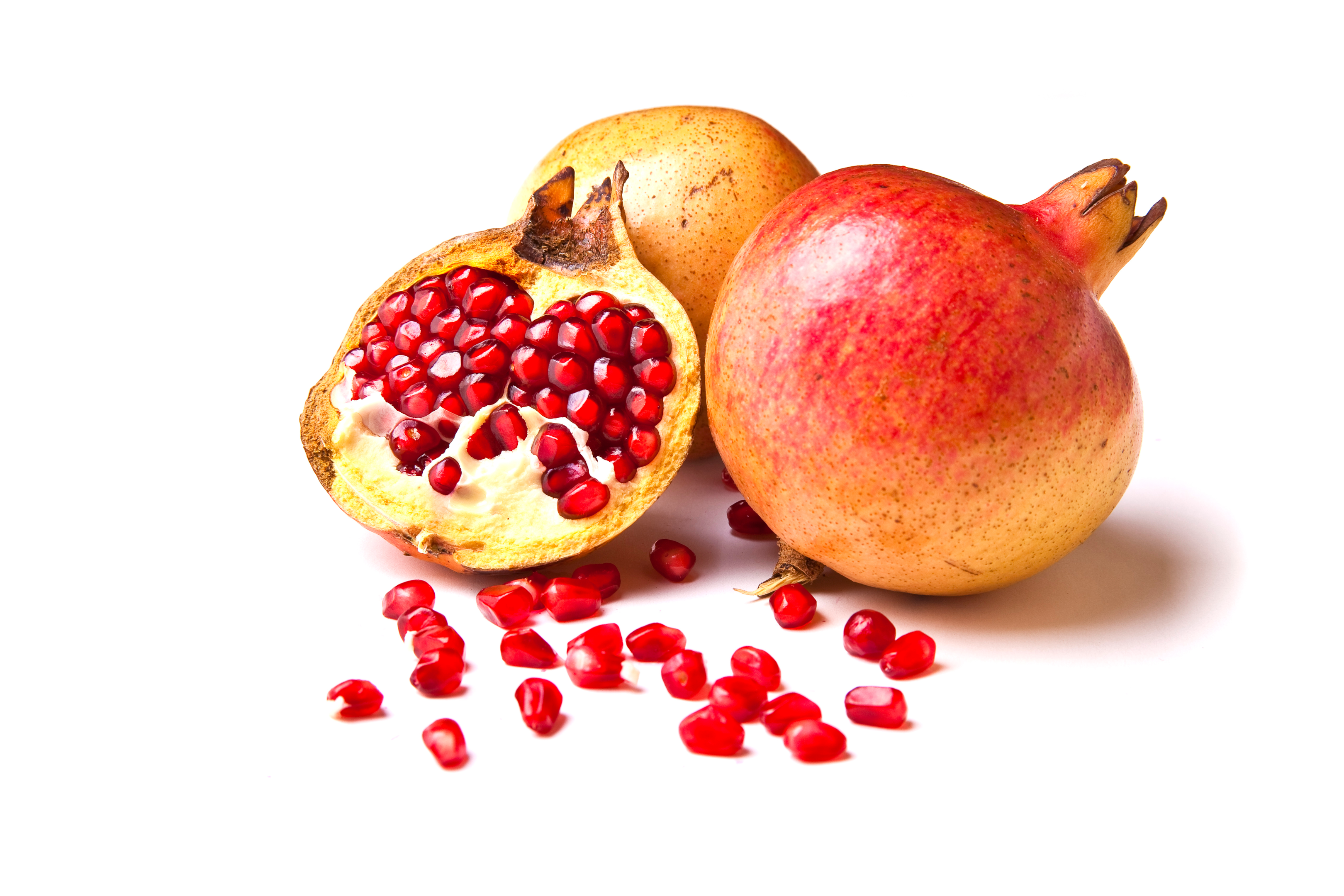 In terms of color, the pomegranate seeds can range from cream color to lemon yellow to pink to red to even purplish-red.
The ripeness of the pomegranate cannot be determined by the color but rather by the shape and size.
The flavor of most of the pomegranates is sweet and tangy.
The outer color of the pomegranate would usually be yellowish-white, pink, or red.
Fusional Blends and Healthy Recipes
Pomegranate juice can be used to make many other recipes, such as:
Mixed with drinks, cocktails, and milkshakes.

To make martinis.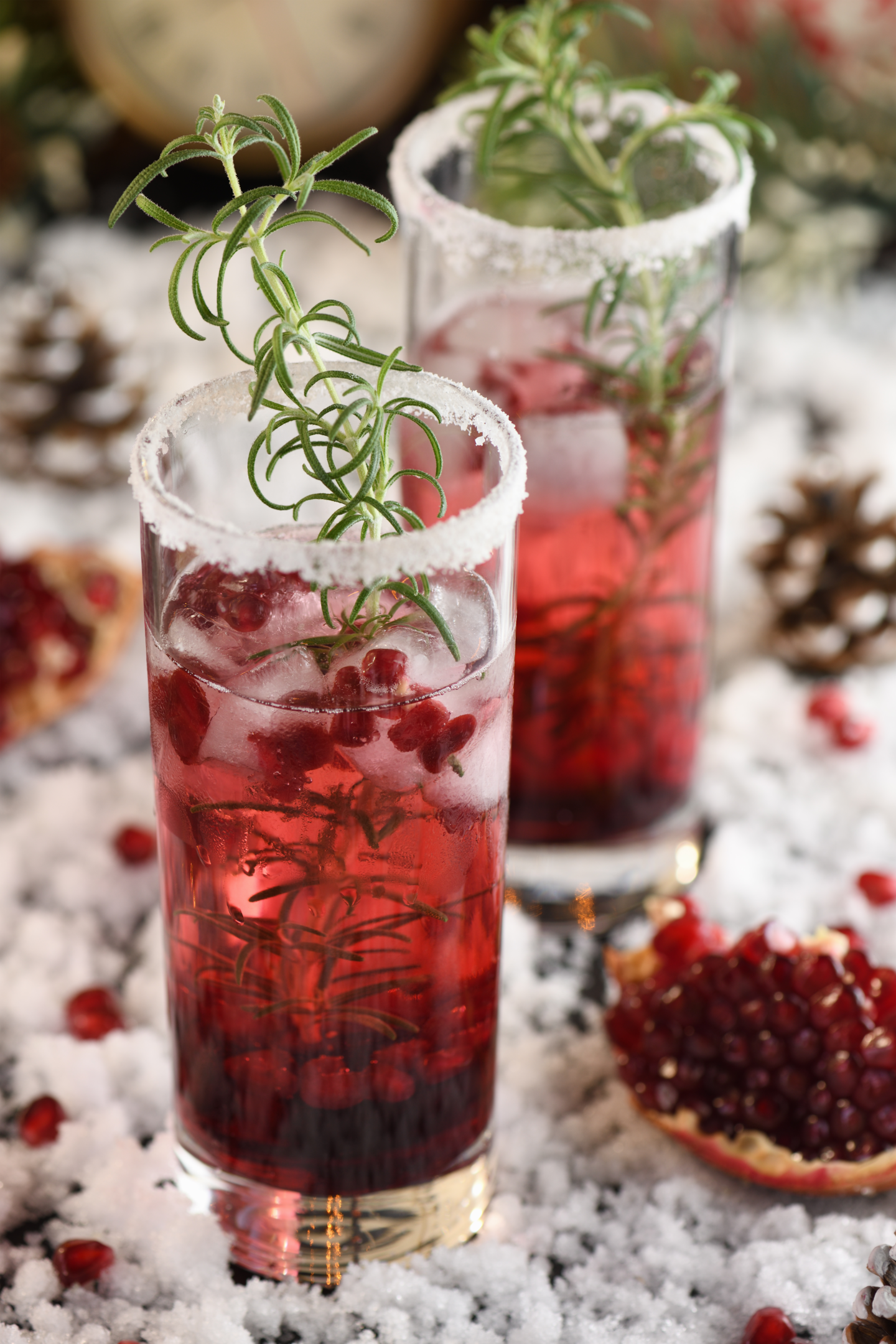 Pomegranate jelly

Pomegranate syrup

Bubble Tea

Homemade Pomegranate molasses

Fesenjan (Persian pomegranate chicken stew)

Pomegranate Spitzer (Pomegranate and soda)

Avocado Pomegranate Guacamole
Homemade Pomegranate Molasses Recipe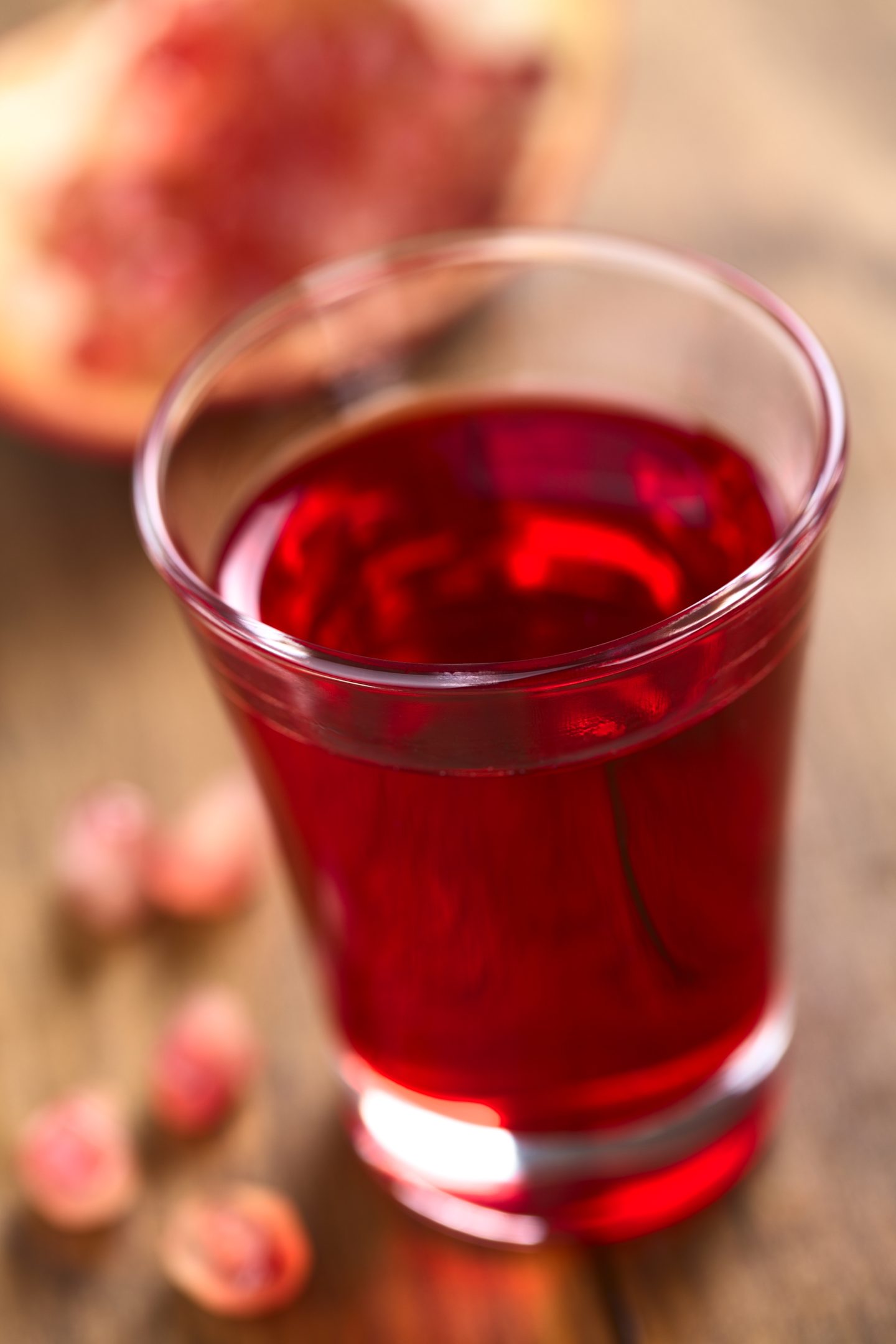 Take two cups of homemade pomegranate juice or bottled pomegranate juice bought from the store, which should be 100 percent natural.
Make sure not to add anything to the juice
Pour the pomegranate juice into a saucepan.
Bring the mixture to a gentle boil.
Let it continue to boil at medium heat.
Take note of the content of water in the pomegranate juice initially.
As the pomegranate juice boils, the water content decreases, and the juice becomes thicker.
Once the pomegranate juice becomes thick and syrupy, you can take it off the stove.
Now your pomegranate molasses is ready, and it is as simple as that.
It can also be called pomegranate syrup or sauce.
This syrup can be used as toppings for your favorite desserts or baked goods, salad dressings, or toppings for the main courses such as breakfast muffins or pancakes, herbal tea or green tea, etc.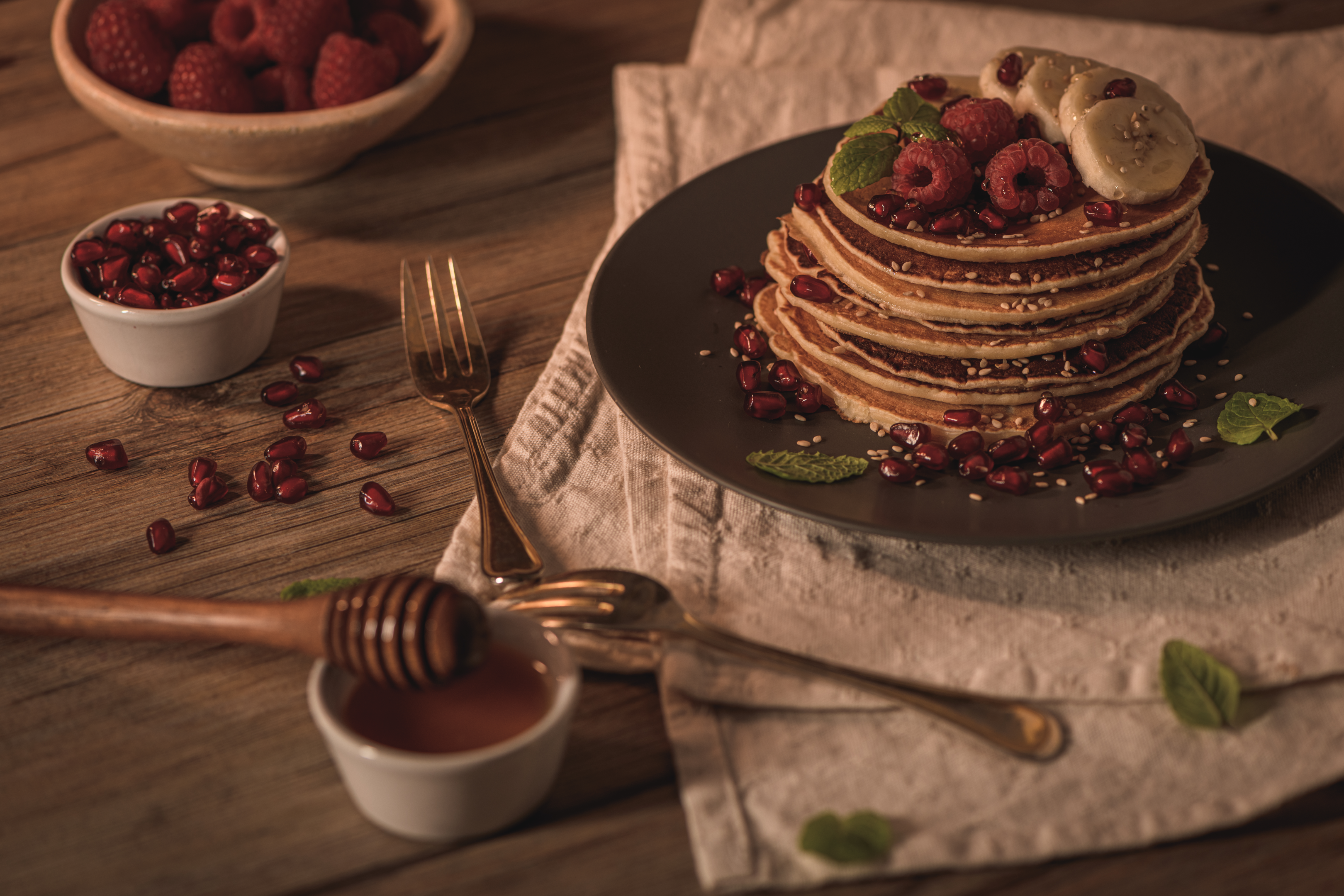 Pomegranate Seeds
The seeds of a pomegranate can be used as it is in many dishes such as:
As dressing in curd rice.

In Chaats to surprise with a sweet and tangy bite.

Along with oatmeal.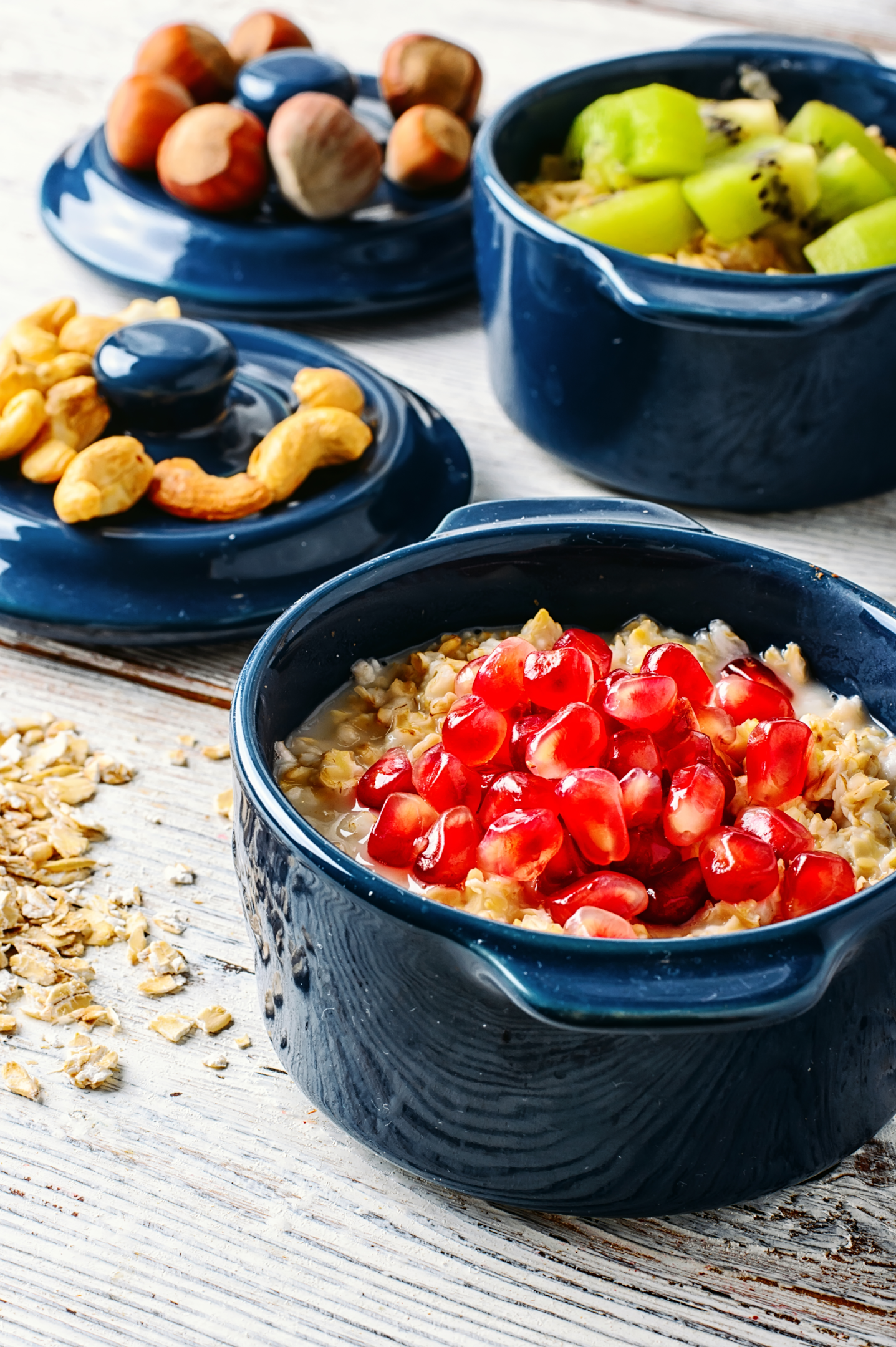 In breakfast cereal.

As salad dressings.

It can be consumed as dry fruit after drying the pomegranate seeds.
Other Suggested Reads