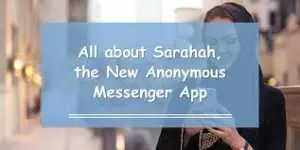 In the galaxy of various trendy and favored apps, a new name has been appended which is called as the Sarahah app. There are tons of phenomenal apps which have still remained unheard-of. But Sarahah is such an app which became fervid within a few weeks of its release. New Users are instantly getting neurotic with the app whose website has also covered the Middle East.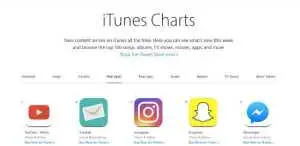 But what is the reason for being so much crowd-pleasing as a messaging app when we already have the messaging apps like Messenger, WhatsApp, Snapchat and Instagram in vogue? Well, the name of the app Sarahah which literally means "honesty" in vernacular Arabic, and the app let you post any messages to any person anonymously. This is the major catch of the app which astonished most of the users.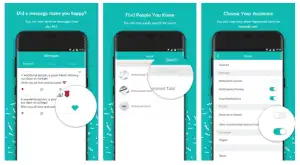 According to the reports, the app has been downloaded over 5 million times on Google Play and Apple's App Store since its release in June. The anonymous messaging app went so viral right after its release it surpassed all the myriad of apps which were all-time favored to the Smartphone users like Facebook Messenger, Instagram, Snapchat, WhatsApp, and Telegram. Besides it also has evoked the fishy people into online cyber bullying and by that, they will be getting the chance to flim-flam, other users, as the app has been found out to be mnemonic and evocative of the furtive things, where some of the users blabbed nasty secrets about other Twitter users.
The website clearly recounts,
"Sarahah helps you in discovering your strengths and areas for improvement by receiving honest feedback from your employees and your friends in a private manner".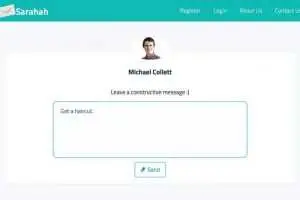 The operations of the app are quite transparent unless you are a formal user of a Smartphone (Really!!!). All you need to do is to simply go to Google Play Store or App Store if you are on the iOS platform, download the app or you can directly go to the website, create an account and when you are done you can send a message to anyone. With that, any random person whom you sent the link to could leave a message for you anonymously. Currently, the company is auditing the feasibility of bringing down the feature of replying messages as the demand is increasing at an exponential rate. Along with Snapchat, the app has become faddish as via Snapchat messages the users are sending Sarahah links.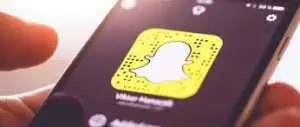 The app is primitively created by a Saudi Arabian developer Zain al-Abidin Tawfiq who disclosed further that the main purpose of the app is to provide a platform for the employees to deliver their comments, observations, and evaluation to their executives without any anxiety.
But as we get to know some details, it also appeared to be purportless and absurd which has no other functionality other than blabbing about someone whom you do not want to face at all.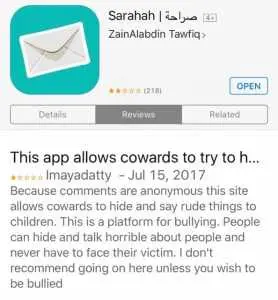 Though as of pursuit against offensive messages there exists a button by which one can grumble about the incident but it is hardly possible to spot the miscreant when someone is posting without divulging his identity.
On that note cyber security expert, Leonie Smith countered,
Any messaging app or social media app that markets itself as being a place to post anonymous messages or posts will lend itself to anonymous bullying,"
She also considered it as a skeptical website and app for its anonymous commentators.
She said,
"Accountability is important for civility"