As an affiliate-driven website, Icy Tales earns from qualifying purchases.
India is a diversified nation, and as a result, a wide variety of cultural foods, spices, and variants are preserved. The fact that the nation is ancient and traditional lends credence to its cuisine.

Since the world is moving more and more toward processed foods, it is more important than ever to focus on healthy eating. However, Indian food combines a unique flavor with advantageous health properties. The perfect nutrition is provided by an Indian dish platter for everyone.
Indian food, according to our Ancient Indian Science, Ayurveda, is complete and sufficient for our bodies. We don't need to rely on foreign foods because our legumes, beans, grains, fruits, and vegetables provide us with plenty of fiber, fat, carbohydrates, proteins, vitamins, and minerals. It is impossible to describe the breadth and depth of Indian cuisine in this space. There are so many traditions, and they differ not only from region to region or even from town to town, but also from stove to stove.
So, today, let's take a look at a few factors to answer the question, "Is Indian food healthy?" and dispel the popular misconception that people have based on eating restaurant foods in other countries.
Even though, as a vegetarian nation, our foods are sufficient to keep us nutritionally efficient. Though our obsession with rice and roti, our traditional Indian diet is filled with nutritious foods. Combinations such as dal rice and rajma rice have long been popular in India. These combinations are ideal protein meals because they contain all of the essential amino acids.
1. Understand Indian Food Habits
Each bowl in the traditional Indian thali is small in size. It comes with 2-3 different types of dal, sabzi, rice, roti, or both. The thali also includes a small number of sweet dishes. This thali serves as a complete meal.
There isn't a certain type of traditional Indian food, as with specified distance region change, so do its culture and food. Indian traditional practises that determine social standards, religious beliefs, economic position, and the gastronomic diversity of India's different food habits are the foundation for the significance of food in Indian culture.
There are many healthy options for Indian food, especially those made at home. There is no other cuisine in the world that has such a vast variety of food cultures inside a single country that derives from the traditional Indian food diet. Indian food is maintained simple and nutritionally balanced for everyday meals.
Indian cuisine is handmade and produced with fresh ingredients. Indian cuisine is healthy because of traditions that are still followed.
What we receive at restaurants is a tiny speck, much of which is prepared to appeal to the broadest possible audience. Based on the oily, rich, spicy dishes served, we quickly come to the conclusion that Indian food is unhealthy.
1.1. Nutritional Value
Following are some food items that are commonly consumed by every Indian:
Roti– 85 calories per 6″ diameter roti, fat – 0.5gm.
Dal (urad) with tadka– 154 calories per 150gm, fat- 6gms.
Rajma/chana– 153 calories per 150g, fat- 5gms
Average mixed vegetable -142 calories per 150g. The fat- 15gms (based on oil usage)
Medium dosa – 125 calories and 3 gm fat
Idlis- 132 calories, fat- 3 grams
Curd rice-190 calories per 100g, fat- 7 grams
Coconut rice– 368 calories per 100g, fat- 15 grams
1.2. Practices
Persistent heating over a low flame, as is common in Indian households, causes massive vitamin B losses.
In India, it is customary to thoroughly boil milk before consumption to eliminate harmful bacteria.
Many healthy varieties of cooking oil are available in India, ranging from mustard oil and peanut oil to coconut oil and groundnut oil.
1.3. Health Benefits
Indian cuisine promotes several bodily processes, including brain health, inflammation management, and immunity.
Chickpeas, for example, which is frequently used in vegetarian curries, are high in fiber, zinc, folate, and protein, making them a healthy addition to a vegetarian Indian diet.
Spinach and tomatoes, both of which are commonly used in Indian cuisine, are also known superfoods due to their high levels of antioxidants, vitamins, and minerals.
Many Indian sauces and accompaniments are vegetable-based, such as Sag aloo (spinach) and Gobi Aloo (cauliflower with potatoes), making them a healthy option because the majority do not contain cream or cheese.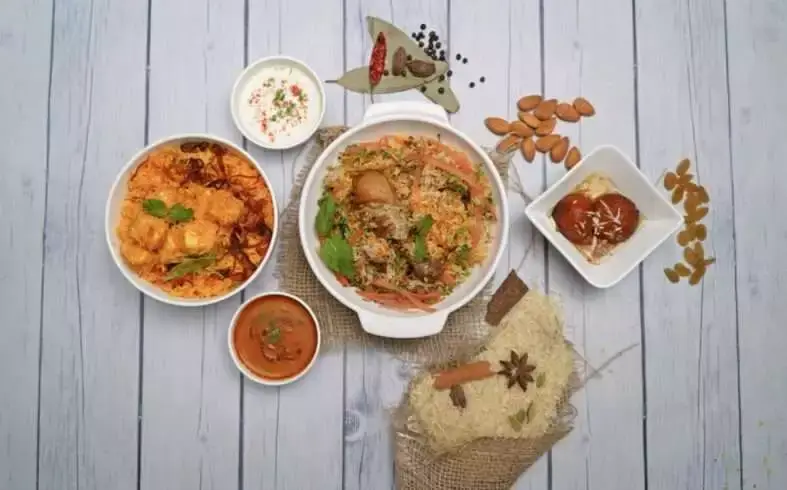 The minty yogurt dip raita, made from natural yogurt, cucumber, and mint, is high in calcium and a low-fat substitute for sauces like mayonnaise. Natural yogurt is also frequently used in curry sauces in place of cream or coconut milk.
Garlic, which is said to be good for the heart, is used extensively in Indian cooking, and chilies, which are good for the immune system and metabolism.
Apart from butter, Indian dishes frequently use vegetables, sesame, and peanut oil, which keeps them lower in saturated fat.
Finally, because Indian dishes have such a strong flavor, a small portion can often satisfy your taste buds while allowing you to consume fewer calories. The variety and vibrancy of an Indian diet keep it interesting, which is a healthy component of any cuisine because variety can prevent boredom and overeating.
2. Healthiest Dishes to Order at An Indian Restaurant
Northern Indian foods are vastly different from South Indian foods in terms of uniqueness and flavor. Following are some healthy Indian food:
2.1. Pulses, Beans, And Legumes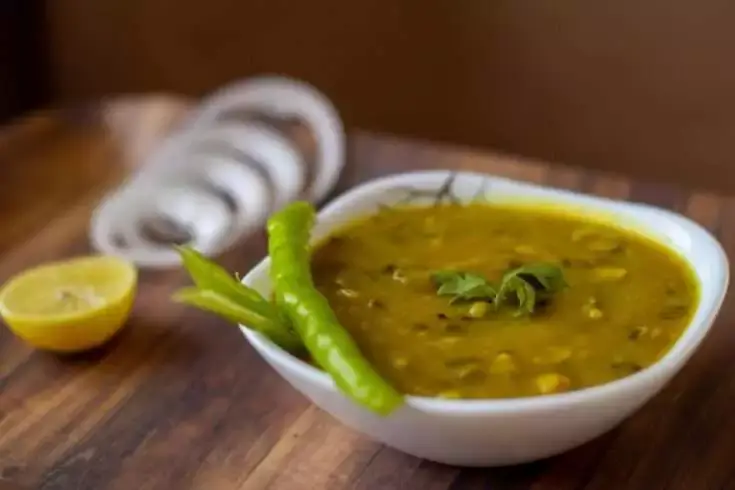 The healthiest Indian meal you can get is made of pulses, beans, and legumes. They are not only nutrient-rich but also high in plant protein. Since vegans and vegetarians cannot consume animal protein, legumes, and lentils are excellent sources of protein for them.
They are vitamin-rich and aid in the body's general growth. Pulses are a great meal choice for diabetics and aid with digestion as well. The flavor enhanced by desi ghee might do wonders for any food. A delectable dal, ghee drizzled over it served with basmati rice is just divinely delicious and healthy at the same time.
2.2. Vegetable Curry
It is well known that vegetable curries are tasty and filling. You can prepare a delicious yet incredibly healthy Indian vegetable curry. Making your vegetable curry healthier by employing techniques and recommendations for healthy cooking, such as using less oil and yogurt in place of heavy cream, can make it tastier and more wholesome. In India, people like eating mouthwatering vegetable curries with chapati or rice. It uses spices and aromatics to give off a lovely look and smell!
2.3. Chapati/Roti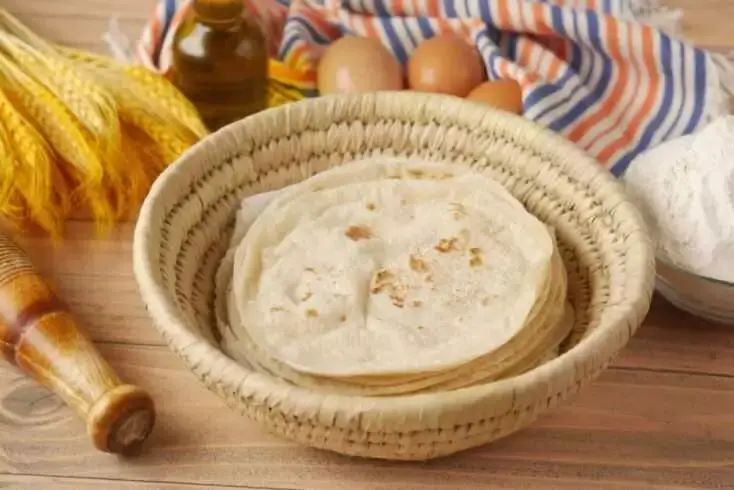 Indians often prepare rotis with wheat flour, however, there are other alternatives too, of nutritious flour- like multigrain atta, bajra, jowar, and ragi atta that have fewer carbohydrates. Chapatis are made without the use of any oil and are incredibly nourishing. You can eat it every day with a straightforward side dish and simply reach your health goals.
2.4. Buttermilk
In India, buttermilk is also called chaach, and it is a common beverage, particularly in the summer. It is created with yogurt that has been spiced up and salted. Typically served cold, it is excellent for digestion. Buttermilk is additionally hydrating and controls body temperature.
2.5. Rice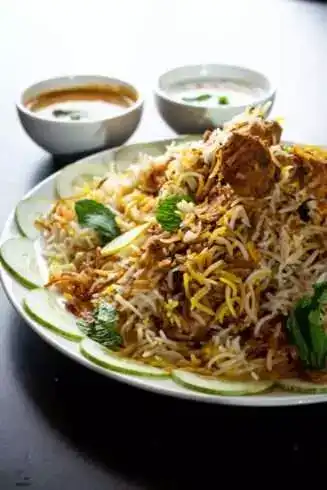 Every Indian family has rice, which is a common staple. It's affordable, healthful, and filling for a long time. Currently, steaming brown rice might help you overcome the misconception that rice is an unhealthy component of Indian cuisine. Compared to white rice, it has fewer calories and is high in fiber. To get a balanced dinner, combine brown rice with a veggie curry or dal.
2.6. Chicken Tandoori
Chicken Tandoori which consists of marinated chicken in yogurt and spices and cooked in a clay oven known as a tandoor, is a healthier alternative to the popular chicken tikka masala, which consists of cubed chicken served in a rich, creamy sauce. The yogurt adds protein without adding a lot of fat calories.
2.7. Dhoklas
Dhokla is a well-known Indian cuisine item that originates in Gujarat. This meal must be included in our list of the healthiest Indian foods. Because they are high in fiber and low in calories, steamed dhoklas are very common. Indian cuisine is healthy, scrumptious, and ideal for diets and weight loss. The nicest part is that it tastes fantastic and has a lovely texture.
2.8. Dosa And Sambar
Who doesn't want crispy dosa? A millet dosa is good for your health and works well to prevent weight loss. Millet is a great choice if you're attempting to reduce weight. It is suitable for both breakfast and lunch. It is a great choice if you're attempting to reduce weight. It is suitable for both breakfast and lunch. Pulses used in sambar are rich in fiber in addition to proteins. Several veggies that are high in fiber and antioxidants are used to make sambar.
Traditional sambar recipes include tomatoes, okra, drumsticks, pumpkin, brinjal, and other seasonal, fiber-rich vegetables. The longest to digest is fiber. They make you feel full and stop you from overindulging in other unhealthy foods. Foods high in fiber are healthy for cholesterol and the heart.
2.9. Idli And Coconut Chutney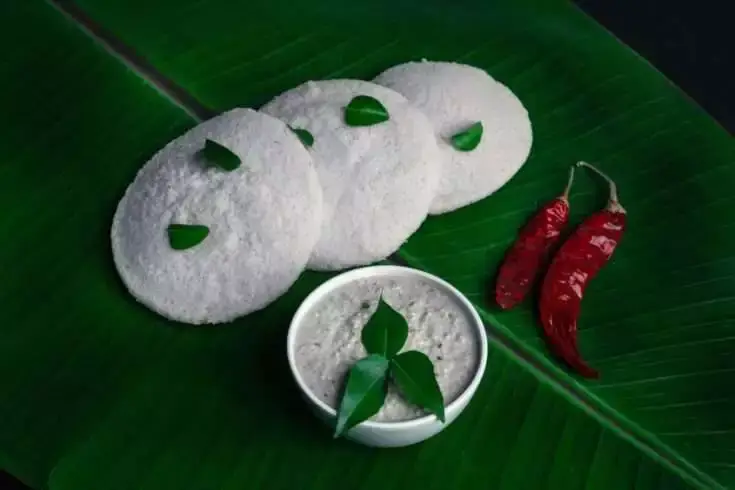 When it comes to South Indian food names, idli is at the top of the list. It is steamed after being made with a fermented rice mixture. Idli is nutritious and low in carbohydrates. It is a staple food in south India and is easy to digest. It's simple to make and tastes best with coconut chutney. Despite having a reputation for being fattening, medium-chain triglycerides (MCTs) found in coconuts are far healthier than saturated fats found in animal products. Apart from this, coconuts are also rich in fiber, copper, manganese, iron, selenium, and phosphorus.
2.10. Chana Masala
Indians consume chana masala for breakfast, lunch, and dinner, as well as a quick snack from food stalls in the local bazaar. The key component is chickpeas, commonly called garbanzo beans. The legume contains a lot of folates, iron, fiber, and vitamin B. The tomato-and-onion sauce is seasoned with garlic, ginger, chilies, and anti-inflammatory spices.
2.11. Masala Bhindi
Masala bhindi is a delicious Indian side dish. The star ingredient is okra, also known as "bhindi." It's served with roti and a spicy tomato-based sauce. Okra is high in dietary fiber, which has been linked to improved blood sugar control. Eating high-fiber foods, in particular, is an important diabetes management strategy.
2.12. Shahi Paneer
Cottage cheese, also known as paneer, is a staple of the vegetarian diet, but it is also enjoyed by non-vegetarians. Paneer is a versatile food that can be used in a variety of dishes. You should, however, avoid the fat-laden variety made from whole milk. Homemade paneer made from toned (or skimmed) milk has less fat and cholesterol and is therefore healthier. It will still have a high protein and calcium content.
2.13. Green Vegetables
Throughout the year, spinach (Palak) can be found all over the country. Cabbages can now be found all year in most places. Furthermore, depending on where you live in the country, there are hundreds of local varieties of leafy greens ready to be included in your diet. These vegetables are high in iron, vitamin K, and other essential minerals and nutrients that aid in the prevention of a variety of diseases, including cancer.
While more human research is needed, one review suggests that okra has antioxidant and anti-inflammatory properties that may aid in the management of metabolic syndrome symptoms. A metabolic syndrome is a collection of interconnected conditions such as high blood pressure, high blood sugar, excess body fat around the waist, and high cholesterol levels, all of which can increase the risk of heart disease, stroke, and diabetes.
Indian thalis often include papad because it produces digestive enzymes that aid in digestion. Encouraging beneficial bacteria in the stomach also helps with the treatment of other gut problems. It is also strong in protein and suitable for all age groups.
Indian food is completed with Raita, Pickle, and Chutney, which holds many health benefits, Chutneys are essentially uncooked. This yogurt sauce or dip is seasoned with spices and herbs. There are many different types of raitas, but cucumber raita is one of the most common ones you'll find at a restaurant.
It's the ideal cooling and refreshing complement to a spicy meal. Yogurt contains protein, calcium, and potassium, and it is also a good source of probiotics, which are live cultures found in many fermented foods and may boost immunity and overall health. Cucumber contains vitamin C as well as caffeic acid, which may help with swelling and water retention.
Eating raw foods is good for your health because it contains digestive enzymes and reduces inflammation. Chutneys commonly contain coriander, mint, tamarind, garlic, onion, coconut, chilly, mustard seeds, and curry leaves, to name a few. All of these ingredients are extremely nutritious and high in micronutrients.
Pickles are made with salt, vinegar, fruit or vegetable, and a variety of spices that vary from culture to culture and tradition to tradition. Pickles are essentially a method of food preservation that involves fermentation.
3. Spices And Ingredients
Black pepper- When a pinch of black pepper is added to any recipe, it dramatically improves the flavor. Black pepper, also known as the "King of Spices," aids in weight loss, relieves cold and cough symptoms, improves digestion, increases metabolism, and treats a variety of skin problems. A pinch of black pepper makes a glass of haldi doodh much more therapeutic.
Garam masala- Garam masala is high in antioxidants, which help prevent skin problems and fight inflammation. Garam masala has carminative attributes that aid in the treatment of bloating, flatulence, and even nausea.
Turmeric- In particular, its most active compound, curcumin, has numerous scientifically proven health benefits, including the ability to improve heart health and prevent Alzheimer's and cancer. It has anti-inflammatory and antioxidant properties. Additionally, it might ease the symptoms of arthritis and depression.
Saffron- It is derived from a flower and has a bright yellow color as well as a distinct aroma. It is frequently used in cooking to add color and flavor to foods. It aids in the treatment of asthma, menstrual problems, and dry skin.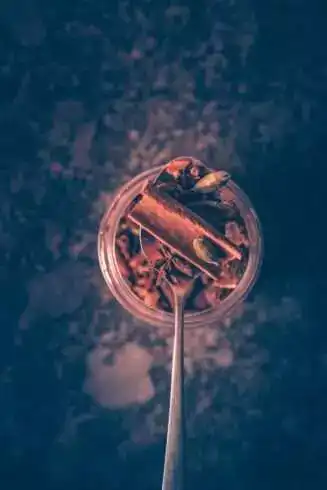 Curry Leaves- Curry Leaves, a common aromatic ingredient in Indian households, have numerous health and therapeutic benefits. Curry leaves are a powerhouse of nutrients, containing carbohydrates, fiber, calcium, phosphorous, iron, magnesium, zinc, multivitamins, and flavonoids. It is commonly used to treat anemia, diabetes, indigestion, obesity, kidney problems, and hair and skin problems.
Ajwain- Carom seeds are another name for ajwain. Carom seeds are frequently chewed for their medicinal properties. Despite their slightly bitter taste, ajwain or carom seeds have a plethora of health benefits. Ajwain aids digestion cures stomach aches and relieves tooth pain. These seeds are also high in calcium, protein, and fiber.
Clove- Cloves have antibacterial, antifungal, and antiseptic properties. They're high in antioxidants and high in minerals, omega-3 fatty acids, fiber, and vitamins and minerals. Clove oil contains a high concentration of antioxidants. It is used in aromatherapy as an antiseptic and pain reliever, particularly for toothaches and stomach pain. It is frequently combined with other oils to treat a variety of ailments. Those who have trouble sleeping, for example, can apply some warm clove oil mixed with sesame oil to the forehead to feel calm and relaxed.
4. Techniques of Indian Food
4.1. Tadka-
Spices are bloomed in hot ghee during the tempering process to give food a wonderful, rich flavor. The time of this approach depends on the type of dish and is used to improve the flavor of vegetables, dals, chutneys, raita, and other foods. For instance, tadka is prepared at the beginning of vegetable meals, whereas dal is added on top at the conclusion.
4.2. Dum-
Dum, which literally translates to "breathe in," is an Indian cooking technique that involves covering a round, heavy-bottomed pot with a lid and slowly steaming food over a low flame. With this method, the food cooks in its own steam while the gradual roasting allows the herbs and spices to impart their full flavors to the food.
To seal and slowly cook this kind of food in modern cooking, use a cast iron oven with a heavy cover. But in conventional Indian cooking, a clay pot (or handi) was wrapped with dough made of wheat flour to ensure that steam was contained inside, maintaining the scent and developing the taste.
In this North Indian method, the meal is cooked on top of a smaller bowl that contains a lit piece of charcoal. To keep the smoke within and give the food a smokey flavor, a small bit of ghee is drizzled over the coal before the entire thing is covered with a lid.
4.3. Tandoor
A tandoor is a North Indian clay oven that is used to cook naan or marinated meat using a hot charcoal fire. The food cooked in a tandoor oven is roasted and smokey.
4.4. Frying
The meal is fried in small batches in only 1-2 inches of oil in the Indian method of deep-frying, which uses fresh oil or ghee each time.
Wrap Up
Every type of vitamin, mineral, plant protein and an abundance of flavors are present in Indian cuisine. It always uses fresh foods. Making meals from scratch also reduces the need for artificial chemicals and preservatives. Indian food is significantly healthier as a result. Green chilies, ginger, garlic, cardamom, turmeric, and ajwain are all frequently used spices in Indian cooking. India, therefore, offers a wide variety of healthy foods, not just in terms of ingredients but also in terms of flavor, which helps to treat several diseases.