After his company fired him, Jack Dwyer (Owen Wilson) took his wife Annie (Lake Bell), and his two daughters and the family moved from the United States and settled in a foreign country in the heart of Asia. Together with other investors, Jack begins to work in a water factory in Thailand.
Jack and his family are now in the midst of a violent revolution. This is because of the company that works with full-Americans. All American tourists are suddenly in danger. In a final attempt, they try to find refuge in the US Embassy. Even with violent attacks and the constant struggle for survival, Jack knows how to protect his family at all costs.
"No Escape" begins with the assassination of the Prime Minister of Thailand, which immediately drew comparisons to the movie "Zoolander". Owen Wilson stars in Zoolander, but Derek Zoolander was mesmerized by the concept and the idea to assassinate the Prime Minister of Malaysia. The film looked like another version of Zoolander, but surprisingly it is deep and fascinating.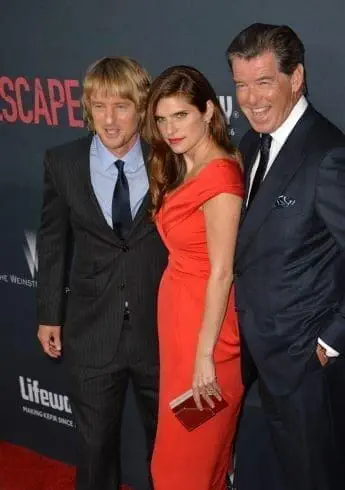 There are a ton of ridiculous stuff in "No Escape", like being forced to listen to Pierce Brosnan's butcher, a song by Huey Lewis. The Dwyer family spends most of the film under the rubble hiding behind giant banners. Even below a boat, and conveniently works most of the time without properly examining the location.
There is a tense moment when the Dwyer family has to jump from one rooftop to another to escape many Thai men with guns. Everything seems to have this humorous tone, while the family risks their lives to stay ten steps ahead of their enemies. Still, the sequence lost any taste and originality by adding slow-motion effects to the mix, and a daughter of Jack nearly shot over the edge.
A credible aspect of the film is the reactions of the children of Jack. Adults will act differently in a situation like this, but Jack's children are a liability just because they are around. Lucy (Sterling Jerins) escaped the pool all by herself and forcefully pointed a gun in the face of her father.
Meanwhile, Beeze is constantly annoying her parents about silly things like being thirsty, wanting to play, or having to use the bathroom. You are about to be shot to death, and you want your father to risk his life for a teddy bear. Are you mad? Needless to say, what the children receive in their last nerve; realistically, but still annoying.
"No Escape" lacks adequate depth and variety to an action thriller and thus fails to be a memorable one. The run and hide formula comes out relatively thin when combined with shaky camera techniques and the same outcome every time used.
"No Escape" is wildly intense and sometimes devastating abhorrently to others, but it's just entertaining at surface level. If you ever stop using your brain and realize that the film is a nonstop freight train barreling toward a cliff for an hour and forty minutes: no deviations or any other security meeting with the passengers along the way.
"No Escape" is just a dead set locomotive speeding in, throwing the viewers off track. Naturally, as an observer, all you can do is see how this trick pony will star in a massive explosion of fire. As the fire diminishes, that adrenaline disappears and "No Escape" is a distant memory. Not very excited to say this, but the movie is worth the escape from the hall.
Verdict:1.5/5