Poetry, a bomb-packed shell of emotions, weaved so precisely, carved with crystal clearness. Poems are like tightly knit feelings that rummage the finest corners of our souls in mere verses of letters, phrases and annotations. Poetry is capable of fine-tuning our hearts to make attitude changes even if only half a percent of the poet's heart is understood. What's more delightful than hearing such things from the very person who penned them down? Will you not want to get to the deepest understanding of the poem?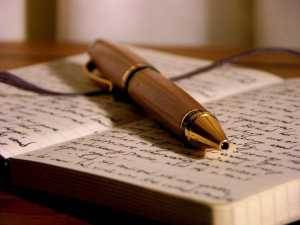 This reminds me of a quote I once read somewhere,
"Nothing ever happens poetically. Stuff happens, and we have to make them look poetic"
Spoken word art is a way of expression of poems by reading them out to the audience. Watching a person standing on the stage, getting all whelmed up with words and verses, smiling at sweeter parts, winking at mischievous thoughts, almost breaking near the heart wrenching portions is quite a colossal of human peculiarities. A few minutes of exquisiteness can make us weep and laugh at the same time.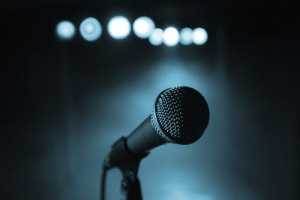 Stage, their revering platform.
Mic, their material of magic.
The poem, their impeccable spell.
There is another way to look into such a form of art. A reader who loves poetry may get impacted differently by reading a poem themselves in contrast to how they feel when the poet or another person performs the same poem. However, similar to the emergence of short stories from novels, spoken word art has it's own way of pleasing the audience.
This beautiful art form is at its budding stage in India, whereas it already took its firm stand in other parts of the world.
'Button Poetry,' a community from the United States, possesses the best of the artists, especially young talents worldwide. They conduct soulful poetry reading sessions, and all the performances of their community members are available on youtube.
https://www.youtube.com/user/ButtonPoetry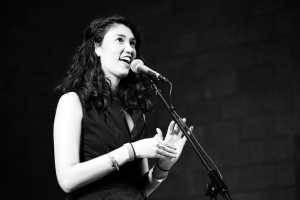 'Sarah Kay,' a spoken word artist, is breaking the bounds beyond imagination, making an impact amidst the audience and viewers. She had even delivered speeches in Ted Talks, where she shared her idea over her passion towards spoken word art.  Below is the link for her official website.
There are other such communities in few other parts of the world involved in creating spoken word artists.
People in India have also started taking measures towards their passion for spoken word art. Lots of young poets are thriving for recognition as spoken word artists. Communities like 'The Poetry Club, Mumbai' and 'Mockingbirds, Chennai' have delved into the process of spreading Spoken Word Art in India.
All that is needed for such initiative is inspiration over poetry and poets. Here is what Berty Ashley, one of the founders of 'Mockingbirds, Chennai', has to say about the moment of inception of the idea for starting this community.
"It was a warm summer's night. And when hasn't it been one in chennai? 2 fellows and 2 girls got together at a coffee shop in Egmore. While they waited for one more person to join them they sipped on expensive yet expressionless coffee. Then the guy who worked with tires said 'I like poetry I want to share some'. The guy who likes tires said 'so cool dude tell to us I say'. And from his kindle came forth words which made us go awestruck. Then the girl from Madras university started. And it went on ❤❤. Then we decided to start a whatsapp group. And the girl we were waiting for never came." – Berty Ashley.
Here is the link for the official Facebook page of Mocking birds. If you are a Chennaity, don't miss attending the monthly meetups of this awesome community.
https://www.facebook.com/TheMockingBirdsofficial
This young art form needs more recognition, and that can be attained by conducting poetry slams, workshops, YouTube Featuring, social media promotions on a weekly and monthly basis, and more.
Let's get to know this wonderful art form and get our minds enlightened by it.