The craze for rangoli has begun. With the arrival of Durga Puja in Bengal, streets are covered with colorful designs. Rangoli is looked upon by the world as an art form where people draw patterns on the floor of their houses. Drawing rangoli during a festival has its own significance. It is said that drawing rangoli in front of our houses is auspicious and also brings good luck into the house. The word 'rangoli' is derived from a Sanskrit word 'rangavalli'. The powder that is used to draw the rangoli is made using powdered rice or dry flour, and to these people add natural colors like turmeric, vermilion, and other colors to make different colored powders, which are then used to create beautiful drawings. Sometimes flowers are also added to the drawings that beautify the drawings. It is said that the practice of rangoli, has been followed for a very long time, long before painting and sculptures came into existence.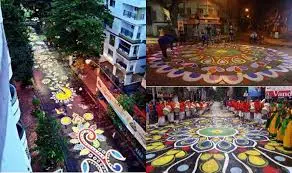 Pujo fever has set in and it is evident from the amazing and beautiful rangolis that cover the streets of Kolkata. Over 1.5 km long rangolis have been drawn on the streets of Kolkata. Around 350 students from the Art college have drawn various rangolis on this 1.5km stretch road, in south Kolkata. The images of these rangolis have become an instant hit in social media with many people sharing pictures and videos of the designs. In fact, this rangoli is being considered as one of the longest rangolis ever created and the students finished the drawing within 24 hours. The artwork was inaugurated by Prosenjit Chatterjee who is a Bengali superstar. Everyone is amazed by the beauty and dedication that the students have shown and most importantly, people are impressed with the designs that the students have come up with.
Durga Puja is celebrated to enjoy the victory of goddess Durga over the demon, Mahishasura. The festival also symbolizes the victory of good over evil. The festival lasts for 10 days and on the last day, the idol of goddess Durga is taken for submersion. You can find a few variations when it comes to the rituals that people follow during this festival. However, no matter which religion you belong to, there is no doubt that this is a time when family and friends get together and celebrate.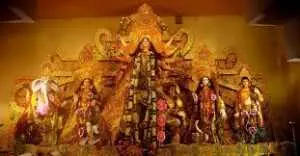 Happy Durga Puja !! May this festival bring you good luck and good fortune.