As an affiliate-driven website, Icy Tales earns from qualifying purchases.
Running rejuvenates and energizes you both mentally and physically. One essential tool for running, jogging or walking is the shoes that you wear. While running, the feet are exposed to added pressure and heat. Not wearing the right shoe causes discomfort or even injuries that can prove to be severe in the long run. Running shoes are specially tailored to suit the various types of feet that users have and the types of rigors that they will be exposed to during their sessions of activity. For persons with wide feet, there are many considerations that you need to make when choosing running shoes that suit you. 
Our running shoes must ensure that the thrust on our feet is balanced and the shock is absorbed with ease. These unique shoes are essentially designed to give users the push to move forward without resistance and prevent injuries.
Such shoes utilize materials that are breathable and offer ample space for our uniquely wide feet, while simultaneously giving a feeling of snugness and comfort without cutting off circulation. The foam or gel midsoles which are typical of modern running shoes are a feature worth looking for. It cushions the feet from hard impacts and keeps your feet protected.
In short, buying running shoes is the best thing to make your feet safe and comfortable. Not to mention, also gives the opportunity to take nice feet pics whenever you want.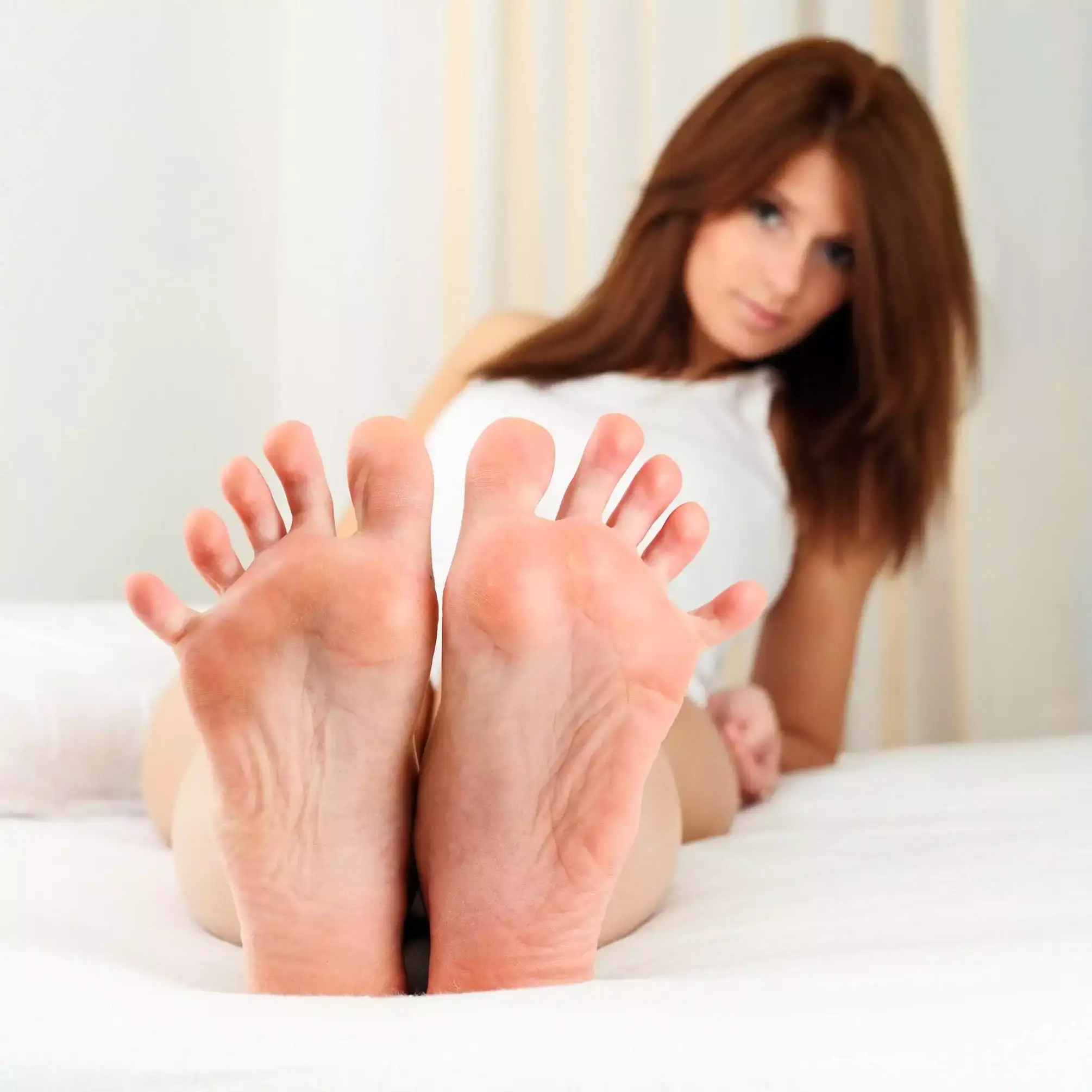 Here are some useful tips to help you pick out running shoes that suit your unique feet.  
Running shoes are made to stretch and provide flexibility while running. In fact, they have a tendency to swell through the day, so while picking out your shoe, it's better to try it during the afternoon or evening hours to ensure that the fit is as accurate as possible. 

Make sure there is a space equivalent to the width of a thumb between the end of your foot and the end of the shoe. This helps to average the space for your foot spread. 

A common misconception is the more space in the shoe, the better comfort it provides. Running shoes should fit you snugly and not have excess or unwanted space, making them sloppy to fit in. These can result in serious injuries that can affect your mobility.

Find a shoe that offers good arch support, perhaps with gel insoles. These ensure that your weight is evenly distributed and it helps with your posture as well. 

Having an alternate pair of running shoes may just increase your shoes' lifespan and also reduce repetitive use-related injuries.

Even though there are several options that tempt you, it's better you stick to the one that you are comfortable with.
Even running shoes have different classifications. 
Some are made for everyday personal health-related activities. These are durable and not specifically designed for rigorous long-distance and high-speed running. 

For professional athletes, the shoes that accompany the fast workouts would be light in weight and understandably not long-lasting, but high in propulsion and impact resistance. 

There are shoes designed to give you the grip required to grab onto surfaces like dirt. These are used as trekking shoes as well. 
People with wide feet tend to face challenges when it comes to finding their shoes. From my personal experience, any kind of closed footwear tends to squeeze the toes causing blisters and foot sores. Hence there are certain running shoes designed to support the respective buyer's foot structure. 
The Top 10 Best Running Shoes for Wide Feet
Here's our list of shoes best suited for wide-footed people.
Nike Women's Revolution 4 (Wide Sneaker)
If you are looking for a lightweight running shoe, this could be a reasonable option. The layer of mesh on the upper part of the shoe helps your feet to breathe and does not restrict blood flow. This running shoe is designed with soft foam that enables your feet to be comfortable and experience responsive cushioning. 
Key Features: 
Durable Traction:

The rubber outsole helps the runner to withhold the surface grip with ease. Since the outsole is made of rubber, the resistance on slippery floors is quite strong. 
Soft Foam Midsole:

Lightweight feature comes from the foam sole. This also gives the runner the required cushioning to move forward with little to no effort. 
Molded pods:

This feature adds to the responsive cushioning that comes with this product. The airflow while running enables the pod to flatten and spring back when the foot is off the floor. 
Pros: 
Lightweight and breathable
Ample space in the toe box. 
Perfect for regular wear. 
Cons: 
Doesn't provide a solid arch support
Buy here.
2. ASICS Women's Gel-Excite 6 
This could be something you could wear throughout the day and still not want to take off. It's not just comfortable, but the mesh upper makes it breathable and light. This shoe supports a less restrictive fit and also helps in keeping the feet dry. The design of these running shoes supports equal distribution of pressure in the front part of your feet. 
Key Features: 
Ortholite Sockliner:

The Ortholite Sockliner helps keep your feet dry by absorbing the moisture caused due to sweat. 
RearfootGEL Brand Technology:

The GEL technology adopted in this product collects the shock experienced while impacted and distributes it to the midsole. 

Amplifoam Midsole:

This midsole is designed to make running shoes durable while maintaining comfort and flexibility. It also accentuates platform adaptability. 
Pros: 
Suits those with flat feet. 
Seems to be a right fit for those suffering from plantar fasciitis. 
Tends to support body weight. 
Cons: 
The heel rubs and the tongue does not stay in its place. 
Has a tendency to have a sloppy toe box. 
Buy here.
3. Brooks Women Ghost 12 
These shoes are for those who don't restrict their running to just the park. Take these to the roads, gym, cross-training or anywhere. These shoes are smooth and lightweight and the best part is you don't have to compromise on the cushioning. There is an extra layer of padding that shifts the weight according to where you land. This product is suitable for active and everyday situations.
Key Features: 
Mesh and 3D Print Fit:

The 3D print fit along with the mesh has the stretch and the structure that camouflages on your feet. 

BioMoGo DNA and DNA LOFT:

This technology supports the underfoot with cotton-like cushioning. Considering the softness, stability is not compromised with this design. These running shoes are durable and responsive. 

Segmented Crash Pads:

This is a key feature that stabilizes the landing of your feet especially on uneven surfaces. It absorbs the shocks and distributes them equally between heels to toes. 
Pros: 
Suitable for feet with high arches.

Ample wiggle room for the toes. 

Great shock absorption.

Comfortable for those with wide feet.
Cons: 
Some complaints about the life span of the shoes. 
Buy here.
4. New Balance 520 V5
This version of New Balance shoes is not just for athletes who go through tough training. It also serves its purpose if you are running errands and having to be on your feet for prolonged periods of time. The rubber outsole gives the grip required to brace slippery surfaces. Considering its design for tough training, the underfoot insoles are flexible and soft as they are made of foam. 
Key Features: 
Injection Molded EVA:

This feature provides your pair with cushioning soles with limited wastage of materials. They provide durability, resilience, insulation, portability, and buoyancy. 
NB Response 1.0 Performance Inserts:

Provides a sensational and comfortable effect. Sometimes you don't even realize you have it on. 
Data-Inspired Design:

This product is put together after taking into consideration the behaviors of the consumers. The whole process provides an edge to prospective buyers. 
Rubber soles and outsole:

This feature again contributes to the durability and resistance of the product against surfaces. 
Pros:
Good space in the toe box. 

A nice pick for an all-rounder. 

Breathable and lightweight. 
Cons: 
Takes a while to break into the shoes. 

Some question the quality of materials. 
Buy here.
5. Nike Revolution 5
Lightweight is the main feature of this product. They designed these shoes for men to feel comfortable running anytime and anywhere. From the foam, Midsole to textured knit material most of the features are put in place keeping in mind the light weight of these shoes. Even though featherweight, there is ample support given to the heel and overlays. 
Key Features:
Durable and Flexible Traction:

The rubber outsole again provides this product as well with the durable traction feature. But what makes this different from the others with rubber outsole is that the treads in the sole are spaced in distances that enable you to flex your foot with ease. 

Extremely Lightweight and Breathable:

The knit fabric and foam Midsole take away from a lot of weight in front of the shoes. These fit extremely comfortably and wrap your feet like a piece of airy cloth. 
Textured Outer Wall:

Adding to the lightweight and breathable feature the shoe's textured outer wall gives it a stylish design and required space for your toe box. 
Pros:
The heel lock design makes it easy to slip your feet into the shoe and keep it in its place. 
Lightweight is the way that you feel you're barefoot. 
The knit textile allows the free flow of air. 
Cons:
There is an annoying popping sound while walking. 

Not suited for long-distance running. 

The space for forefoot is questionable. 
Buy here.
6. Skechers Energy AfterburnLace-Up
These are absolutely comfortable and trendy pairs of shoes. The leather upper makes it cooler than it looks. It has a soft fabric lining inside providing an added cushioning effect. It deems appropriate for the gym or hit the running track. Nevertheless, it provides the flexibility and support required for needed performance. 
Key Features: 
Wide Toe Box:

Provides good enough space to fit wide feet without squeezing the toes. Once you make sure to buy the correct size, there shouldn't be any worries about the shoe causing blisters or breaking in pain. 
Elevated Heel:

The height of the heel is around 1.5 inches. It is not too bad but definitely will give you a little bit of height. 
Shock Absorption:

The added height is due to a padded insertion to the heel. This along with the leather upper protects your feet from the shock experienced during impact. 
Pros:
Quite sturdy from the exterior but soft cushiony interior. 
A fit for those who are overweight and also for those with wide feet. 
Perfect for those who are on their feet for long hours. 
Cons:
Makes a squeaky sound as the leather tongue rubs on movement. 
These are not necessarily light in terms of their weight. 
Buy here.
7. ASICS Gel-Nimbus 21 
When it comes to style this particular one hits the spot. It definitely is stylish offering a perfect fit. This pair looks hardcore from the outside but definitely is known for its lightweight feature. It is an appropriate pick for workouts at the gym or running down the lane especially if it is during low-light hours. 
Key Features: 
FlyteFoam Propel Technology:

Due to the elastic nature of this material users experience an added bounciness that assists in propulsion.  For users interested in track and field activities this option is worth considering.  
Reflectivity: 

Considering that most people have to fit exercise into their busy schedules. The reflective materials used in the shoe allow for greater visibility and therefore safety if you are simply going for an evening run or have an interest in cross country. 
FlyteFoam Lyte Technology:

This feature allows for added cushion and support while sustaining minimal weight. For those with broader feet, this makes active movement light and easier.
Heel Support:

 The technology used here can help with appropriate weight distribution in the feet to assist with your overall posture and provide comfort for your feet while on the go. 
Pros:  
This is a good fit for those with high arches. 
Cons: 
Compared to the previous versions this one seems to be narrower in the midsole area.

Inadequate shock absorption 
Buy here.
8. New Balance Women's 840 V4
The feminine design, heel, and under-arch support make this an option suitable for active or buxom women. With sufficient ankle support and a roomy space for broader feet, this can be used every day as it is designed for comfort.  
Key Features: 
Rubber sole:

This feature is known to offer added traction and shock absorption, with added flexibility.   
Full-length midsole:

The most important aspect of a running shoe is its midsole. They could be foam, gel or any other material. This product carries ABZORB midsole which gives stability and distributes the weight equally. 
Engineered mesh:

  For greater air and blood flow as well as moisture control while on the go. This is also responsible for an overall lightweight shoe
Pros:
So far this seems to be suitable for those with plantar fasciitis. 
Suitable fit for those women who are on the heavier side. 
Cons: 
Could provide better arch support. 
Seems to cause discomfort when used on the treadmill.
Buy here.
9. Salomon Men's Speedcross 4 Trail Running Shoes
Yet another shoe designed with ergonomics and style in mind. This shoe is the right solution for trekking, off-road running, and general running. These shoes are all about speed and ruggedness. It is worth considering men with active lifestyles. 
Key Features: 
Aggressive Grip/Contragrip Rubber Sole:

A solution for traction and balance while running on muddy or uneven surfaces. Its sharp lugs are built to dig deep and hold steady.  
Custom foothold:

With SensiFit and Quicklace systems,

this technology wraps your feet like a swaddle cloth around the midsoles for added comfort and breathability for any width of feet. Sometimes you may forget that you have shoes on.
EVA midsole:

This feature adds bounciness along with a softer rubber feel for the flexibility and shock absorption.
LT Muscle Midsole

: An added support for running on varied terrains. This feature offers a snug and bouncy feeling for comfort.  
Pros: 
Sporty, stylish design 

Bouncy and snug feel

Durable 

Perfect for long-distance running

Easy to put on
Cons: 
Gives moderate arch support
Not designed for running on hard surfaces
Insufficient waterproofing
Buy here.
10. Adidas Men's Ultraboost 19
As with typical Adidas running shoes, this model offers comfort, sleek design, and shock absorption for running long distances or everyday use. It's a comfortable and practical option that is light on the feet. Even though these are men's shoes, their comfort, and aesthetics lend a hand to be passed on to women folks. 
Key Features: 
Rubber Sole:

The solution for shock absorption and traction. Feature typical of running shoes as it also allows for greater flexibility.
Primeknit 360:

A breathable and expandable material that hugs your feet without squeezing. It is also lightweight and promotes blood circulation.
Second-skin fit:

Allows for freer movement and flexibility in a lightweight formfitting feel.
3D Heel Frame:

An ergonomic

technology that enables Achilles support and a natural fit.  
Stabilizing Torsion Spring:

This allows for better weight distribution, and shock absorption while landing. This feature also facilitates heel propulsion and elasticity.

  
Pros: 
Fits you like your own skin.
Facilitates blood circulation
Cons: 
Sole could be firmer

Watch out for fakes
Buy here.
As humans, we tend to pull towards style and brand rather than comfort and practicality. By taking the time to understand your body structure, you could determine the areas that need attention and support, and the outcomes that you anticipate from your physical activity. Based on these you can make informed opinions on shoes that are presented for you to consider. 
Having wider feet should never be a deterrent to buying comfortable shoes or having an active and healthy lifestyle. Always look for shoes that allow for circulation of air and blood to the feet, adequate balance, shock absorption, flexibility, and arch support. It may result in spending more money, but your long-term health, safety, and mobility are elements of life that cannot be compromised.    
Considering these 10 selections of running shoes for wide feet to be among the best in the industry,  Adidas Men's Ultraboost 19 tops my list as it is a feature-rich and versatile product. Brooks Women Ghost 12 follows as a smart and comfortable choice for today's women, incorporating the latest technologies in shock absorption, weight distribution, and weight management.