What Is Personality?
Personality is a combination of characteristics that makes one distinctive from others. A person's personality is most clearly expressed while interacting with other people.
Now coming to its types, 16 different personality types have been discovered over the years. Below, we shall read and understand these various types and know our personality types!
What Is a Personality Test?
A personality test is a mode used to assess human personality. The techniques are designed to measure the characteristic patterns of traits that people exhibit across different situations and help predict how people may respond in different situations.
What are the 16 Personality Types?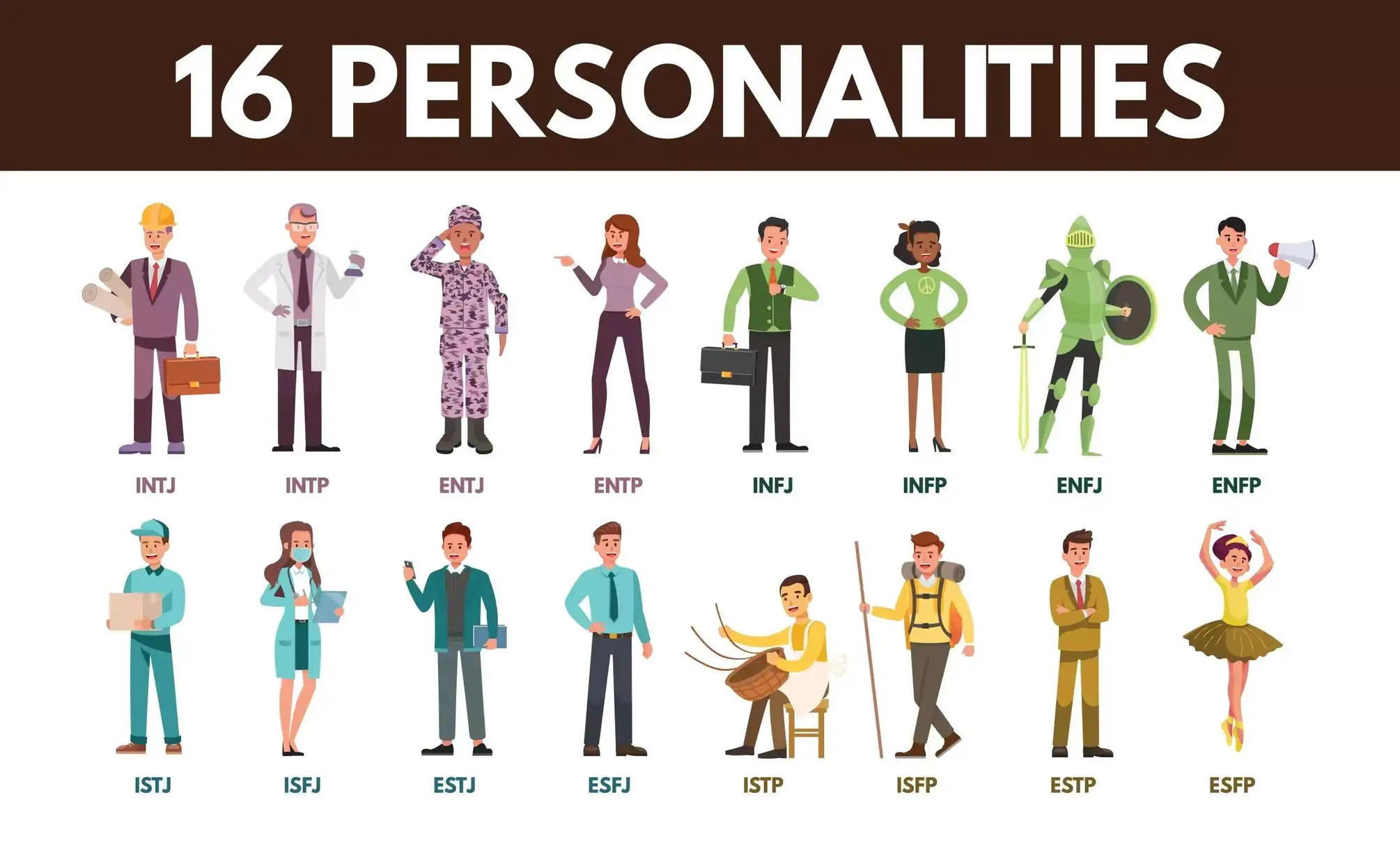 1. INFP
INFP (Introversion, Intuition, Feeling, Perception) is a four-letter abbreviation for one of the 16 personality types identified by Katharine Briggs and Isabel Myers; creators of the Myers-Briggs Type Indicator (MBTI). This type of personality is the ninth most common type in the population. You can also take the Myers Briggs test to check where you belong.
This is the most common personality type, and they make up: 4% of the general population.
The major strengths of this personality type are being empathetic, generous, open-minded, creative, passionate, and idealistic, but at the same time, some of their weaknesses are emotionally vulnerable, self-critical, desperate to pleased and unfocussed.
2. INTJ
A person with this personality type has the "Introverted, Intuitive, Thinking and Judging" personality traits. Such people love perfecting the details of life, applying creativity and rationality to everything they do.
INTJs are problem solvers, and they tend to improve in their areas of expertise with innovative ideas. They have an eye for viewing possibilities for improvement at each work area, be it work, home, or themselves.
The strengths of INTJs are being curious, determined, and independent, but alongside, they can also come out as arrogant, and overly critical with a lack of emotions sometimes.
3. INFJ
An INFJ (Introverted, Intuitive, Feeling, and Judging) tends to approach life with deep thoughtfulness and imagination. Their inner vision and personal values guide them in all things right.
They generally strive to do what's right to help create an environment where others do the right thing as well.
People with this personality type do not accept anything at the surface level. They may feel called to use their strengths, including creativity, imagination, and sensitivity, to uplift others and spread compassion.
In contrast, they can also be sensitive to criticism and prone to burnout and these are the most creative and have brilliant ideas.
4. INTP
INTP (introverted, intuitive, thinking, perceiving) is one of the 16 personality types described by the Myers-Briggs Type Indicator (MBTI). After taking the personality test, the people who come out as INTP are often described as quiet and analytical.
They enjoy spending time alone, enjoying the present moment, what's going on around them, thinking about how things work, and coming up with solutions to problems.
The core values of INTPs are having a rich inner world and would instead focus their attention on their internal thoughts rather than the external world. They typically do not have a wide social circle, but they tend to be close to a select group of people.
5. ENFP
ENFP stands for Extroverted, Intuitive, Feeling and Prospecting. ENFPs are the ones who have big ideas and work upon their actions to achieve those goals.
Their vibrant energy can flow in many directions. It doesn't interest me what you do for a living. Own strengths of an ENFP are being curious, enthusiastic, and festive, while their weakness can be being unfocused, disorganized, and overly optimistic.
They typically have strong interpersonal skills and see life as full of possibilities.
6. ENTJ
It stands for Extraverted, Intuitive, Thinking, Judging. ENTJs are sometimes called Commander personalities because of their innate drive to lead others. ENTJs are often very motivated by success and enjoy hard work.
ENTJs are ambitious in gaining power, are natural leaders and also love gaining fame and are driven to get things done, and they can sometimes be critical or brusque in pursuing a goal and hence are also categorized as blunt and decisive.
ENTJs are natural leaders among the 16 personality types. They are friendly and outgoing but also may not pick up on the emotional wellness in other people
7. ENTP
ENTP is an acronym used to describe one of the sixteen personality types created under MBTI. It stands for Extraverted, Intuitive, Thinking, Perceiving.
An ENTP categorized person is one who is energized by spending time with their loved ones, focuses on making calculative decisions based on facts and figures, and the best part is that they are spontaneous rather than planned.
ENTPs are sometimes referred to as Visionary personalities because of their passion for new, innovative ideas. ENTP is one of the rarer types in the population. ENTPs make up:
3% of the general population
4% of men
2% of women
8. ENFJ
It stands for Extraverted, Intuitive, Feeling, Judging. They have a good sense of the emotional well-being of others and often help them feel better.
However, their compassion is not reserved for the people close to them: they are often humanitarian and may feel genuine concern for the ills of the entire human race.
They tend to experience the feelings of others personally and feel compelled to act when they see people suffering, and they like to engage, befriend and understand people they work with.
They also tend to take charge of the situation themselves and guide the group to learn and grow together.
They intuitively see the ability in people, and with charisma and warmth, they encourage others to pursue greater development of their strengths.
Among men, ENFJ is the second rarest type of personality type.
9. ISFJ
It stands for Introverted, Sensing, Feeling, Judging. ISFJs are conventional and grounded and enjoy contributing to established structures of society. In this type of personality, people are committed and steady workers and possess a sense of responsibility. They value an orderly and harmonious environment, also very non-confrontational in nature.
They focus on fulfilling their duties, particularly when taking care of other people's needs. ISFJs are oriented to relationships but can be reserved with new people. They rarely disclose personal information quickly.
They tend to be focused and aware of their surroundings and relate details from their personal experience. They often converse about what has happened to them and what they have seen first-hand.
10. ISFP
It stands for Introverted, Sensing, Feeling, Perceiving. ISFPs tend to be tolerant and nonjudgmental but are intensely loyal to the people and causes that matter to them. They endeavor to accept and support other people but ultimately guide their core values.
They may initially appear distant or aloof, but you can observe their caring in the thoughtful things they do for others if you watch closely. ISFPs are introverts and hence do not like to be in the spotlight but rather help by taking a supporting role.
They tend to express themselves mainly through actions rather than words, and hence it gets difficult to spot an ISFP. They also sometimes face difficulty in accommodating others who do not generally have the same taste as them.
They are sensitive and responsive. They step in to do what needs to be done and are satisfied by their sense of helpfulness.
This personality type is the fourth most common type in the population.
Popular hobbies for ISFPs use their physical or artistic skills, including independent athletics like skiing or swimming, dance, and craft projects. They enjoy being in intimate and small groups.
11. ISTJ
ISJT' stands for Introverts, sensing, thinking, and judgement. People with this type of personality highly rely on their life experiences to guide them further ahead in life. These types of people are most comfortable in familiar surroundings. They cherish hard work, honor, patience and social and cultural responsibility.
ISTJs trust the proven method and appreciate the value of dedicated practice to build confidence in their skills. Their dominant cognitive function is introverted sensing, which allows them to take in details about their surroundings, and their auxiliary cognitive function is extraverted thinking, which allows them to reason efficiently and logically. ISTJs are responsible organizers, driven to create and enforce order within systems and institutions.
ISTJs are steady, productive contributors. They are neat and orderly, inside and out, and have a procedure for everything they do.
Although people with this personality are introverted in nature, they are rarely isolated.
A typical ISTJ personality has a strong sense of where he stands and understands how they can participate more in life.
12. ISTP
ISTPs stands for Introverted, Sensing, Thinking, Perceiving. They are observant and approach their environments with a flexible logic, looking for practical solutions to the problems at hand.
They are independent and adaptable and typically interact with their world self-directed, spontaneously. ISTPs are attentive to details and responsive to the world's demands around them.
Because of their astute sense of their environment, they can move quickly and respond to emergencies. ISTPs are reserved within their selves, and they tend to enjoy doing work and approach the world with an eye for appreciation.
An ISTP enjoys working, which allows them to work freely according to their thoughts.
13. ESFJ
It stands for Extraverted, Sensing, Feeling, Judging. ESFJs gain energy by spending time with people around them. They are outgoing, loyal, organized, and tender-hearted. People are drawn toward ESFJs because they are good at helping others.
They tend to take on the role of organizer without hesitation and want to ensure that everyone is taken care of roles such as committee leader and event planner.
14. ESFP
It stands for Extraverted, Sensing, Feeling, Perceiving. ESFPs are entertaining and bring everyone together around them.
Everyone around them loves their spontaneity and energy. They have a playful, open sense of humor and want to draw other people and help them have a good time.
15. ESTJ
ESTJ is an acronym that stands for Extroverted, Sensing, Thinking, Judging. ESTJs are sometimes referred to as supervisors because they tend to take charge and ensure things are done correctly.
One of their personality preferences is to proceed in a planned and logical manner to understand and make everyone else understand their work and expectations from them in a much better way.
16. ESTP
ESTP can refer to one of the 16 Myers–Briggs Personality Types Indicators. It stands for Extraverted, Sensing, Thinking, Perceiving.
A person with an ESTP personality gets energized just by being with others because of an extroverted nature. They are someone who looks into facts and details rather than mere ideas.
They have strong thinking abilities and make their decisions based on logic. They are the kind of people who loves to be spontaneous rather than organized and prepared.
Their personality type strengths are being bold, original, direct, and pleasant, whereas their weaknesses include being impatient, risk-prone, and defiant.
Why Knowing Your Personality Type Is Essential?
#1. By knowing your personality type, you'll identify your strong and weak areas. Everybody loves doing things in different ways; no two humans are alike in approaching things.
#2. Knowing your personality will help you better understand yourself and your people. It can give you clues as to why certain people think or feel in a certain way and why and how you think or feel is different from them.
For example, you may wonder why being in public or giving a public speech gives you so much anxiety while others are so relaxed about it?
#3. We all react differently to stress, conflict, and other circumstances that life throws at us. Knowing your personality will help you predict how you respond to certain situations.
For example, if you're an extroverted type, you'll probably be more inclined to be around people and engage in social interactions when faced with stress.
You'll use social outlets as a way of helping you to minimize stress. Being around others is what you need to recharge yourself.
So, these were the 16 different types of personalities people have. I hope after reading this article, you got a clear perspective of the personalities out there.
Also, do tell us, out of these 16 different types of personalities, which type do you belong to?
And I hope you found this article an interesting read. More interesting articles, keep following Icy Tales.