As an affiliate-driven website, Icy Tales earns from qualifying purchases.
Unlike the traditional cliché "Never judge a book by its cover," this world acts in the opposite direction, with first impressions saying a lot about you. In interviews, the initial impressions are everything, so always dress to impress. Dressing for success is essential to have a bold and confident appearance to ace the interview. Dressing in tastefully styled interview attire is thus very essential to impress your hiring managers.
Whatever your profession is, it is critical that you portray a polished and professional image the first time you meet them while being respectful of the company's culture. It is critical that people perceive you in your finest and most professional light, which makes dressing appropriately very important. In this article, we will discuss what women should wear to interviews to be properly expressed. Moreover, there is such a thing as professional formal wear for women. If you are looking for professional attire to make catch the interviewer's attention, you have several options to choose from.
1) What to Wear to an Interview Women: 10 Ways to Dress to Make an Impression 
Given below are ten different styles to choose from –
Ranging from power suits to statement dresses while mixing and matching while wearing button-down shirts or blouses with complimenting dress pants or pencil skirts. To add on to the look, add ties and blazers. I have put together ten styles you can wear to an interview to make the right impression on your hiring managers.
1.1) Power Suits:
Power suits are renowned to have a strong influence on the audience since they are constructed in bold colors to convey confidence and proficiency. It is a well-tailored full-body suit that was traditionally made for men in the 1950s. Women are now wearing power suits to give them an energetic and powerful appearance.
Power suits are designed to offer women an energetic and bold appearance and help establish such a bold statement. It is the meeting point between traditional patriarchy and feminine audacity. Power suits are the epitome of professionalism, and they're even considered stylish these days, thanks to the way they're worn by celebrities ranging from Zendaya to Blake Lively.
With its professional and polished appearance, a power suit would provide an excellent first impression in a job interview, displaying courage and confidence, thus making this an appropriate interview attire. It's a perfect fit when applying for a leadership position.
1.2) Statement Dress:
Statement dresses are a powerful ensemble that helps make a bold impression, especially when worn on critical milestones to appeal to people. It's a one-of-a-kind outfit that sets you apart from the mass. It distinguishes you from everyone else.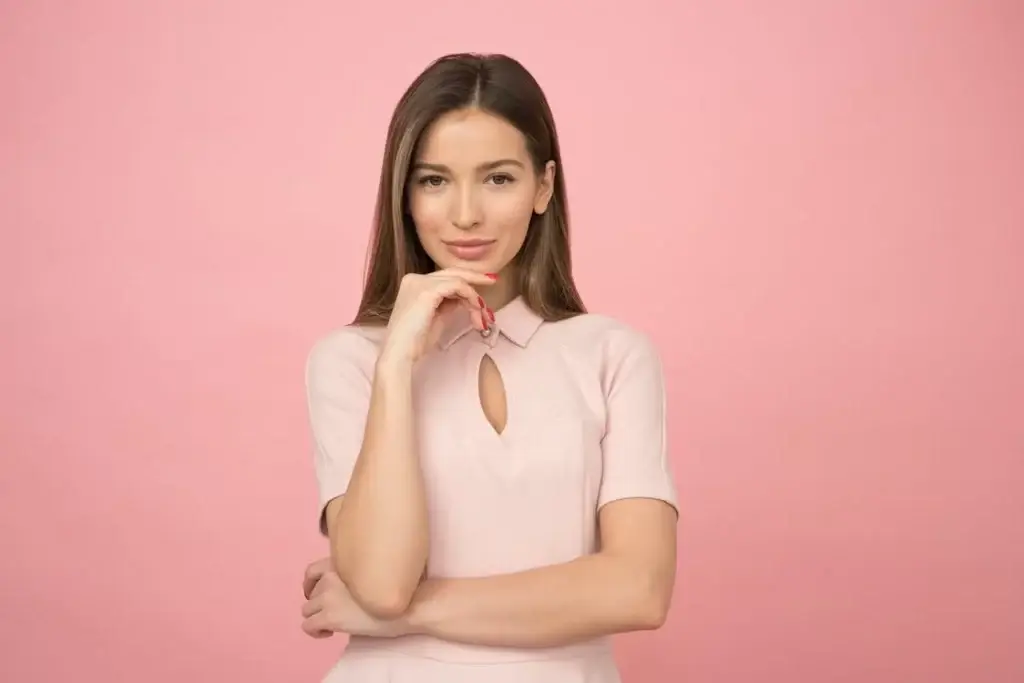 While it is vital to seem professional, it is not completely inappropriate to experiment with colors and go for a statement dress with unique color palettes such as deep crimson red and cyan. Such a statement dress will create a striking and unique statement in front of the interviewers, ensuring that you stand out from the crowd. It may have a considerably stronger impression when matched with the perfect pair of stiletto-appropriate footwear.
A well-covered neckline is required for such a garment to offer a professional appearance. It is a very unique and bold interview attire that offers a good impression to the interviewers.
1.3) A Blouse and a Pencil Skirt:
A blouse and pencil skirt are the go-to corporate ensemble for professional environments. A pencil skirt, especially in black, works well with lighter-colored blouses to complete the outfit.
They are two of the most stylish and professional outfits a lady may wear. Pair a simple blouse, preferably in white or plaid, with a black pencil skirt to create a statement. An interesting fabric can be chosen for the blouse, such as silk or chiffon, to modernize the look.
Depending on the blouse's fabric, it can also be worn with a matching blazer and a pair of black heels or stilettos to complete the look. While earrings may be used to complete the ensemble and offer an attractive touch, remember to avoid too much jewelry. If you want to dress it up, you can always add a skinny waist belt to the outfit to make it more attractive. Such interview attire is the most preferred as it gives a very modern and sleek finish.
1.4) The Classic Black Dress:
The black dress is an all-time work of genius since it is an all-purpose attire that can be worn for each and every occasion, from parties to black tie events to job interviews. It can be worn at any situation and have the same timeless influence on the audience.
A black dress is an all-arounder that suits wonderfully for every event, making it a fashion classic. In an interview, a well-styled black dress may make a big impression. A nicely tailored black dress conveys professionalism while maintaining a trendy appearance. However, keep the neckline and hemline in mind when wearing the black dress. Check that it meets the appropriate professional standards.
Wearing black slacks will elevate this style and make you appear more classy. When in doubt, always choose a black dress. Keep in mind that the fabric of the textured tights should be suitable in a formal office environment, such as transparent stripes, and that fishnet material should be avoided. You can wear black heels to complete the look.
1.5) Button-Down Shirts:
Button-down shirts are the greatest choice for women since they come in various hues and can be coordinated with various lowers to transform the ensemble's appearance. It may be worn with pencil skirts or dress pants and can even be topped off with a coat.
When tastefully styled, a button-down shirt does not have to be uninspiring. It's an interesting look to wear to an interview. You may experiment with everything from cotton to silk chiffon with so many fabric alternatives. White and milder tones of pink or blue are the most favored colors. Such a sophisticated color and fabric combination will undoubtedly set you apart from the crowd. To give the shirt a more tailored appearance, tuck it in. You can pair it with either dress pants or a simple black pencil skirt to offer a sleek and refined look. You may always add a tie to make it appear more formal. Wear a neutral-colored heel, such as black, white, or tan, to complete the outfit.
1.6) A Black or Navy Blue Suit:
Blazers are the cherry on top of professional ensembles, and black and blue are two of the most popular but professional shades that may be worn for job interviews. They have a very polished appearance.
It is a more professional approach that should be properly paired with a neat white button-down shirt and appropriate accessories. When it comes to accessories, a black or dark navy blue blazer has fewer options because they tend to dominate the color of the clothing, so you may avoid too much jewelry and go with simply the striking appearance of the suit.
Add a pocket square or handkerchief to your blazer pocket to further complement your look. Ensure that it complements your tie or shirt. It is advisable to pair it with a navy blue skirt or navy blue bottoms when wearing a navy blue suit jacket, and for a black suit jacket it is advisable to wear black dress pants or a black matching skirt. To complete the look, you can wear dark shoes or heels in shades of navy blue or black.
1.7) Wearing the Shades of Khaki:
Incorporating Khaki tints in your attire will offer you a chic and modern aesthetic while expressing professionalism. Khaki comes in various hues, allowing you to explore and find the one that perfectly represents you.
Wearing a menswear-inspired khaki blazer with khaki pants can make a perfect interview outfit. It's a very versatile piece to have in your wardrobe, which can be worn with a button-down shirt or blouse, preferably in lighter hues of pink or white, but remember to avoid revealing necklines.
Topped off with a pair of plain black pumps or heels, this simple but sophisticated look is bound to make an impression on your prospective employers. This look makes the perfect business formal to wear at a job interview. While this is to keep up with the dress code of the company. In case of a casual interview, one can always pair a khaki blazer and dark wash jeans to wear to an interview.
1.8) V-Neck Sweater:
V-neck sweaters combine comfort and professionalism to give you an ultimate look. They are quite adaptable and can be used for business formals and casuals, depending on how they are worn. Matching it with blazers will give you a more formal style while pairing it with jeans will give you a more business casual vibe.
A V-neck sweater can be comfortable and professional to wear to a job interview. The V-neck sweater can either be plaid or have a bold print and should then be appropriately paired with button-down shirts or a simple blouse. To dress professionally, it can be paired with black dress pants or khaki pants.
To add interesting detail, pair it with neutral-colored leather shoes. For a casual interview outfit, pair your v-neck sweater with a button-down shirt and dark wash jeans. This shall give a business casual look, which can be paired with black ballet flats to avoid being overly formal. To complete such a look, wear stud earrings.
1.9)Monochrome Outfit:
Monochrome outfits are now prevalent, in which every item of clothing is the same tone, creating an aesthetic style that may be worn even when wearing a professional business outfit.
Monotone apparel can make you seem sleek and professional. You can dress in all neutrals for your job interview. Monotone refers to matching colors and patterns, like all neutral colors or a solid suit and tie. It makes an elegant interview outfit. When executed effectively, it is anything but mundane. It can be done in monochrome hues, such as a navy blue skirt and a navy blue blazer, all in one shade. Creating a monochromatic ensemble necessitates deciding on a 'shade' of hue and selecting fabrics and palettes that suit you.
1.10) Shift Dress:
It is a basic, sleek, and sophisticated dress that will give you the flawless professional appearance you desire. It's a dress with sleek lines that slims your appearance. It may be enhanced by mixing it with the appropriate accessories.
Shift dresses is a perfect combination of both business casual and business formal to wear to an interview. It can be a straight cut in its most basic form for business attire or with a modest waist definition. Just make sure that the sharpness is used to enhance the look rather than perfectly define the waist. Make sure that the knee-length shift dress is in neutral hues and, more importantly, it is knee length. Pair it with dress shoes and a match with suit jackets which compliments the look.
2) How to Choose the Perfect Style and Outfit?
When selecting an interview wardrobe, bear a few things in mind that, if executed properly, will give you a sleek appeal. The suggestions made below apply to any sort of outfit you pick.
Be sure to research the company's dress code before selecting your interview outfits during your job search, as it is important to fit in with your potential co-workers right from the interview stage. When you doubt the company's dress code, check in with the hiring manager before going for the job interview.
To discover more about the organizational culture, visit the office or browse its official website and social media platforms. This will assist you in fully comprehending what the business represents and what it wants from its employees.
Once you learn what to wear to an interview, you can put together an outfit based on your preference and style while making it compatible with the expected dress code according to the company culture.
2.1) Makeup:
Always go for a natural look rather than a heavy makeup regimen. Keep it nice by carefully matching the foundation to your skin tone and priming it against the brush. Avoid using false lashes and sloppy mascara. Depending on your interview attire, choose between a light and natural lip gloss and a deep red lipstick for a much stronger impression. If you consider wearing nail polish, wear neutral colors and avoid bolder ones.
2.2) Footwear:
Closed-toe pumps with a slight heel or closed-toe black high heels should be worn, which perfectly complement business formal. Open shoes, such as flip-flops or sandals, are not appropriate to wear to a job interview. While dress shoes and black ballet flats are more business casual. While stilettos best go with a pencil skirt and give a polished and sleek look. A button-down shirt with dress pants goes best with slight heels or closed-toe pumps. Be mindful of the footwear colors. Always go for neutral shades.
2.3) Jewelry:
Avoid too many accessories, such as huge necklaces and bangles, since this might generate needless distraction. Make careful to wear just modest earrings. Wear only a wedding band or no rings; your watch should be slim.
2.4) Tattoos:
Remember to cover all your tattoos using clever styling of your interview clothes. If the tattoo cannot be covered with your interview outfit, try covering it up using makeup. Use concealer to cover the entire tattoo.
2.5) Piercings:
If you have any facial piercings, remove them before the next interview. Make sure to have a clean look on your face that showcases your most professional side.
2.6) Briefcases and Handbags:
Be sure to carry a briefcase or handbag which compliments your interview outfit to carry important documents. Remember that carrying a briefcase or a sleek handbag will give you a polished and professional look. Try to pick up bags in darker tones, especially black, navy blue, or brown. Make sure that it is of interesting fabric, such as leather.
2.7) Shades:
Before heading to your next job interview with a really corporate organization, remember to wear somber tones. While darker color palettes such as black and Navy blue make excellent choices for your interview outfit. Lighter hues such as grey and light brown are great alternatives. It's also interesting to combine darker shades with a lighter-shade button-down shirt or blouse, such as pairing up a navy blue blazer with a white button-down shirt. However, don't mix more than three colors and two patterns.
2.8)Clothing:
Always be mindful of the company culture before choosing what to wear to a job interview. Ensure your interview outfit is a professional, clean, well-ironed shirt or blouse with no deep neckline. If you're wearing a skirt, ensure it's no shorter than two inches above the knee. Remember to wear tights or stockings underneath your skirt.
Wear a pair of trousers or black dress pants instead. Wear dark wash jeans if you are aiming for a business casual look. Always avoid wearing a t-shirt to the job interview and dress appropriately, avoiding anything with revealing necklines.
3) Things to Keep in Mind –
After going over everything, when you put together your interview attire and complement it with apparel and footwear, keep the following tips in mind:
Make sure the outfit is in good shape, giving you a professional look. Be sure to iron it and have it dry cleaned if required to ensure that it is clean and free of wrinkles.
Keep any relevant paperwork, such as your CV, in a briefcase or professional purse. It is critical that the briefcase you choose compliments your dress style.
Remember to shower well and clean yourself and your attire since personal grooming speaks volumes about a person. So, before going to your job interview, take a thorough shower and cleanse yourself.
Smelling good is also an essential element of grooming; applying scented lotion or mild perfume is recommended. However, avoid perfumes with dominating scents.
Also, having fresh breath is essential, so chew on mints before the interview. While in the interview room, refrain from eating gum or mints.
Also, remember to take care of your hair and maintain it well. Ensure your hair is dry, and avoid applying too much product. Choose a sleek ponytail, a sleek bun, or a french twist for hair updos. If you want to leave your hair open, ensure it's in excellent shape so you can seem professional.
Remember to avoid wearing many accessories. Just wear the right ones to make a good impression on the interviewers.
Keep your nails trimmed and well maintained, avoid adding fake nails, and avoid nail art. If you want to apply nail polish, always go for lighter neutral shades such as white or beige. Stay away from darker and bolder colors. If you are painting your nails and have extra time on your hands, consider getting a manicure done.
Even if it's a video interview, remember to dress professionally to make a good impression on your hiring managers. Choose your interview attire judiciously, with some outfits avoiding revealing necklines.
Always choose your outfit, accessories, and footwear at least a day before the job interview date, and it is also advisable to start creating an interview wardrobe right from the job search days. The above tips would be helpful to that women wondering what to wear at their job interview for their dream job. These tips apply to both walk-in interviews and video interviews. Hopefully, women who are job seekers found this article helpful. If you liked this article, check out an look into the world of fashion merchandising.
Click here to read something interesting.
Suggested reads: