When you're getting married or you're invited to a wedding then a big question arrives What to Wear to A Summer Wedding? well! We are here with an ultimate guide to help you to pick the perfect outfit for yourselves!
Wedding in the summertime is all about light colors, fresh flowers, floral prints dresses, etc. summer season is prevalent for couples to get married. Aside from being the most popular season for weddings, summer is notable for being extremely hot. Women are constantly searching for the best attire that makes them look elegant.
Indian ethnic clothing comes in a wide variety. Women in "ethnic avatars" look incredible in everything from Kurtis to lehengas. Particularly for summer weddings, attire should be both comfortable and stylish.
1. What to Wear to A Summer Wedding as A Bride?
It can be challenging to decide what to wear to a summer wedding as a bride cause when attempting to make a decision. Formality, weather, and location are among the many factors to consider.
Nowadays, more and more brides are ditching the concept of wearing heavy lehengas for their wedding functions and opting for lightweight ones instead. Because of the summer heat, lightweight lehengas are ideal picks for brides. Also, lightweight lehengas are easy to manage and perfect for a casual summer wedding.
Let's check out some fantastic lightweight lehengas for summer weddings.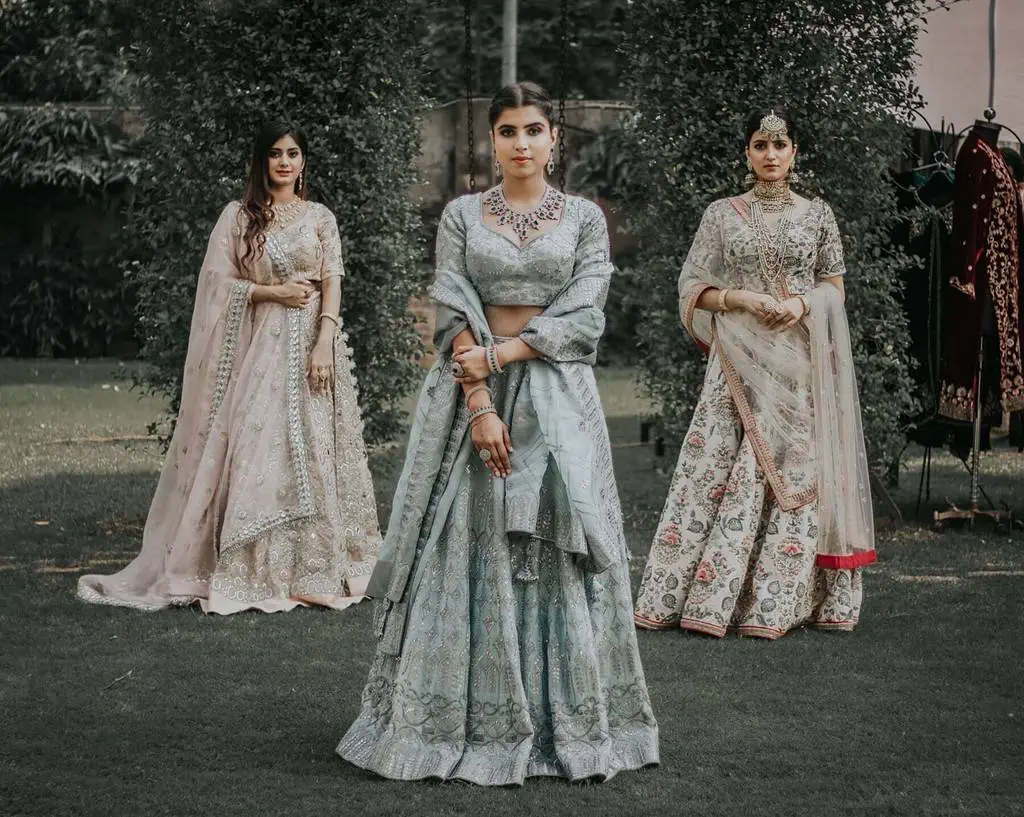 1.1. Paneled Lehenga
This wedding season, designers come up with amazing panelled lehengas designs which have become popular among brides and bridesmaids. In fact, those paneled lehengas are very light in weight cause those lehengas have just panel work, which makes them so convenient for brides.
For your Mehendi and wedding day, you should definitely choose a paneled lehenga and complement it with statement earrings.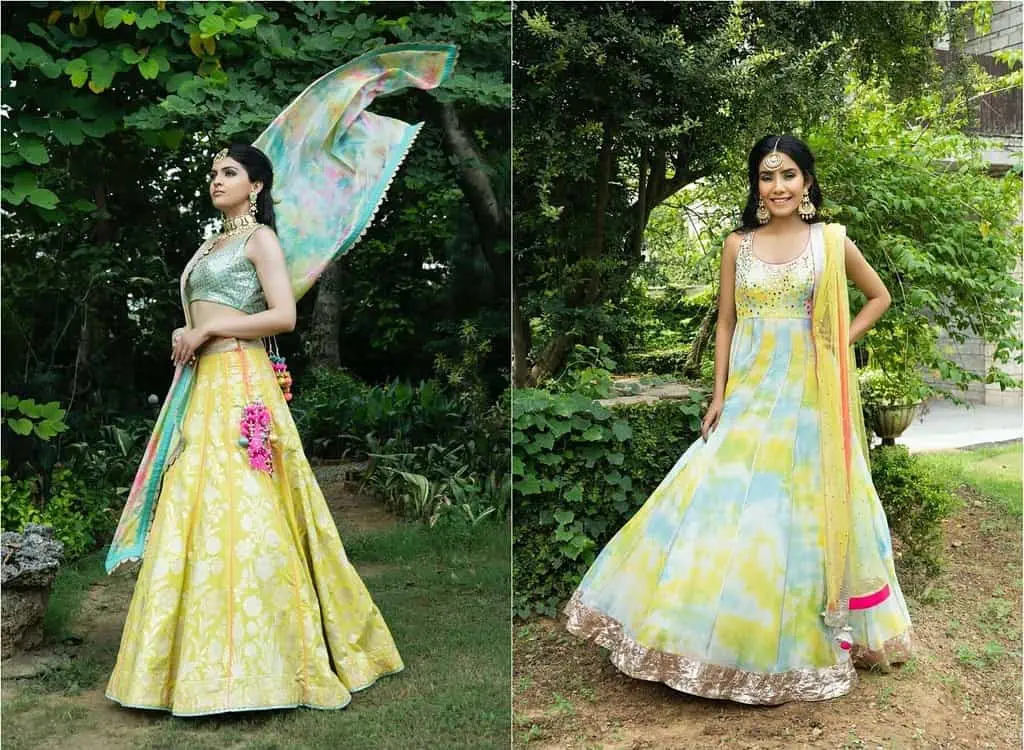 1.2. Floral Lehengas
Ditch heavy work lehengas and run for printed lehengas which are ideal for beach weddings, destination weddings, casual weddings, day weddings, etc. Floral-printed lehengas are a classic style for summer weddings.
Nowadays brides prefer floral print lehengas as they are light in weight and look classy. It is a perfect pick for a beach wedding and you can style it with Kundan jewelry.
1.3. Sharara
Want to look royal on your wedding festivities? Wear shararas as they come up with different- different designs and colors, shararas are commonly worn by Muslim brides.
1.4. Sizzling in Saree
Forget about lehengas and shararas and go for sarees like Nayanthara, Dia Mirza, Alia Bhatt, and Yami Gautam to choose saree for their d-day. In many cultures in India brides wore traditional red sarees as their wedding outfit although sarees are light in weight and look elegant. Sarees come in many varieties, from banarasi silk to kanjivaram silk.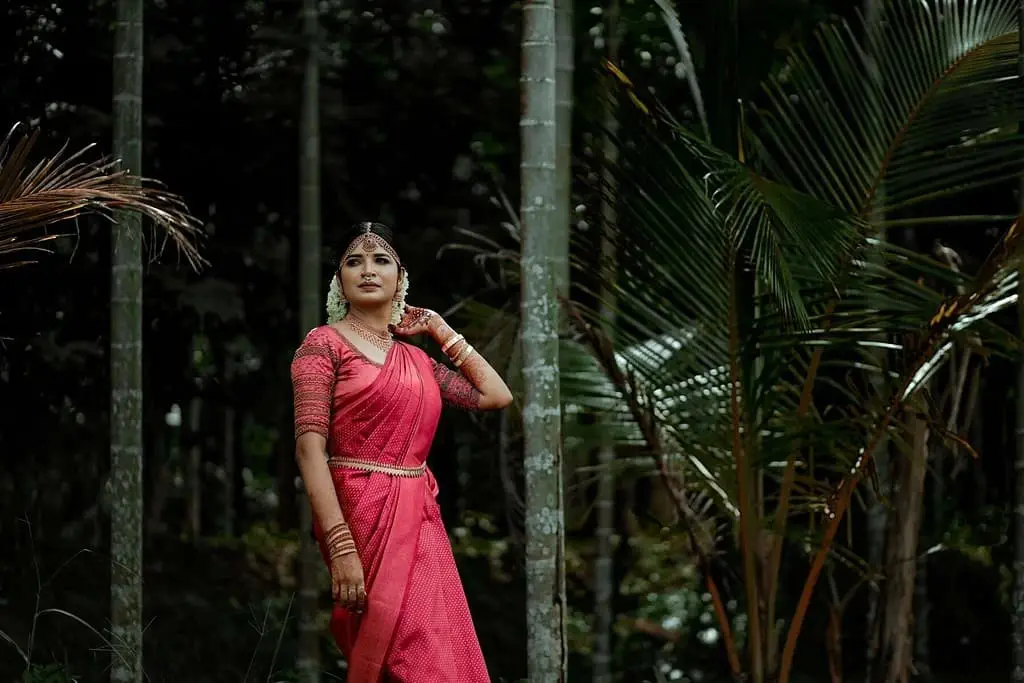 2. What to Wear to A Summer Wedding as A Groom?
It is always so much fun to be a part of an Indian wedding, but you must dress appropriately. It is important that you wear something comfortable since you will be dancing and moving at a big fat Indian wedding, so choose something which is comfortable for you. here are the best outfit ideas for summer weddings.
2.1. Kurta-Pajama
Kurta pajamas are your best choice as they are made of breathable fabrics. Embroidery on the chest and the arms of a kurta is always a good option. In terms of dress color and style, an Indian kurta can be worn in many different ways, whether at a daytime wedding function or at an evening wedding reception.
To give your kurta pajama more spice, go with a half coat.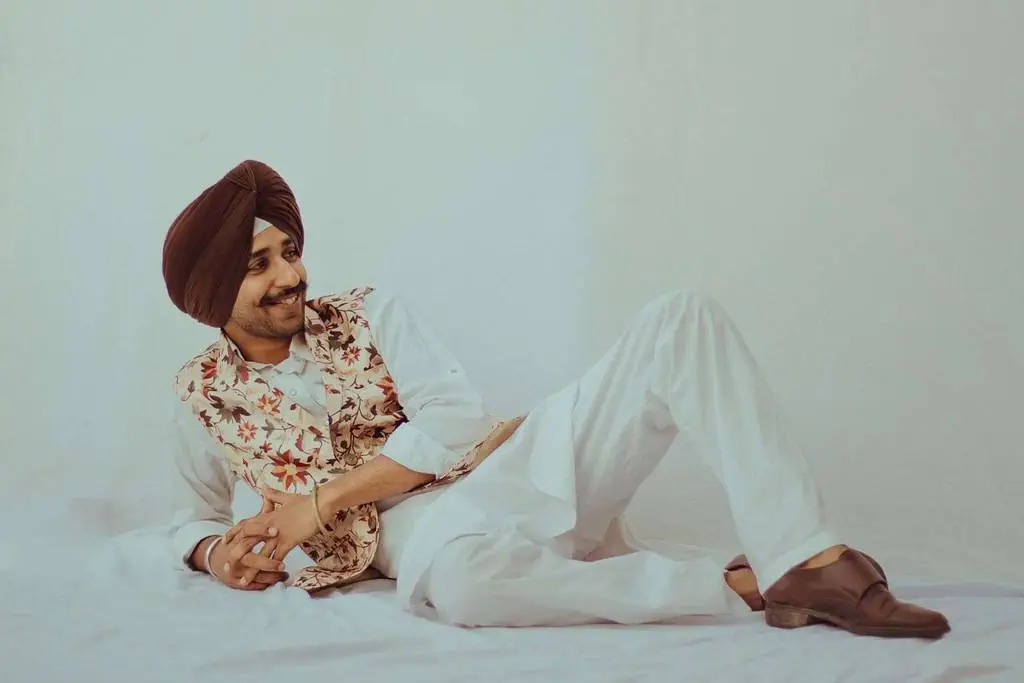 2.2. Sherwani
Sherwani is a very traditional and heavy outfit but for a summer wedding, you can always go with a lightly embroidered sherwani. Choosing the right sherwani to wear is about experimenting with different colors and designs, but keeping it simple with a good pair of jutti.
2.3. Achkan
Achkan is a galaband traditional suit, it is an excellent mixture of western and traditional looks. This knee-length coat will give a royal vibe & it would go well with leather shoes.
3. What to Wear to A Summer Wedding as A Bridesmaid?
Summer is the time to have some fun. whether your close friend is getting married barefoot on the beach or has planned a black-tie wedding at a luxury hotel, we'll give you the best advice for summer wedding guest outfits to fit the occasion.
Well, we all want to be on the list of best-dressed guests but in warm weather weddings, it's a challenging task to decide what to wear in the heat. In recent wedding trends, brides & grooms give dress codes to their guests sometimes it's a formal dress code or sometimes it would be funky and a little different style according to their taste.
3.1. Floor Lenght Gowns
You can never go wrong with floor length gown with one shoulder sleeve as they are super comfy and made with lightweight fabric. For a spotlight-stealing look pick a high-slit gown with a high neckline.
An often-used dress code is cocktail attire. The ceremony is formal but more casual than a daytime wedding and typically combines elegance with comfort. Tea-length, knee-length, or midi dresses are better alternatives to floor-length dresses.
3.2. Sarees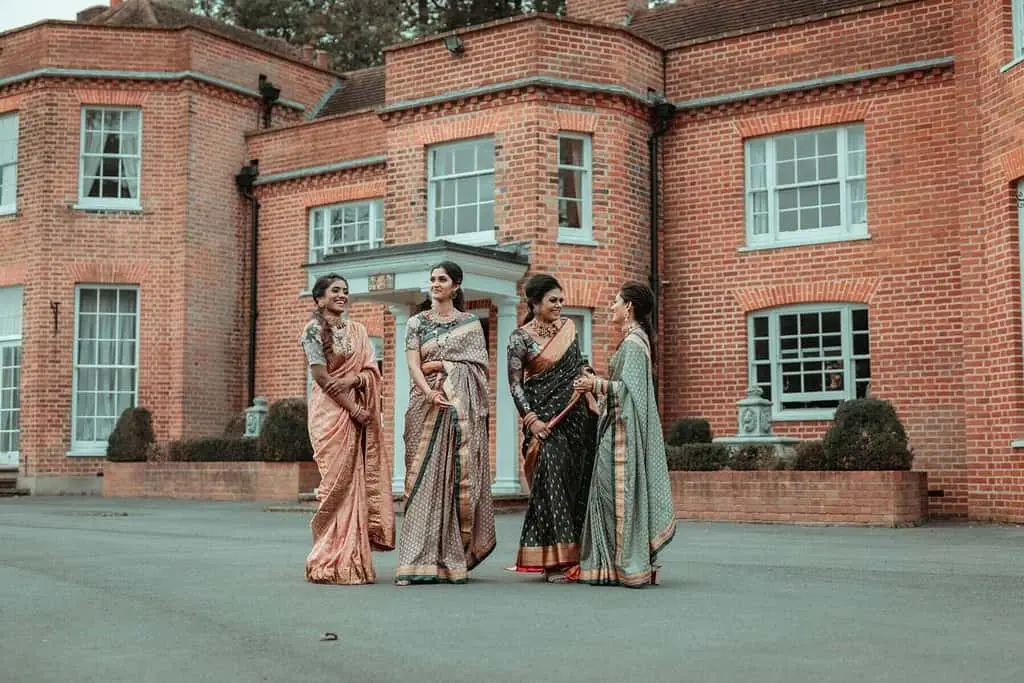 You can also wear it to a summer wedding. Sarees come in many varieties and chiffon or organza will be a good choice cause they are light in weight, but you need to make sure that you are not wearing too heavy jewellery when you attend an Indian wedding, since it would overpower the saree's elegance.
3.3. Lightweight Lehengas
Whether back-baring blouses and A-line skirts of lehengas are in style or not, a classic silhouette will never go out of style. A versatile lehenga can make sure that you make the most of your investment since lehengas are appropriate for most wedding functions in Indian culture. Recently, lehengas have tended to focus more on elegant, fuss-free styles that can be worn by guests as well as bridesmaids. A pared-down look is achieved by removing the dupatta if you want. And, lightweight lehengas are the bridesmaids' first choice.
3.4. Salwar-Kurta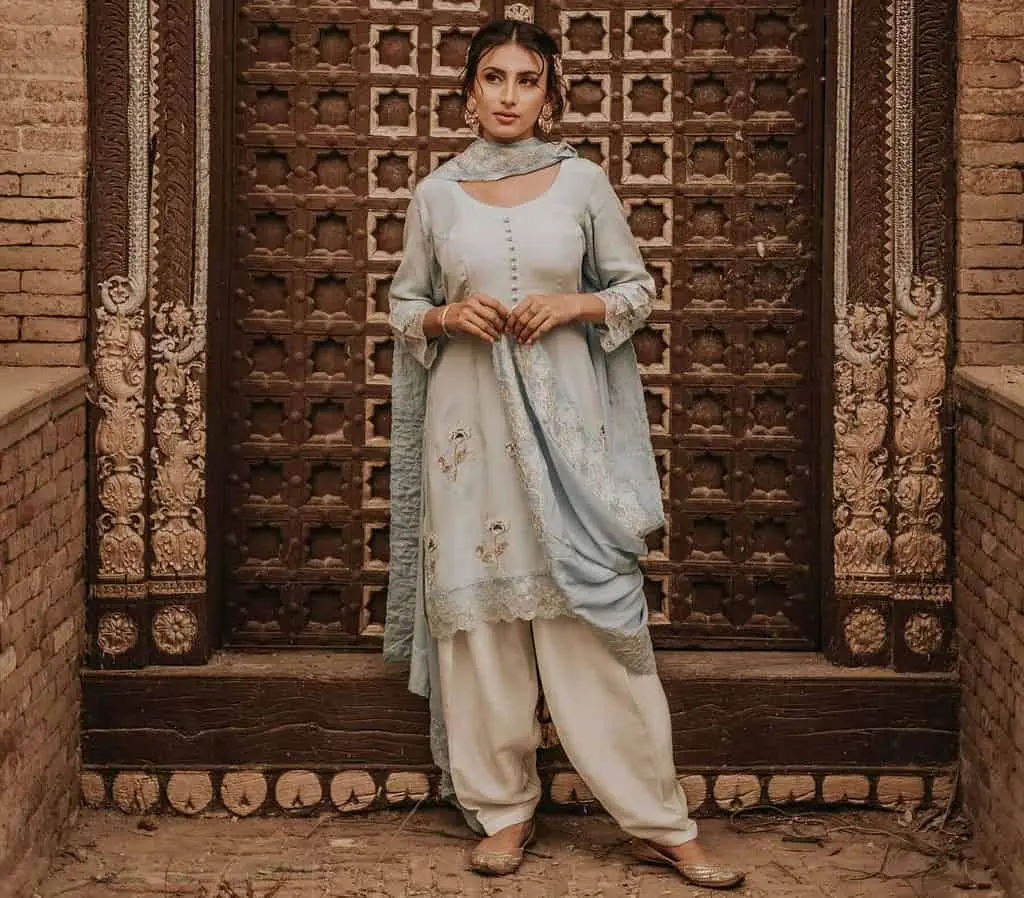 One of the most comfortable garments in desi attire is the salwar kurta. For a wedding, spice up your salwar suit with some heavy embroidery and a dupatta to avoid looking plain. Choose a lighter dupatta if your suit is heavy, and vice versa. Feel comfortable in your outfit while looking completely out of the ordinary by choosing a fabric like raw silk or tussar.
3.5. Anarkali
You can wear a floor-length Anarkali dress if you want to add ethnic elements to your gown. This A-line dress is one of the best summer wedding guest attire as they are not overly flared.
3.6. Kurti with Palazzo
Doesn't matter if it is a day or evening wedding. Go for Kurti with palazzo. Yes! You read it right. You might think it is too plain for the wedding but, don't worry the dupatta will be the main highlight of this look, so you can use cotton and silk mixed fabrics. Wear a heavily embellished or embroidered dupatta with a solid color kurta-plazo. Despite your simple pair of kurtas, your dupatta will steal the show.
4. What to Wear to A Summer Wedding as A Groomsman?
4.1. Kurta Pajama
We all remember Shahrukh Khan's iconic kurta pajama from the movie 'Kabhi Khushi Kabhi Gam' it is a super cool dress for your best friend's wedding. To complete your formal look go for leather shoes.
4.2. Long Sleeves Shirt & Trouser
A breathable, pure linen classic long sleeves shirt is essential for every man to summer weddings. The shirt has been beautifully constructed, every detail has been given careful consideration, and every stitch has been measured. During summer, this lightweight linen shirt can keep you cool with its buttons on the front.  To make your daytime wedding outfit more casual, wear your sleeves down or rolled up.
5. What to Wear to A Summer Wedding as A Couple?
Want to level up your couple dress game? Couple dresses with color and pattern match-up are a new trend in town, and it's too cool and too hot at the same time. You would need a designer to help you achieve the right look as most often this would have to be custom-made. Even if you're invited to formal wedding guests, a matching dress code will be a great idea to complement each other.
6. Ideal Fabrics for A Summer Wedding
6.1. Comfortable Fabrics for Summer Weddings
Cotton, Silk
Viscose Rayon
Raw Silk
Chiffon
Linen
Chanderi
Net
Georgette
6.2. Fabrics to Avoid Wearing for Summer Weddings
Pure Velvet
100% Rayon
Polyester
Nylon
Heavy Brocades
Conclusion
Formal affairs are those following six o'clock, and the reception card will include the words black tie or white tie. Your guests will usually dress up a bit more for an evening wedding if the ceremony starts after six unless you specify otherwise. A cocktail or garden party dress is appropriate for an earlier wedding.
The best way is to do some research on the venue before deciding what to wear to a summer wedding. The wedding location would be the first thing that will come to mind as a guest. By searching for wedding photos online, you can get an idea of the venue's style and inspiration for your own wedding. However, dress as you want but make sure to wear a dress that is made of lightweight fabrics and you are all set to Rock The Wedding!

Mehar is a passionate content writer in Fashion & Lifestyle. She writes blog posts and articles on diverse topics and loves creating content for online media. With a speciality in fashion, lifestyle and travel, Yashita's creativity know no bounds. When she's not writing, she loves exploring new places, trying different flavours and foods, and taking photographs.