Camping is fun, but you should always think about your safety first. The clothes you wear when camping matters a lot since it protects your exposed skin from sunburn and insects.
There is no wrong decision when it comes to which camping clothes to bring in camping. If you want to bring your favorite band's T-shirts and denim pants, that's fine. If you're going to be extra modern and wear technologically advanced clothes, you are free to do so. It's always about your comfort and finding clothing that you can move in while doing outdoor activities.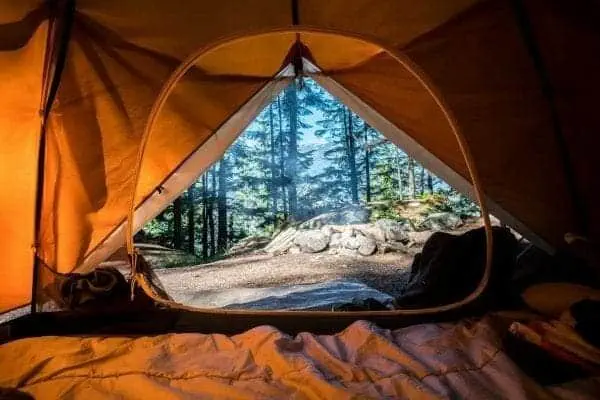 Your Travel Clothes
Always keep in mind that whatever you are wearing while you're traveling to the campground will be the same outfit you're wearing in setting up everything at the campsite. It includes the set up of your tent, hammock, firewood, and multiple tasks needed to make your site a cozy home base even in the wilderness.
A pair of long pants and a long-sleeved shirt is a good idea. Bring an extra jacket or a light sweater for cool weather and a thick one if it's really cold. 
Your Sleeping Clothes
Sometimes, camping involves getting drenched in the rain when you spend your time in the river or while doing extreme activities. The clothes you are wearing in doing all these tasks must not be the same clothes you wear to sleep. As much as possible, change to something clean, and those dirty ones must be put in the laundry. Take off your socks too because you were sweating inside them throughout the day. 
Bundle up at night because the weather can change drastically and temperatures can suddenly drop. To be safe, wear a T-shirt and a sweater over it and a long pair of pants.
Protection for Your Eyes and Feet
From head to toe, your body deserves special attention, especially if you are going out in the wilderness. Sun protection is essential, and it's always a good idea to bring a hat with you. It can be a battered baseball cap, a wide-brimmed sun hat, or anything that will protect your head from the heat of the sun. Even a simple bandana will be a big help, and most campers choose this.
Your eyes need protection from the glare of the sun. So, do yourself a favor by wearing sunglasses, especially if you are spending most of the time near the snow or water, where the reflection of the sun is most likely to hit you. 
Your feet will need a good pair of socks and shoes, too. There are shoes made specifically for campers or hikers. These are hard-wearing shoes and were specifically designed to be more comfortable. They also have built-in safety features to offer additional protection from the rugged terrain and from extended walking.
Other important things to remember when you're going on camping:
Always sleep dry and comfortable. Camping is about de-stressing from your busy urban life so as much as possible, pack light. Remember to keep warm, dry, and comfortable. Cotton or polyblend fabrics are always a good suggestion.

Prepare for cold weather. Bring pants and long-sleeved shirts or sweaters. There can also be insects like bugs and mosquitos so it's best to remain covered up. Avoid loose pants where creepy crawlers could crawl in.

Sweat-wicking fabrics are your friend. They dry easily and you can wash them with a quick rinse in the river or stream. This way, you are assured of clean and dry clothes the next day. Just because you're camping doesn't mean you don't need to stay fresh and clean.
If someone invites you to a camping trip for the weekend, just say yes and pack sensible, comfortable, dry clothing. Branded clothes won't matter there. The important thing is to have fun and be protected from head to toe. Wear sunscreen too!