Have you moved into a new home or apartment only to find out that it seems a lot smaller than you initially thought? Here are a few small space survival tricks to make your new space not only look better but also function better without giving up on the ideas you originally had. It is important to find decorations that fit within small wall spaces. Acrylic mirrors and kitchen splashbacks, available at Cut My Plastic, can be fitted into any wall space.
1. Shelf Illusion 
This will save a lot of space when squashing the study table in your room. Just pull out those chairs and tables when you need to read or study and push them back when you don't need them.
2. Sofa-Bunk Bed
This is a design that will be very useful to you if your bedroom is very cramped. This sofa doubles up as a bunker bed at night.
3. Cupboard Under The Stairs
Harry Potter might have lived under the stairs for most of his life, but you don't have to do that when you are cramped for space. Instead, you can keep all those desired closets and large drawers in the free space under the stairs. Also, don't wait; you won't get that Hogwarts letter any time soon.
4. Cutting Board Over Sink
This smart design of a cutting board ensures that even the smallest kitchen can add some much-needed counter space. Unlike usual cutting board designs, this one helps you take advantage of the sink with the draining bowl, perfect for storing cut veggies or rinsing food before preparing it.
5. Book-Staircase
If you are a bookworm in every sense, then you are sure to love this idea of having a shrine of your own in the cramped space. This may be the design you have yearned for to keep all your favorite books under your roof.
6. Pet Peeves Gone
If you are a pet lover and want to buy one but, frustrated that you will be unable to give your pet a place of its own, then here is the answer to all your woes. Have a look!
7. Your Gaming Area
Here are few designs to accommodate those favorite indoor games. You can bring them out like magic whenever you want to surprise your guests, which will otherwise look like traditional furnishings.
Have a look at this Table Tennis Door: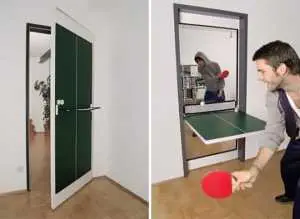 Or this Dining Table which also doubles up as a Pool Table: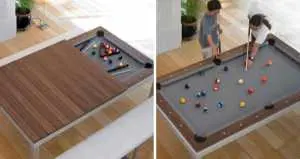 8. Window Blinds doubles as Clothes Rack
Just open the window and let the sunshine in after you are done with your laundry to dry your clothes on the rack in the morning. Later, they can be folded to double up as blinds when the rack is not used.
9. Painting Covering A Mini Closet
This design allows you to have art in your living room, to bring out the essence of your home, and have your very own well-hidden jewelry storage closet.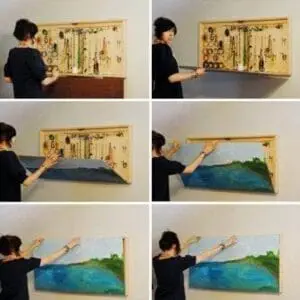 10. Best Combination For Any Baby
This will be the best housewarming gift to give to any family who has just had a newborn baby and shifted themselves to a new neighborhood. This baby care products storage space also doubles up as changing table.
Refer to this list any day to make the best use of your small apartment.