As an affiliate-driven website, Icy Tales earns from qualifying purchases.
In all honesty, I'm not too fond of the winters, but I'll have to admit I cannot imagine Christmas without winter. The warm Christmas lights on the snow do something to my soul. I feel spirited and alive in unimaginable ways. The Christmas lights are essentially bread and butter for a merry Christmas to some extent, be that few string lights in your room to a full-fledged decoration with the same. The Christmas outdoor lights signal the arrival of merriness everywhere in town. Therefore, I have listed many different outdoor Christmas light ideas in this blog. From expensive and vintage to environmentally conscious, affordable, and stylish, you will find all kinds of outdoor lights here.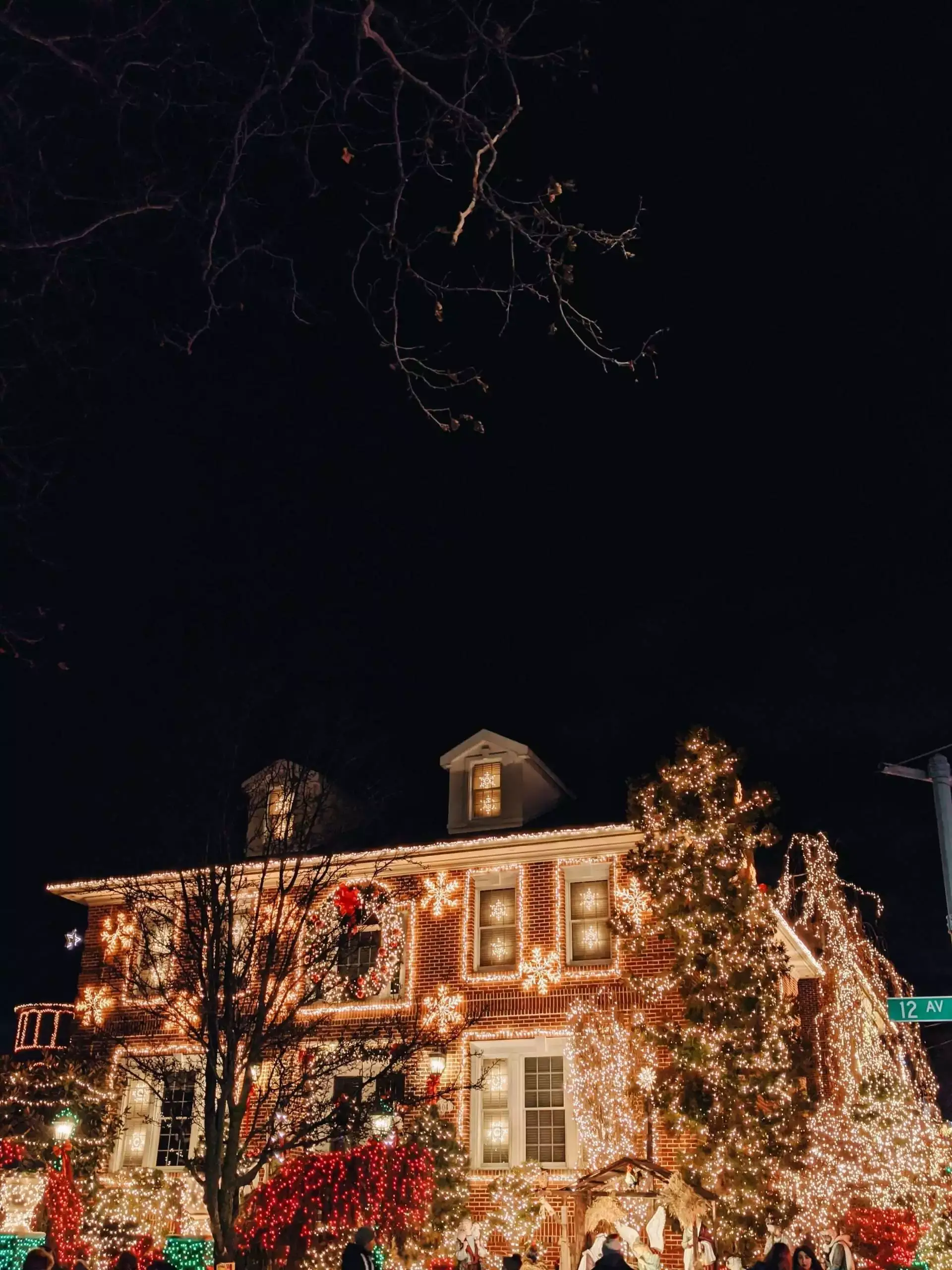 Reminder-
For safety concerns, try buying LEDs. This is expensive upfront but cheaper for glowing lights for a long time. These are safe for your house and environment. If the LEDs are absolutely out of your budget, buy light strings certified for outdoor usage.
1. Types Of Outdoor Christmas Lights Ideas
As such, these are enough sets of lights to decorate the outsides and insides of a house. However, if you desire a theme-based, extravagant, and elaborate decor, check out these outdoor Christmas light ideas.
Note- This is just an overview of the types of lights we will discuss. Thus, not a complete list.
LED Christmas lights
Meteor shower Christmas lights
fairy lights for outdoor Christmas light ideas
rope Christmas lights
string Christmas lights
Icicle Christmas lights
net lights for outdoor Christmas light ideas
white incandescent Christmas lights
meteor shower rain lights
vintage Christmas tree lights (for outside tree)
Christmas tape lights
2. String Lights for Outdoor Christmas Lights Ideas
String lights are one of the most accessible, versatile, and beautiful light decor. These are super-functional but moderately hard to install and even harder to detangle. These will also not give you a run for your money. The lights can be used at every nook and corner of the household, indoors and outdoors both. From the porch as a porch light, terrace, garden, pavement, to trees, patio, you name it. There is a range of string lights available let us look into some of these.
2.1) Snowflake String Lights.
As the name suggests, they are snowflakes shaped. With its warm yellow or white light, the string lights add a very cozy vibe to the front yard. They look surreal and magical
2.2) Led String Lights for Outdoor Christmas lights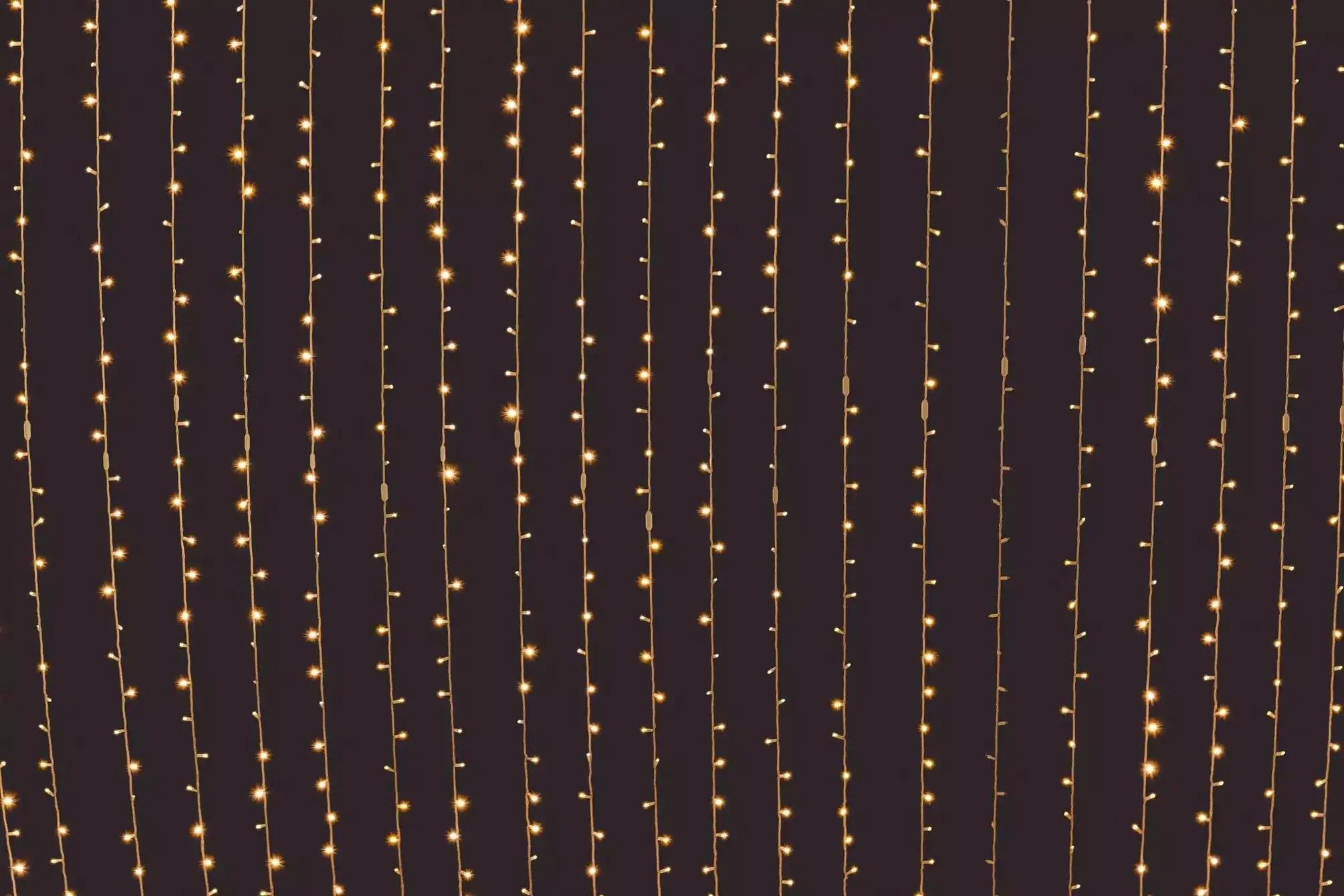 The mini lights of Led strings can be used to adorn the tree trunk or hedges. A monochrome look of red and green/ white would look perfect.
2.3) Multicolored String Lights for Christmas
Monochromes and warm lights are beautiful, but these multicolored lights tend to add Christmas cheer for me. A garden full of tall colorful Christmas trees, a colorful roofline, a porch, and colorful hedges truly resonates with the Christmas vibe.
2.4) Staggered String Christmas Light
The staggered string Christmas lights can be hung from the roofline, peaks, front porch, windows, and eaves. These Christmas lights are of different shapes and sizes, and the starry staggered string lights are popular among buyers.
3. Icicle Lights for Outdoor Christmas Lights Ideas
Icicle lights are a thing of massive adoration. Their icicle shapes add a perfect wintery vibe to the house. These lights are suspended in an angled and straight line on and around windows, porch ceilings, eaves, overhangs, etc. Are some ways you can create a tasteful look for the house. Many types of icicle lights can be used elaborately to create a theme-based indulgent decoration.
3.1) Star Icicle lights for Christmas lights
Star icicle lights near the patio area of the house provide a cozy setup to gather around for an evening tittle-tattle. You can also buy their combo lights set for a joyful setting.
3.2) Snowflakes Icicle Lights for White Christmas
A white Christmas tree in the front yard wrapped around these snowflake icicle lights with more of these lights suspended from the roof awnings, eaves, and windows will compliment the white interior design of a White Christmas.
3.3) Icicle Curtain Fairy Lights for the Seating Area
Icicle Fairy Lights instills a mystical touch to the warm undertone of the seating area. They are expensive, difficult to set up, and detangle, but if you can afford to overlook these, go with these magical lights.
4. Led Lights for a Conscious Christmas Lighting
If you intend to use outdoor lights for vast expanses and longer hours, choose led lights instead of incandescent ones. These work for longer hours and require much less electricity. First, they are cheaper in the long run, and second environmentally sensitive.
Led lights, unlike strings and icicle lights, can be used everywhere. From the intimate courtyard, roofline, front porch, and eaves to gardens, hedges, frail trees, porticos, pavement, and windows. One can use these to wrap around the pillars with a color scheme. In short, everywhere.
4.1) Meteor Shower Rain Lights/ Rain Drop Lights
These look animated and mesmerizing when suspended from lush green or menagerie trees. Placing these at the entrance of the front porch or along the roofline makes the front yard looks very put-together and clean. If non-fussy outdoor lighting is what you want, have fun with it.
4.2) Multi-color Colored Lights for Outdoor Christmas Lights Ideas
These are spiffing Christmas decorating ideas for a multi-color theme. A multi-color Christmas lighting encapsulates Christmas joy in the true sense. With multi-color as your theme, use the lights on the menagerie tree, Christmas and palm trees, and the lush green bushes of the garden.
Warp these up around the railings, and hang them up on the eaves, front door, porch ceiling, roofline, overhangs, back porch, and peaks. These multi-color Christmas lights and the other lighting props bring an ethereal glow to your front porch.
4.3) Led Trees as props for Outdoor Christmas Lights Ideas
Led trees and their branches can be the main decoration for Christmas lights based on their size. Additionally, they set forth a festive cheer by completing the outdoor or indoor Christmas lights look.
Led maple trees
Cherry trees
Pre-lit artificial x-mas tree
Led lighted birch trees
Pre-lit snow-flocked Christmas tree
Led willow tree
4.4) Led Fireworks for Outdoor Christmas Lights Ideas
Led firework lights add an exquisite look when placed on the porch ceiling. Place these in bulks, do not place a single light. If you are in a crunch, buy these in fewer numbers and space them out. The front yard in these looks very stylish and pretty. Place five or six of these if this is your only Christmas lighting. However, if you wish for a rich look, place these in good numbers and with other lighting props.
5. Net lights for Garden Decorations
Net lights for garden decoration are awe-strikingly beautiful. The net lights meshed around fuller hedges and bush trees are delightful to watch. These are perfect for garden tree wrapping. However, they are messy to install and detangle.
These can also be suspended from the eaves of the front porch all the way touching the ground, but you need to buy good quality lights for safety purposes.
6. Light up the Christmas Wreath.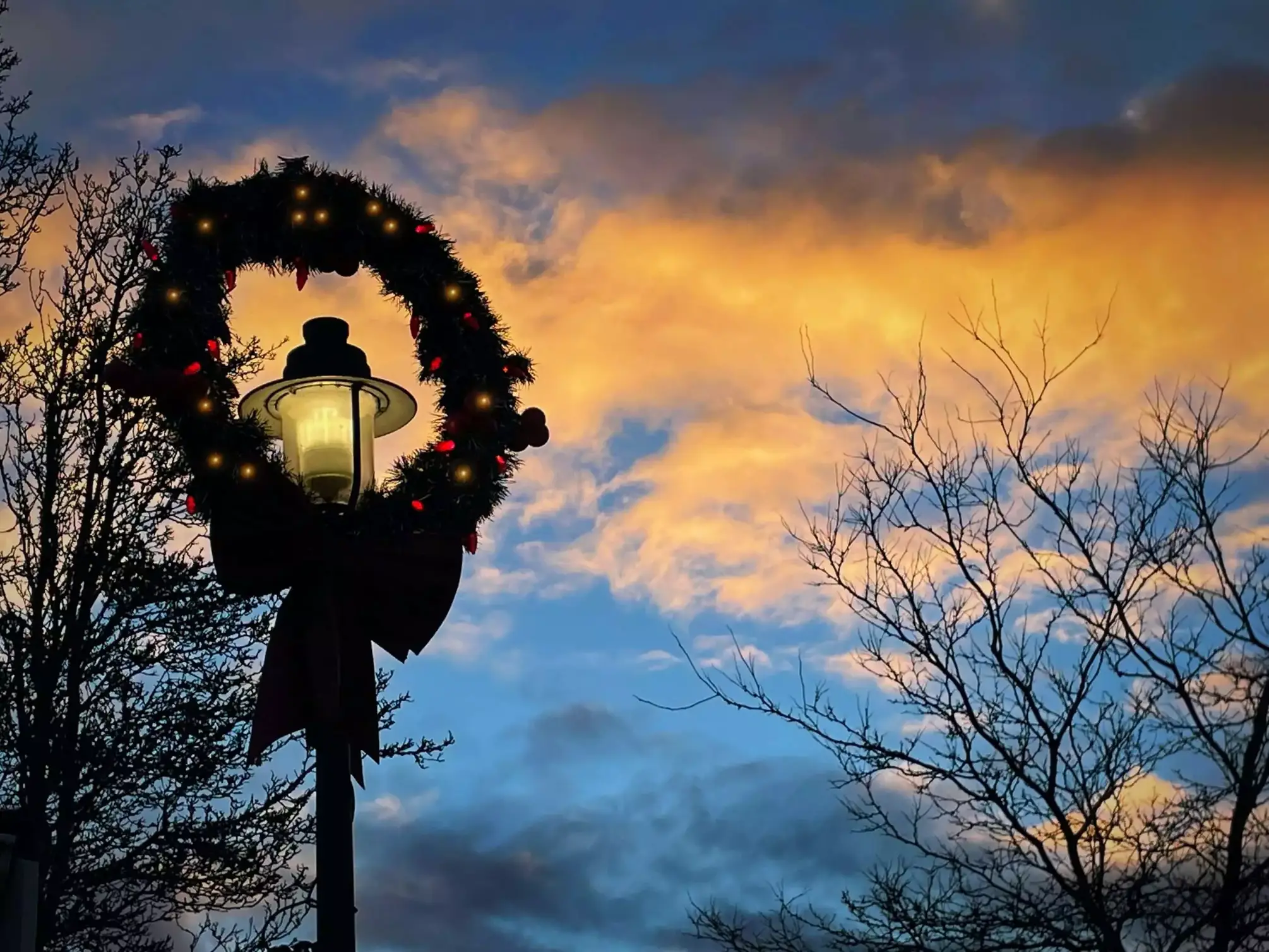 There might be tons of expensive lights in your yard, but a Christmas wreath with a red bow will always be the focal point of your Christmas decoration. String or led lights wrapped around Christmas wreaths can be placed at the front door or centrally aligned at the top of the house or windows. Accessorizing these wreaths with big bright red bows will add life to them.
7. Incandescent White Bulbs for a Tinge Of Nostalgia
These classic white bub lights bring back the core memory of the early 90s or 80s outdoor Christmas lighting. Before placing these white bulbs, adorn the gateway with artificial tree branches. The carefully spaced white bulb lights give a subtle look to the decoration. However, one can also hang these along the roofline. If you desire a nostalgic potion for your outdoor Christmas setting, go with these.
8. Gumdrop Christmas Pathway Lights
Gumdrop Christmas lights were made for such vibrant decorations. The gumdrop pathway lights should be installed along the front pavement. These are multi-color with a gentle glow. Buy quality weather-resistant pathway lights. Being closer to the ground makes them susceptible to snow so invest in good ones.
9. Rope Lights for Lettering and Others
Customize these lights for lettering Merry Christmas and install them on the front railings of your balcony or terrace. Also, these are easy to install and can be used to decorate pergolas, picket fences, or roofline lighting. These are customizable, therefore, can be used anywhere similar to Led lights.
10. Tape Lights for Outdoor Christmas Lights Ideas
These are usually for interior lighting. However, if you a minimal and elegant outdoors are what looking for, pick these. They are remote-controlled and are extremely non-fussy to install. These tape lights have limited usage (since you have to stick them to any surface) as outdoor Christmas lights. Nevertheless, they still complete the look when judiciously used.
One can stick these lights on the terrace, front yard, and balcony railings. These make good porch lights, door lights, walkways, and staircase lights.
11. Candy Cane Stake Lights For the Driveway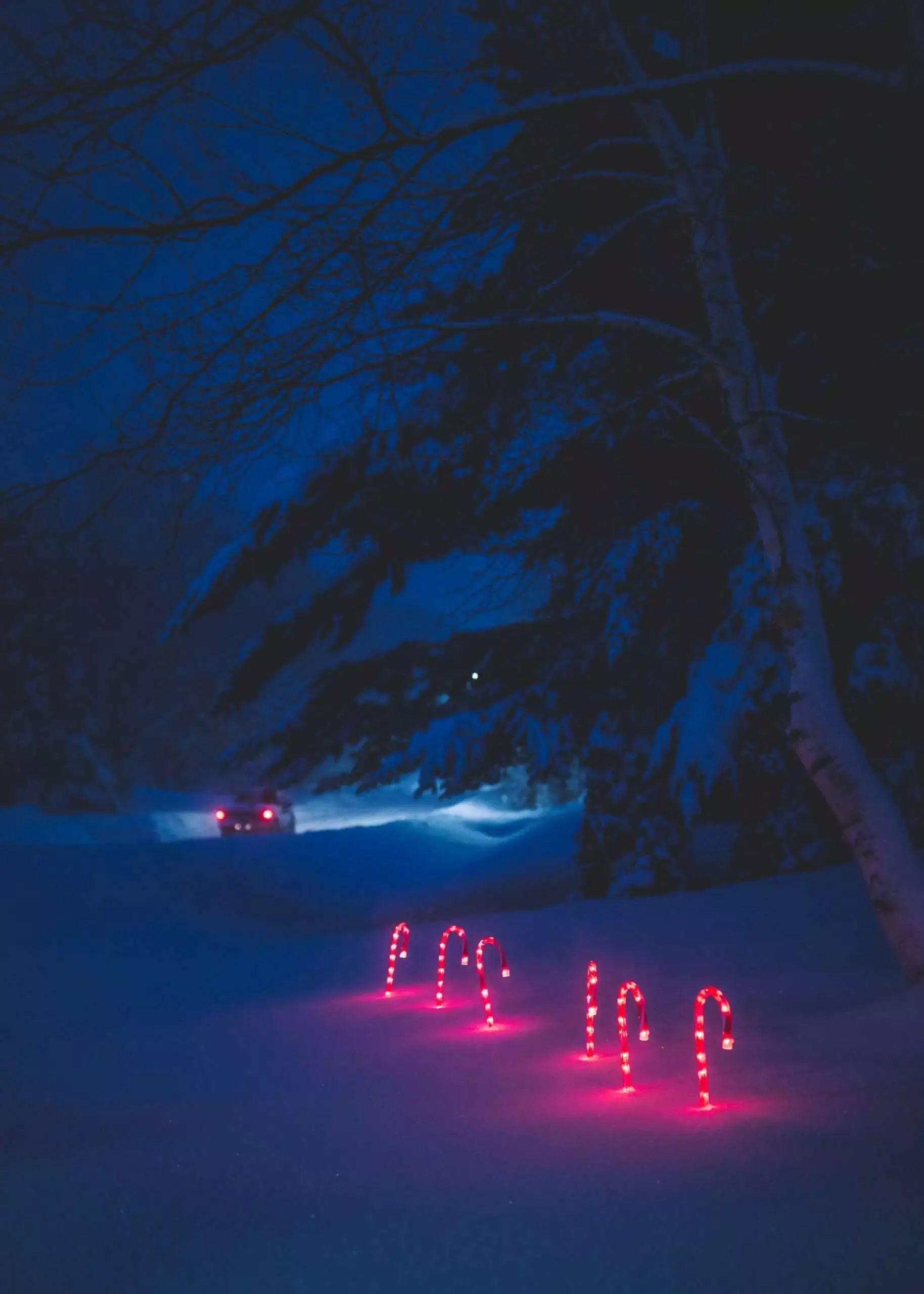 Candy canes with stake lights are usually used along the driveway paths. Place these depending on the length of your driveway but space them out evenly. Candy canes amidst a bulk of snow complement each other a little too well.
The candy cane lights in smaller sizes can also be installed on widow's glasses and here and there as an additional prop with wreaths and socks.
12. A Doe and Fawn Acrylic Light up Reindeer
This cute set of Christmas lights is perfect for an outdoor setting. These are a bit on the expensive side, but the warm sight in itself exudes love and elegance. There's not much you can do other than placing these outside, somewhere everyone can relish this comforting sight. These lights are bound to bring holiday curb appeal to your house.
13. Snow Projecture for Outdoor Christmas Lights Ideas
This snow projector offers the most magical experience with its 3D faux snowflakes. These snowflakes look like the type of snow shots they show us in a Christmas romantic-comedy series when our overworked girl finally ditches her extracting manager to spend time with our male lead, who has been swooning over her forever (she has been too). These are good for daydreaming. In short, buy these.
You might get mounting equipment to prevent the harsh weather from hindering your joy if you buy a quality purchase. It also doesn't need excessive work and some brain to set up these projectors. This can be your expensive purchase.
14. Waterfall Lights for Outdoor Christmas Lights Ideas
These waterfall tress lights can be installed in numerous areas of the house, but they look messier than ever in most of these areas. Therefore, stick to using these for Christmas Trees. Outdoor Christmas trees with these lights will look stunning. Overall, these lights are perfect to stir-up festive fever and instill Christmas joy.
15. White Moravian Star for Outdoor Christmas Lights Ideas
These have a religious connotation and are part of Christian history and tradition. Bring curb appeal this holiday season by installing a pre-lit white Moravian star on the front end of your porch, yard, window, or entrance door.
16. Christmas Bell Lights for Outdoor Christmas Lights Ideas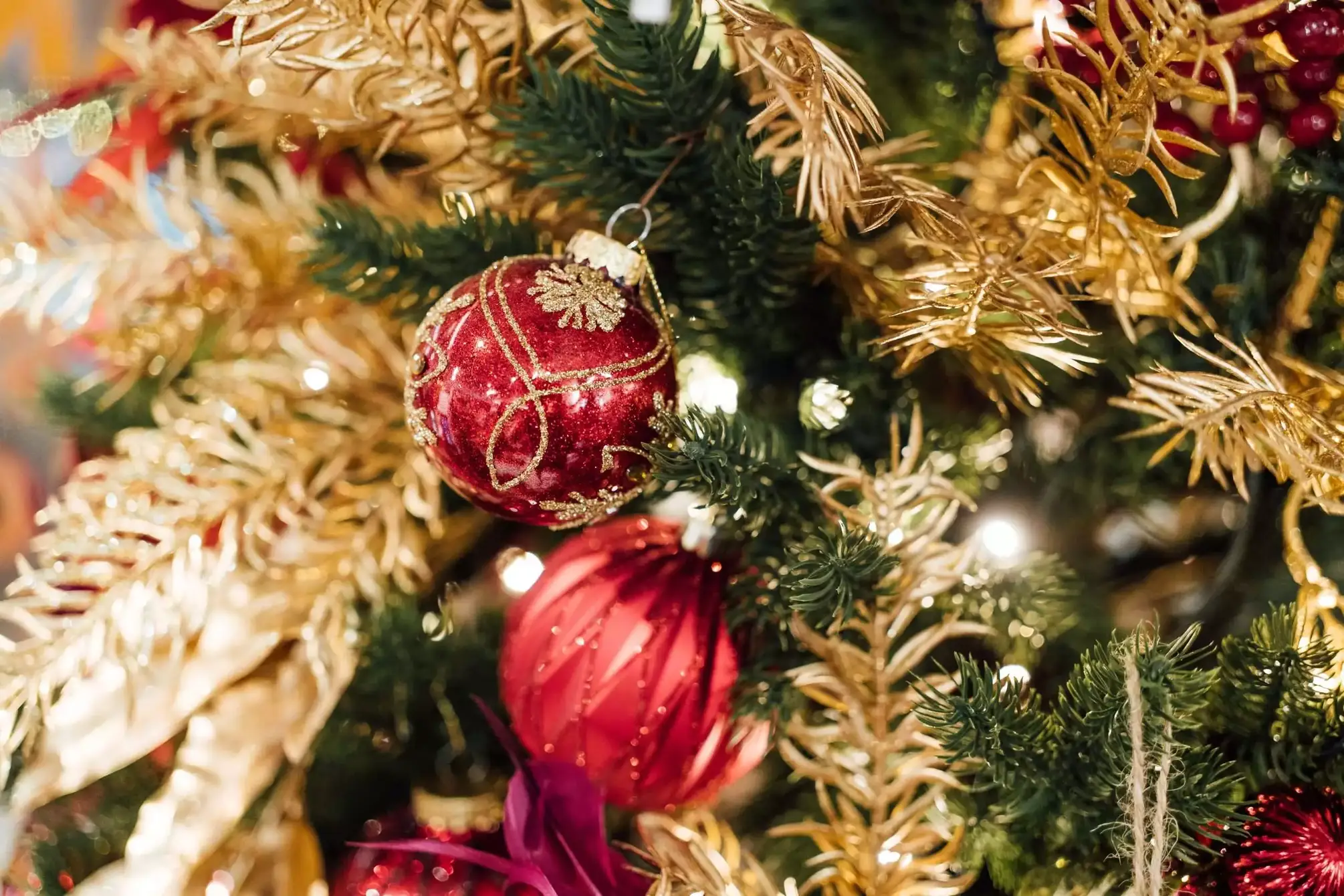 And finally, add a bunch of big Christmas bell lights to your outdoor Christmas tree, above the window, or at the peak of your house.
There are also Christmas bell string lights which are an easy alternative to plain string lights. The Christmas bell strings lights too can be installed everywhere, from the roof to the entrance door to the hedges or picket fence. Everywhere.
17. Pre-lit garlands for Outdoor Christmas Lights Ideas
While one can always choose to DIY a lighted garland, if you do not have the time and energy for the same, use these pre-lit garlands for outdoor Christmas lights. There's a range of collections of your choice, from frosted berry garland and red berry garland to hanging baskets with frosted pine cones are just some of the examples. You can deck the window walls, wrap these around the railings of the staircase, and hang these on the front porch or the entrance door.