The backyard of your house is as important as the interior. Keeping your backyard updated and interesting goes a long way in boosting your house's aesthetic and vibe. Hence, DIY backyard ideas help give your backyard a luxurious yet cost-effective makeover.
Research has shown that participating in gardening and backyard fixing has a lot of health benefits:
Satisfaction increases with more greenery in gardens.
Indulging in yard work can prevent osteoporosis.
Having seating areas in your backyard can also help reduce stress.
Backyard gardens are great for low-income families to save money, as they can grow their own fruits and vegetables.
A backyard garden removes air pollutants hence, improves air quality.
A backyard garden can also provide a pleasant microclimate by providing shade.
Finally, a backyard patio or deck encourages families to get together in the evenings and spend time with each other.
Other than these health benefits, it's also known that DIY backyard ideas can help boost your property value. They also help make your backyard a more warm and welcoming spot for people to spend quality time.
1) 31 Great DIY Backyard Ideas
After knowing about the advantages of backyard maintenance, let's discuss some DIY backyard ideas to give your backyard the boost it requires.
1.1) DIY Backyard Patio
A great patio is one of the favorite DIY backyard ideas that can never go wrong. This will give your yard great visitors appeal and increase the value of your house. It's a really easy project that can be made using a concrete mix or a basic wooden deck. Add cute chairs and watch how your backyard transforms into something more luxurious.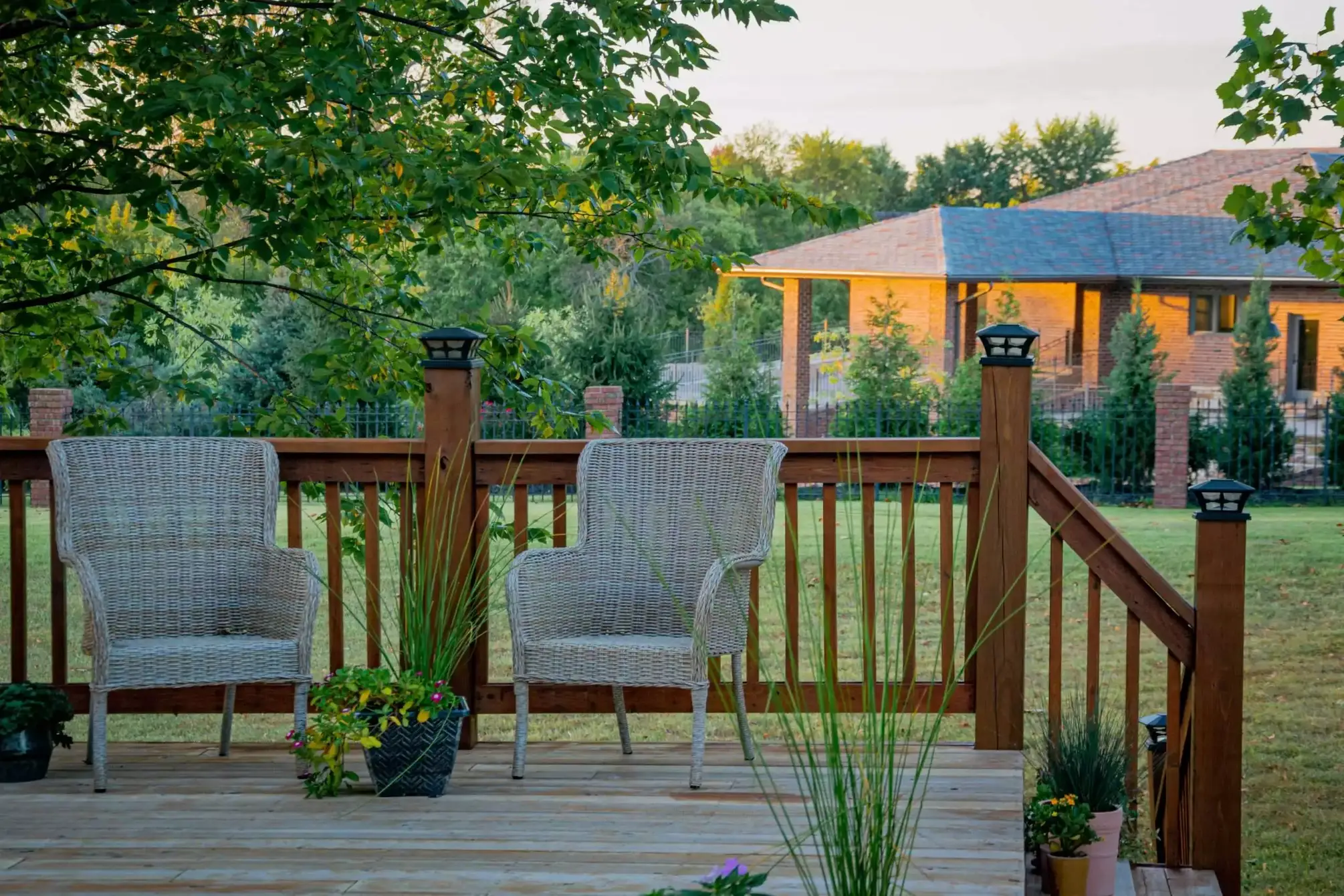 1.2) DIY Backyard Rug
Among the best, cheap, and easy DIY backyard ideas are the classic use of an outdoor rug. A large outdoor space can be amped up using a large outdoor rug. It adds some color to your backyard without needing to undergo the process of painting the deck.
1.3) DIY Backyard Stone Path
One of the classy DIY backyard ideas is making a stone path. Using bricks and stones to create a pathway to your house's entrance adds a little flair to the exterior. You can also add a few decorations like garden gnomes or stakes.
1.4) DIY Backyard Bench
Utilize a tree in your backyard and transform it into a tree bench. This cost-effective way to amp up the vibe of your backyard requires some protective eye gear, a saw, and the basic hammer and nails. After you're done, you can paint and decorate the bench.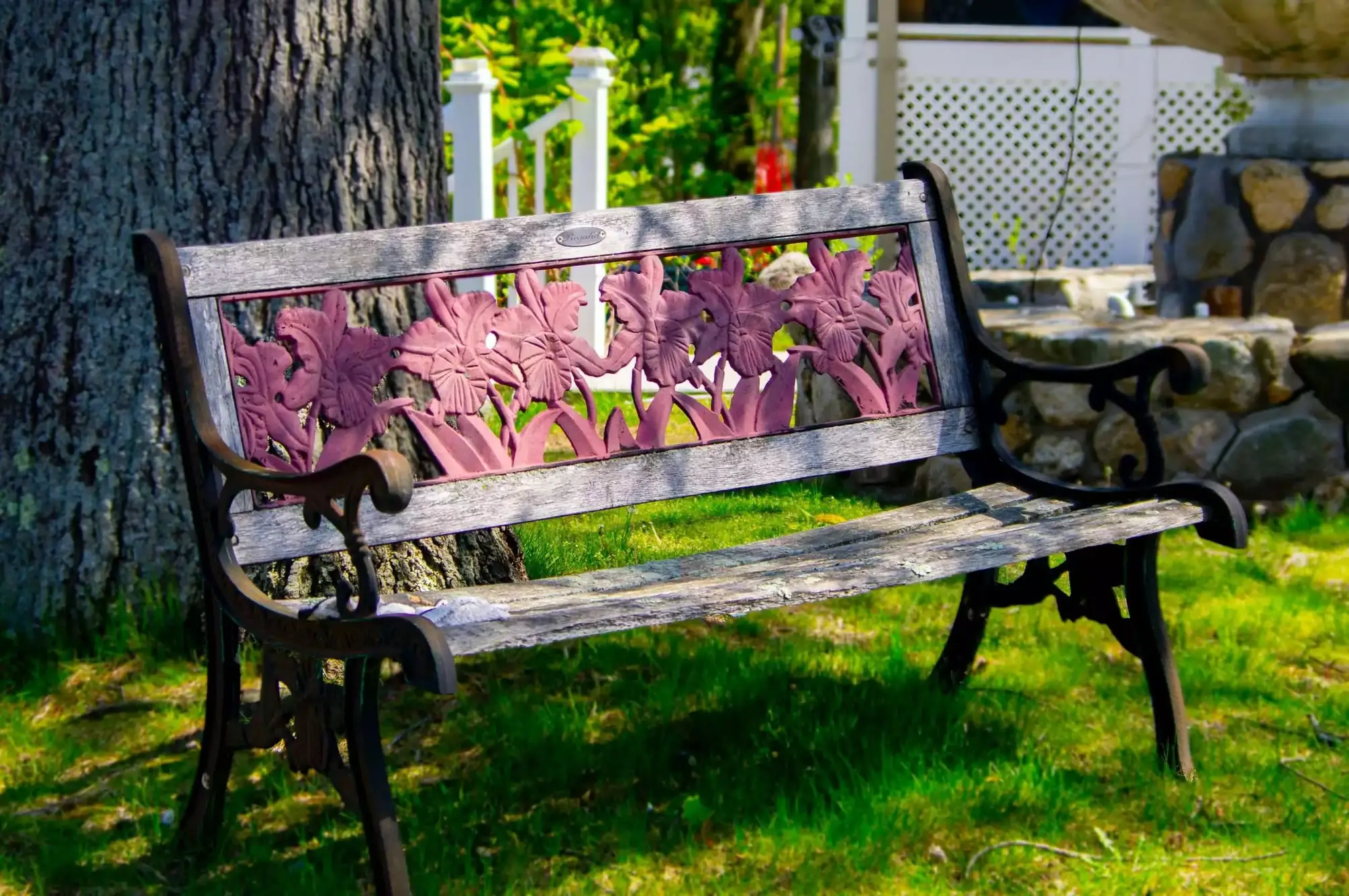 1.5) DIY Backyard Fountain
This is one of those DIY backyard ideas that may leave a small dent in your wallet. Other than making a patio and adding furniture, a fountain would also be another great addition to your backyard. It won't cost a lot of money and won't take up a lot of room.
1.6) DIY Backyard Trellis
A trellis is a structure made from an open wooden framework to support and show climbing plants and shrubs. They are great additions to your backyard and can be made using wooden boards and metal poles. You can beautify the trellis using beautiful flowers on either end of it.
1.7) DIY Backyard Kitchen
Entertain guests and your entire family with a cosy outdoor kitchen! Transform your outdoor space into a kitchen with the help of a charcoal grill and some tables and chairs. You can also install a kitchen kit with an island, storage, refrigerator, and grill!
1.8) DIY Backyard Pergola
A pergola is an outdoor space that forms a shaded passageway with pillars supporting cross beams and an open lattice. It is one of the most splendid DIY backyard ideas. This simple project can transform your backyard from a common outdoor space to a luxurious one for cool summer evenings.
1.9) DIY Backyard Stock Tank Pool
One of the most inexpensive DIY backyard ideas, a stock tank pool is a great addition for children and the entire family. Place the pool on a stone platform to protect the grass from water damage.
1.10) DIY Backyard Lighting
Investing in some lighting can help increase the visual interest sought by your backyard. This is one DIY backyard idea that guarantees a rustic charm and a friendly and bright space for the whole family to enjoy. Outdoor lighting and lanterns can make your outdoors brighter and warm in the evenings.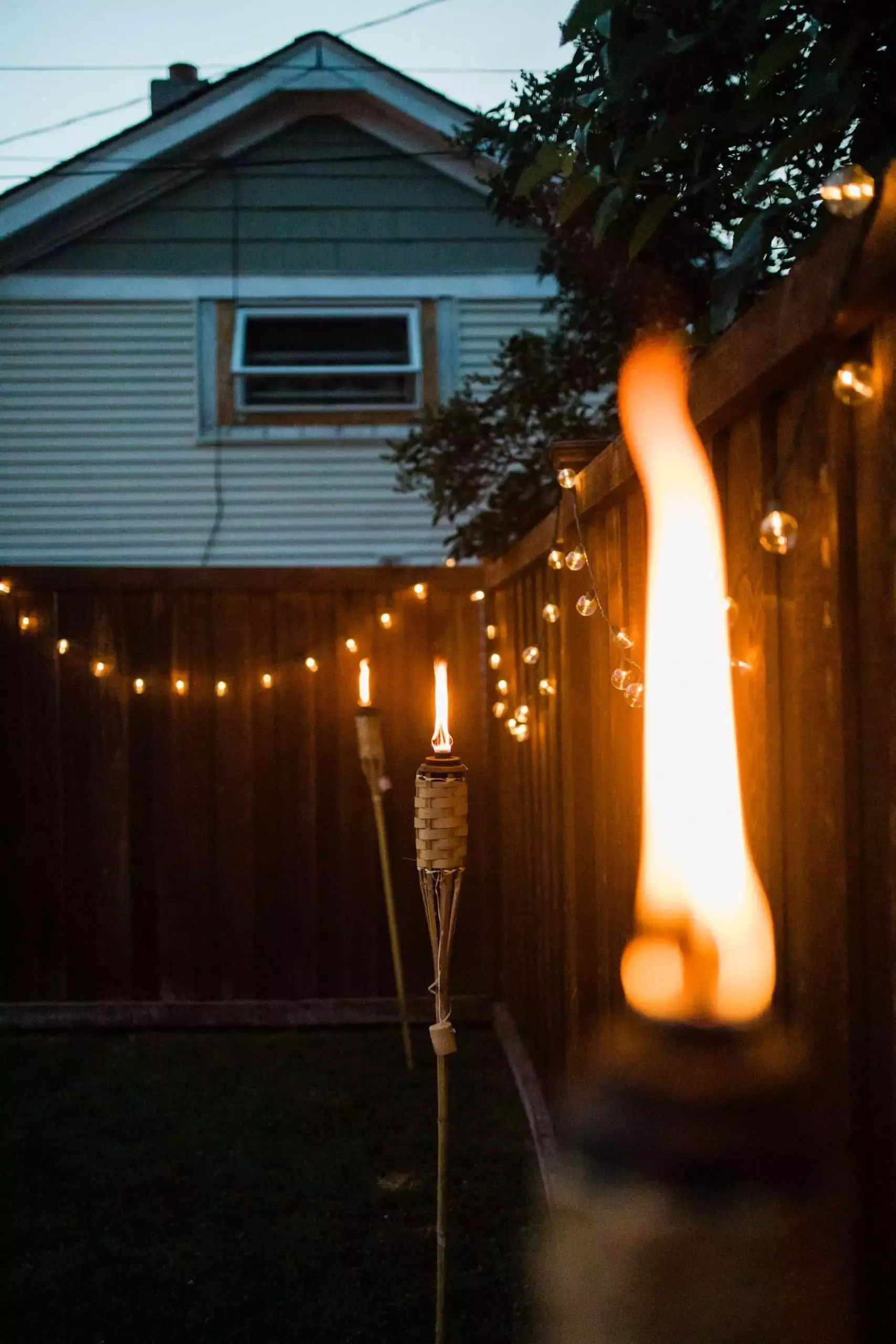 1.11) DIY Backyard Flower Garden
Many DIY Backyard ideas emphasize the importance of flowers. It is essential to remember that you can't go wrong with flowers! If you're on a budget and want to revamp your outdoor spaces, go to your closest nursery and buy some bright flowers for your backyard.
1.12) DIY Backyard Ideas for your Fence
Your fence is one of the largest features of your backyard, so there are a lot of things you can do using it which can transform your outdoor spaces into a backyard oasis. Here are a few things to do:
Drill different marbles and a rubber mallet and watch how sunlight illuminates your fence with bright colors.
Paint a mural on your fence, and make sure that the paints you use are in sync with the scale of the mural.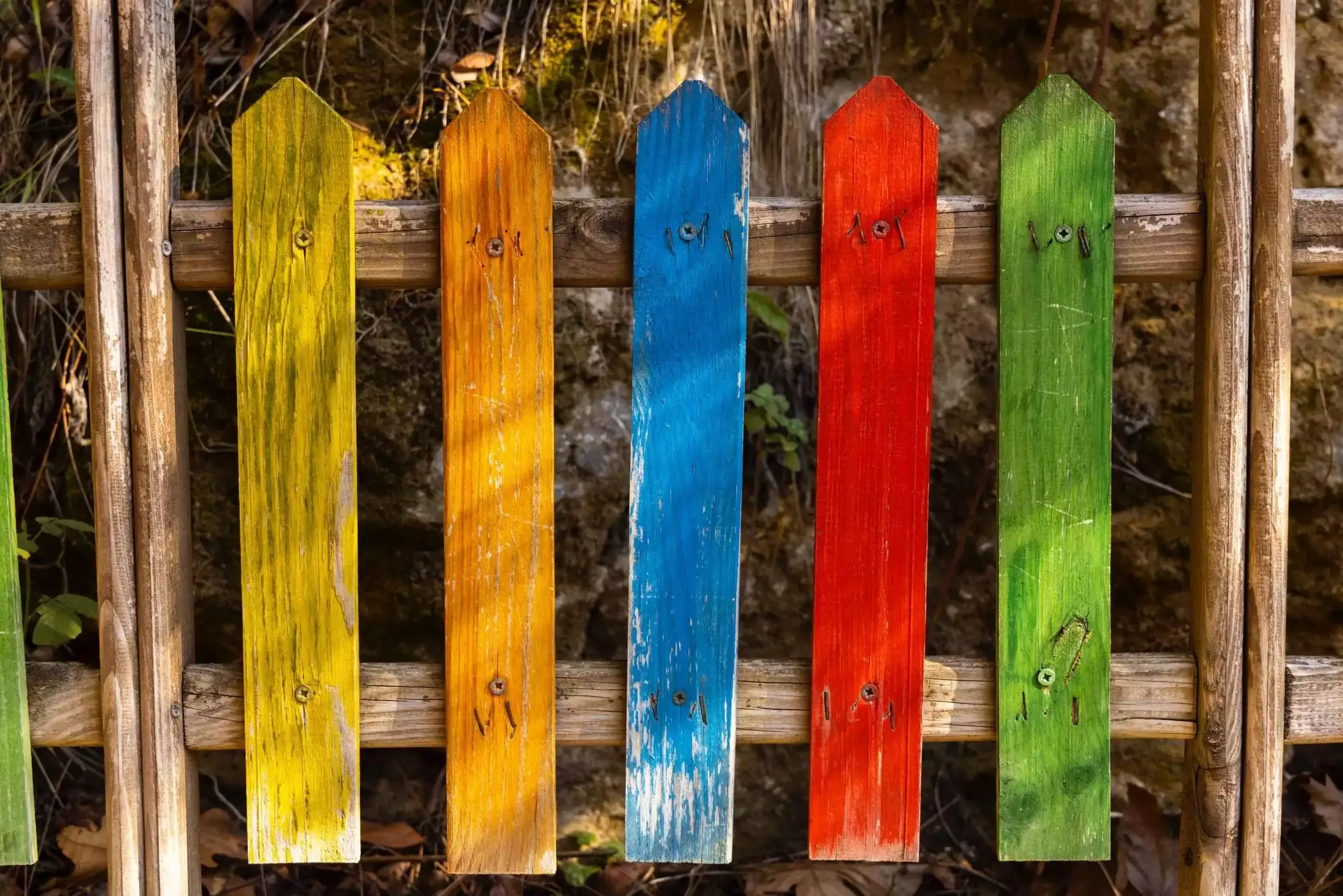 1.13) DIY Backyard Xeriscaping
Xeriscaping is landscaping or gardening that reduces the need for irrigation and can even eliminate it. Xeriscaping reduces the amount of water you use and requires minimal maintenance. It is one of the most user-friendly DIY backyard ideas to save water and add value to your property.
1.14) DIY Backyard Vertical Garden
Wall planters are great for changing your outdoor space on a budget. If you want something simple, you can drill plastic boxes or pots onto a wooden pallet and screw them against your house. If you want something more professional, you should consult an experienced carpenter to help with this DIY vertical garden.
1.15) DIY Backyard Outdoor Dining
Backyard cookouts are an excellent idea for entertaining guests. If you enjoy eating your meals al fresco, buy a patio set with chairs and tables, or build your own patio and indulge in hospitality when your friends and family join you for evening meals. This is a budget-friendly way to revamp your dining experience.
1.16) DIY Backyard Seating Area
An important feature of a good backyard is outdoor seating. For large gatherings, you need couches and seats that fit adults and are an end table for drinks. Large pillows, rocking chairs, and benches are great patio furniture that makes your backyard a comfortable place to relax.
1.17) DIY Backyard Fire Pit
One of the most loved DIY backyard ideas is the classic fire pit! Build your own fire pit with wall stones or metal and have ample seating available for a night full of backyard fun. Don't forget roasting marshmallows will make your evening more delightful!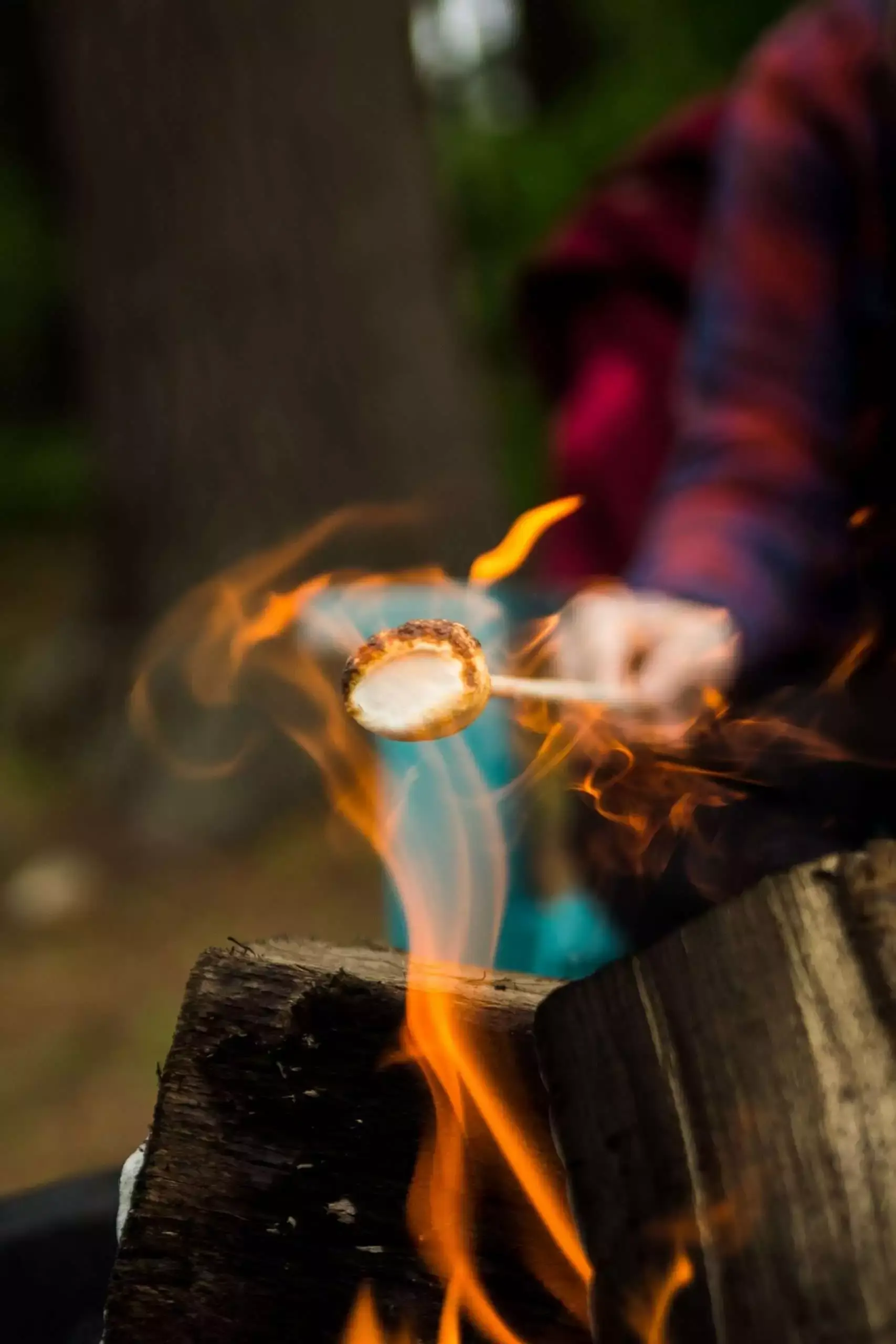 If you're leaning towards the backyard fire pit project, here's an article that you must read: 15 Best Outdoor Fire Pit Ideas.
1.18) DIY Backyard Hammock
Your whole family can enjoy a good hammock. Suspend it between two trees and secure the ropes using industrial hooks. If you want to stay safe, buy an affordable hammock with stands.
1.19) DIY Backyard Meditation Space
Find a quiet spot in your backyard, arrange large pillows and blankets, and a table. Hang some decorative objects and outdoor lighting and watch how your ordinary backyard changes into an excellent calming spot for meditation.
1.20) DIY Backyard Theatre
Amongst the easiest DIY backyard ideas is the theatre. Hook up a projector and screen, add string lights and large pillows, and grab popcorn for an evening full of your favorite flicks. Enjoy the theatre experience right in your backyard!
1.21) DIY Backyard Bar Cart
Create a fun patio bar for your backyard with glasses, appetizer plates, lemonade, and an array of snacks. The best benefit of this idea is that if it rains, you can quickly shift this party inside and keep it going!
1.22) DIY Backyard Kid's Fort
If you have kids or friends who bring their kids along while visiting you, this is a life-saver for your backyard! A backyard full of jungle gyms, swing sets, treehouses, and a tree swing is a backyard oasis for children.
1.23) DIY Backyard Games
There are a lot of great DIY backyard ideas, but this one is surely the most fun! Bocce ball, golf, and basketball – these fun ideas make your backyard a recreational space and provide outdoor fun for our family.
1.24) DIY Backyard Pavers Patio
If you have a corner of your backyard pathway that doesn't match up to the rest, you can use pavers to jazz it up! You can also mix and match pavers to get you a modern-looking backyard.
1.25) DIY Backyard Bowling
A bowling alley with pins attached to a rope makes your backyard a fun place to be at. You can also contribute to saving nature by using recycled water bottles for pins.
1.26) DIY Backyard Pallets Deck
If you want a deck, but lack space, use pallets to make it! Pallets are currently trending in the DIY world. Using pallets provides an inexpensive and versatile way to make your backyard deck. Depending on the space available, you can put some together to create a raised deck or floating patio. Using them is also very easy: sand them down, stain them, and seal them.
1.27) DIY Backyard Garden Shed
Functional storage in your backyard will give it an authentic and classy vibe. A garden shed will have all your tools and storage necessary and will make moving around easier.
1.28) DIY Backyard Potting Bench
If you enjoy pottery, a pottery bench in your backyard would be a great reminder to continue mastering your skill. It will also help you stay organized. If you're a beginner, you'll take a few days to get a glimpse of how to build this bench, so make sure you use the right plans.
1.29) DIY Backyard Gazebo
The ultimate use of your backyard: a DIY Gazebo! A fully customized gazebo with bench seats, coolers, lighting, and more! Compact enough to fit on a small patio yet big enough to accommodate a grill, this multi-day project will require moderate skills but will save you a lot of money. It's a great inexpensive way to amp up the look of your backyard.
1.30) DIY Backyard Rain Garden 
A rain garden is very easy to make. It requires less yard maintenance and helps nurture the environment. Nurture the land and soil in your backyard using rainwater from nature's garden hose.
1.31) DIY Backyard Screen House
A screened house ensures a bug-free space perfect for hot summer days. It's a multi-day project, but it can be used throughout the year and yields various benefits.
This simple project can be built using standard dimensional lumber, which can be found at a home store or center. It doesn't have heavy beams or joints that are complex. You can find straightforward construction plans to build it. If you want to beautify it, add a soffit and exposed rafters. Even though you may be a beginner, the intricate features of this idea make it look professional compared to other DIY backyard ideas mentioned in this list.
2) DIY Backyard Ideas – To Conclude
An empty backyard provides a great canvas for a creative mind. If you're a person who enjoys DIY projects and likes using their energy and effort to create something spectacular out of nothing, your backyard is the best place for you to start.
Whether a backyard patio or a backyard deck, this list of DIY backyard ideas is the first step to exploring your creativity and creating something to revamp your backyard!