Knowing a thing about its exterior facade is too tedious. Interesting is when you get inside information on the nitpicks of things. Scrutinize all the intriguing fun facts about New York that can let you reach inside the city's soul!
As a book is not just to be judged by its cover, a city is not to be thought of as you know it just by its famous/popular places. It is captivating to realize the points and causes behind some things. What has the place held its essence? What connotation do those places possess to some people? Does it have any meaning behind it or is it just nothing?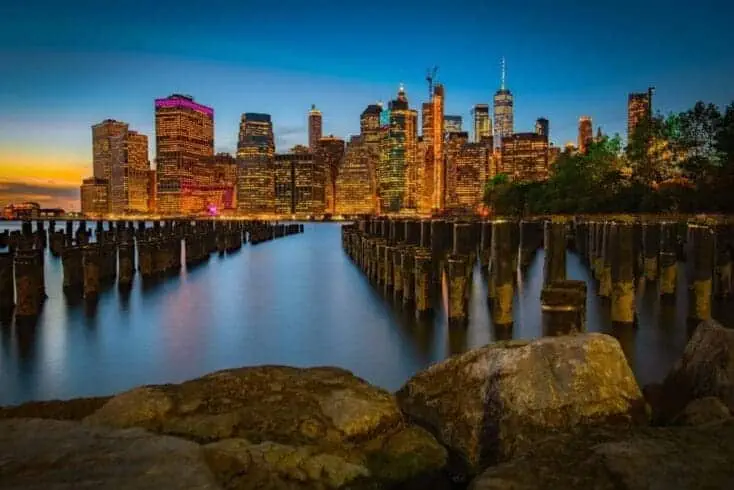 Places hold meaning and secrets of their own. Secrets and implications are there to be uncovered. What's the fun in life if you just go through things without actually discovering them?
Now reach out to know some intriguing facts about New York which cause you to reminisce about the city like it's your foremost time!
1. Adorable Pocket Parks
New York City is highly famous for its cute pocket parks. In such a compact space having adorable sweet parks to soothe your day's struggle is just a highlighting point. It's pretty secret like self space, your "Me Space" to wash away all the unwanted negative aura. It's a very enjoyable fact about this city.
You can try one of these by visiting Minetta Triangle, Jackson Square, and many more! Very sweet fun facts about New York.
2. Gate of MoMa PS1 in Queens
A section solely dedicated to illustrating contemporary arts in the United Nations. Its tricky sharp new canopy at the west side entrance is the most fascinating characteristic of this place. Its avant-garde painting, sculpture, films, and multimedia have renounced this place as a refined contemporary art museum in the world. MoMA PS1 is specifically reserved for new and innovative ideas of novice artists.
Experience this mesmerizingly creative place at 22-25 Jackson Avenue Long Island City Queens! Inspiring fun facts about New York.
3. Rooftops of Chinatown buildings
If you don't live in the Chinatown side of New York City, sneaking into one of those buildings is your best option. And, why am I saying this? Because You won't want to miss the spectacular view from the rooftop of one of Chinatown's buildings.
The rooftop has such a breathtaking view that the suggestion of sneaking is illegal but still valid to a point! A reason for pacifying fun facts about New York.
4. Futuristic Sleek tunnel
Designed by a Spanish architect Calatrava the futuristic design of Oculus along with the PATH system of the World Trade Centre. It is such a sleek modernistic circular design of chaffed pattern that gives the World Trade Center a vigorous look.
Give yourself a chance to enjoy this sophisticated ambiance of futuristic design! Gleaming fun facts about New York City.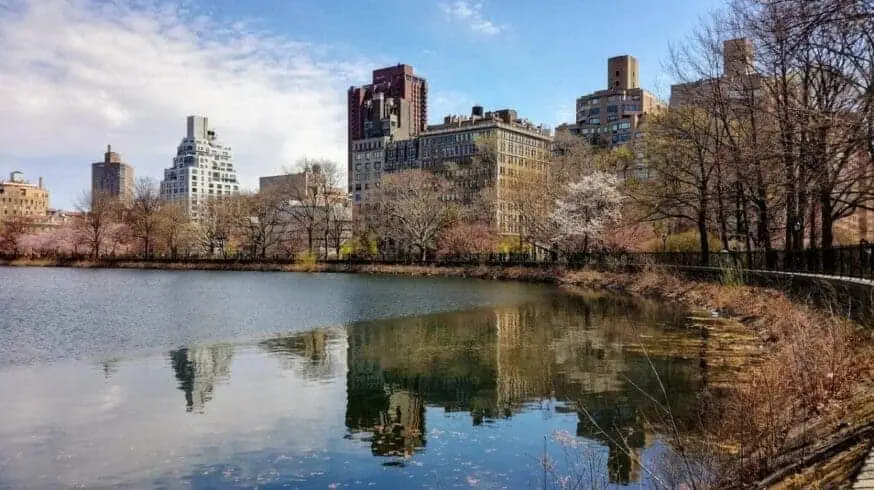 5. Jogging around Onassis Reservoir
Also known as Central Park Reservoir, officially called Jacqueline Kennedy Onassis Reservoir. Generally, this place is popular as an attraction point but jogging around this 106 acres widespread area is fun in itself.
It's one of the interesting facts that the twilight dawn start of the day can be experienced at Onassis Reservoir and have a sensational moment to share!
6. Whispering Gallery Flair
Interesting would be to experience the Harry Potter's Slytherin "Snake language" whispering in your ear? Well, at least to Potterheads it would be! If you consider yourself one, you can't miss out on Whispering Gallery. It's one of the curiosity-inducing fun facts about New York.
Excite yourself with the experience of Whispering Gallery which is audible even the faintest of noise around!
7. Chinese Tea Garden at MET
An Asian touch that delights the eye is the Astor Chinese Garden Court. An architectural structure modeled on Ming Dynasty (1368-1644). This landscape symphony of stones, water, plants, pavilions, and bridges with a yin-yang concept. It quakes with mystic symbolism reflecting the philosophy and quality of the creator.
The serenity of fairy dust with cosmos trepidation along with herbal tea at best be experienced at the Chinese Tea Garden at The MET.
8. Crossing the Bridge, Manhattan to Brooklyn
Numerous bridges take you from Manhattan to Brooklyn. The best of all would be the Manhattan bridge. A view to look at the mind blowing Brooklyn bridge along the New York skyline with pedestrians all around you. The feeling is something that should never be 'not experienced'.
Enjoy the far emptier Manhattan Bridge from Manhattan to Brooklyn and fill in yourself with its wild breeze! Brisk fun facts about New York.
9. Art Installation at St. John, The Divine
One of the most significant churches in the world, St.John the Divine displays well-refined artists' pieces from all around the world. A massive collection of art installations is available to view and is an example of street art to view for free in public.
Give yourself the scared feeling along with a creative pleasure to your eyes at the place is more of a fact than fiction! One of the Artistry fun facts about New York.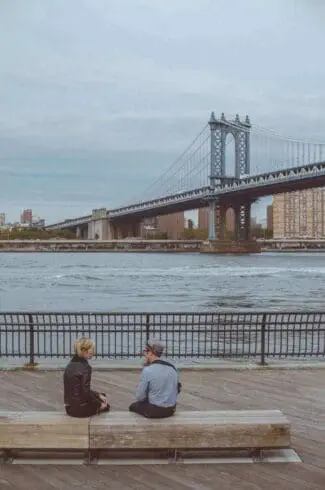 10. Brooklyn Heights Waterfront
New York City is filled with small lanes and alleys that take you to your desired place within minutes. Brooking Height is a well-communized neighborhood located merely below the Promenade and sits well beside the waterfront. You get to enjoy this waterfront for 365 days right across Manhattan and explore the regal aura of the Promenade.
There are nooks and shortcuts at every turn to reach your destination in a few minutes, which are fun facts about New York City for you!
11. Speakeasies Speciality
The thrill to enjoy booze in some secluded areas can only be given by speakeasies in the Prohibition era. As times have changed, it has become easy to get a handle on booze without any restrictions. Still, New York city's Chinatown is brimming with exhilarating speakeasies.
Some are even themed to give the hidden, unmarked, and underground feel of the earlier centuries. You can get your hands on one of these to experience this intriguing fact of the older times of New York city!
12. Japanese Garden
Tranquilizing with their mystical nature and symmetrical design are Japanese Gardens. New York is filled with more than 200 Japanese gardens with their strange traditional eccentric essence. Prospect Park in Brooklyn provides you with a captivating Japanese garden of vibrant colors.
Enjoy this high-spirited garden of hues and aliveness, one of the vivid fun facts about New York!
13. Exhibition Lever House
Lever House, a Park Avenue office building using a plaza and lobby as an Art collection exhibition gallery. Worldly famous for Wild Cat Identities offers contentious displays of art, craft, and design along with various creativity by artists around.
Relish Lever House with its unamusing Art exhibition, and quite out-of-the-ordinary fun facts about New York city!
14. Carousel in Battery Park
Other-worldly emotions can be felt at Battery Park, New York City's SeaGlass Carousel has a bubbly and bright effect on its viewers. A massive chambered nautilus design of spirals blazes amid Battery Park's flora.
Encounter this serious Carousel along with beautifying flora alongside, one of the resonant fun facts about New York city!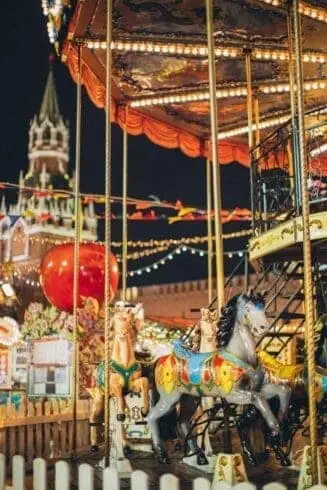 15. In Demand Marie's Crisis
Anciently famous piano bar of musical theatre performers, Marie's Crisis in a dimly lit alley at Grove St. It roots back to the 1850s, a cafe well maintained with sing-along live shows and a boozy surrounding for its patrons.
Get crazy in this Broadway-head popular bar and create some crisis along the way. Just kidding!
16. Zuccotti Park
Located in the Financial District of Lower Manhattan, Zuccotti Park a privately owned public space of illuminating light and green foliage panorama park. A visit to this Downtown area when no's around is a view to behold!
17. Atrium at Ford
The verdant green expanse of lush botanical plants with a record of 39 species founded a 12-story Atrium at Ford Foundation. A vegetative muddled architecture is one of the finest nestled gems of New York City.
18. Island in East River
Roosevelt Island, between the borough of Manhattan and Queens; is an island in the East River of New York City. Island provides its residents an urban feel and strange cozy surroundings with affordable stay options. Try some other islands available in New York to have some happening feel. Escapade fun facts about New York, isn't it?
19. 800 Languages City
Experts believe to say that New York City is an adobe of more than 800 languages. Queens, one of New York's metropolis is the most linguistically diverse city and has more languages communicated than any community in the world. Particular diversifying fun facts about New York city!
20. Clear-cut Service to Residents
The metropolitan city of New York has the service provided to its residents when made a call on 311. They have this unusual service given of free condoms & lube on request. The NYC Department of Health made an Educational and Outreach Approach toward safer and protective sex.
21. Right to Operate York City facts.
To start up your Hot dog stand at a Legal Entity along with Registration fees and License takes up to the US $300,000. According to Viewing NYC, popular places take a lot more cost factor than pedestrians or financial sectors. Evaluating fun facts about New York city!
22. Outside Asian People
6% of New York's population is of the Chinese entity. New York City has the largest Chinese population outside of Asian nations in the world. Out of that 6%, 40% of it primarily reside in Queens. Chinatown has the most Chinese residing people.
23. East River, Tidal Estuary
A saltwater tidal estuary and not a river is the East River of New York City. The waterfront although the named river is not one. It's a tidally consorted water mouth that directly connects to the open sea. On the south side, is Upper New York Bay and on its north is Long Island Sound. Such blusterous fun facts about New York to see!
24. Frozen New York Harbor
The New York Harbor froze completely in 1780. It hasn't frozen like that after that era. It would be a very delightful sight to see the whole New York Harbor frozen over. To experience these frosty crisp fun facts about New York would be a different type of ecstasy!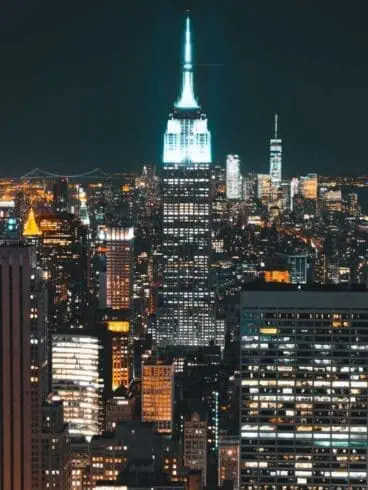 25. Empire State Building
The royalty of New York City of opulent caliber with eye-catching attributes is Empire State Building without any doubt! The most towering structure in New York was LEED-certified and initially developed to be a mooring mast for airships. Currently, it's the 4th tallest building in New York, designing fun facts about New York!
26. Central Park Mall
Spot for a stroll by magnificent elm trees and surrounded in the middle of the Park is Central Park Mall. It is led by a walkway through this beautiful Bethesda Terrace along with Center Park Mall the only esplanade in Central park, a formal element in the Original plan.
27. Grand Central Terminal
World's largest train station by areas and number of platforms; more colloquially and affectionately known as Grand Central Station. It is globally known as Grand Central Terminal as the Metro-North Train lines. Grand Central Station is generally used to refer subway station inside Grand Central Terminal.
28. New York Public Library
Extraordinary historical collections of free and easy access to its resources are in the New York City library. Its flagship location is Stephen. A. Schwarzman is the primary research center. It is referred to as one of the most famous book lairs in the world. It's one of the abstract fun facts about New York City.
29. North American Bird Species
495 species of bird reside in North American states. An abundant and widespread species of bird can be discovered in the backyard arena of New York City.
30. Only Straight Path
Grand Central Park has a single straight path in the whole of New York City. Intentionally formed path with great reverence for nature and its curving forms made by Calvert and Vaux while designing Central Park. Unique New York city facts.
31. Underground Park Idea
The world's first and finest underground park, Lowline is a very stalled project that started in 2019 but finally closed down in 2020 due to insufficient funds. Would have been one of the excellent New York City facts!
32. Pizza Principle
A historically accurate humorous but economically proposed law by native New York residents states that the price of the subway fare is mostly average to a slice of a cheese pizza. This perception tends to regulate economic stability thoughtfully. An insightful New York City Facts.
33. Big Apple City
New York City is everywhere by everyone called "The Big Apple" as idioms. It was introduced by John. J. FitzGerald in the 1920s and is still in use famously by New Yorkers and Tourists.
34. New York Stock Exchange
The Financial District of Lower Manhattan is the headquarters of the New York Stock Exchange. The only active trading floor that integrates human judgment with modern technology. The factors that solely result in performance and result. Primarily fiscal New York City facts.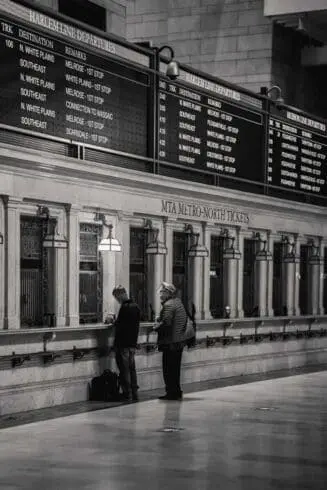 35. NYC subway system
Serving four of the main metropolitan cities out of the Five Boroughs of New York: Bronx, Manhattan, Brooklyn, and Queens is the rapid system of the New York City Subway. It takes around 4.5 million passengers daily. One of the locally vital New York City Facts.
36. Ellis Island
Opened as an immigration station in 1892 and for almost 60 years historical site till its closing in 1954. Ellis Island is the open gateway that sees many immigrants fly in through its entrances. Located at the inlet of Hudson, residing between New York and New Jersey. Check out this documentary New York City facts!
37. Lady Liberty
A symbol of liberation demanded by people was supposed to be celebrated but was denied is the Statue of Liberty. A statue is struck by lighting more than 600 times a year. A statue that is the hope and spirit in bad times for people living in New York.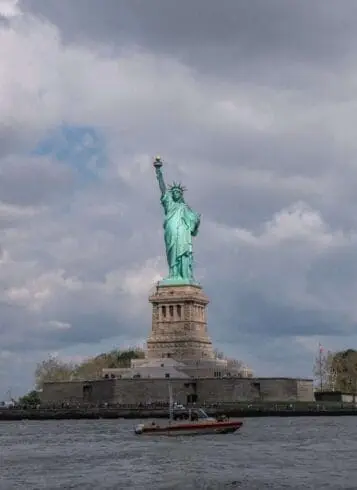 38. Largest Puerto Rican Population
Along with the Chinese population, New York City is also head of the Largest Puerto Rican population. In the United States, New York is at the top followed by Chicago, Philadelphia, and so on. A remarkable part of New York City facts.
39. Pave Pearl Street
Once upon a time, the waterfront road was later paved with oyster shells and named into the midden. It was constructed between 1976-1977. Its structural design was constructed based on 3 films of that era. A must-visit New York City facts.
40.Ethnically Diverse Urban Area
Considering the whole of New York City, if it's about a diverse urban area the first name that comes to mind in the whole world would be Queens. A hub of 100 nations and more than 138 communicative languages, Queens is the most ethnically diverse urban area along with two main international airports.
41. Topless Day Parade
In hopes to promote Gender equality, GoTopless Day was introduced in August 2019. In New York City legally, women were allowed to go topless in public since `1992. It's considered an offense if the reason is lewd or intentional and you can be lawfully charged. Public interest New York City Facts.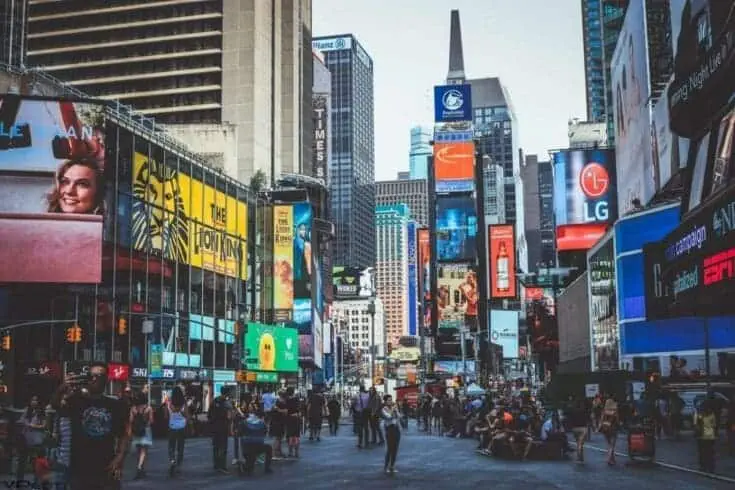 42. Longacre Square
New York's Longacre Square was the dome of the biggest horse carriage industry in the 1872 times. In the earlier times, as Times square arena was not given a name, it was generally denoted as Longacre Square. In 1904, The name consideration was brought into use and Longacre Square become Times Square.
43. Popular Horse Races
New York is a populous city for its horse races. The history of New York's horse racing goes back to the 1800s and it just keeps getting better. A comprehensive list of horse race tracks in New York City can be found online.
44. Washington Square Park
A cultural center hub gathering public crowds for public parks and meetings. Before 1826, the lands were used as burial grounds. More than 20,000 bodies are buried under the Washington Square Park arena. Later in 1826 Square Park was built.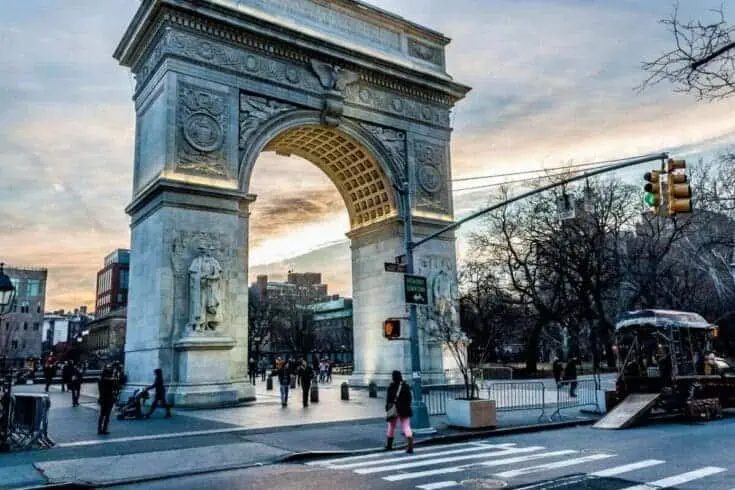 45. Foremost Capital
In 1777, New York's first capital was Kingston but later it was destroyed by the British after the battle of Saratoga. In 1785, New York City become the first American capital Under the Constitution of the United States.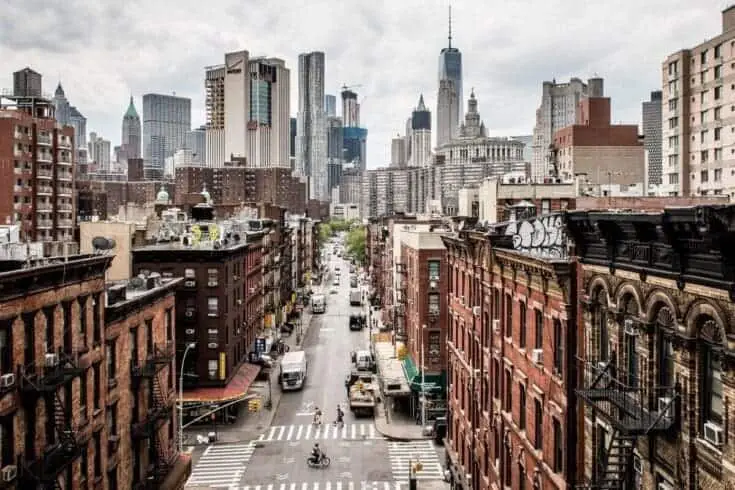 Small things make up the whole picture. A place, person, or even picture gets completed or has meaning to it only when small things are considered. Small insignificant makes up the designation abide by them. "Little things matter" should always be remembered while discovering new things or getting to know their classification.
Probe all of these facts about New York City and live within its soul! Also, reckon these fun facts about Europe, it's quite interesting!