Are you interested to know about Herbivore Dinosaurs? Check out this article. 
Have you ever imagined what would happen if you lived in the cretaceous period coexisting with those giant dinosaurs you have witnessed in movies and documentaries?
Scary, right? But the research says that they would barely harm you. Why? Let's find out.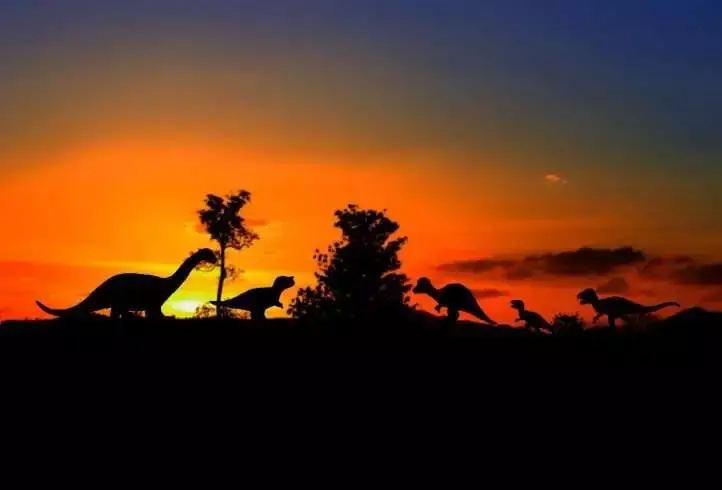 Herbivore Dinosaurs
Herbivore dinosaurs were plant-eating dinosaurs. Although most of the documentaries and films show most dinosaurs as carnivores, the research says that almost 65% of existing dinosaurs were herbivores. Rest 35% were carnivores.
So if you were coexisting with these giant land reptiles, probably they wouldn't harm you unless they were carnivores or harmed by you!
But how do you know which were the herbivore dinosaurs? Well, that's what we are here for.
We will introduce you to the common herbivore dinosaurs of their time.
Examples of Herbivore Dinosaurs
The herbivore dinosaurs were plant-eaters. The taxa belonging to herbivorous dinosaurs are Theropods (not all of them), Sauropods, Onithomimidae (family under theropods), Thyreophorans, and Ornithophorans.
If you want to know about different types of other dinosaurs, you can refer to this article.
Characteristic features of Herbivore Dinosaur
The plant-eating dinosaurs had flat teeth, which served to strip and grinding plant and plant materials.
Like other plant-eaters, the plant-eating dinosaurs also had some special enzymes in their digestive tract to digest cellulose.
How did the scientists find the food habit of dinosaurs?
Did the scientists do time travel with Doraemon's gadget to know about the food habit of dinosaurs? Definitely not!
They found it from the fossil. The coprolites (fossilized fecal matter) contained plant matter in the case of herbivores.
Apart from that, the teeth pattern also helped to depict whether the dinosaurs were carnivores (meat-eaters) or herbivores.
Fossilized stomachs are extremely rare so it is not easy to identify particular plant-eating dinosaurs from the coprolites.
So, the only option left apart from the teeth pattern is to guess the habitat and what type of plants are used to grow there.
In the Mesozoic era, shrubs and plants like club mosses, cycads, ferns, conifers, ginkgos were present in plenty amount.
Angiosperms, i.e., flowering plants, evolved during the cretaceous period.
So, based on these, their food habits were guessed. Let us know check up on a few facts about such dinosaurs.
6 Amazing facts about herbivore dinosaurs
#1 Most of the herbivore dinosaurs had a long neck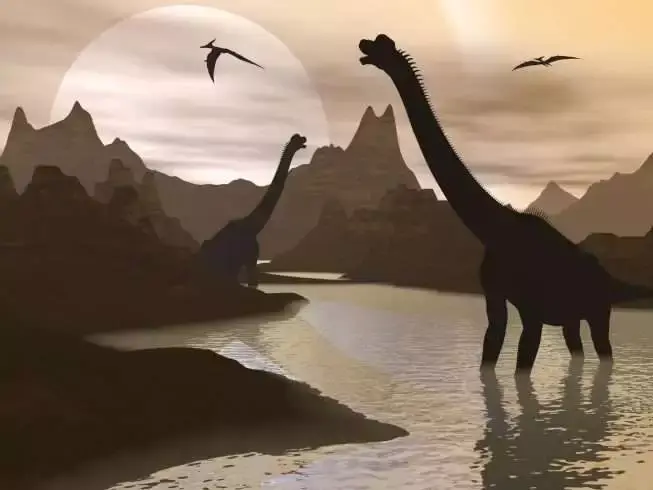 If you have learned the "theory of Evolution" by Darwin, you can probably figure out why so. The theory is the same as applied in giraffes. In the Triassic and Jurassic period, there lived herbivores, carnivores, and omnivores.
After the continental drift or to reduce the competition, some dinosaurs chose long plants as their food. And to reach the plants, the long-neck dinosaurs were selected by nature.
#2 If there were a race between T Rex and Brachiosaurus, T rex would win
T rex is probably the most famous dinosaur, and they were carnivores, i.e., they used to eat meat, and their digestive system evolved accordingly like other meat-eaters.
But the Brachiosaurus ate plants, and like other so many herbivores, they also had a long digestive tract. For this apparent reason, most plant-eating dinosaurs had large and huge bodies compared to the carnivores.
Now you can understand why the Tyrannosaurus would win the race! The heavier the dinosaur is, the slower it will run.
#3 Sometimes herbivorous dinosaurs used to eat stones also
Some herbivore dinosaurs having blunt teeth used to eat stones also. These are known as gastroliths, and they help in their digestion like modern-day birds.
The herbivore dinosaur, which had sharp claws or teeth, didn't need to eat them.
#4 Apatosaurus used to have a tail with a sonic boom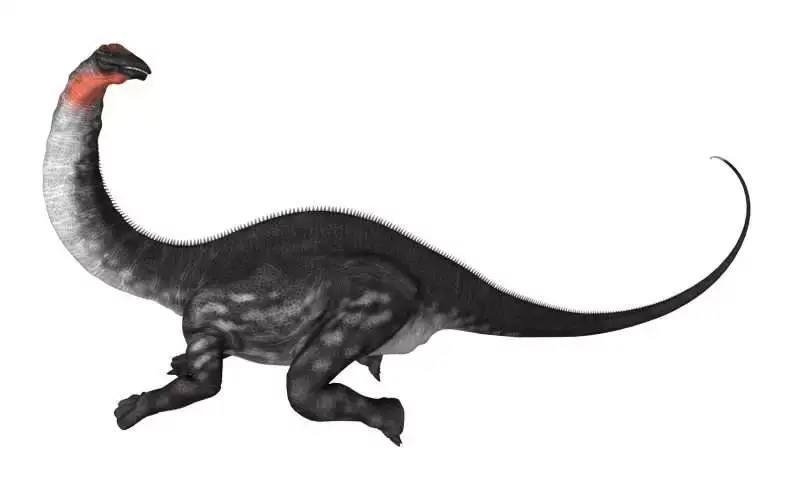 Apatosaurus is a species of Sauropods, and they measured about 70-75 feet long from head to tail. They had massive pillar-like legs and long tails.
They used to produce a supersonic sound by the long tail. The male ones used to compete with the females by producing this type of sound and trying to impress them.
This also helps them to frighten and warn other species.
#5 The tail of Ankylosaurus had an excellent potential to break the ankles of Tyrannosaurus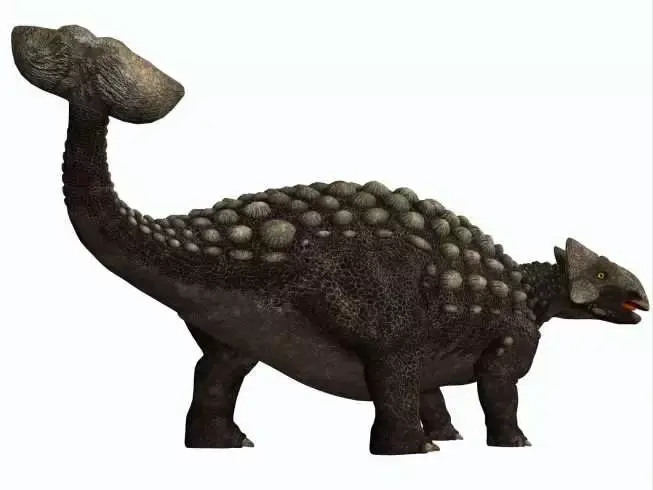 Although the Ankylosaurus probably couldn't kill the Tyrannosaurus rex, new researches suggest that the club at the end of the tail of this dinosaur could have probably broken its ankle.
Scientists say that the Ankylosaurus could swing its tail in a 100o arc, making an effective club that could generate the force that is strong enough to crush a bone.
#6 The nasal cavity of Brachiosaurus was positioned just above its eyes
The nasal cavity of the Brachiosaurus was positioned just above its eyes. Its mouth was full of teeth for stripping plants.
Oh, wow. These indeed were some interesting facts, weren't they? 
Let's learn a bit more about these dinosaurs.
What is the largest herbivore dinosaur?
Argentinosaurus is the largest terrestrial animal to have ever walked on the planet. These gigantic herbivores were about 115 ft long and probably weighed around 75 tons. This weight is almost around 100 African elephants.
Are your little cousins keen to know about herbivore dinosaurs? You may show them this fantastic animated video.
Some famous herbivore dinosaurs and exciting facts about them
1. Triceratops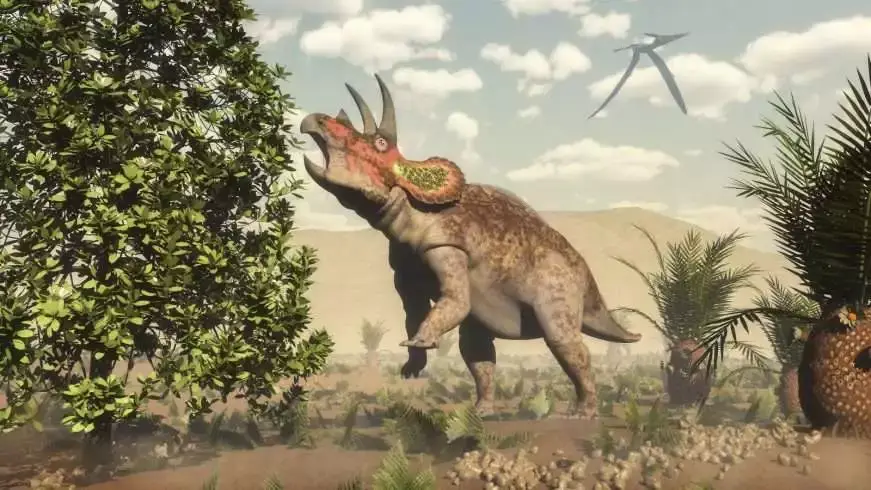 Triceratops was a large dinosaur. It is placed under the group Chasmosaurinae that belonged to the Ceratopsia Marginocephalians.
Size
It was around 3 meters tall and up to 9 meters long.
Weight
6-8 tons.
Period of living
Triceratops were among the most abundant herbivore dinosaurs of the late cretaceous period, i.e., 97-65 million years ago.
Place of living
They probably lived in North America.
Interesting features
The name Triceratops means "Three horned faces."
The three horns were probably used for self-defense to save themselves from the predator, and sometimes, they also used the horns to break the long trees.
Triceratops were equipped with 2 large horns known as Brow horns, and the 3rd one was on its nose.
Triceratops also had a large frill on the back of their skull. It probably used to frighten other animals.
Their diet was plants only, and they had a snipping beak and strong jaws with slicing teeth.
They were four-footed animals.
2. Brachiosaurus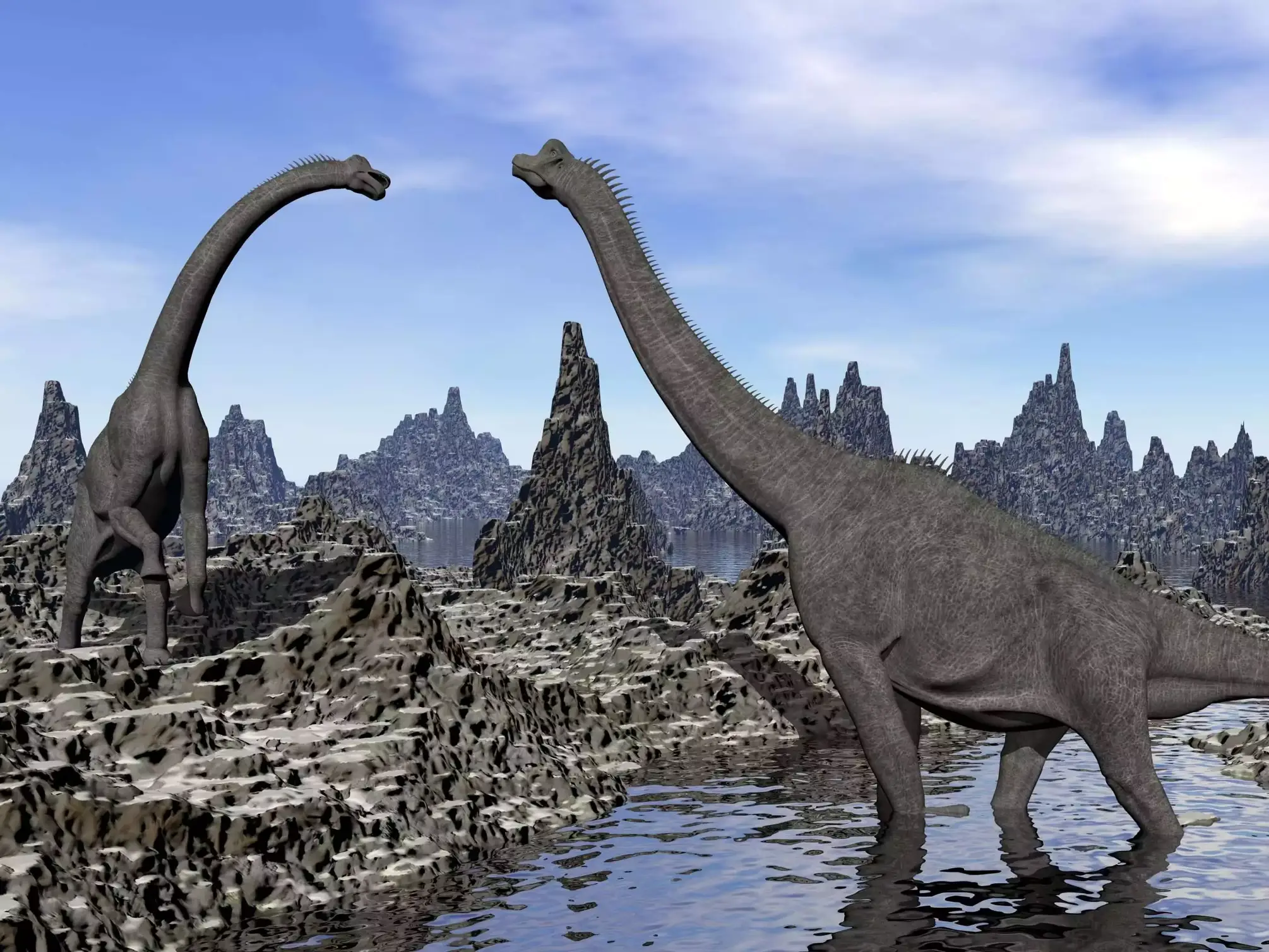 Size
This dinosaur was up to 12 meters long.
Period of living
Late Jurassic period.
Fossils discovered
The first Brachiosaurus fossil was found in Grand River Valley in Western Colorado.
Interesting features
It had a long neck that was far longer than its tail.
Its front limbs were longer than its hind limbs, which gave it a similar posture to modern-day giraffes.
They had primarily rounded and peg-like teeth to strip the leaves from the plant. But these teeth were not used for chewing.
3. Gallimimus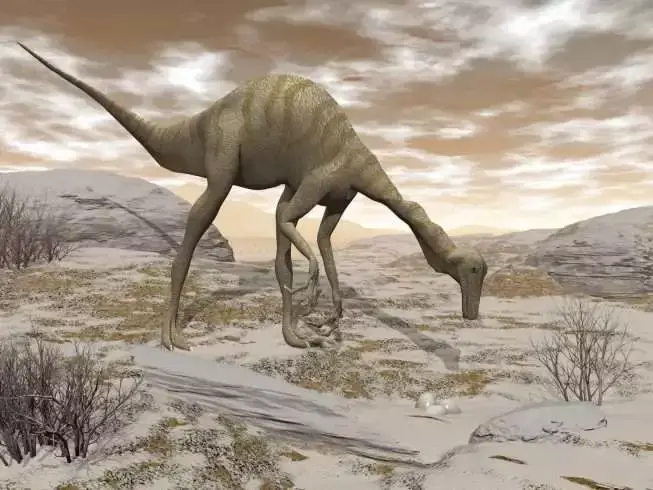 Interesting features
Gallimimus adults had large eyes and small heads, and it probably had feathers in the head and around its stomach.
They looked like prehistoric ostrich.
The name gallimimus means "chicken mimic."
This dinosaur was thought to be an omnivore, but it is considered a herbivore because of its toothless beak.
4. Stegosaurus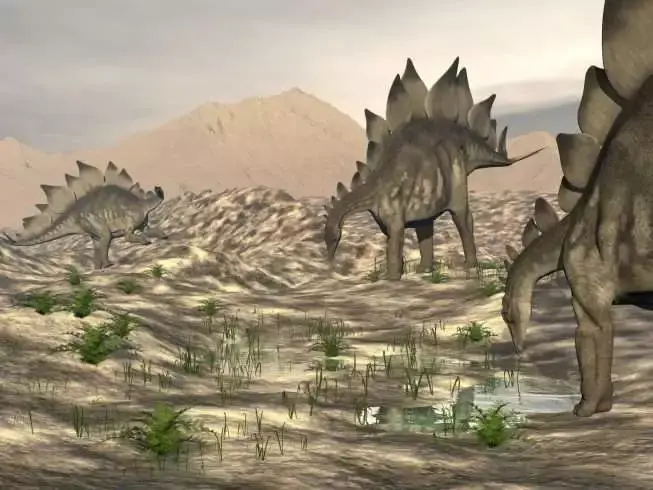 Size
Stegosaurus was a fairly large dinosaur. Its length was up to 29 ft.
Period of living
Stegosaurus used to live in the late Jurassic time period.
Fossils discovered
Fossils of Stegosaurus have been found in North America.
Interesting features
This dinosaur's body was covered with bony plates or spikes on their back which probably helped them regulate their temperature.
The dorsal plates were horizontally arranged, giving a similar appearance as tiles on a roof. So, they are called Stegosaurus, the "roof lizard."
Stegosaurus had a small head with small cheek teeth.
These plant-eating dinosaurs also had cheek pouches to store the plant matter before chewing.
One of the most famous herbivore dinosaurs, "Sophie," the Stegosaurus, is kept in London's natural history museum.
5. Cetiosaurus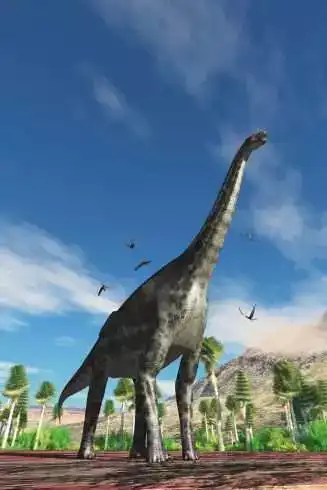 Size
Around 32 ft
Period of living
It used to live in the mid-Jurassic time period (around 167 million years ago)
First discovered
This dinosaur was first discovered in 1842.
Interesting features
The name Cetiosaurus means "Whale Lizard."
When it was first discovered, its bone belonged to a large marine crocodile.
This dinosaur lived alongside the fearsome predator Megalosaurus.
6. Iguanodon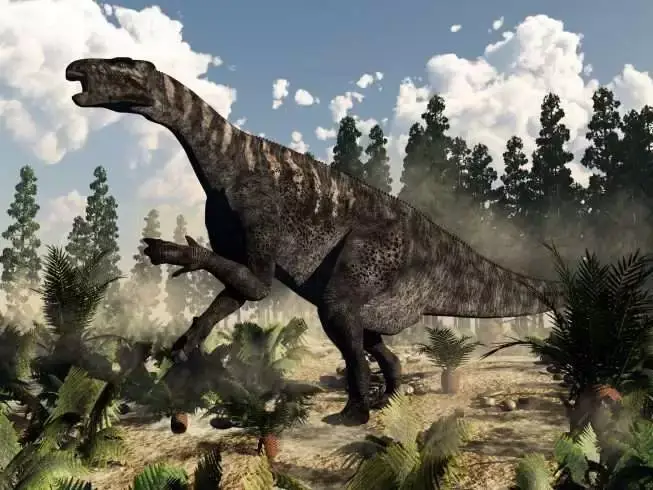 Size
Iguanodon was around 33-42 ft long.
Period of living
It lived around the beginning of the cretaceous period.
Range of Iguanodon
This is a fairly common species of dinosaur; it was found in many sites worldwide, including North and South America, Asia, Europe, and Africa.
Interesting features
They used to have toothless beaks at the end of a long snout. They possessed long jaws and a heavy tail.
They had large thumb spikes for stabbing attackers.
These dinosaurs probably walked on four feet, but they would run in two legs to evade predators.
7. Diplodocus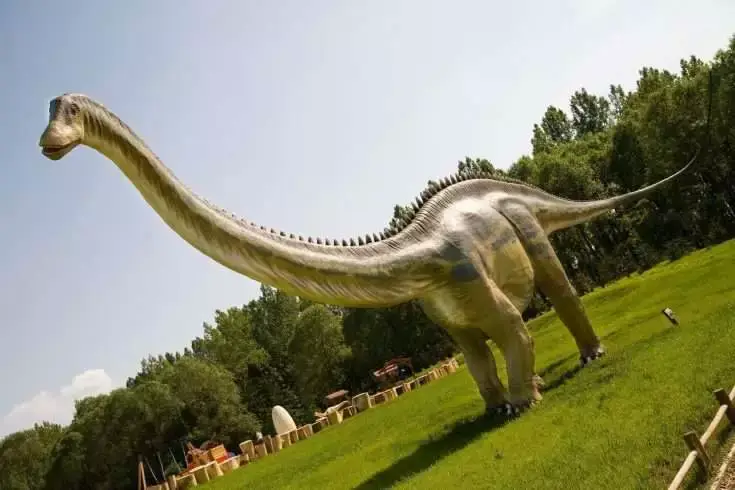 Size
79-85 ft
Period of living
End of the cretaceous period.
Interesting features
The dinosaur has the name from its double-beamed body structure.
Diplodocus had bones underneath its massive head.
7. Riojasaurus
Size
Its length is around 36 ft
Group
Rijosauridae
Place of living
These dinosaurs probably lived in South America.
Interesting features
These dinosaurs were one of the first large sauropodomorphs.
8. Therizinosaurus
Size
It was a big animal, up to 33 ft in length, but its fossils record are incomplete.
Period of living
Late Cretaceous period.
Fossil discovered
In South-Western Mongolia.
Interesting features
The name Therizinosaurus means scythe lizard.
It had huge and deadly claws.
9. Ankylosaurus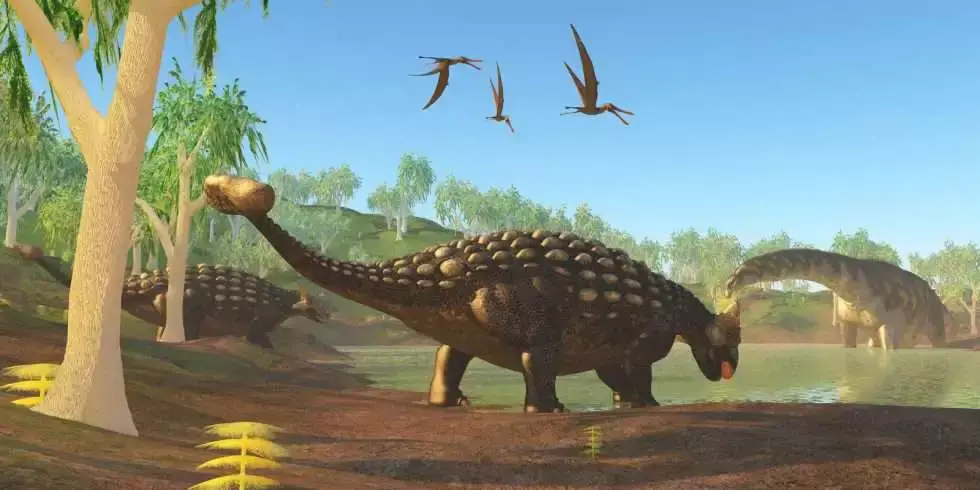 Size
Ankylosaurus was a big creature. Its length was in the range between 20-30 ft.
Living era
They lived at the end of the Cretaceous period (66 million years ago)
Interesting Facts
Ankylosaurus had a large triangular head. 4 large horns and tough armor protected its head well.
Its body was covered in bony plates, which protected its body from predators.
At the end of its tail was a club used to strike attackers.
10. Argentinosaurus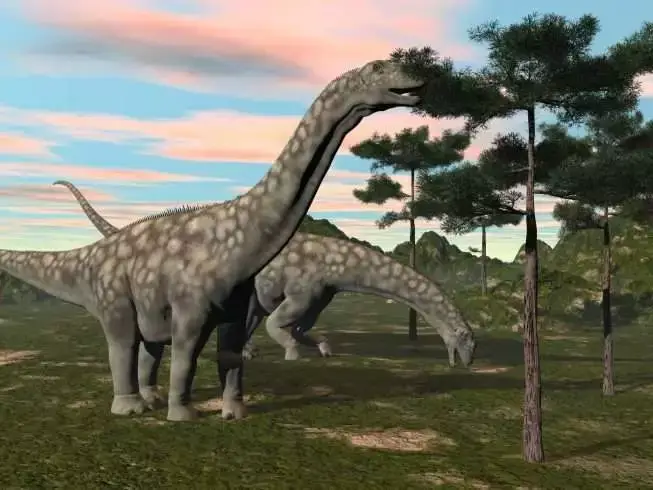 Time Period of living
They lived probably 95 million years ago, in the cretaceous period.
Range of living
They lived mainly in South America.
Interesting Facts
Argentinosaurus was one of the largest ever known to walk on the earth. Its massive legs supported this dinosaur's huge mass, which was estimated to be in the region of 75 tons.
It was probably taller than a 2 story building.
They possessed a long neck which helped them to reach the high branches.
11. Diabloceratops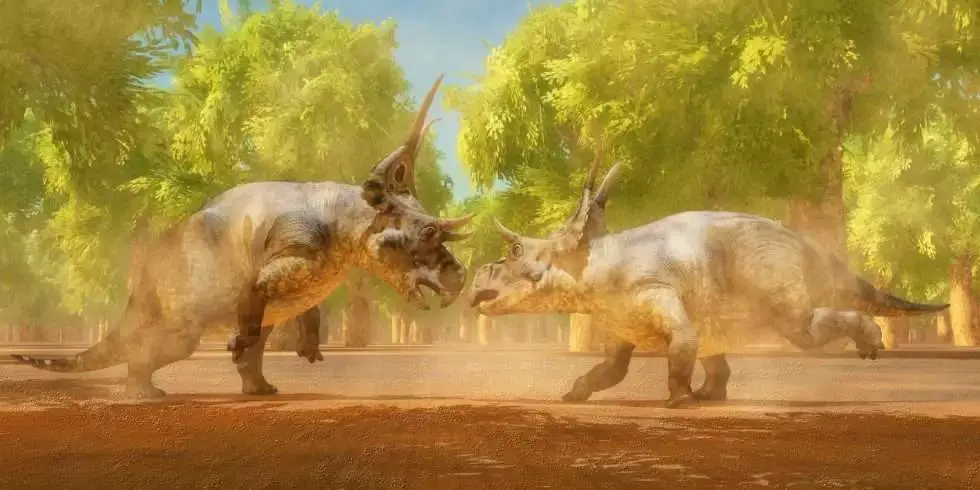 Size
Its size was around 18 ft.
Weight
They weighed around 2 tons.
Living era
They probably lived around 79 million years ago.
Interesting facts
The name Diabloceratops means "Devil Horned Face."
Officially it was first described in 2002.
It belonged to the group Ceratopsian. They had an elaborate frill and large fearsome horns, which probably were used to defend themselves.
12. Scutellosaurus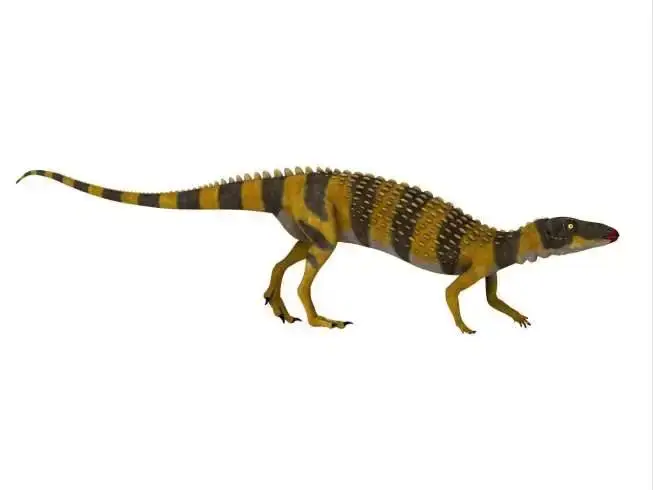 Living era
They probably lived in the early Jurassic period (almost 196 million years ago).
Location
They lived in North America. The fossils were found in places like Arizona in the United States of America.
Interesting Facts
The name Scutellosaurus means "little shield lizard." They are included in the ornithischian under the Thyreophora.
They were bipedal and probably used to live in herds. They were small ground-dwelling herbivores.
The shields on their back were made up of little armored plates used to protect them from predators and hide.
13. Othnielia
Size
They were small in size, 2 m or less than that in length
Weight
They weighed 10 kg or less than that.
Interesting Facts
They were also known as Nanosaurus.
It was a bipedal dinosaur, and it had small, leaf-shaped teeth. Its stiff tail gave it balance to make super sharp turns. It could run way faster than the other dinosaurs.
This species is now known as Othneilosaurus.
Want to know more about them? Check this article.
There are very few species of herbivore dinosaurs, and if you want to know more about them, you can refer to this fantastic video.
Herbivores were more vast and there are so many interesting facts about them yet to learn. If you want to know more about herbivore dinosaurs, you can refer to this video.
We have tried to cover most of the plant-eating dinosaurs ever lived on the earth.
I hope you enjoyed reading about the dinosaurs.