We all love a beautiful house, don't we? But, what makes a house, a home (apart from the fact that you live with your loved ones), is GOOD furniture. And not just any furniture, but the furniture you get attached to.
Furniture is as important a part when it comes to interior design as any other. It comes into the picture if you want a bedroom that feels more comfortable if you wish for a dining hall that leaves an impact, or even anything as simple as getting a table for work. So if you are planning to buy furniture in Calgary and have spent hours looking for one furniture store after the other, your search ends here. I have got you covered with some of the best furniture stores in Calgary.
Best Furniture Stores Calgary
1. XLNC Furniture
Location 1 – 7133 11 St SE, Calgary, AB T2H 2S1, Canada
Location 2 – 2020 32 Ave NE, Calgary, AB T2E 6T4, Canada
Up first is XLNC Furniture. With two branches in Calgary itself, they are easy to access. They've got a unique, stylish, and quality furniture range that is bound to fulfill your home decor wishes, and XLNC Furniture claims to give you ALL this at a low price. Their well-organized website gives you a good look at what they've got in store. They've got it all from furniture for the living room dining room to even audio and video furniture.
Can't go to the store and handpick your favorite furniture? Don't worry, XLNC even has doorstep delivery. So you can sit in comfort on your sofa and get an even more comfortable sofa delivered to your doorstep.
Also, you don't have to worry if you can't decide what furniture is best for you. Their experts will help you out with that.
Click here to see what XLNC Furniture's customers have to say. So come to XLNC furniture, and find a solution to all your furniture needs.
2. Showhome Furniture
Location – North Hill Centre, 1616 14 Ave N.W., Calgary, AB T2N 1M6, Canada
Second, on the list is Showhome Furniture. They claim to have "Quality Canadian Custom Furniture" and "Best Warranty In The Industry". Their quality furniture is "made by Canadians, for Canadians". The winners of the "Top Choice Award, 2021" have almost every piece of furniture. From Canadian sofas to chairs to tables and even hot tubs, you get what you ask for.
Along with all that, Showhome Furniture also delivers to your doorstep. So getting your home a new sofa set becomes even easier.
In case you can't come to a conclusion, Showhome Furniture has a solution for that too. Their experts will help you to find what's best.
Click here to have a glimpse of what Showhome Furniture's customers have to say about them –
The customer reviews themselves tell you a lot, don't they?
3. EQ3 Calgary – Modern Furniture Store
Location – 100-8180 11 St SE, Calgary, AB T2H 3B5, Canada
Third on the list is EQ3 Furniture Store. With a wide range of furniture, what makes EQ3 pop is the sheer simplicity of its products. They were uncomplicated and yet elegant.
EQ3 furniture store goes a step ahead to give you the most significant experience. They allow you to get your own custom-made sofa. You can choose everything from the arm height to the material to the color and even the leg type!
EQ3 furniture store provides you with live chat with their experts to have a truly hassle-free experience.
Click here to have a look at what EQ3's customers have to say –
With friendly sales advisors, customization options, and top-notch service, what else can someone ask for!
4. Furniture Extreme
Location – 9631 Macleod Trail S.W., Calgary, AB T2J 0P6, Canada
Up next, we have Furniture Extreme.
If having an excellent selection of furniture wasn't enough, Furniture Extreme does "Free Delivery and Setup" to any location in Calgary for a purchase above $999!
Talking about variety, Furniture Extreme offers cabinets, tables, chairs, bedding, lighting, and a different set for kids. Their collection of nightstands is a recent top seller, so don't forget to check that out.
Giving the utmost importance to customer satisfaction, you can shop from Furniture Extreme online, or you can send them a message, or you can surely visit their showroom. They are always happy to help! Their furniture experts select products from a variety of high-quality manufacturers to bring you the best products, and that too at economical rates.
You even get a chance to win a $5000 room makeover simply by signing up for their exclusive home furnishing and design tips. Nothing to lose, a lot to win!
Click here to see what the customers of Furniture Extreme have to say
You really should consider Furniture Extreme when it comes to furniture stores in Calgary.
5. Ashley Homestore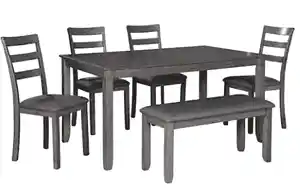 Location 1- 88 Heritage Gate S.E., Calgary, AB T2H 3A7, Canada
Location 2 – 901 64 Ave NE, Calgary, AB T2E 7P4, Canada
5th on the list is Ashley Homestore. Ashely Homestore surely has a lot to offer, filled with a selection of some of the best furniture, be it sofas or a wide range of beds or sectionals. All of this doesn't come at a sky-high price either. For example, their dining set starts at just $549! Their website has a dedicated section for small spaces, so no more regret buying an oversized bed.
For any purchase over $250, Ashley Homestore ships the furniture to your home FOR FREE! So no more taking out time from your busy schedule to go and pick furniture.
For a hassle-free experience, they have a live chat to solve most, if not all, of your queries. You also can make an appointment and meet them for a smooth experience.
Clicking here will show you what the customers of Ashley Homestore have to say
So do not forget to include Ashley Homestore in your list of furniture shops to visit.
6. Sofa Land
Location 1 – 7300 Railway St SE, Calgary, AB T2H 3A8, Canada
Location 2 – 2930 32 Ave NE, Calgary, AB T1Y 5J4, Canada
The 6th Calgary furniture store on the list is Sofa Land. Home to a wide range of furniture, from tables to sofas to even home theatre seating, Sofa land has a lot to offer.
Sofa land has a free "Room Planner" feature on their website, which will help to plan out your room with the same device you are using. Now that is something really cool! And if you can't decide what would be suitable for your room, worry not.
And along with all that, Sofa Land offers a variety of financing options, so getting your favorite furniture becomes easier.
Afterword
You just saw 6 of the best furniture stores in Calgary. Be it anything from as simple as a chair to as important as a T.V. stand, furniture should never be treated casually because the interior of your home is always as important as the exterior. And these stores help you pick the best furniture for your lovely place.
Most people would just see the "outside" of your house, but the interior design makes it more comfortable. The custom-made sofa, the simple yet beautiful sectional, the gorgeous dining set. Every single piece inside your home counts. Don't you agree? After all, it's your space, and you want it in your style.
So to explore these Calgary furniture stores to find the perfect furniture for you to enjoy the Saturday movie night won't be a bad idea.
Over to you
Talking about furniture, we would love to hear about your experiences regarding furniture and furniture stores. Use the comment box and tell us your stories.
Also, feel free to put your feedback regarding the article in the comment box, as we always look forward to suggestions.
Sparsh is a freelance content writer and a proud Indic Winger. He has been a TedX Student Talks Speaker at TedX KhaitanPublicSchool, 2020.
My digital works include a YouTube channel (Happy Reading and Exploring), a podcast show (Podcasts with SN), and a content writer on Icy Tales.
He has written various articles on Icy Tales but apart from those, he has written exclusive content on interviews with famous personalities. He also writes things to know about our lifestyle and the outer world. Check out his articles to have a great experience of knowledge and exploration.