Humankind has seen some epic kingdoms, battles and prominent rulers. History is evident that there was always that one man who used to foresee his empire in every continent, in every domain.
From Ashoka to Augustus Caeser to Napoleon Bonaparte and Genghis. The list of these powerful emperors is endless, and in this list, we are here to break down some interesting facts about Alexander the Great.
But before exploring some astonishing Alexander the Great facts, let's take a brief look at his life.
Early Life of Alexander the Great
Alexander the Great, also known by the names of Alexander III or Alexander of Macedonia, was born in 356 BCE at Pella in Macedonia, the son of King Philip II and Olympias.
From a very young from 13 to 16, Alexander's father chooses Aristotle to tutor Alexander. Aristotle was considered one of the most famous philosophers in ancient history, and he inspired Alexander iii interest in philosophy, medicine, and scientific investigation.
At a very Alexander was known for his display on the battlefield, which we can see how proved beneficial for him later to become one of the best rulers the world has ever seen.
Rise of Alexander III
At the young age of 20, he succeeded his father, King Philip II of Macedon throne following Philip's assassination at Cleopatra's wedding.
He and his Macedonian army went on a lengthy run of military campaigns worldwide.
From Western Asia and Egypt to Central Asia and South Asia, Alexander conquered many places, making it one of the largest empires in the ancient world.
Through Alexander's army, leadership qualities, and his being undefeated in battle, the Macedonian king is regarded as one of the most successful and greatest commanders in history.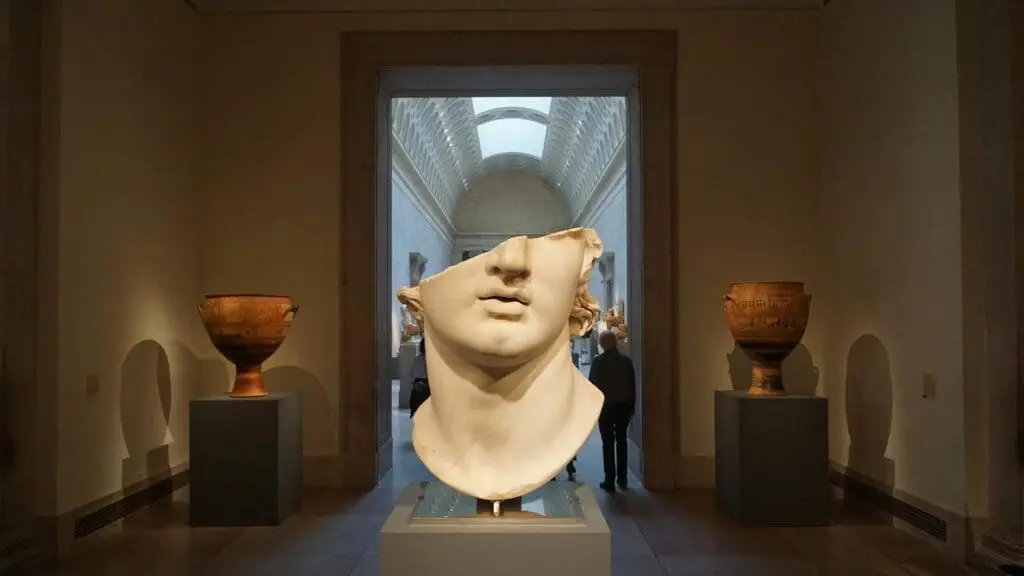 Persian Empire Invasion
In 334 BC, Alexander the Great, with his Macedonian army, invaded the Achaemenid Empire (Persian Empire) and collapsed the Achaemenid empire in a series of battles, including Issus and Gaugamela. Alexander defeated the Persian king Darius III and his Persian army to conquer the Persian empire to its entirety.
One of the prominent reasons for him conquering the Achaemenid empire and many others was because of the Macedonian phalanx. Alexander's father, King Philip II, developed this infantry known as the Macedonian phalanx.
In this strategy, a block of infantry is tightly packed together, with each soldier carrying 20-foot-long pikes called sarissa. This technique was mainly used to hold off forces when cavalry went offensive.
After conquering the Persian empire, Alexander the Great's empire took hold of territory between the Adriatic Sea and the Indus River.
With his aim of reaching the "ends of the world and the Great Outer Sea," Alexander III invaded India in 326 BC, defeating Porus, an ancient Indian King, at the Battle of the Hydaspes, making Alexander's empire from Greece to India.
Death of Alexander the Great
In 323 BC, Alexander died in Babylon, a city he wanted to establish as the empire's capital. Following Alexander's death starting the Hellenistic period, we could see Alexander's legacy mixed up with places he conquered.
Alexander the Great founded more than 20 cities which bore his name, the prominent one being Alexandria, an Egyptian town. His settlement in greek cities and spreading of greek culture led to the dominance of Hellenistic civilisation.
After his death, Alexander's body was covered in honey before being placed in a golden sarcophagous following being stored in a casket.
When Alexander's funeral procession was on its way back to Macedonia, it was seized by Ptolemy and was taken to Egypt, where it was placed in Alexandria.
At the end of the fourth century AD, all academic records of his tomb vanished despite being the leading site of Alexandria.
Now having a brief about Alexander the Great illustrious life and empire regime let us break down 8 astonishing Alexander the great Facts.
#1 Philip II of Macedon
Alexander's father was a king of Macedon who defeated Athens and Thebes at the Battle of Chaeronea. Philip II established a federation of Greek states known as the League of Corinth, where he elected himself as the leader.
#2 Alexander the Great First Major Battle
In his career total of wars and battles, his first major battle came when he crossed into Asia minor in 334 BC. He was confronted by the Persian army waiting for him at the side of the Granicus River.
After a hard long-fought battle, Alexander and his men emerged victorious and defeated the Persian force. Despite the attempt of Persian troops to surrender, Alexander had the Greek mercenaries serving with the Persians surrounded and slaughtered.

#3 Undefeated Alexander the Great
Another Alexander the Great Facts includes the Macedonian king being undefeated in his long-standing regime.
Yes, this sounds surprising, but it's true. This is why his battlefield techniques are still studied in military academies.
Alexander's impressive army speed allowed smaller forces to easily break through the enemy lines before they were aware and gained a lot of reputation, which played an essential role in never being defeated in a battle.
Another thing that played an essential role in making Alexander's army so powerful was because of the Macedonian phalanx. It was a formation they used in which they were tightly packed together, with each soldier carrying 20-foot-long pikes called sarissa.
#4 Everywhere I go, I see his Name
Everywhere I go, I see his name. We have used this line because in another Alexander the Great, facts include him naming more than 70 cities on himself and even one after his horse.
Alexander found dozens of cities he used to commemorate his name during his conquests by naming them Alexandria.
The most famous of these can be found at the mouth of the Nile at the time of 331 BC. Which, at the present day, is Egypt's second-largest city.
Other traces of Alexandria can be found on the paths his army covered, which in the present day are Iran, Turkey, Afghanistan, Pakistan and Tajikistan.
Alexander the Great founded the city of Bucephala near the site of the battle of Hydaspes, which he named after his favourite horse, mortally wounded in the fight.
#5 Love at First Sight
For a demanding and elite man like Alexander the Great, falling in love, at first sight was not very difficult.
After his capture of Sogdian rock in 327 BC, when surveying through captives, the teenage daughter of a Bactrian nobleman Roxanne, caught his eye.
It did not take a long time when at the traditional wedding ceremony, the king shared the sliced loaf of bread with his sword with his new bride.
Following Alexander's death a few months after their wedding, Roxanne gave birth to their only son, Alexander IV.
#6 Even Smelled Great
The greatness of Alexander didn't only stop on the battlefields. Even his skin smelled great.
In the book called "Lives of the Noble Greeks and Romans," Plutarch, written 400 years after the death of Alexander, reported that "a most agreeable odour" exuded from Alexander's skin.
It was also mentioned that his breath and body all over were more fragrant than the perfume in his clothes.
In his life, he was such a powerful and successful conquering king, so many comparisons of his attributes were compared to god. In 331 Bc, during a visit to Siwah, Alexander openly called himself the son of Zeus.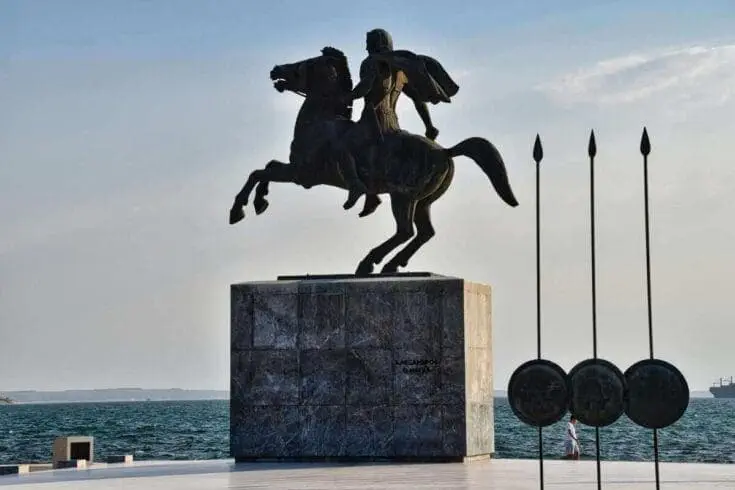 #7 After Defeating them, Dress like them
In 330 Bc, after a hard long battle and incursions, it took 6 years for Alexander to finally conquer Persepolis, the longtime centre of Persian culture.
After realising that the best way to control the Persian people was to act like them, Alexander decided to wear a Persian dress, striped tunic, girdle and diadem of Persian royal dress.
In 334, in another instance to mix with Persian people and culture, he held a mass wedding in Susa- a Persian city. He forced his 92 leading Macedonians to take Persian wives with him, marrying two Stateira and Parysatis.
#8 The mystery behind Alexander's Death
One of the greatest mysteries of the ancient world is what was the real cause behind the death of Alexander. In 323 BC, an incident happened where Alexander the Great fell ill after downing a bowl of wine at a party.
Two weeks following this incident, the great ruler was announced dead. Suspicion fell on people who were close to Alexander as previously his father's murder culprit was his bodyguard.
Most of the suspicion targeted his general Antipater and Antipater's son Cassander.
Many ancient biographers also suspected Aristotle of having some connections behind the death of Alexander due to his relations with Antipater's family.
Another notion which arose behind the cause of Alexander's death was due to medical reasons like malaria, lung infection, liver failure or typhoid fever.
Whatever the real reason is, still to this date, the mystery behind the real cause of his death hasn't been solved.
Some other attractive Alexander the great facts that can't be missed
HE HAd struggles to become a king
Alexander's struggle to claim the Macedonian throne was a bloody one. Since his mother Olympias was from Epirus, he was only half Macedonian.
To claim the throne, Philip II's other wives were murdered, along with two Macedonian princes. Alexander also put a stop to many rebellious factions.
Initially campaigned In Balkans.
Before initiating his Asian campaign, Alexander wanted to strengthen his northern borders and suppress several revolts in this place. In 335 Bc, he fought and defeated numerous tribes and states.
Reached India in 327 bc
After conquering Persia and still not being satisfied by it, this encouraged Alexander to conquer all of the known worlds.
This known world at that time was believed to be surrounded by an ocean surrounding India.
Following this pursuit, Alexander crossed the Hindu Kush into ancient India. This was considered the bloodiest Alexander's campaign.
Alexander was lucky
Alexander being undefeated in so many battles can also count towards his luck besides his exceptional battlefield qualities.
Alexander always used to lead his army from the front, and as a result, he has diced through many near-deaths in his war campaigns.
Granicus River incident can be recalled where his life was only saved by the intervention of Cleitus the Black. In which he managed to cut off a Persian's soldier arm before he was going to attack Alexander with his scimitar.
Alexander the great was a heavy drinker.
Alexander III was considered a heavy drinker. A drunken incident about him can be recalled when he had an argument with his friend and general Cleitus the Black and killed him by throwing a Javelin at his chest.
Many also believed one of the reasons behind his death was his alcoholism habits.
Alexander's army rebelled against him
In an unusual incident, Alexander's army started rising against him. This happened when they heard his plans to cross the river Ganges during their Indian expedition.
His Indian military campaign already being bloody. The army was exhausted from years of wars and distances travelled, so they feared what they might find over the Ganges.
After three days of waiting and his army not agreeing to march, Alexander finally decided to call it a day and turn back.
Three marriages of Alexander
In his life, Alexander the great married three times. His first marriage was to Princess Stateira, the daughter of Persian King Darius III. He did this marriage for a legitimate claim to the Persian empire.
His second marriage was not based on claiming any power or throne; instead, it was purely based on love interests. He married Roxana of Bactria, from whom he shared their only son Alexander IV.
His first marriage was to Princess Parysatis, his first wife's cousin. Like the first, this marriage was purely done to strengthen his claim on the Persian throne.
Romans' opinion OF Alexander the great
For his leadership qualities and undefeated reputation, many roman generals were in awe of Alexander the Great.
The taxing example of Pompe the Great, who adopted Alexander's title and his hairstyle. While also put his efforts into finding Alexander's cloak, which was centuries old.
Julius Caesar also styled himself, Alexander, with Augustus adopting Alexander's seal.
Alexander was also used as an example by many republican writers to show how political power needs checks and balances.
Saying that everyone favoured Alexander would be an understatement, but he had some following of his own through his works.
Division of Alexander's empire following his death
The division of his illustrious empire, which was spread across continents, didn't take long enough.
As Alexander never mentioned his official successor, and while his son was still a baby following his death, General Perdiccas attempted to set up a regency for his son named Alexander IV.
His attempt failed after his assassination in 321 BC, which started a civil war.
To gain control of Macedonia, Antigonids murdered Alexander's family and successfully achieved the powers for the same, whereas Seleucids gained forces in Syria, Mesopotamia, and most of Persia.
Ptolemies gained control of Egypt, while local rulers gained independence in India, which didn't last long as Chandragupta Maurya later conquered them.
Ultimately, Alexander the Great empire fell into the hands of different emperors following his death.
Alexander spread Greek culture.
Alexander, through his conquests, spread greek culture simultaneously. Hellenic culture was now transformed into Hellenistic culture, which dominated the Mediterranean for centuries before the arrival of the Romans.
You could see Greek culture and architectural designs across Asia and India.
Alexander's life became a legend.
Following his death, The Alexander Romance consisted of a compilation of fantastic stories about the life of Alexander the Great.
The Alexander Romance told stories about his life in a glamourous way having fantasy elements.
One such element was Alexander chaining his griffins to his throne so that he could fly.
So here it was 8 astonishing Alexander the great facts with some more with addition to the brief of his legendary career.
Having the world in his hands by spreading his empire throughout different continents makes us ponder whether he was the greatest king the world has ever seen? Well, that's up for debate but what he has achieved and built is something of an exception itself.