You are in Florida! You shop, eat, explore the streets, walk along and suddenly your mind shouts, "You forgot the beaches!" So without any further thought, what you need to do is, pack your fabulous swimsuits, sunscreen, and you head out to, Best Beaches in Naples.
 Naples is a city in Southwest Florida, United States. The city is right on the Gulf of Mexico. Tourism being the major industry of this city, Naples is also home to significant land reserves. However, the city of Naples has some of the best beaches in the state.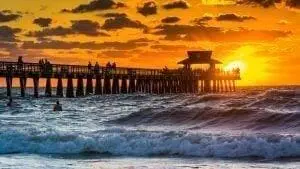 The sand on the shore is entirely white. It resembles sugar crystals. The waves in the Gulf of Mexico are very calm and beautiful. They spread themselves on the sand in the same way as we cover ourselves with a soft woolen sheet.  Due to this, the beaches in Naples are perfect for swimming.
Not taking long what you need is a pen and paper.  Your vacation is listed just below!
8 Best Beaches in Naples
 1) Delnor-Wiggins Pass State Park
Delnor-Wiggins Pass State Park got this oh so lengthy name of honoring the founders. Because of their fund collection for the park, it stands today holding the honor of the best beach in Naples. The park is famous for swimming, snorkeling, picnics, sunbathing and, also, beachcombing. Fishing is allowed but only at the north end of the park.
This place is the most popular tourist attractions in the city of Naples. It is spread over a mile long covered with powdery white sand. The park does not allow camping. This is a little drawback considering the scenic beauty of the beach here. The sunsets at the beach are breathtaking.
Since the park is always full of tourists, it also serves them with good concession stands, amenities, and parking lots. There are five to six lots, grills, drinking fountains, outdoor showers, and restrooms. It does offer food, beverages, and other stuff too.
All in all, Delnor-Wiggins is a good picnic place for family and friends. Children will have a great time here. Thus, it is the best beach in Naples.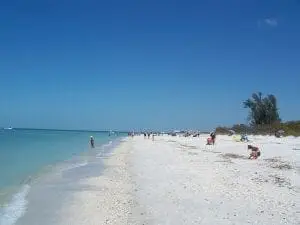 2) Vanderbilt Beach
Vanderbilt beach, for some reason, is liked by many. It has calm water. The sand is crystalline and very beautiful to watch as it shines. Beach Park is located in North Naples and is very close to all the facilities like hotels, restaurants, and shopping places.
The beach has water sports. Jet skis, kayaks, and the paddleboard can be rented here. This beach also offers the sunset as beautiful as the previous one.
The parking lot here is vast. It occupies a 3- floor building. It gets quite full on the weekend. So if you want to grab it, rush here early for a spot. Parking tables are available too.
The beach offers excellent restrooms and showers. The nine-mile beach presents itself quite dotingly. As I said, some people love it here at Vanderbilt, and for them, it is the best beach in Naples.
3) Barefoot Beach Preserve Park
Barefoot Beach has itself noted among America's top ten beaches. It indeed will have its place on the list of best beaches in Naples.
It is located in North Naples and holds 342 acres of natural land. It is home to the gopher tortoise. Many other animal species think of it as their home. The different types of sea turtles are here since forever.
The beach provides restrooms and showers. Beach equipment can be rented while the food and drinks are at cost. Wheelchairs are also available. Picnic tables are available for picnic areas.
This beach is ideal for family picnics. It is enormous and therefore ideal for swimming. Fishing here is a delight as the gulf offers many species. Beach is very famous for shelling. Nature learning center here is a unique feature.
The parking lot is quite good. It offers three lots. Its beauty makes it one of the best beaches in Naples.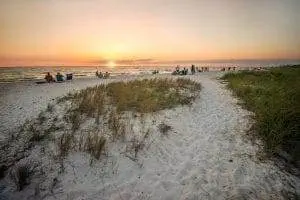 4) Lover's Key State Park
The name itself suggests an utterly romantic atmosphere! The story behind the name Lover's Key is that there was a time when this beach had no other transportation option but boats. This beach became a special one for people in love, and thus, the name had its day. With time the road was built, and now the beach has vehicular access.
This beach holds a massive area of 712 acres. It has lagoons and barrier islands. Lover's Key is the main barrier island, while others are Black Island, Inner Key, and Long Key.
Lover's Key is home to 40 species of birds and other animals. Dolphins, Manatees, and other birds can be spotted here.
The beach here has its name noted on the Travel Channel. So Lover's Key is definitely on our list of best beaches in Naples.
You can sunbathe or just swim in the soft and warm waters of the Gulf of Mexico. You can do shelling, kayaking, canoeing. Black Island has an area where people jog and cycle. Concession stands are at the entrance.
The paths being surrounded by greens are just soothing to your eyes. You can rent a boat and take a tour. The boat is charged.  You can go cruising and watch the heavenly sunset.
Tick this one because you surely want to visit this place with your partner, after all, it is made for couples and is one of the best beaches in Naples!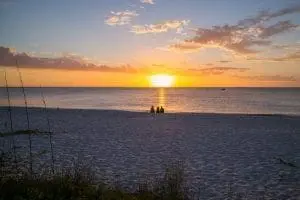 5) Bonita Beach Park
"Bonita" means Pretty in Spanish. This beauty of a beach is named Bonita because it is that beautiful in all of its aspects. Every beach that you have gone through gives you many activities that could be done, but Bonita Beach Park is the most laidback beach in Naples.
It is perfect for a family picnic. You have grill stations here. There is a playground where you can play sand volleyball and cover yourself up with lots of sand and sweat.
Bonita is located south of Fort Myers. The beach is notably quieter if compared to others. The beach does not have any hotels or resorts. There are actual houses that are along the shore if accommodation is considered.
Usually, people stay for 4-5 hours on this beach, relax, sit back, enjoy a little family time, and go stress-free. The beach has that effect. You indeed have to try this beach because it earns the spot on the list of best beaches in Naples.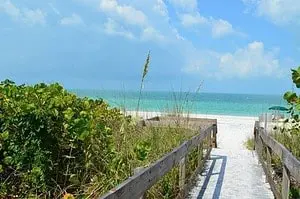 6) Tigertail Beach
Tigertail beach is among the new developments that took place on Marco Island. The beach is a Collier County Park. The beach was an offshore sandbar. The usual occurrence of hurricanes piled up sand, and today, it is known as Sand Dollar Island.
Parking is excellent here. The beach park is maintained well. It provides changing rooms, umbrellas.
The best part of Tigertail beach is that it has good food, though options are limited. It serves beer and vine. Isn't it perfect?!
The beach allows you to keep up the adventurous sports. Kayaks and Standup paddleboards are available too.  The beach has the visitors involved in it. There is a saltwater lagoon that people cross and then set up their umbrellas.
Then there is a stream filled with varieties of fishes and is filled with crabs. It feels like the red sea when they pass.
The beach water is dreamy. Blue-green sparkling and sand are soft and glittery. It offers so much that you would be surprised.
Visit Tigertail and tick one off of your list of best beaches in Naples.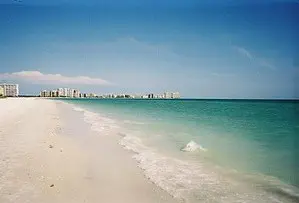 7) Clam Pass Beach
Clam Pass Park is a hidden one or appears to be hidden.  That is because it hides behind Naples Grande Beach Resort. This park comes under Collier County.
Getting to the beach is an adventure in itself. You can either walk or take a tram (which is free) and move towards the mangrove forest. After you pass the tunnel, you set your foot on a beautiful beach.
The beach waters are shallow, unbelievably turquoise, and the sand is white, very white!  Even if it is beautiful, what you remember is the path that helped you reach here. It is like a narrow lazy river.
If you happen to get into the shallow waters, the tides will swipe you away. It is amazing.
The natural beach has parking facilities and other concessions and amenities. Some stalls serve sandwiches and beer at a reasonable price.
All in all, it is a great experience. Indeed it is one of the best beaches in Naples.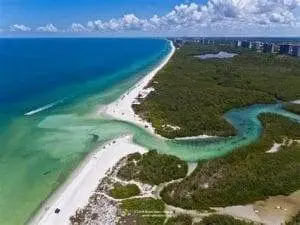 8) Lowdermilk Beach Park
Lowdermilk Beach Park is one of the best beaches in Naples. It is ideal for families. If you love water and the activities with it, then Lowdermilk Beach is your place. It gives space for kayaking, sand volleyball, sunbathing, and not forgetting shell hunting. This beach allows it all!
As the sun here sets below the horizon on its white sand beaches, it is so beautiful to watch that you cannot imagine. Also, if you are lucky, you may get to watch the rare 'green flash.'
You can have fantastic food here. There is a wide variety available at the cafes. Sandwiches, salads, sausages, and all types of hot and cold drinks are available.
This place will give you everything you need from a holiday. You name it, Lowdermilk gives it. It is not just the name you know; it has to be one of the best beaches in Naples.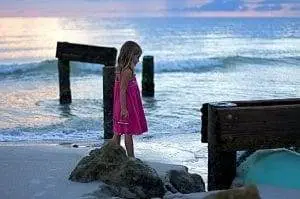 That was our list of the best beaches in Naples. As we can see, Naples, Florida, is quite modernized. It has all the infrastructure required, so no tourist has to worry about their trip. Parking lots, Concession stands, picnic areas, picnic tables, and other amenities are available at all the popular beaches.
All you have to do is pack and get on the road and visit these so popular and the best beaches in Naples!