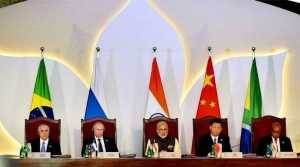 BRICS is an abbreviation used for an association of fastest emerging economies. BRICS stands for Brazil, Russia, India, China and South Africa. All the members of BRICS are also the members of G-20, and they are the fastest developing and industrializing countries.Russia hosted last year's BRICS summit on 8-7th July, During the 7th BRICS meeting India announced that it would be hosting the next BRICS meeting.
India hosted the BRICS summit in Goa on the 15th and 16th of October. The theme for 2016s BRICS was Building Responsive, Inclusive and Collective Solutions.
During BRICS Summit 2016, India adopted the following 5-poit approach:-
• Institution building to further deepen, sustain and institutionalize BRICS cooperation;
• Implementation of the decisions from previous Summits;
• Integrating the existing cooperation mechanisms;
• Innovation, like new cooperation mechanisms; and
• Continuity, like the continuation of mutually agreed to exist BRICS cooperation mechanisms.
Another approach adopted by India was a personal one to one contact and involving the youth of the country.
The members of BRICS association comprise of 43 percent of the world's population, contributes 30 percent of the global GDP, and holds 17 percent share of global trade.
Highlights of the BRICS 2016 were as follows:-
The members agreed over the importance of the Bay of Bengal Initiative for which provides Multi-Sectorial and Economic Cooperation to countries like India, Nepal, Bangladesh, Bhutan, and Sri Lanka and two from Southeast Asia (Thailand and Myanmar)and also holds great importance as emerging trade. Currently, the rate of growth observed in this region is around 6.5 percent and represents a booming consumer market, which leaves a lot of scope in expanding trade, building trade relations and developing buildings and infrastructure.
At this year's BRICS summit, India signed a MoU on General Cooperation with New Development Bank (NDB) through the BRICS Interbank Cooperation Mechanism to establish better and stronger relation between all the BRICS countries.
A very notable highlight was the Indo-brazil relations and China-Russia relations and economic cooperation among these nations due to the opposite and sensitive political situations at the moment, But the Indo-Brazil ties were certainly a critical highlight.
The investments are to be done in the agriculture sector, fishery, animal husbandry as these are the leading economic sector in India that needs faster attention.
While most people think that China and America are the world's main competitors, many would also agree that a China is the fastest emerging economies.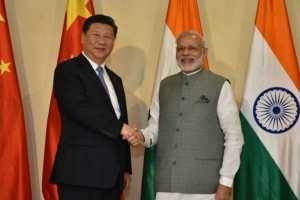 pictures courtesy-http://indianexpress.com/, news18.com