Interested in knowing about the "College Romance Cast?" 
Keep reading!!
College Romance is a rom-com based drama web series that revolves around the lives of three best friends, Trippy, Naira and Karan.
This web series has been directed by Simarpreet Singh and produced by Arunabh Kumar. It has been co-written by Kunal Aneja and Abhishek Srivastava.
Central Theme
The three best friends move on an adventure of college life which involves love, laughter and riots. College Romance takes us on a ride showing the woes and difficulties that the young generation faces in their college lives.
Karan and Trippy are two hilarious boys who try to make friends with the new girls in the college. Their friend Naira is a sensible girl who tries putting sense in her friends. She makes them realise the blunders they may have while befriending the girls.
She also has a boyfriend, Bagga, with whom she shares a very cheesy and funny relationship.
College Romance Seasons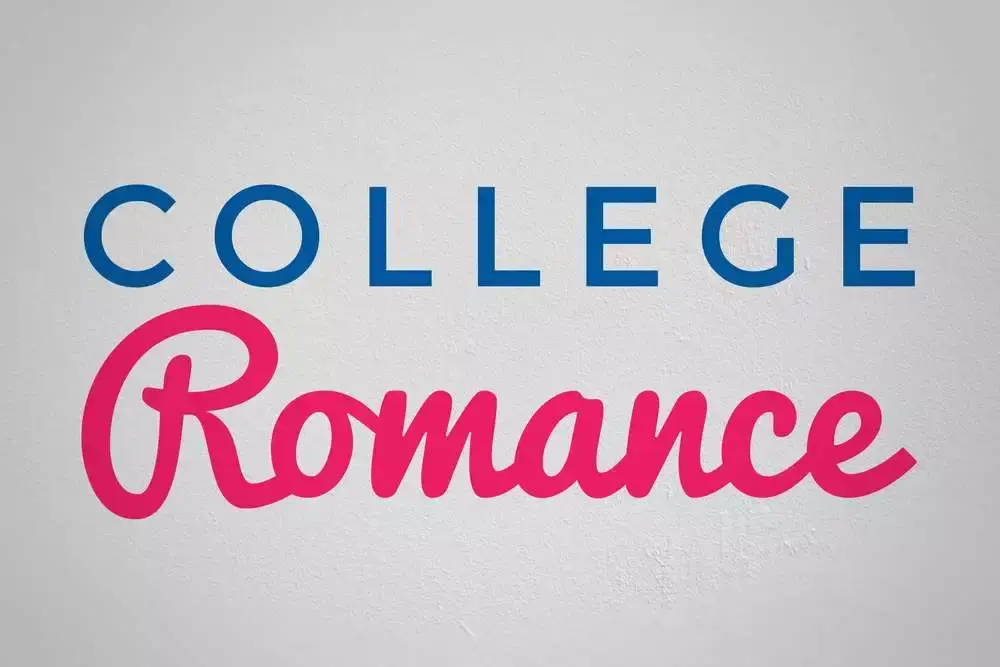 The web series boasts two seasons – College Romance Season 1 and College Romance Season 2.
It is a Timeliners original drama web series with all rights reserved. However, it is also available to watch on Sonyliv and TVF Play. Season 1 of College Romance also streams on Netflix India.
College Romance Season 3 is currently in the pre-production process and will be launched anytime in 2022-2023. 
Filming of the Web Series
The shooting of both seasons of this web series took place at Echelon Institute Of Technology, Faridabad.
The first season of College Romance aired on 7th August 2018, while the second season aired on 29th January 2021. The third season is expected to be launched in 2022 or 2023.
The Main "College Romance" Cast and Crew
The main cast & crew consists of Manjot Singh, Apoorva Arora, Keshav Sadhna and Gagan Arora.
The role of Trippy is played by Manjot Singh, Karan by Keshav Sadhna and Naira by Apoorva Arora, while Gagan Arora plays the role of Bagga, Naira's boyfriend.
Raveena, played by Hira Ashar, is a new entrant in college who has a crush on Trippy, while Shreya Mehta plays the role of Karan's arrogant and haughty girlfriend, Deepika.
The list of the complete cast and crew of the web series College Romance is below:
College Romance Cast and Crew Season 1
Lead Actors
Manjot Singh as Trippy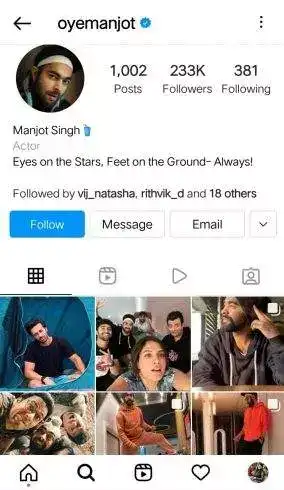 Manjot Singh, a Delhi born boy who debuted in Bollywood with the movie Oye Lucky! Lucky Oye! in 2008. His stint in his debut movie won him many accolades and launched his career in Bollywood.
He then went on to do many films – Fukrey, Fukrey Returns, Arjun Patiala, Dream Girl, Jab Harry Met Sejal, Student Of The Year and many more. 
Apoorva Arora as Naira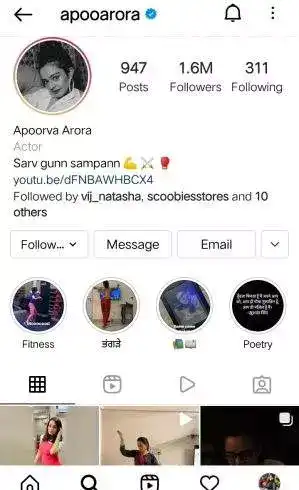 Apoorva Arora is also New Delhi born girl, an Indian actor, who acted in Hindi, Kannada, Punjabi and Gujarati films. She also stars in numerous web series and videos of the channel Filter Copy.
She debuted in the Kannada industry through her movie  Siddhartha, starring famous actor Vinay Rajkumar, and then in Bollywood through Bubble Gum.
However, she gained recognition when she acted in the movie Oh My God, starring the famous Bollywood actor Akshay Kumar.
She won accolades for playing the role of Jigna in the movie.
Keshav Sadhna as Karan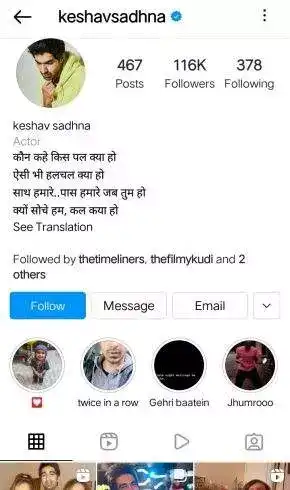 Keshav Sadhna is an Indian Model from Gaziabad, Uttar Pradesh, who made his debut in the industry through the series CODE M in 2020.
However, he came into the limelight for his role in the two seasons of College Romance.
Gagan Arora as Bagga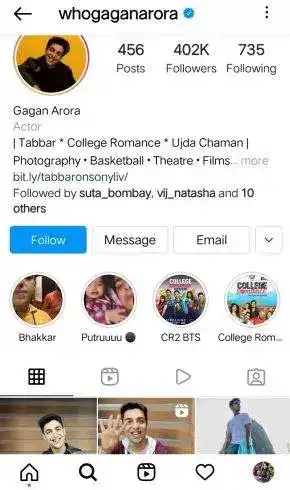 Gagan Arora is a Delhi born actor with a degree in acting from Xaviers Institute of Communications. He has worked as an assistant director to Amar Kaushik in the film Stree (2018).
He made his debut in the industry through College Romance Season 1 in 2018. With the fantastic success of the series, he gained recognition and bagged various films and series after that. 
He acted in Tabbar, a SonyLiv original show in 2021, which was liked immensely by the critics and the audiences. Gagan has also worked in Basement Company, Girls Hostel and 4 Thieves.
Once again, he was roped in to reprise his role as Bagga in College Romance Season 2 in 2021.
Shreya Mehta as Deepika
Shreya Mehta, our very own girl, is famously known as "The Filmy Kudi". She gained entry into the industry by interning at TVF Qtiyappa, an entertainment youtube channel recognised for making vines and funny videos.
Shreya is a multitalented girl. Apart from being an actor, she is a model, dancer and motivational speaker.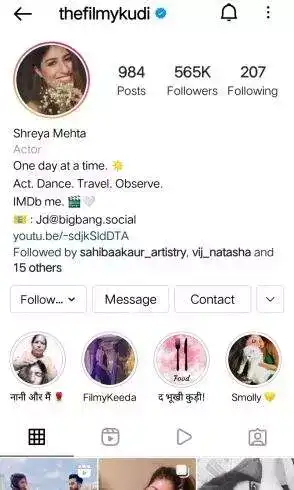 She debuted in Bollywood in 2018 through the movie Namaste England, which also starred Arjun Kapoor and Parineeti Chopra in lead roles. Her acting skills gained immense acknowledgement and were highly appreciated in the movie.
Shreya added another feather in her cap by co-founding the youtube entertainment channel "The Timeliners". 
Shreya took up the role of Saumya in the family comedy series The Aam Aadmi Family and brought justice to the role.
The series "College Romance Season 1" and "College Romance Season 2" were aired on her youtube channel "The Timeliners".
Hira Ashar as Raveena
Hirangi Ashar, or Hira Ashar, famously known in the industry, is a Nagpur born Maharashtrian girl.
Hira Ashar is famous for her work in College Romance, where critics and jury highly acclaimed her work.
She played the role of Raveena, a new college entrant who has a crush on Trippy, played by Manjot Singh. She is known for playing various roles in romantic Indian web series.
She also played a critical role in a web series titled Grazia Intern Diaries in 2018.
Side Roles
The side roles in the series have been played by:
Geetika Budhiraja as Naina
Ankit Motghare as Birju
Ambrish Verma as Anshuman
Sahil Verma as Bagga's Friend
Kunal Aneja as Sagar
Shreya Singh as Anika
Direction
Simarpreet Singh directs the series.
Simarpreet Singh
Simarpreet is an acclaimed, brilliant and accomplished director known for directing College Romance Season 1 and Romance Season 2.
He graduated from Sri Guru Gobind Singh Indraprastha University, New Delhi, India, creating a niche in the Tv industry.
He directed Brochara in 2019 and a critically acclaimed web series Stags in 2018. tags is a series in which the story revolves around three stags and their love lives.
He is also an assistant director in TYF Qtiyappa and has also directed several other web shows.
Writers
Kunal Aneja and Abhishek Srivastava have co-written this intriguing series full of hilarious and one-liner jokes.
Special stress has been made on making the characters of Trippy and Karan funny, which have received immense love from the audiences.
The final cast for both seasons was decided after researching numerous auditions by the casting crew.
Producers
Arun Kumar (Producer)
Akansh Gaur (Executive Producer)
Puneet Waddan (Line Producer)
Music/Photography Directors
The music has been directed by Arjun Bhaybhang and Tusshar Mallek, while the credit of photography and cinematography goes to Georgy John.
Beeva Mahajan has done production designing along with colourist Saurav Yadav.
College Romance Cast and Crew Season 2
Lead Actors
The lead actors of season 1 have also reprised their roles in College Romance Season 2.
Side Roles
The College Romance Cast, who played various side roles in season 1, has also reprised their roles in season 2.
The additional crew has seen some new members in the line of producers and directors.
Directors
Along with Simarpreet Singh, Season 2 has co-directed by Apoorv Singh Karki. Uma Khan and Swati Singh have assisted in direction as Assistant Directors.
Producers
Anubhab Kumar has produced the series and Executive Directors Akansh Gaur and Shreyas Pande. uneet Waddan is the line producer, and Gaurav Rungta is the Production Head.
Irshad Ali is the Production Manager, assisted by Prabhjot Singh as the Assistant Production Manager.
Writing
Kunal Aneja and Abhishek Srivastava of the first season and Siddhant Mago have co-written the second season of this loved and hilarious rom-com.
Chirag Mahabal has assisted them as Assistant Screenwriter.
Music/Photography Directors
The music has been directed by Arjun Bhaybhang and Tusshar Mallek, who had done the same for season1.
The credit of photography and cinematography goes to Georgy John, Shiv Parkash and Arjun Kukreti. 
Georgy John has also cinematographed for Flames, Stags, The Aam Aadmi Family, and Aspirants. 
Arjun Kukreti has to his credits the cinematography of plenty of web series and TV shows, including Aspirants, Engineering Girls, Soulmates, The Aam Aadmi Family, and College Romance Season 1 and 2.  
Sound Mixing
Sound mixing and re-recording have been done by Pranit Purao, who is an expert in the field and has also done mixing for other numerous shows and movies in the industry.
He has won laurels and has the sound-mixing and recording of movies like Jolly LLB2, Kabir Singh, Highway, Sadda Hak, Barfi, Dabangg 2, Shivaji The Real Hero, BodyGuard, Ready to his credit.
He has also won awards at the Indian Recording Arts Awards in 2019 and 2020 for Best Dialogue Editor (Cubicles 2019) and as Best Sound Effect Editor of web series Ghoul(2018). 
That's all the details about the trending rom-com drama "College Romance". If you haven't watched it yet, go watch it now on Netflix and SonyLiv. 
And if you have, let us know how you liked it.