'What is the best lube for sensitive skin?' – answering this question helps you understand the best way to treat your skin. It also helps prevent you from getting infected. If you have sensitive skin, you'll need to find the best lube to ensure you don't itch or burn while having sex or otherwise. Finding the best lube for sensitive skin has been found to help reduce pain during intercourse.
There are many types of lube to choose from, each of which has its pros and cons.
But first, it's important to answer what exactly lube is. So, let's first discuss what lube is. Following that, we'll learn about the types of lubes and the best lube for sensitive skin.
1) What is Personal Lubricant/Lube?
To understand the best lube for sensitive skin, it's important to understand what lube is.
Lube is a liquid gel that helps reduce friction and irritation; humans have used it for ages. They are used during sex and even for masturbation. Even though our body creates natural lubrication, it may sometimes fall short. Hence, using lube can make sex enjoyable.
Lube works by reducing friction and irritation during sex. It helps substitute the lack of natural lubrication. Initially, lube was used only by women who would face vaginal dryness because of reduced estrogen, but today, lube has been accepted for various sexual uses.
Lubes for use with condoms also help reduce the risk of breakage, helping you avoid an unwanted pregnancy. It is also used with lubricated condoms because it allows you to control the slipperiness and be in control of the comfort.
Lube is a low-risk product, but research shows that it could damage the vaginal and anal tissues because of its high osmolality, increasing the risk of tissue tearing or STIs.
The main ingredients found in lube are glycerin, water, cyclomethycaine, vinyl dimethicone, and Cyclopentasiloxane. Polyethylene glycol is also used to make the body absorb lube faster. There are also other ingredients, but these are the most basic ones.
2) Types of Lubes
There are four main types of lubes, each of which is best for certain situations. Understanding these lubes' pros and cons can help you choose the best lube for sensitive skin.
2.1) Water-based Lubes
Water-based lubes are versatile, and they don't harm condoms.
These are the advantages of using water-based lubes:
They are easy to clean and will come off with one wash.
They can be tried with silicone sex toys, unlike silicone-based lubricants.
They smell good compared to the other types of lube.
And these are the disadvantages of using this lube:
It isn't best for shower sex.
It contains glycerin which can lead to yeast infections.
It isn't the best lube for sensitive skin.
Sutil lube, Sliquid silk, and Good Clean Love, which has aloe vera juice, are some of the best options for water-based lubes.
2.2) Silicone-based Lubes
Silicone-based lube is probably the best lube for sensitive skin.
These are the advantages of silicone based lubes:
It is hypoallergenic, so it doesn't cause any skin reaction.
It is silky and thicker, which makes it best for shower sex.
It is inert and non-toxic.
It is compatible with condoms, and it's the lube that coats pre-lubricated condoms.
And here are the cons of using this lube:
Silicone lube is not safe to use with silicone sex toys since it can cause the toy's material to melt and clump with the lube.
It isn't easy to clean.
Some of the best silicone based lubes on the market are UberLube, Sliquid silver, and Adam and Eve Personal Silicone Lubricant.
2.3) Oil-based Lubes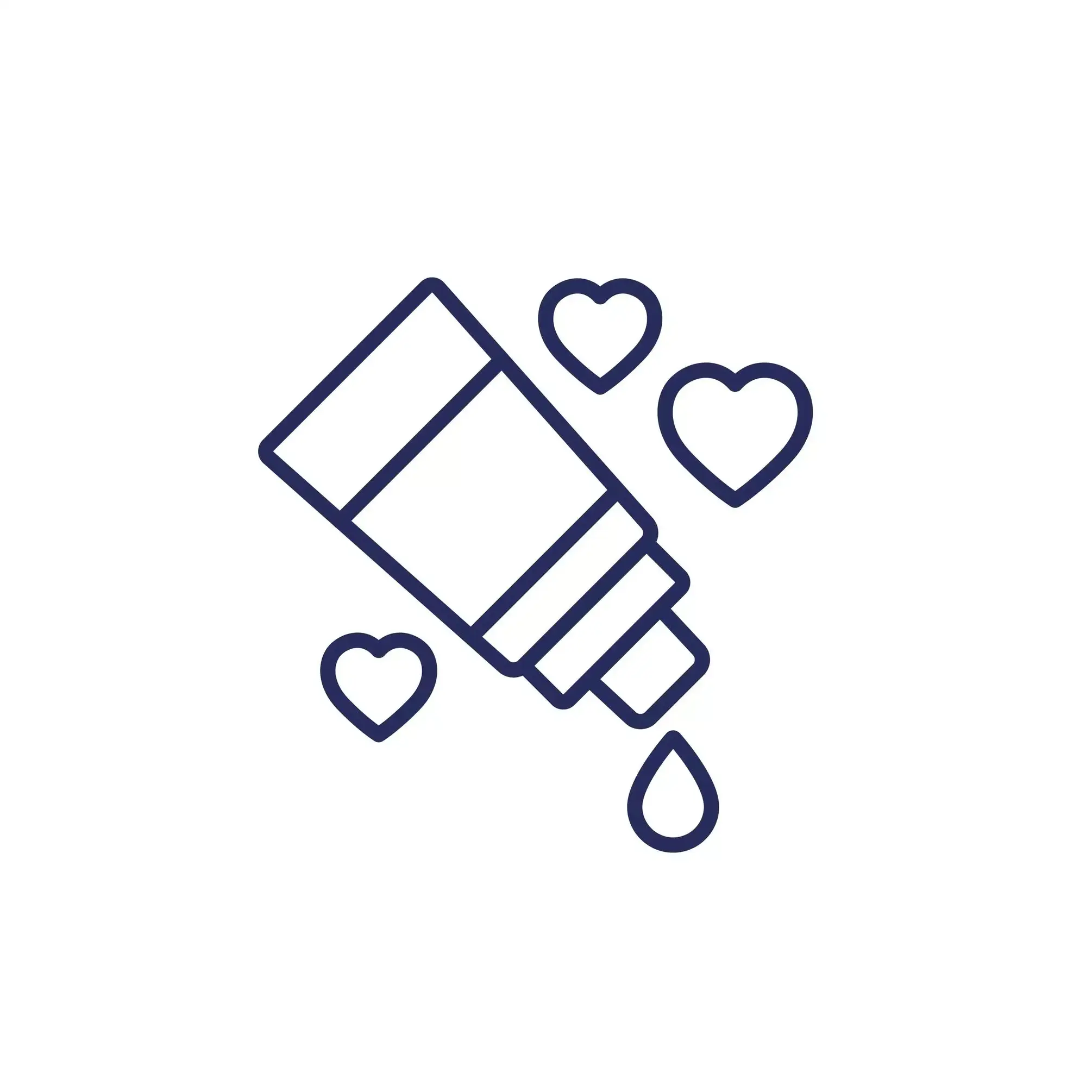 Here are the advantages of Oil based lubes:
They are thicker than silicone and water-based lubes.
They are long-lasting.
And here are the disadvantages of using oil-based lube:
Not safe with latex condoms.
They have a higher risk of yeast infections.
The best oil-based lubricants to look for are Organic Glide Probiotic All Natural Personal Lubricant and AH! YES OB Natural Plant-Oil Based Personal Lubricant.
2.4) Plant-based Lubes
Plant-based lubes contain natural ingredients, including coconut oil, cocoa butter, shea butter, and aloe vera. They are some of the most gentle lubes for sensitive skin.
Here are the advantages of plant-based lubes:
They don't have added ingredients.
They don't need anti-microbial chemicals.
They have no osmolality, making them safer for vaginal and anal tissues.
They only work with condoms of polyurethane.
Here are the disadvantages of plant-based lube:
They aren't compatible with latex condoms.
Takes longer to leave the body.
On the market, the best natural lubes are Sliquid Organics Natural Lubricating Gel, Aloe Cadabra Natural Personal Lube, and Alu.
2.5) Hybrid Lubes
Hybrid lubes allow you to enjoy the best of more than one of these above-listed types of lube. Some hybrid lubes blend water and silicone, hence providing you with an easy clean-up and the silky feel of silicone lubes.
The most popular hybrid lube is Sliquid Silk. It contains 12% silicone, which helps it last longer, like silicone-based lube, and another benefit is that this lube can be used with sex toys.
Here are the pros of using hybrid lubes:
It has a unique texture.
It is long-lasting.
It is affordable.
It is easy to clean.
Here are the cons of hybrid lubes:
It doesn't taste great, so it isn't the best choice for oral sex.
They can cause skin irritation.
The best hybrid lubes include Naked Silk, System Jo Hybrid, and Sliquid Organics Silk Hybrid.
2.6) Household Lubes
Lubes around the house aren't marketed for sex, but they can be used as substitutes safely and hygienically.
The best household lube would be pure coconut oil, aloe vera juice, or shea butter. Since the vagina has a high absorption rate, the chemicals that go in it can be absorbed quickly into the bloodstream, so try not to use any other options.
Here are the only kinds of household options you should use as lube:
Coconut oil.
Shea butter.
Aloe vera.
Here are the things you want to avoid as household lubes:
Vaseline.
Any product with sugar in it, like whipped cream.
After learning the types of lubes, it is clear that the best lube for sensitive skin is silicone-based lube, followed by organic lube.
If you have vaginal dryness and want to combat it, check out this article: How To Create Natural Lubrication In the Vagina: 7 Ways That Help.
3) What is the Best Lube for Sensitive Skin?
Knowing that the best lube for sensitive skin is silicone-based helps shortlist the best lubes for you.
If you are confused about the variety of options available in the market for sensitive skin, this list helps you get a more numbered list to choose from.
Lotus Fresh Intimate Lubricant: This lubricant is best for people who have skin sensitive to petroleum, coconut oil, or silicone. It uses a vegan formula and is safe to use with latex.

Good Clean Love BioNude Ultra Sensitive Personal Lubricant:

Lactic acid isn't something you'd see in other products. It has a formula that supports the growth of healthy bacteria and helps balance pH levels. It has zero synthetic fragrance and doesn't cause damage to vaginal or anal tissues. It also doesn't mess with your body's natural lube.

Wet Platinum Pure Silicone Lubricant: The best lube for sensitive skin is Wet Platinum Pure Silicone Lubricant. It feels like silk sheets and is hypoallergenic. It also lasts long.
Aloe Cadabra Personal Lubricant & Moisturizer: Most of the time, natural lubricants are paraben free and vegan. This lube is a great candidate for the best lube for sensitive skin. It's also a great and safe moisturizer.
4) How to Select the Best Lube for Sensitive Skin?
Personal lubricants can greatly upgrade your personal life, but many options exist. This can get overwhelming. It's recommended to talk to an ob-gyn to find the best lube for sensitive skin. This will help ensure you don't use a lube that could harm you internally.
Water-based lubes are great for cleanliness, a silicone-based lubricant is long-lasting, and the oil-based lubricant is thicker than both options mentioned above. Speaking to an ob-gyn will help you decide the best lube for your sensitive skin.
There are also some things you need to make sure to avoid while buying your lube. Here's a list of things to keep in mind:
A 3.5 to 4.5 pH value is a sign of a healthy vagina. Lubes, however, don't put the pH level on the packaging, so ask about the pH before buying it.
Make sure you pay attention to the ingredients. Here are a few ingredients that could lead to irritation, and therefore, you need to avoid: glycerin, petroleum, nonoxynol-9, propylene glycol, and chlorhexidine gluconate.
Parabens and glycerin can lead to infections, so try to find paraben-free options.
Find lubes that are latex friendly to avoid breaking condoms.
5) How to Use Lube?
Remember that if you use lube safely, there is no 'wrong' way. Some lubes are flavored and used widely for oral sex. Some lubes are best for anal sex because you don't need to use them repeatedly. Here's how to apply lube properly:
Squeeze a few drops on your fingers.
Rub your fingertips to warm up the lube because lube normally exits the tube or container cold, so it needs to be warmed up a bit.
Apply lube on the genitals, fingers, or sex toy.
Reapply lube whenever needed.
6) The Best Lube for Sensitive Skin: A Conclusion
Lube doesn't have a 'typical' user. It can be used by everyone for intercourse and even for masturbation. It isn't the last resort for your sex life; it just means that you can be liberal with things to spice up your intimate life. It provides a warming or cooling effect, helps delay ejaculation, and makes sex feel more natural. The most beneficial aspect of lube is that it can aid in vaginal dryness. Vaginal dryness occurs because of a change in estrogen levels, stress, or medication. Lube can help reduce dryness and allow you to enjoy sex.
There's a bit of a taboo associated with lube and sex. People believe that using lubricant means there's something wrong with your genitals, and your body is 'failing' you. However, this isn't the case.
Using lube doesn't mean that your body isn't functioning properly. Even if your estrogen content is less, it doesn't mean there's something wrong with your body. Because women go through many biological changes in their life, vaginal dryness keeps altering, and this isn't anything to be ashamed of. If you use lube as an answer to help with vaginal dryness, it just shows that you are not letting stereotypes hold you back and are willing to try things to keep your sex life exciting.
As interesting as it sounds to use lube, it is important to check with a gynecologist before buying one. This isn't to understand if you need lube, but to understand which is the best lube for sensitive skin or which lube suits your needs the best. As you may have noticed from the above list, each lube is used in different situations to enhance pleasure, and this is one of the most versatile lube uses. It encompasses all your needs and desires and allows your sexuality to be explored without restrictions.
That said, finding the best lube for sensitive skin becomes a must. It maintains your health and safety and ensures you can be carefree and relaxed during intimate moments.