Quail eggs are laid by the quail bird and they are recognized for their small size, speckled appearance and unique flavour. In this article, we will explore more about quail eggs and how long to boil quail eggs to enjoy this delicacy. 
Quail eggs have been consumed for centuries and are an essential part of several cultures. Quail eggs are boiled, fried, and pickled and are eaten in several different ways. 
1. Everything You Should Know About Quail Eggs
1.1. Quail Birds
Quail birds are small to medium-sized birds that belong to the family Phasiandae. This family also includes pheasants and partridges. Quails are about 6 to 10 inches in height, they have plump bodies, short legs and round wings.
There are several species of quail birds across the world that differ according to environments and habitats. Some commonly known species of quails are Coturnix coturnix (the common quail), Coturnix japonica (the Japanese quail), Callipepla californica (the California quail), and Colinus virginianus (the bobwhite quail).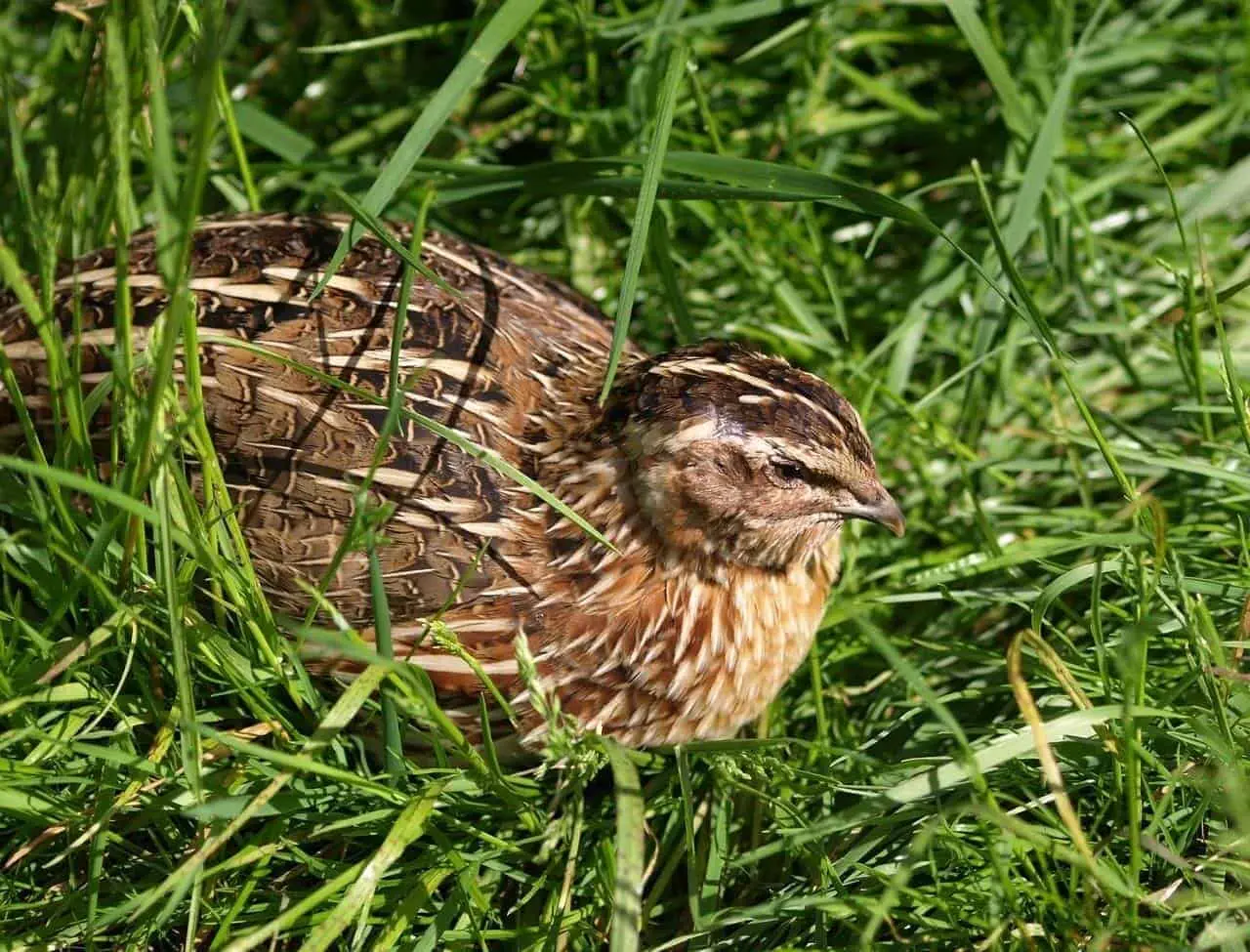 1.2. Appearance of Quail Eggs
Quail eggs are small in size, the chicken eggs are three times larger than the quail eggs. They are oval-shaped, and their shape resembles that of a check egg. They have a delicate, smooth shell. Different species of quail eggs have different colours and patterns on their shells. Although, the colour and patterns may also differ within the species the features can be distinguished species-wise. 
But, in general, the eggs of common quails are plain with a cream or light beige colour while the Japanese quail eggs are usually cream or light brown with dark brown speckles. The eggs laid by California quails are pale cream or light green with dark brown speckles that form unique patterns. Gambel's quail eggs have a light blue or greenish colour with brown speckles while Bobwhite quail eggs are plain white or off-white and they lack any speckles or markings.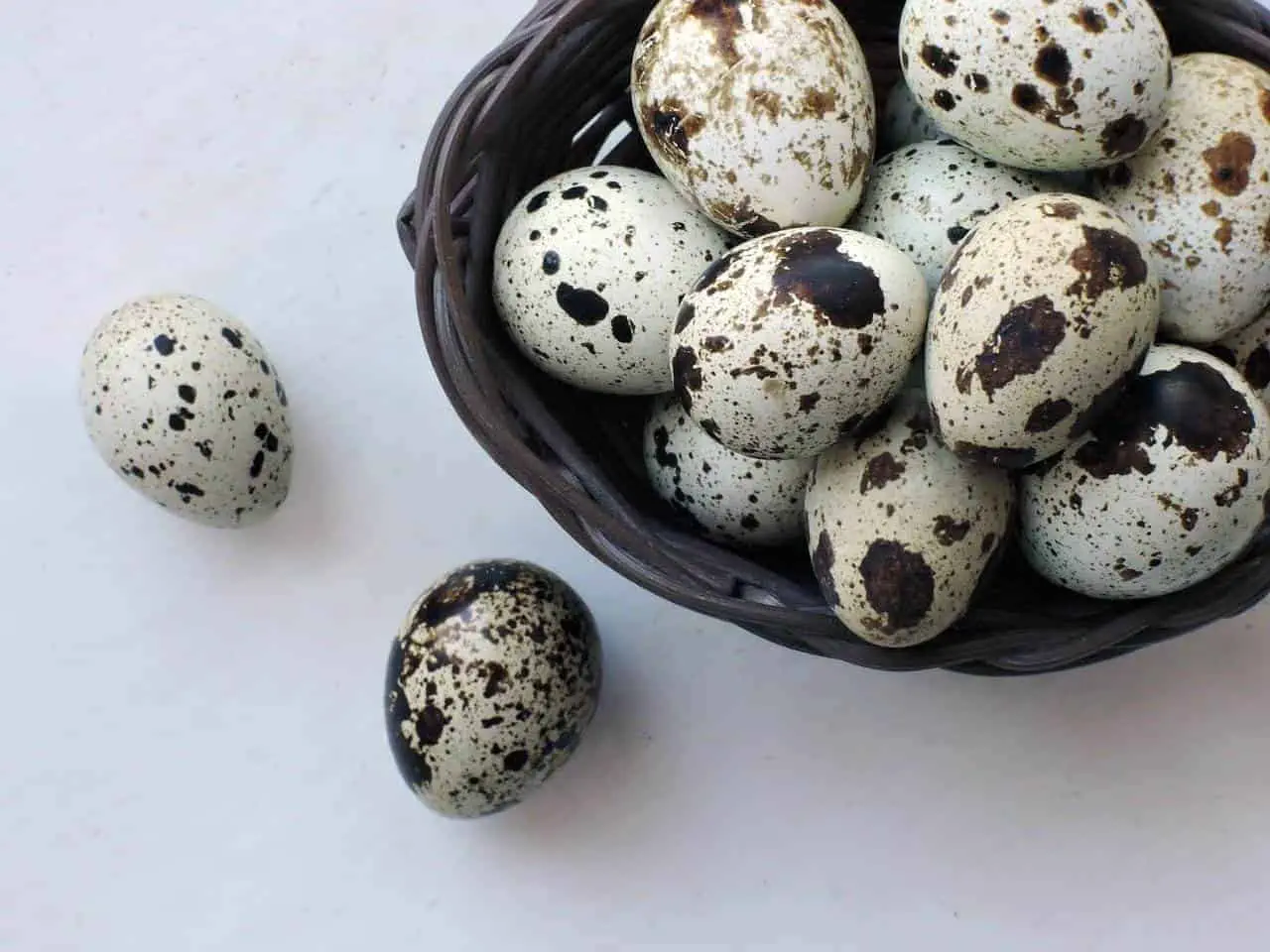 1.3. Frequency of Quail Eggs 
Quails are prolific egg-layers. They are one of the species that have the highest egg production rates. On average, a healthy quail lays around 250 to 300 eggs per year. Quails reach sexual maturity at nearly 6 to 8 weeks of age. For the first year, they are at their peak of egg production and it gets lower in consecutive years. 
Quail birds lay more eggs in warmer months as the days are longer. One of the reasons that quail birds have a higher rate of egg production is that, unlike other bird species, most quails are not firmly inclined to sit on their eggs and hatch them. Since they do not take breaks for incubation, they lay more eggs but they have a life span of only two years.
1.4. Taste of Quail Eggs
Quail eggs have a similar yet different taste than chicken eggs. They have a higher yolk-to-egg white ratio. Their texture is said to be richer than chicken eggs. Some people find quail eggs to be milder and less "eggy" in flavour than chicken eggs and duck eggs but it makes up for that with its slightly nutty undertone and creamier texture. 
2. Nutritional Value of Quail Eggs
Even though quail eggs are small, they are nutritionally dense. 
According to Healthline, One quail egg (9 grams) contains:
Calories: 14

Protein: 1 gram

Fat: 1 gram

Carbs: 0 grams

Fibre: 0 grams

Choline: 4% of the Daily Value (DV)

Riboflavin: 6% of the DV

Folate: 2% of the DV

Pantothenic acid: 3% of the DV

Vitamin A: 2% of the DV

Vitamin B12: 6% of the DV

Iron: 2% of the DV

Phosphorus: 2% of the DV

Selenium: 5% of the DV
3. Health Benefits of Quail Eggs
3.1. Rich Nutrient Profile 
Quail eggs are nutrient-dense, they provide protein, vitamins, and minerals such as iron, zinc, and B vitamins. These nutrients play crucial roles in various bodily functions, including energy production, immune support, and maintaining healthy skin and hair.
3.2. Good Source of Protein
Quail eggs contain essential amino acids. It makes them a complete source of protein. Protein is essential for repairing tissues, the development of muscles, and the overall growth and strength of the body. They are also engaged as inducers of hormones and enzymes.
3.3. Affects Cholesterol Positively
Quail eggs do increase your cholesterol level but they raise your HDL levels instead of LDL levels. HDL levels are believed to be 'good' cholesterol as HDL carries LDL cholesterol away from arteries and protects one from a heart attack or stroke. It is believed that 60% of the fat in quail eggs is good fat and it would affect cholesterol positively. 
3.4. Beneficial Vitamin and Minerals  
Quail eggs are rich in vitamins like B12. Vitamin B12 is important for nerve function and the formation of red blood cells. They also contain vitamin A which helps with healthy vision, vitamin D which supports good bone health, and vitamin E which possesses antioxidant properties.
3.5. Boosts Immunity 
The minerals in quail eggs, such as zinc and selenium, contribute to a well-functioning immune system. They encourage immune cell production and protection against oxidative stress. Vitamin A can neutralize free radicals that damage cells and cause illnesses. 
3.6. Rich In Iron and Haemoglobin
Quail eggs are a good source of iron. Iron is known for being essential for producing haemoglobin and transporting oxygen in the blood. Including iron-rich foods in your diet can help prevent anaemia and also help with anaemia. 
3.7. Nervous System and Brain 
They contain choline which makes acetylcholine in the body. Acetylcholine is a neurotransmitter that sends messages from your nervous system to your muscles. 
The presence of B vitamins, specifically B6 and B12, supports brain health helps with cognitive function and also may contribute to better mood regulation.
3.8. Healthy Skin and Hair 
Biotin, a B vitamin found in quail eggs, may work wonders to get healthy skin, hair, and nails. It reduces hair loss and gives a healthier scalp.
3.9. Fewer Calories
One quail egg only contains 14 calories but in comparison to a chicken egg, it is more nutritional. They contain more fat and protein by weight than a chicken egg. They have double the iron and riboflavin, and around one-third more vitamin B12 than chicken eggs. Therefore, even if consumed in lesser amounts, they are significantly more beneficial. 
3.10. May Alleviate Symptoms of Allergy
Some studies show that quail eggs may reverse cellular damage and alleviate symptoms of allergy.
A study that took place over seven days with 77 people with allergic rhinitis shows that after taking a quail egg antioxidant and zinc supplement, their symptoms like sneezing, congestion, and runny nose got better within an hour. 
Another study found that quail egg yolk helped with symptoms of eosinophilic esophagitis. 
Although it cannot be concretely said yet, we can conclude that quail eggs have a positive impact on health overall. 
4. What To Take Care of While Having Quail Eggs
There are certain precautions one must take when having or before consuming quail eggs. 
4.1. Allergies
If you are allergic to eggs or chicken eggs. You might as well be allergic to quail eggs. You should avoid quail eggs if that is the case but if you wish to test your tolerance of them, make sure you do it under the guidance of a medical professional only. 
4.2. Cholesterol Levels 
Quail eggs contain dietary cholesterol. If one has high cholesterol levels or cardiovascular issues, it is advised to have eggs in general with caution and after consulting your health caregiver in a limited amount. 
4.3. Unpasteurized Eggs
Most quail eggs are unpasteurized which means they might not have been heated to kill the harmful bacteria present in their shell. That is why it is advised for pregnant women and people with a weak immune system to avoid quail eggs unless they are thoroughly cooked in the absence of a runny or gelatinous yolk. 
5. How To Boil Quail Eggs?
Quail eggs are very often enjoyed after being boiled. Boiled quail eggs are often eaten as appetizers, added to salads, used in dishes as garnishes and eaten with noodles/ramen.
Eggs are either hard-boiled or soft-boiled. The difference between hard-boiled and soft-boiled eggs is the yolk once the eggs are boiled. In the case of hard-boiled eggs, the egg white and the egg yolk both harden and solidify while in soft-boiled eggs, the egg white becomes tender and the egg yolk is left runny and partially raw. Hard-boiled eggs are easier to peel in comparison to soft-boiled eggs but they take longer time to be cooked than the latter.
Quail eggs are smaller, cuter and more fragile than chicken eggs, which is why they take less time to boil and must also be handled with more care.
Now, let us dive into how to soft boil and hard boil quail eggs!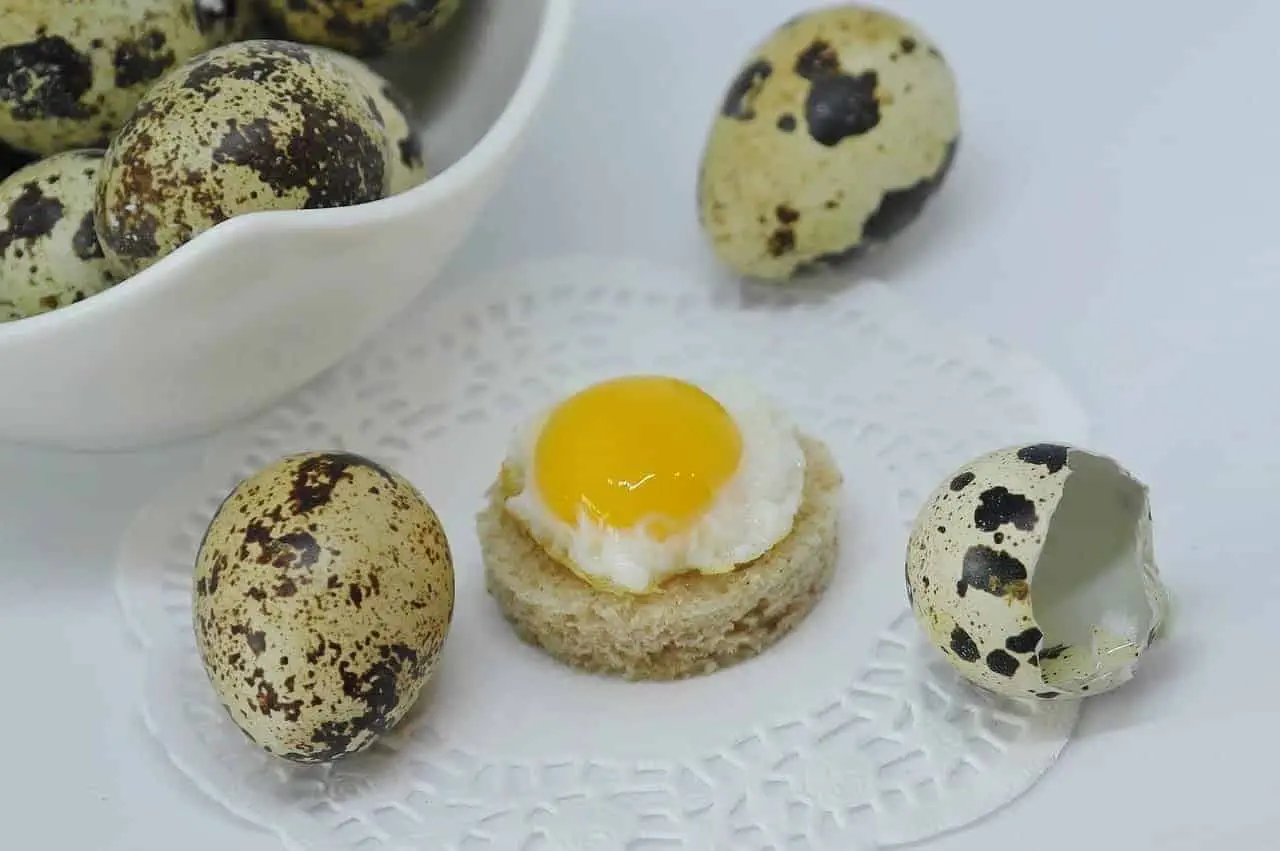 5.1. How To Boil Quail Eggs?
5.1.1. Ingredients
You barely require anything to soft boil quail eggs. All you need is;
5.1.2. Instructions
Allow the quail eggs to lounge on the countertop for about five to ten minutes. It is advised to boil eggs only after they get comfortable at room temperature because otherwise they might crack early and we certainly do not want that! Cold eggs straight from the fridge might crack when put into hot water. But if you are in a hurry, give the eggs a spa moment and put them in a bowl of cosy, tepid water for a few minutes to allow them to get to a more favourable temperature.
Get a saucepan or a dapper little pot, and fill it with water. Light up the stove and bring the water to a rolling boil. Keep the heat medium. We're getting the stage ready for the eggs.
Putting The Eggs Onto The Pan
Gently lower the quail eggs into the simmering water using a spoon. For the main act, cook them for precisely two and a half minutes if want your quail eggs to be soft-boiled and if you want hard-boiled quail eggs, boil them for four minutes. Then, bring down the heat a bit so the water is simmering, not boiling over.
Preparing Ice Cold Bath for The Eggs
While the eggs work their magic on the stovetop, prepare a bowl and fill it up with cold water and ice. This will be your egg's saving grace and will put a halt to any further cooking all while preserving that delightful, velvety yolk of your quail eggs.
Putting Eggs Into Ice Cold Water
Once the prescribed time for boiling the quail eggs is up, swoop the eggs out with a slotted spoon right into the ice water bowl. Let them soak in the icy water for a few minutes. This will help you in the next step which is peeling the shell off the eggs. 
Gently tap each egg with a spoon, crackling the shell. Thanks to their chilled-out state, the shells should be in the mood to come off with ease. We shall cover this more thoroughly in the next section. 
Now you may enjoy your perfectly cooked quail eggs, all ready to steal the spotlight in your culinary masterpiece!
5.2. How To Peel Boil Quail Eggs?
Peeling quail eggs can be a bit more difficult due to their small size, but with a little patience and technique, you can do it effectively. 
Here's a step-by-step guide on how to peel quail eggs:
After boiling the quail eggs to the desired level of intensity, immediately transfer them to a bowl filled with ice water. Let them cool down for a while. This step is crucial for easy peeling.

Take a quail egg and gently tap it on a hard surface to crack the shell. Roll the egg between your hands, and apply gentle pressure to create cracks all around the shell. Make sure not to press too hard because that might damage the egg. 

Start peeling the quail egg from the larger end, and try to find a small air pocket. Gently peel away the shell, and start from the cracked area. Try to peel under a gentle stream of water to help loosen any tiny shell fragments.

Remember peeling quail eggs requires patience. The shells can be fragile, so take your time and work gently. If you encounter any problems like if you find that the shell is sticking, consider dipping the egg in the water again before continuing.

Continue peeling the rest of the quail eggs using the same technique. It might take a bit of practice to get the hang of it but once you learn it, it will be really easy.
6. What Are Boiled Quail Eggs Enjoyed With?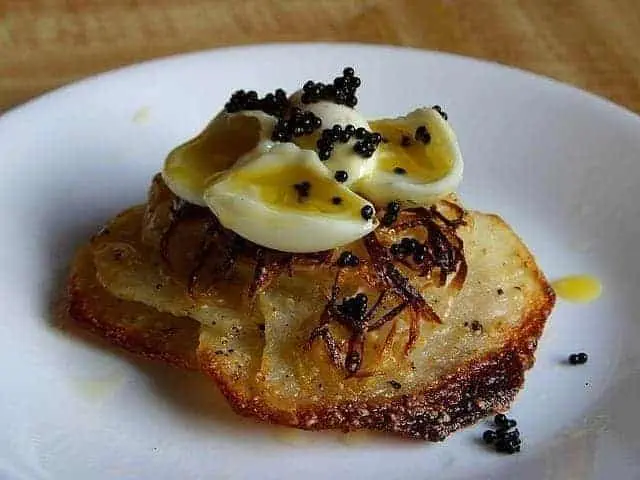 6.1. As a Snack
Boiled quail eggs are often enjoyed without anything else. Quail eggs are eaten as a quick, healthy snack. It is usually seasoned with a bit of salt and pepper that complements its flavour and makes the treat not just nutritious but also delightful. 
6.2. Salads
Boiled quail eggs are added to salads. They not only add their unique, creamier texture to the salad but also give them a nutritional boost.
Halved or quartered eggs go well in various types of salads, be it leafy green salads or pasta salads.
6.3. Appetizers and Canapés
You may also find boiled quail eggs being served as appetizers or canapés at gatherings and events. Their small size makes them perfect for bite-sized treats, and they can be paired with various dips, spreads, and gourmet toppings. Quail eggs are often also used as garnishes.
6.4. Through the Lens of Different Cultures
In several countries, especially Asian countries, quail eggs are very popular. 
In the countries of Ecuador, Brazil, Venezuela, and Colombia, hard-boiled quail eggs are often seen topping hot dogs and hamburgers. In the Philippines, there's a popular street food called kwek-kwek which consists of soft-boiled quail eggs dipped in orange-coloured batter. This is later skewered and deep-fried and eaten. 
In Indonesia, street vendors sell packages of hard-boiled quail eggs to be eaten as snacks. In Vietnam, street stalls sell bags of boiled quail eggs because they make good, cheap snacks to have alongside a beer. In South Korea, you may find large bags of boiled quail eggs in grocery stores.
7. Conclusion: How Long To Boil Quail Eggs?
Quail eggs are very nutritious and delicious, it is a delicacy across a lot of cultures and is thoroughly enjoyed despite their small size. Often, the quail eggs are eaten boiled. Here is how long you are supposed to boil your quail eggs. For hard-boiled quail eggs, boil the quail eggs for around two and a half minutes on medium heat while for the soft-boiled quail eggs, boil the eggs for around four minutes on medium heat. 
Hope you enjoy your meal!
Dhavni is a young writer who has a keen interest in technology and science. Currently pursuing a degree in Computer Science, she likes to keep up-to-date with newer innovations and analyze their impact on the world. Aside from technology, she loves to read. Non-fiction books that cover genres such as politics, history, and philosophy interest her deeply. She spends a lot of her time researching and putting her discoveries into perspective through creative writing.