Want to know how to layer skincare products? Well, we are here with the answer.
Having good skin type isn't only a question of genetics; our everyday behaviors significantly influence what we see in the mirror.
Eating good food and being hydrated is vital for skin health, but having a regular skin care regimen with products suited for your skin barrier is also important.
However, there are many viewpoints on everything from moisturizing to protecting oneself from UV radiation, depending on whatever product we use, the reviews we read, and the physicians we visit.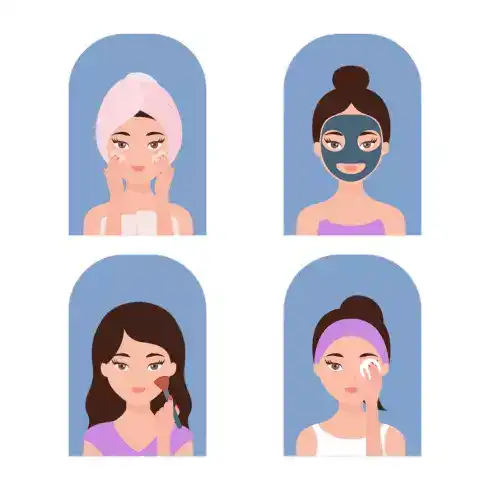 Determining the proper skin-care regimen shouldn't be too difficult in the great scheme of things.
However, with hundreds of thousands of product alternatives on the market, such as cleansers, serums, moisturizers, and more, determining when and how to utilize your 10-step skin-care routine may be difficult.
What is the proper way to layer skincare?
Take care of the mess. First, You should always begin by removing your makeup with makeup remover before using layered skincare products as a part of your skincare routine. Exfoliation and Toner should be used.
Make use of sheet masks. Consistently apply other items, and to assist, use spot treatments and Creams for the eyes, which make your skin feel smooth and silky.
Individuals are sensitive to different substances in skincare products to varying degrees. Before using a new product on your skin, it's usually good to visit a board-certified dermatologist to avoid negative reactions.
Layer from lightest to heaviest formulas
Once you have all the goods, you'll need for your regimen, start with the lightest and work your way up, keeping your skin concern in mind.
Begin by applying the lightest, fastest-absorbing product to your face, then layering the next heaviest product over it, afterward the thickest formula, followed by sunscreen or a tinted SPF.
Apply your products in this order as a general rule: cleanser, toner, mask, hydrating serum, eye cream, moisturizer, a few drops of face oil, SPF. Sunscreen should always be applied last, and the only thing you should apply over it is your beauty products.
Use an essence if possible
An essence is a post-cleanse phase that not only nourishes but smoothes. It maintains the pH balance of your skin.
It boosts the effectiveness of any other product you use on top of it by relaxing the epidermal layers and allowing actives to penetrate more quickly.
Hydra Prep Essence Lotion is one of the best essences, a high-tech, macro-molecular tonic that soothes, balances, plumps, and hydrates skin after cleaning.
It's the ideal power-magnet prep for boosting the performance of whatever you're going to use next.
Boost your vitamin C intake by double.
Topical vitamin C boosts radiance, evens skin tone, improves texture, fights fine wrinkles and fades acne scars, brightens skin and helps heal UV damage, reduces the look of pigmentation, and helps to kick natural collagen production up a notch in the long run.
Hyaluronic acid should be used regularly
Hyaluronic acid may be found in various products, including serums, lotions, capsules, and sheet masks.
Because it's so strong, you generally only need it in one layer of your morning or evening regimen. Some of the advantages are that it provides immediate hydration and aids in skin barrier repair. It protects your skin from irritation and is suitable for all skin types.
This non-comedogenic cream plumps, dews, and rejuvenates the appearance of your face.
The gold standard in anti-aging is retinol.
Use retinol twice a day in the morning and evening, and always use an SPF in the morning. In the summer, you may take retinol as long as you utilize high-quality sun protection.
The best benefits come from regular use. It's OK to combine retinol with acids as long as the retinol you're taking is moderate enough.
Because the Super Retinol system contains microencapsulated slow-release retinol, it's typically safe to use with alpha-hydroxy acids.
Why Is It Important to Layer Skincare Properly?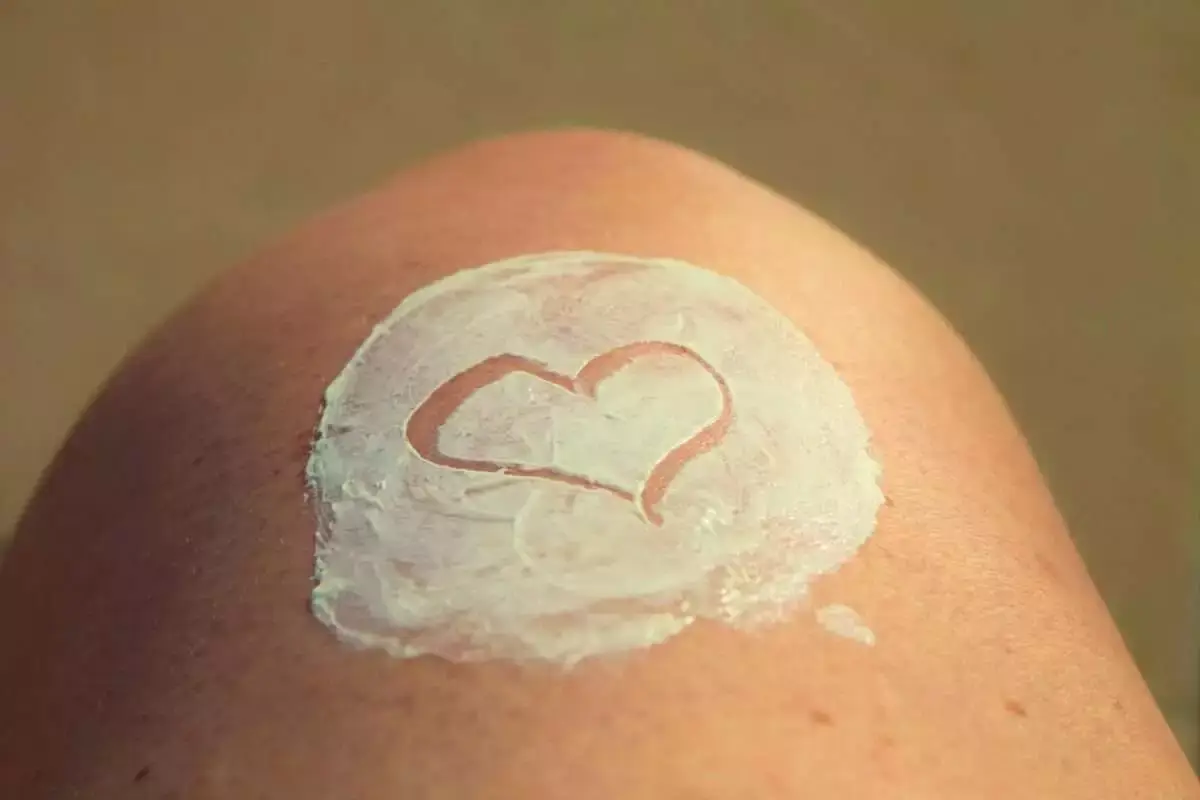 In your skincare routine, layering items in the correct sequence is critical since it makes them more effective and results in a perfect appearance, and doesn't clog pores.
Here are some of the reasons why layering your skincare is so important-
Protects against sun damage
If you do not layer your skin and practice a good skincare routine, it may harm your skin cells.
Because vitamin C, vitamin E and alpha-hydroxy acids (AHAs) enhance photosensitivity and make your skin more susceptible to sun damage, says dr that layer SPF 30+ after these products in your daily skincare routine protect your skin from UV rays damage.
Aids in the safe mixing of substances
When utilizing different skincare products, it's critical to know which active components are acceptable to blend and should be avoided. And it is always advisable to stay away from anti-inflammatory properties.
This prevents the skin's pH balance and levels from being disrupted and irritated. Combining a brightening vitamin C serum with retinol, which can cause skin irritation, or niacinamide, which can deactivate the components in both products.
Active substances have a greater impact.
Skincare treatments include active and inert components to treat various skin issues, such as acne and dark circles.
When you stack your skincare products appropriately, active compounds can effectively treat your skin.
Discover your skin type
Skin is categorized based on various aspects that affect its balance, including sebum production, moisture, and skin sensitivity.
As a result, each skincare layering will have unique features and require specialized skincare. Genetics determines the kind of skin, but it is also influenced by other factors and can change over time.
Normal, dry, oily, combination, and sensitive skin types are prevalent, and they are the five variations of healthy skin based on the traits present. The essential characteristics of each skin type are as follows:
NORMAL SKIN
This skin is neither too dry nor too oily, and it has a constant texture with a clean, soft appearance that does not need considerable maintenance.
SENSITIVE SKIN
Sensitive skin types are more likely to react to stimuli that do not affect normal skin. It is delicate skin that is often accompanied by unpleasant sensations such as heat, tightness, redness, or itching.
This type of skin loses its barrier function, allowing bacteria and irritating chemicals to easily penetrate, increasing the risk of infection and allergic responses.
Irritated skin is often used instead of sensitive skin. It is fragile skin that requires extra attention to combat dryness, roughness, and a typical look. However, the two phrases are interchangeable and have no dermatological distinctions.
OILY SKIN/ACNE-PRONE SKIN
The fat produced by the sebaceous glands causes oil on our skin, often tied to genetic or hormonal reasons.
This type of skin is most frequent in adolescents and young adults, and it is more acne-prone. Glycolic acid and salicylic acid are two acids that are necessary for oily skin.
COMBINATION SKIN
It has dry and oily skin characteristics due to the uneven distribution of sebaceous and sweat glands. More specifically, the T-zone is oilier, whereas the skin on the cheekbones is normal or dry.
How to Layer Skincare Products
In your skincare regimen, it's critical to apply your cosmetics products correctly.
While the general application sequence for morning and bedtime skin-care regimes is the same, there are some major changes.
For example, an SPF should be part of your morning regimen to protect your skin from the sun throughout the day, but you may omit it at night for obvious reasons.
Instead, concentrate your evening skin-care regimen on items that can make your skin more photosensitive, such as topical retinoids for acne and other prescription drugs for eczema or rosacea.
Any product used to treat and improve a recognized skin issue should be saved until the evening.
Layer your morning skincare routine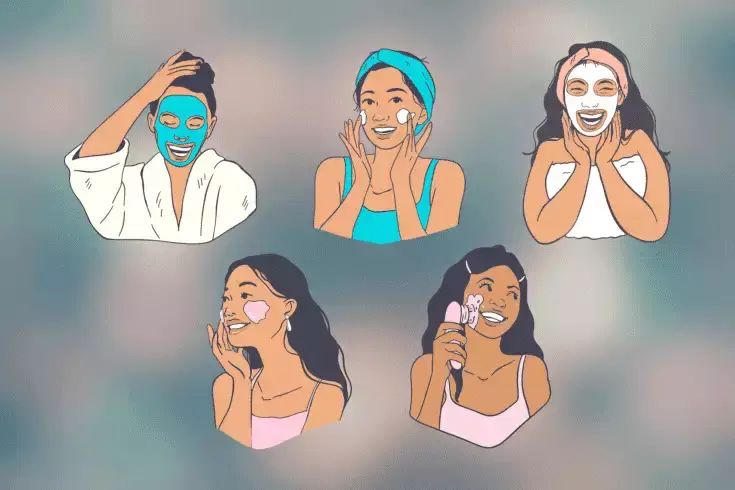 Morning routines are all about prevention and protection. Whether your skin is dry, sensitive, or oily, the rule of thumb is to wash first, then treat and protect it. Because your face will be exposed to the elements, you'll want to use a moisturizer and sunscreen.
Here's how to apply skincare layers:
STEP 1 – Skin should be cleansed
In every skincare routine, the first step is to wash your face. Remove all of your makeup and use a cleansing oil that dissolves all of your makeup without stripping your skin. Follow up with a soft, creamy cleanser for those with acne-prone skin.
It removes excess oil and leftover products from your skin, giving you a wonderful, clean start to your day.
Choose a cleanser appropriate for your skin type and wet, lather, and rinse with lukewarm water for optimal results. After cleansing, pat dries carefully.
STEP 2 – Toner
Toners are mild moisturizing agents for dry skin or chemical exfoliants for acne and pimples.
If you have acne-prone skin, search for a toner that contains BHA (beta hydroxy acid, such as salicylic acid) or AHA (alpha hydroxy acid, such as glycolic acid or lactic acid), both of which help to unclog pores, prevent breakouts, and dissolve blackheads over time.
It softly smooths and mattifies while decreasing the appearance of big pores, thanks to kaolin clay, salicylic acid, silk, and coconut water. However, we recommend applying a hydrating toner if you have dry skin.
STEP 3 – Antioxidant Serum
Serums may be little, but they pack a punch for skin transformation! These coveted skincare products use high active chemicals to address various skin issues.
We recommend applying an antioxidant serum in the mornings to prevent your skin from free radical damage over the day.
Vitamin C is the star component of Bye Bye Dullness Vitamin C Serum, and it's known for its antioxidant properties. Apply to skin that has been freshly cleaned and toned.
STEP 4 – Eye Cream
The sensitive skin surrounding your eyes is prone to fine lines and wrinkles. As a result, we recommend adding an eye cream step to your routine to give it some more TLC.
Eye creams are designed specifically for this area, and there are plenty to select from, depending on your skin type and needs.
Because eye creams are lighter and thinner than face moisturizers, use them first before applying your creams and oils.
Look for an eye cream with a rollerball applicator with a cold steel ball to aid fluid retention. You may also employ a home remedy, such as caffeine, to constrict and tighten puffy under the eyes for 20 minutes.
STEP 5 – Moisturizer
Confidence in a Cream Hydrating Moisturizer is a good option. It includes hydrating, smoothing skin, lowering the appearance of fine lines, clearly increasing tone, and minimizing the appearance of pores in one product.
Oily skin types should use a moisturizer as well but choose one that is oil-free, such as Confidence in a Gel Lotion Moisturizer. It absorbs fast and provides 72 hours of balanced hydration thanks to its ultra-light composition.
In the morning, use a mild, delicate hyaluronic-based moisturizer to keep skin moisturized without feeling heavy or oily.
And, if you're not going to use a separate sunscreen, look for a mix that has at least SPF 30 in it. Let it sit for at least five minutes before adding makeup, whichever option you select.
STEP 6 – Sunscreen
SPF is an important part of everyone's skincare routine. It protects your skin from premature aging indications, including fine lines and wrinkles, laxity, and dark patches, and helps prevent skin cancer.
Sunscreen is the foundation of every successful preventative skin care program. I advocate using sunscreen every day. I use IT Cosmetics CC+ Cream with SPF 50+ as my last step since it provides the appropriate coverage while also providing anti-aging and sun protection.
Layer your Nighttime skincare products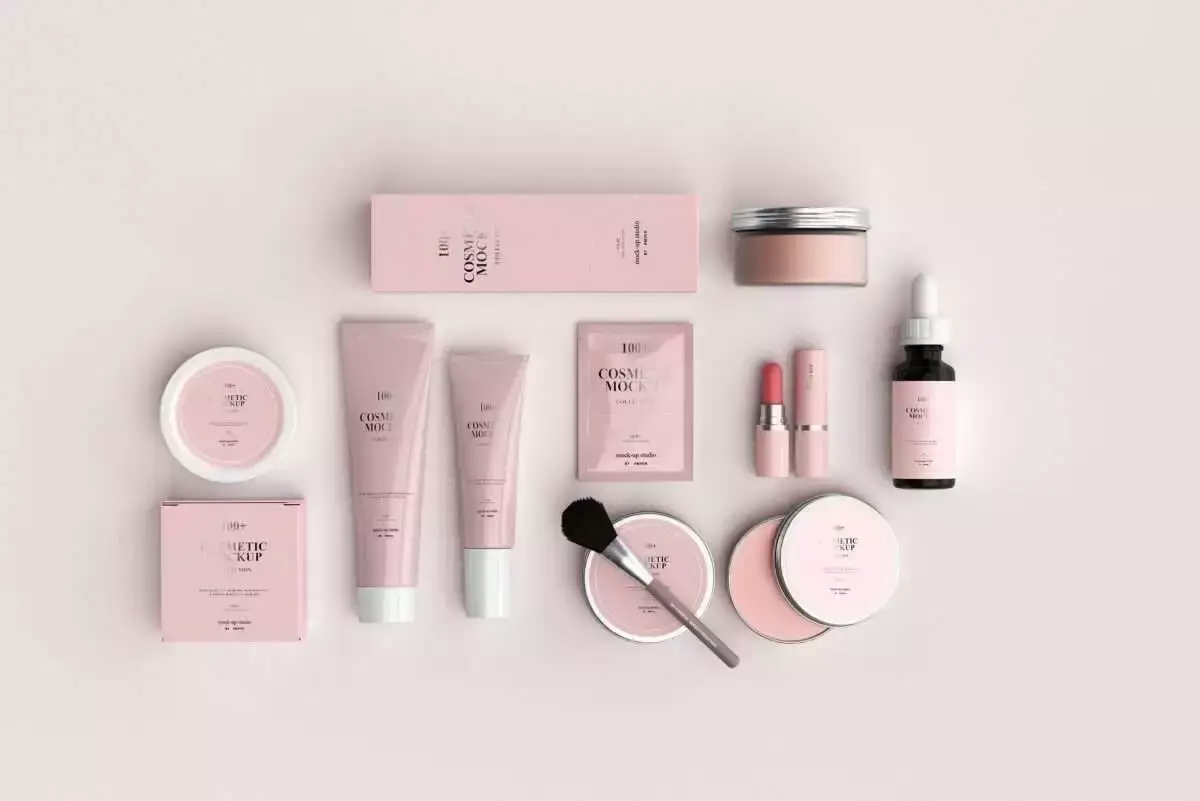 Now that you know how to stack skincare products in the morning let's look at the best nightly skincare routine.
STEP 1 – CLEANSER
In the evening, it's extremely vital to cleanse your skin. The idea is to ensure that you remove all of the makeup, sunscreen, and other material that has accumulated on your face throughout the day, rather than leaving it on overnight.
STEP 2 – TONER
Toning is done in the same way it is in the morning. Choose an appropriate formula for your skin type if you wish to add this into your nighttime routine.
After cleaning, tap your acid-based toner over clean, dry skin; if you intend to use retinol at night, wait five minutes for it to dry before applying anything else, or you'll accidentally neutralize the acids before the toner can perform its magic.
STEP 3 – TREATMENT SERUM
Incorporate retinol, such as Hello Results Wrinkle-Reducing Daily Retinol Serum-in-Cream, during this stage of the skincare treatment procedure.
Retinol is a vitamin A derivative. It promotes collagen production, improves tone, enhances texture, and makes wrinkles appear less deep. Now, this isn't the same as taking vitamin A, but it does aid in speeding up the cell cycle in cream form.
Choose a serum containing hyaluronic acid, which draws water from the air into your skin as you sleep to plump it up and keep it moisturized.
If you're going to use acne treatments or anti-aging creams that might be drying and irritating, you'll want to moisturize your skin beforehand.
STEP 4 – EYE CREAM
Apply a small amount of eye cream and your orbital bone after applying your treatment serum. Unless it's made with the same active ingredient as your treatment serum, be sure you're utilizing a product that's free of active components to avoid any skin irritation.
Because your eye region is sensitive and prone to rashes and irritation, use a light moisturizing eye cream to protect your under-eyes while also repairing your skin barrier overnight.
STEP 5 – SPOT TREATMENT
Your spot treatments should be applied at night because that's when your body is working the hardest to restore itself. Using a spot treatment with hydroquinone or niacinamide (also known as vitamin B3) can gradually lighten blemishes and treat acne.
Most niacinamide formulae won't irritate your skin, but hydroquinone should be taken every three days until you know how your skin reacts.
STEP 6 – MOISTURIZER
Always choose a moisturizer that is appropriate for your skin type. Apply a mild moisturizer without active ingredients after your serum and eye cream. This step is crucial to your skin's general health and helps you achieve skin success in the morning.
Always cleanse your face first, then apply your cosmetics in order of thinness to thickness. When it comes to treatments, switch up the active substances every morning and evening or every day. When in doubt, consult your dermatologist, who will gladly assist you.
Your night moisturizer should contain all of your body's natural ingredients, such as hyaluronic acid, lipids, and proteins.
You may also ease into the retinol game by using an anti-aging night cream, which has a "diluted" amount of retinoids that are kinder on sensitive skin.
Conclusion
Whether you enjoy going all out with your skin-care regimen and ticking each step off every morning and night, or you want to keep it simple and skip a few stages, make sure you're using the appropriate products in the proper order for optimal results.
If you're unclear about which products to use for each category, go to your dermatologist, who may create a more customized skin-care regimen for you, depending on your skin type and needs.