A comforter is a perfect companion for all the coziness and warmth. This lightweight blanket is the perfect choice if you're looking for a luxurious and aesthetic bedroom. But the regular use of the comforter gets it dirty and needs washing like any other essential bedding. So, the question is how to wash a comforter. Here is everything about washing a comforter.
1. What is A Comforter?
It is a thick and fluffy blanket filled evenly with synthetic fibre. It gives an aesthetic look to your bedroom and enhances the overall look. Comforter filling is usually secured by stitching. A comforter is kept on the top of the bed sheet. It gives a nice layering to your bedding set. A comforter is only one piece of bedding that can be used easily. A comforter, thus, remains the favorite to many.
2. Difference Between a Comforter and A Duvet
Most people will tell you both the comforter and the duvet are the same. The reality is different from what appears. A comforter is often misunderstood as a duvet. It's wrong to think of them as one. They are not the same in structure and design.
A comforter is one-piece bedding. A duvet is supposed to be inserted in a duvet cover. A duvet is trickier than a comforter when it comes to using. It is a tough job to insert a duvet into the duvet cover. It is a tough job to wash a comforter. But cleaning a duvet cover is easy.
A duvet is usually made from goose-down or any down alternative filler. A comforter is filled with synthetic fibres. A duvet, thus, remains fluffier and warmer than a comforter. A comforter tends to get flattened easily. It needs to be washed properly to keep it fluffy and lump-free.
3. Why Do You Need to Wash Your Comforter?
Since a comforter goes on the top of the bedsheet and comes in direct contact with your body, it gets dirty. Dirt, dust mites, sweat, and body oil adhere to the comforter. Many people may get allergic reactions to the dust. A comforter collects various kinds of germs with the potential to get you sick. To protect yourself from infection, you must get your comforter washed properly.
4. Why Is the Comforter Trickier to Wash?
A duvet is easy to clean because of its cover. You can take out your duvet from the duvet cover, clean the duvet cover at home and get your duvet back home. But a comforter doesn't have a protective layer like a duvet cover. It is a single-piece bedding item. That's why you may find it tricky to wash the whole comforter. So, how to wash a comforter? What suits best for your comforter?
Check out: 10 Best Winter Boots for Women
5. What to Keep in Mind before Washing a Comforter?
There are a few things you need to remember when washing comforters. Understand them before starting the washing process:
5.1. Read the Label Provided by the Manufacturer
Check whether your comforter demands dry cleaning or it can handle machine wash. Most comforters allow machine washing. A few are recommended to be dry-cleaned only. Read about the materials used. Certain materials like silk or wool tend to shrink and get damaged easily. They may even get lumps. So, you should keep all the instructions in mind.
Sometimes manufacturers also mention if you need to use cold or warm water. For most comforters, you can use either cold or warm water. Hot water kills the mites. Cold water maintains the quality of fibre. Cold water also maintains the fluff. It's all up to the instructions that will make you adjust the water temperature.
5.2. Thoroughly Check Your Comforter for Torn Stitching
Check for any tears in your comforter. If you find any tear, repair it. If the stitching is compromised and you find loose threads, you should stitch that area. If you know how to stitch, then it is not an issue. If you don't know how to stitch the fabrics, you should ask someone for help. Don't wash your comforter without repairing it first.
5.3. Remove Tough Stains with the Help of Any Stain Remover
Before you move to wash your comforter, you need to check the stain. If there is any stain, you'll have to remove the stain before washing. Using baking soda is a great way to remove any stain. Add baking soda to water and let the mixture stay on the stain. Then, rinse it. You'll get your stain removed easily. If you have any stain remover, you can also use it.
5.4. If You Want to Keep the Color Lively, Get the Bleach
If you want to freshen the colour of your comforter, try bleaching. In two gallons of water, add half a cup of bleach. Soak the comforter in it and let it rest. After five minutes, please take out your comforter and get it rinsed. Your comforter will look freshened up.
6. Ways How to Wash a Comforter
Most people go for dry cleaning when it comes to washing a comforter. They don't try any other alternative. Some don't even know if they have any alternative for cleaning a comforter. You should know that you can wash your comforter at home without hassle. Even a down comforter does not always need dry cleaning. A down comforter filled with down feathers can also be washed in a machine unless there is specific instruction.
Washing your comforter at home can save you from wasting your time and energy visiting a dry cleaner. It will allow you to save some extra money as well. Washing your comforter at home is an affordable yet practical choice. It will allow you to wash your comforter frequently.
7. Steps to Wash a Comforter at Home
Now that you've decided to wash a comforter at home, you must know there are a few steps you need to follow carefully: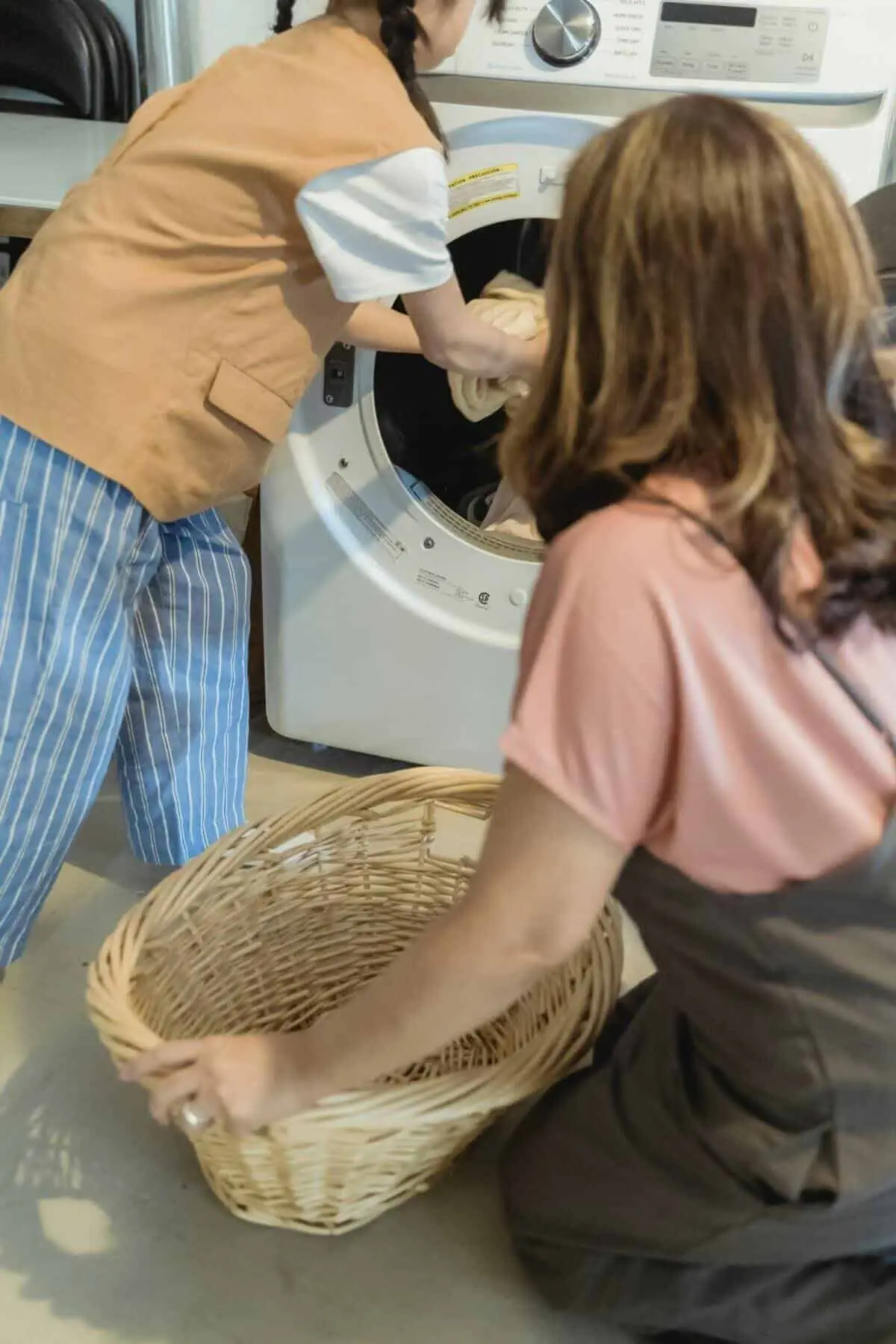 7. 1. Choose the Right Laundry Detergent
Washing a comforter correctly starts with choosing the perfect laundry detergent. Detergent plays an important role in determining the result. It determines if the fabric will survive the washing.
Detergents are powerful when cleaning dirt, oils, and grease from any fabric. It removes any rigid material from the fabric. But every fabric is different, and each demands different kinds of detergent.
When washing a comforter, you will need a mild and fragrance-free detergent. Gentle detergent with less harmful chemicals will increase the life of your comforter. Skipping the fabric softener is also recommended for washing a comforter. You don't want to damage your comforter because of any harsh chemicals.
7.2. Check Whether You Have the Right Washing Machine
Choosing the right washing machine is also important if you're washing your comforter at home. The weight and bulk of the item should be considered before choosing your washing machine. You won't want any lump in your comforter, so choose a large capacity washer with extra space left inside the washer drum after putting a comforter in it.
You can go to a local laundromat if you don't have a spacious washing machine. A large capacity washer will ensure deep cleaning and better removal of dirt. For a bulky comforter, you may need a commercial washer. A local laundromat will have a commercial washer for your needs.
7.3. Adjust Washing Cycle Settings
Now it's time to adjust the settings of your washing machine. Washing comforters demand customized settings. You can go with either a gentle or delicate cycle. You can also opt for bulk wash or bedding wash. To remove dirt, pollen, and detergent properly, try to select the second rinse cycle. It will remove excess soap and any dirt particles left. It will kill dust mites that survived during the washing process.
7.4. Wash Your Comforter
Put your comforter in the machine and add detergent. Don't add more than two teaspoons of high-efficiency detergent. Start the machine. Find a magazine and wait till the machine cycle completes. Once the washing cycle is complete, take your comforter out of the machine.
7.5. Dry Your Comforter
Drying is not as simple as it sounds. You should change the drying cycle settings if you use an automatic dryer. Check if there is enough room left inside the washing machine. You must put tennis balls or a few wool dryer balls in the dryer before you dry your comforter. Adding tennis balls or wool dryers to the dryer cycle helps you maintain the fluffiness of your comforter. Using low to medium heat is good for the health of your comforter. Ensure that your comforter dries evenly.
You can also air dry your comforter if you don't have a dryer. Put your comforter on a drying rack and spread it properly. Keep it in a warm room and bring a fan to circulate the air. Let the air drying get your comforter completely dry.
7.6. Fluff Your Comforter
Even though you've put tennis balls in the dryer, don't forget to remove your comforter every 15 minutes. Break the clumps manually and put the comforter in the dryer. Repeat this process a few times while your comforter dries.
8. How Often Should a Comforter be Washed?
It is very important to accept that a comforter needs washing every 2-3 months. You may find it hectic, but it is worth the pain. Sleeping in your dirt may not bother you to an extent, but it affects your immune system. It shelters various types of germs and leads to bad health if left dirty.
You may get allergies from the microscopic dust mites. They're not as big as bugs but can trigger your asthma or skin allergies. They may cause rashes.
To keep you safe, it is recommended to wash your comforter frequently. Make a habit of washing your comforter once seasonally. If you can wash it a few more times, it will be better for you. You know it is better to take precautions than to look for a cure.
Bottom Line
A comforter is one essential bedding item you can't get over with. It needs to be washed frequently and properly. To do so, you need to know every basic information about washing a comforter. If possible, buy a good quality comforter cover too. Enjoy your happy place under a clean, comfortable, and lump-free comforter using the steps above.
In the comments below, give us your feedback about how to wash a comforter at home. Tell us about what kind of experience you had, and share other washing hacks for a comforter.

Arkja is an ardent traveler. She loves exploring different parts of the world, especially those that are underrated.
Arkja has completed her Master's in English and combined her skill of writing with her passion for traveling.
She is aiming to be a full-time travel writer.