Wondering what the top two novels of Jane Austen are and what are the basic themes that Jane Austen focused that made her a classic novelist?
JANE AUSTEN: THE TOP TWO NOVELS
Jane Austen is one of the most-read English novelists to date. Her works primarily celebrate the nature, culture, and relation of the British social class at the end of the 18th century. Austen's works significantly explore the position of women, how they are dependent on the other gender for their economic and social status, and how they are bound to get married due to social convention. Jane Austen's works are different from the other 18th century novelists, especially those who wrote before her. 
The writers of that century used to focus upon the fact of distress and sentiments between human circles, hence novels of sentiments.
CLICK HERE to get briefly acquainted with sentimental novels.
But Jane Austen chose to write about the reality of the 19th century, where men do not get wooed by women of a lower rank and where a woman is considered to be a burden of the family, especially to her parents. Austen portrayed the reality of a relationship between two people due to social convention, which has certainly nothing to do with a mere glance and limerence, in a nutshell the universe of fantasy. 
Let us see what the top two best novels by Jane Austen are and why they are the best.
JANE AUSTEN: SENSE AND SENSIBILITY- 
Sense and Sensibility was published anonymously in the year 1811. The novel tells us about the Dashwood sisters, Elinor and Marianne. Austen named it Elinor and Marianne initially but later she named it after the nature of Dashwood sisters. The novel is all about the relationship between Elinor and her younger sister, Marianne.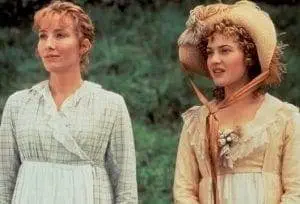 Image: britannica.com
Adaptation of Jane Austen's 'Sense and Sensibility' by director Ang Lee and played by Emma Thompson as Elinor Dashwood and Kate Winslet as Marianne Dashwood. 
After the death of Henry Dashwood, father of Elinor and Marianne, they became alone and penniless. Henry Dashwood instructed John Dashwood, their half brother, to take care of his sisters, but he got persuaded by the words of his ravenous wife, Fanny. The sisters, along with their mother and younger sister, moved out of Norland Park and got settled in Barton cottage, Devonshire. In Devonshire, Marianne met Colonel Brandon, a very settled and respectable man. Marianne depicted lack of interest towards Colonel Brandon's attention; instead, she became infatuated with John Willoughby, who appeared to be a romantic admirer but aimless and dishonest in reality. He left Marianne for someone else, and she made a sensible decision by getting married to Colonel Brandon, who had a soft corner for Marianne. 
However, the elder sister, Elinor, the cautious one, found herself to be attached to Fanny's brother, Edward Ferrars. Edward shared the mutual feeling towards Elinor. But Elinor remained silent about her feelings after knowing that Ferrars was engaged to Lucy Steele for several years. Later she got to know that Ferrars got married, but it was not Edward Ferrars; it was his brother Robert Ferrars. Then, Edward came back to Barton Cottage and proposed to Elinor, and later they got married. 
In this entire novel, Jane Austen elaborated about the position of women. She depicted how marriage was not a choice but a necessity for a woman, just to secure a social position and how men got the freedom to chose when and whom they want to marry. She depicted how it was courtly love for men and how it was opportunistic love for women. Austen dragged a lot of controversial themes through this novel.
CLICK HERE if you want to know about the types of themes that Jane Austen mainly focused on, while writing this novel.
JANE AUSTEN: PRIDE AND PREJUDICE- 
Pride and Prejudice is considered a classic in English literature. This novel was published in the year 1813, anonymously in three volumes. 
This novel of Jane Austen focuses on the relationship between Elizabeth Bennet and Fitzwilliam Darcy, which has a lot of inferiority, superiority, snobbery, and understanding.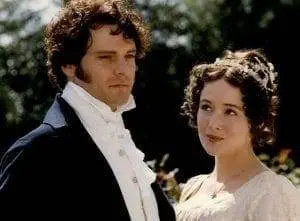 Image: britannica.com
Adaptation of Jane Austen's 'Pride and Prejudice' , 1995 movie directed by Simon Langton and played by Jennifer Ehle as Elizabeth Bennet and Colin Firth as Mr. Fitzwilliam Darcy. 
The novel flows with the different characters of five sisters of the Bennet family and their anxious mother, Mrs. Bennet. In this novel, Mrs. Bennet has a very significant role since she depicted the social stand of a woman and the situation of a mother who has five daughters. In the entire novel, Mrs. Bennet played the role of a typical mother who wants her daughters to get married; at the same time, this anxiety also portrays daughters as a burden. 
At a ball in Meryton, the eldest daughter, beautiful Jane Bennet, became the love interest of young and wealthy, Charles Bingley, at his first sight. At the same ball, the two main characters, Elizabeth Bennet and Fitzwilliam Darcy met each other. But what isolated them from liking each other is the "Pride and Prejudice", pride of Darcy about his social position and wealth and prejudice about the inferior complex of the Bennet family simultaneously pride of Elizabeth as her self-respect and prejudice of Darcy's affectation. Hence, Jane Austen named this novel "Pride and Prejudice".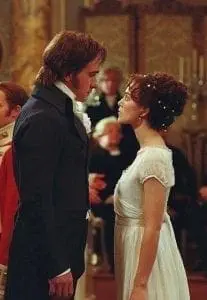 Image: pinterest.com
Adaptation of Jane Austen's 'Pride and Prejudice' , 2005 movie, directed by Joe Wright and played by Keira Knightley as Elizabeth Bennet and Matthew Macfadyen as Mr. Fitzwilliam Darcy. 
The future inheritor of the estate Mr. Collins chose Elizabeth among the five sisters for marriage, but she refused, and he got engaged to Elizabeth's friend Charlotte Lucas. In the meantime, Elizabeth became fond of a military officer, George Wickham. Wickham let Elizabeth Bennet know in between conversations that Mr. Darcy denied his inheritance. Elizabeth already saw Darcy in a bad light because he took Mr. Charles Bingley away from her sister Jane and went to London, and then Mr. Wickham's statement made Mr. Darcy a person of dislike to Elizabeth Bennet. 
When Elizabeth went to visit her friend Charlotte after she got married to Collins, she met Mr. Darcy, who gradually became fond of the wit that Elizabeth beholds. Mr. Darcy proposed to Elizabeth, and for obvious reasons in her mind, she rejected, and Mr.  Darcy asked for an explanation. Elizabeth very clearly expresses her reasons to Mr. Darcy, which includes her sister Jane and Mr. George Wickham. Darcy, in a letter, lets Elizabeth know that he took away his friend Charles Bingley because he thought that Jane did not share the same interest that Bingley does. He also says the reason why he denied Mr. George Wickham's inheritance is because he tried to marry his 15-year old sister, to get the part of her fortune as his own. Then Elizabeth saw a new side of Mr. Darcy, which was not snobbish but very witty and respectable. 
The youngest Bennet daughter Lydia eloped with Mr. Wickham, which could easily question the character of other Bennet sisters and the upbringing of the Bennet family. Mr. Darcy, without letting Elizabeth and the Bennet family know, offered money to Mr. Wickham to marry Lydia Bennet, which later Elizabeth got to know. Then, Mr. Darcy brought Charles Bingley where he asked for Jane's hand in marriage, and she said yes. Mr. Darcy again proposed to Elizabeth, and she accepted this time. 
Pride and Prejudice also depicted opportunistic love between Lydia Bennet and George Wickham, the ideal Elizabethan love, the love at first sight between Jane Bennet and Mr. Charles Bingley, and a very meaningful love between Elizabeth Bennet and Mr. Fitzwilliam Darcy.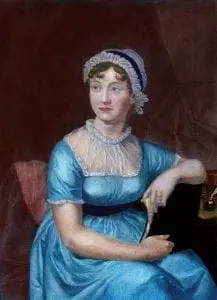 Jane Austen, through her novels, depicted politics, education, morality while being women-centric. We can use the sensitive word 'Feminism' while mentioning Jane Austen. Austen through her words and novels portrayed the position of women at the late 18th century and early 19th and even the time before that by showcasing characters like Mrs. Bennet, who was anxious for the marriage of her daughters, and shows how she got married, by the opportunistic way of love.
Austen also portrayed the different natures of humans by five sisters in 'Pride and Prejudice'. She portrayed the nature of attraction by Mr. Collins and Miss Marianne Dashwood for whom marriage was a necessity. In the same way, she portrayed courtly love by through the characters of Elizabeth Bennet and Mr. Darcy.
Jane Austen became a classic novelist because she chose to write about reality even though her earlier and contemporary writers were sentimental novelists.
What do you think about Jane Austen's 'Sense and Sensibility' and 'Pride and Prejudice'? Let us know in the comment section. – JANE AUSTEN: THE TOP TWO BEST NOVELS