As an affiliate-driven website, Icy Tales earns from qualifying purchases.
Nidhi Ramsha, a girl from Surat who is very passionate about designing jewelry, decided to quit her job and give her full time to the "Jewellery Jungle," a venture she started during the Pandemic. The talented entrepreneur has proved that if we take challenges as a boon, we can succeed in anything we aim for.
Icy Tales is in conversation with Nidhi Ramsha about her entrepreneurial journey.
Q) How did you come up with 'Jewellery Jungle'?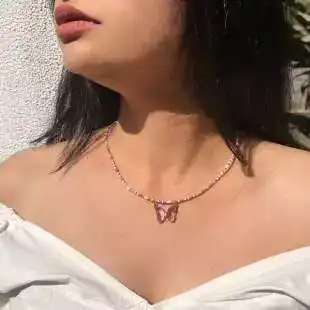 Nidhi Ramsha – I adore nature and all things related to it. Jewelry Jungle was chosen because I want people to immediately understand what it stands for just by looking at it.
Q) When did you discover your love of jewelry?
Nidhi Ramsha – Before starting my own brand, I never used to wear a pendant or a bracelet. I enjoy making pendants and bracelets, and nature gives the best ideas to make the bracelets and pendants more creative. I thought it would be good to sell them, and I sold some of the jewelry offline. The job of making jewelry gets a lot more fascinating. I started wearing it also.
Q) The pandemic changed the course of many businesses; how has it impacted 'Jewellery Jungle'?
Nidhi Ramsha – Pandemic didn't change my business, but it made it happen. My job before the pandemic was as a recruiter for human resources in corporations. I began creating jewelry during the lockdown. Since then, I have always been growing. I started selling offline and online. My online medium was Instagram, Pinterest, and Facebook. I am also proficient in photography. I do my own product photoshoots and have begun posting on Instagram.
Q) Where do you find your design inspiration?
Nidhi Ramsha: Each time I design jewelry, I try to do it on my own first. With the beads and crystals, I experiment with the colour combination of the jewelry materials; I try to catch the colours of the beads and crystals which go best with which colour, and I out some random beds in between. This is my first approach always.
I also look for inspiration on Pinterest. Pinterest is a hub of inspiration. I am planning to launch a new product that is the elastic rings. I am exploring what kind of elastic rings are in demand nowadays. I even explored Instagram hashtags there. I searched about #elasticrins, and from there, I also got an idea of which kind of rings are selling. The hashtags also inspire me about the designs and ideas on what to sell more.
Q) What or who inspired you to start your own business?
Nidhi Ramsha: There is no particular person or a brand who has inspired me for the jewellery jungle. A picture of a coin bracelet which I thought I should try out. That's how it started.
Q) What do you enjoy the most about running your own business?
Nidhi Ramsha: Creating jewelry is a creative field. I can be as creative as I want. There was no creativity when working as an employee, and I only had to communicate with people. Here at jewelry Jungle, I am my own boss, and it comes with risks. You invest in your business, but it also gives you challenges of what will happen next? How long will you be able to run our business? on the other hand, when I design something, it looks gorgeous, and I feel goodness and satisfaction.
Q) Apart from social media, how do you promote your business?
Nidhi Ramsha: When I started my business, I used to show the jewelry to my friends, family, and relatives. I have also given it to resellers; they have clicked pictures and posted on the groups. That's how I was seeing first.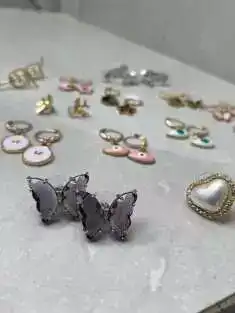 I stopped giving it to resellers, and the only reason is when you give it to them, you do not earn much; they want from you at a low price and sell at a high price, keeping a good margin in hand with themselves. Finally, I started focusing on Instagram, where I grew within a short snap of time.
Currently, I don't sell offline. I am planning to have a stall in the coming future.
Q) What was your biggest fear when starting with Jewellery Jungle?
Nidhi Ramsha: When I started with Jewellery Jungle, I was nervous and tight will people by designing? Will it be likable to the audience that I am targeting? I have already invested a good amount in Jewellery Jungle with a firm determination that this is what I want to do full time. As I grew into my business, I got orders from the globe.
Q) What do you want women to feel when wearing your jewellery?
Nidhi Ramsha: When women wear my piece of jewellery, I want them to feel confident and pretty.
Q)  According to you, what makes your label so unique?
Nidhi Ramsha: My unique designs of jewelry make my label unique. The designs are made in such a manner that gives the customer a feeling of satisfaction. I try to give the best customer service to my customers. If there is an issue with the jewelry after placing the order, I always refund the amount, or the new piece of the jewelry will be sent to them by me. The jewelry I make I customize as per the customer's requirements.
Nidhi Ramsha, a creative jewelry designer, who started her business in lockdown, has grown since then. She took up her passion for designing and selling jewellery and stood up against all the challenges that came her way. Nidhi Ramsha left her comfortable job to start something that gave her happiness and inspired people to take up what makes them happy.
She aims to continue working hard towards her business and make unique designs for her customers. If you wish to buy unique jewellery, visit her Instagram page and order. We wish her all the best in all her future endeavours.
Watch the interesting and informative conversation on our Youtube Channel.