Hi there, I see you love Kayaking; cool, you've come to the right place. Kayaking in NC, you say? Let's dive right in, no pun intended.
Now before we get right to the heart of our subject, we must talk about North Carolina. In the south-eastern part of the United States. Bordered by Virginia on one side and the Atlantic Ocean, it had had a history of kayaking for many a year, dating back to the Europeans' settlements. The Americans used kayaks for hunting purposes.
This beautiful state is an amazing place for outdoor recreation. The varied climate and different locales enable a wide range of activities, including kayaking in NC.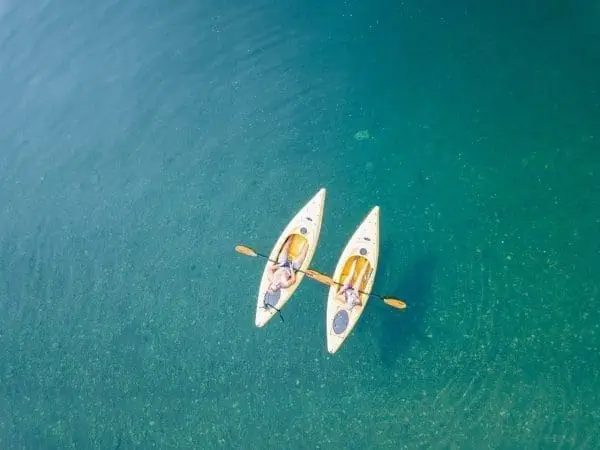 For beginners, here are a few basic precautions for kayaking in NC, or just in general.
Precautions
1. Weather
Always check the weather and temperature of the area in which you're about to go kayaking. You should always prepare for the possibility of sudden weather changes and keep suitable clothing or accessories nearby.
2. Clothing
That nicely brings us to our second point, to always invest inappropriate clothing for the climate well before you begin planning your kayaking in NC trip.
3. Rules
Always follow the rules of boating of North Carolina.
4. Booze
Never take alcohol before or during kayaking in NC or anywhere. Too dangerous, and you wouldn't want to put your family in danger by not being alive anymore.
5. Weight Check
Always check the weight of your equipment and yourself for verifying the maximum capacity of the kayak you're going to be in.
6. Don't Skimp on Learning
Always seek professional guidance to learn proper techniques, water safety, and just basic rules not to get killed on your first adventure. This is extremely important to prevent your good time from turning real bad, real fast.
7. Self Help is the Best Help
Learn self-rescue skills in different water conditions.
8. Float
Get your own personal floatation device, safety first, kiddo.
9. No Secrets
Another important thing to do is to tell your kayaking plan in detail to someone other than your arch-enemy, because in case anything goes wrong, someone other than you would at least know where to find you out, to help you.
10. Don't Skimp on Learning: The Sequel
Lastly, learn the route(s) of your kayaking adventure in and out—plan alternate routes if you have to turn to Plan B or even C. I'm not getting you frightened, but if you're alone, you SHOULD take the maximum precautions. That's the bare minimum you can do to prepare yourself for the unknown.
To read more: Basic Safety Tips
Now let's talk about some of the best places to go kayaking in NC.
Kayaking In NC
1. Cape Fear River Adventures, Lillington
This is a family-owned and operated initiative in central North Carolina that offers kayaking on the amazing Cape Fear River. Now it doesn't matter if you're a beginner or a brave-hearted seasoned paddler; they have something for everybody. They offer a wide variety of self-guided trips, including a leisurely paddle, kayaking during the sunset time, overnight trips, and even a whitewater kayaking in NC adventure for the daring gurus in this field.
The best thing about this place is that they know how to take care of your safety, which is of utmost importance. They will always make sure you have the right best-quality equipment and safety equipment for any of your sorties; I mean kayaking in NC.
2. Knee Deep Adventures, Greenville
Ahh, welcome to the Tar River, where life is not only great but also clean, and is one of the best places to go kayaking in NC. Yep, you read that right. The owner of this place provides excellent facilities and devotes a lot of her time to maintain the place's cleanliness, as one of the primary things. She was nominated for the NC Department of Natural Resources' Water Conservationist of the Year in the year 2016.
Talking of the experience of kayaking in NC, they offer 4- or 8-hour rentals, which include gear and life jackets. The Tar River is one of the most relaxing and calm places you'll have ever visited. You could either rent your adventure timings on the internet, or you could visit the shop for an offline experience.
3. Roanoke River, Jamesville
While originally starting as a trade route in the colonial days of North Carolina, now the Roanoke River is a major source of recreational opportunities, otherwise known as kayaking in NC. It offers everything from superb bass fishing to excellent opportunities for kayaking in NC. One of the best places goes by the name of Devil's Gut, near Jamesville.
The kayaking experience here is very serene; the forest is very close to the river, and if you're lucky, you will glimpse the abundant wildlife that abides in the forest. You could either make it an afternoon affair, or you could spend the night and stay at a river camping platform during the night.
4. Cheoah River, Robbinsville
Now, if you're a faint of heart, skip this one, or many come back when you're experienced enough. Definitely not for a first-timer because this entire run is of whitewater. The most dangerous type of water for kayaking, rafting, and any other opportunities. Over here, as you come for kayaking in NC, you'd hit Class 4 and Class 5 rapids back to back, so have a pretty good idea of what you're doing before you venture out here.
This river has a damn, and you should get information regarding the water level depending on the year's time. What's nice about it is that the lower run of this river passes by the Tapoco Lodge, so you could grab some quick bites and a quick nap before resuming your water adventure.
5. Milltail Creek, Alligator River National Wildlife Refuge near Buffalo City Road
If your escapist heart longs for a day or two away from the hubbub of the city-like areas to go kayaking in NC, you will find yourself getting attracted towards Milltail Creek. It is a wild place, with fifteen miles of paddle trails. You could find lots and lots of wildlife here, and you can bet your bottom dollar to spot some egrets, herons, and other water birds.
Lovely sightseeing for free. If you're lucky, you could see some alligators, hence the name. Lastly, the creeks and waterways you'd navigate here range from open areas filled with marsh grass to tree-lined waterways.
6. Riverside Canoe, Crumpler
A massive 360-mile long river serves as the base for this contestant that flows through several states, including North Carolina, facilitating kayaking in NC activities. Believed to be the second oldest river globally, it offers breathtaking views for anyone going kayaking in NC. Views of the spectacular Blue Ridge Mountains and the Great Appalachian Valley make it an all-time favorite spot for kayakers and tourists alike.
To get the most out of this experience, you'd have to visit Riverside Canoe, where they offer full supporting facilities located on the banks of the New River's South Fork. In addition to kayaking in NC, they also offer cabins for camping out in the open.
7. Dan River Company, Danbury
Another trendy spot for kayaking in NC, near the Blue Ridge Mountains, the peaceful waters that it offers are sought by peace-loving tourists not looking for a heart attack in the white waters. The Dan River Company River offers two standard trips, a 6.2-mile trip through Hammer-Stern Wilderness Preserve and Hanging Rock State Park, or another one, which is 13 miles, and is meant for more experienced paddlers and includes the frightful whitewater, rapids, and narrow river beds.
8. Three Sisters Swamp, Atkinson
If you've always dreamed of some dose of backwater paddling, then the Three Sisters Swamp is the perfect one for you. Over here, you'd find the ancient baldest cypress trees of the world. The meandering swamps over here, lined with trees, would give you goosebumps and would give you a dose of backwaters for days to come. The swamp can meander a bit, but nothing a bit of planning and care can't take care of.
9. Asheville Outdoor Center, Asheville
If you are looking for a unique experience of kayaking in NC in the third oldest river globally, you are in the right place. Offering vast amounts of wildlife and captivating wildlife scenery, you'd sail the river profiting from the Appalachian Mountain views and different trees, including dogwoods, poplars, and even sycamores. Over here, you could enjoy the beauty of the French Board River in a variety of ways other than just kayaking.
10. Nantahala Outdoor Center, Bryson City
This one can be a bit tricky; the Nantahala River in North Carolina can be both full of rapids or be as calm as the sea on a sunny morning; all of it depends on the area. Because of the twenty rapids in this river that range from Class 1 to Class 3, this remains one of the most popular rivers for kayaking in NC.
Located in Bryson City, it has been named one of the best in its class on Earth by none other than National Geographic. As it is one of the largest in the world, it offers more than a hundred and twenty different rivers and land-based trips, including, of course, kayaking in NC.
That's been it from me, guys; I hope you've enjoyed reading this article about kayaking in NC; we talked about taking precautions and the different places to go to while kayaking in NC.
If kayaking in NC interested you, I hope you'd also find hiking to be somewhere in your heart. Here's something for you: Hiking in Switzerland: 5 Amazing Trails
Ciao!