As an affiliate-driven website, Icy Tales earns from qualifying purchases.
Living room wall art is among the most aesthetic decors of the 21st century.
Minimalistic home décor with more ground space and less maintenance suits well the new style of compact houses. At the same time, large houses have their charm to keep up with the luxury fashion.
The wall decors have been a part of house furnish since ancient times. The famous walls of Ajanta and Ellora in India were painted with human figures and animals. Evidence of paintings in ancient Greek and ancient Egypt is also found.
In the later period, the walls were carved out with beautiful animals, female figures, and nature to depict the lives of the people in the past. After that, the period of luxury included expensive cutlery, work of gold, king-size furniture, and depiction of manpower with guns, swords, and animal skin.
The contemporary world is celebrating old artists, historic movements, and abstract arts.
The meaning of wall décor is changed but the craze for beauty standards is still fresh.
1. Why Should We Go For Living Room Wall Art?
The living room wall art gives the finishing touch to the space and makes it more lively.

The wall art also makes your living room feel cozy and safe. The art in your room is like a finishing touch to your comfort.

Living room wall art could be a luxury for some, but it is a good way to depict your taste and choices.

It is the best way to strike up a conversation with your guest!

It provides focus to your living room.
But, living room wall art just does not mean painting and framed pictures only. There are many more ways to decorate your walls. We will see some fun and cool ways to decorate walls with different arts. 
2. Living Room Wall Art Ideas
Before considering wall art décor, have an idea of what to theme according to the furniture and housing style. Here are some tips.
2.1. Modern Art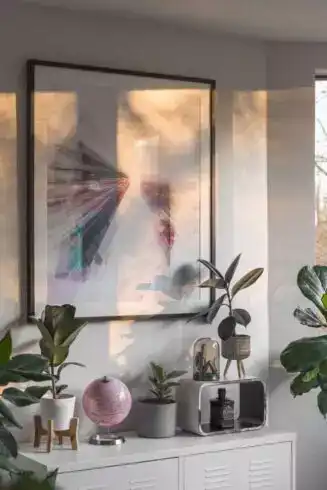 Modern Artwork includes abstract-style paintings, random shapes, and metallic or wooden work.
To create a modern living room wall art look, gather five to six different shapes and sizes of the modern painting frames, and hang them randomly according to the shape and size of the frames. You can use the color theme to make it better.
The second way is to bring in a random shape of modern wooden or metallic artwork for your living room. Try some spiral shape or round shape abstract wooden or abstract design.
The golden or silver metallic work looks great with abstract art.
2.2. Canvas Prints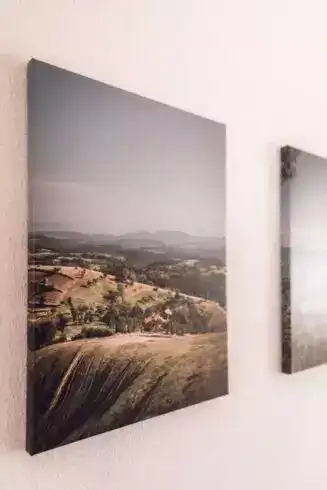 Canvas Art Prints are some new kind of room wall style.
Little canvas artworks work great with vibrant colors. At the same time, large canvas paintings are well suited for bold colors and a formal look with historic themes and depictions.
You can try landscape, sky, water, or ship painting themes for the large canvas. Such paintings also give you a sense of satisfaction, serenity, and peace.
Having 3 large pieces of Canvas Print in a line would be perfect to go for the look. Or you can keep three large canvas for each wall and a sitting area with a fourth wall.
2.3. Luxury Living Room Wall Art
The Luxury Style usually includes a palate scheme of gold, silver, blue, and orange. The large wall art is hung right at the center of the wall with luxury lamps at its side.
You can also use the big framed rug hung at the center of the wall. Also, rugs are something that gives a traditional vibe to your living room.
You can also add big stand lamps to give an elegant look.
2.4. Oversized Mirror
The Oversized Designer mirror looks beautiful. They can either become a focal point of your living room or can be placed at the back of the sofa and opposite the window for a good view from outside.
Add some fairy light to the frame for a complete look.
2.5. Traditional Artwork
Having traditional artwork as a part of your house décor is a great way to keep your culture alive. Traditional paintings and designs showcase the local culture and lifestyle.
Local Traditional Artwork framed on the wall opposite the sofa of your living room would be a great choice to strike up a conversation with your guests.
2.6. Photography Based Living Room Wall Art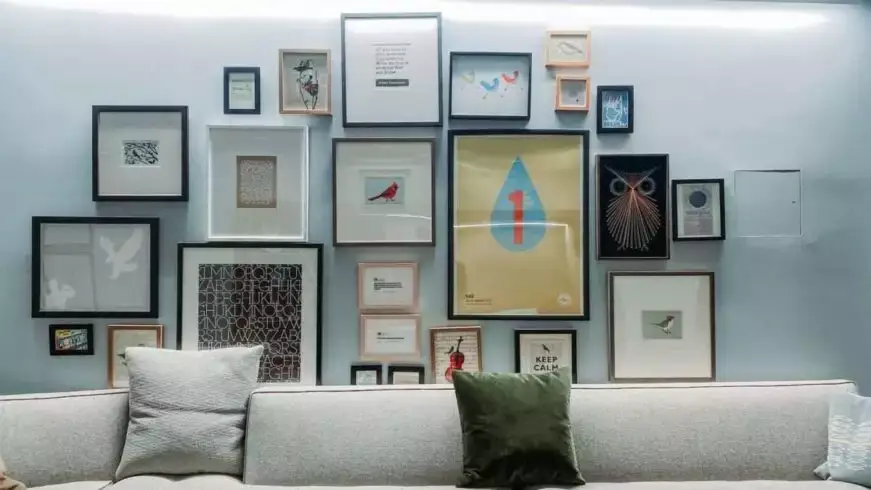 If you love photography, then this is something that would interest you. Photography wall art is another modern way to enhance your living room.
Photo gallery – The simple way is to use framed photos of random shapes and sizes on at least 3 sides of the walls.
The wall accent technique – Includes the same method as the photo gallery but on one side only.
The polaroids– Use polaroids by hanging them or use a soft board to make a polaroid collage.
2.7. Wall Hanging
Wall hanging like a giant dream catcher, birds or dancing puppets are some great options. You can also decorate with fake vines or little birds.
Wind chimes and color bells can be used on the sides of the door. Hanging lamps has to be on your list for shopping.
2.8. The Accent wall
The Accent wall is a wall that differs from other walls in design and looks. It is going to be the focus of your living room.
There can be many kinds of wall accents –
Wallpaper – A simple yet stylish way is to use a contrasting color wall accent or with some geometrical shapes.
Abstract paint on the walls – Includes random lines and shapes that give an extraordinary look to the living room.
Wall Stickers – are a quick and easy way to bring a new dimension to the hall. Try out nature stickers or Buddha stickers.
Wooden Work – Wooden work just on one side of the room and keeping all others blank is a standard way to keep a low maintenance vibe in the room.
Glasswork – If your room is supported by a balcony, then you can consider keeping the glass doors or glass panel accent wall. You can also use hues and color gradients to make it more unique.
2.9. World Famous Artwork
World-famous artwork especially paintings based on important details of history.
Examples are the paintings from world-class artists of the renaissance, model sculptures of Greek art, carvings of Indian ancient temples, and Art Work of Pablo Picasso.
You can explore different timelines of history to get more ideas for the living room wall art collection.
Some of the famous artworks are :
The starry night by Vincent Van Gogh

Mona Lisa By Leonardo Da Vinci

Liberty Leading the People by Eugène Delacroix

Vase with Fifteen Sunflowers by Vincent Van Gogh
2.10. Miniature Artwork
Miniature Artworks look adorable for minimalistic homes. The best way is to add 3 miniature frames horizontally on a big white plain wall.
Miniature metal figures or figures made up of wood can also be used. The miniature work appears sophisticated, hence giving a stylish look to living rooms.
2.11. Designer Shelf Work
Shelf works are old methods of vibing in with the place with books, but it is still the best option go for affordable décor.
The designer shelf artwork like wooden decors, geometrical figures, or Maze-style décor would look amazing. Metalwork or LED work also looks great when you look for some modern style.
You can add different artwork like laughing Buddha, Goddess Durga, or the statue of liberty.
2.12. Cool Aquarium Wall
A unique and fun way to adorn your house without giving many details to it. But, it is important to look for the right side of the aquarium and fit it into your wall.
A rectangular shape aquarium would look amazing instead of covering up the whole side of a wall into an aquarium. Placing furniture right opposite it would bring it into a focus of the living room.
2.13. DIY Artwork
DIY artwork suits best as per your personality. One way to start DIY is by using waste material from home. For example, decorating old wine bottles, dishes, spatulas, decorative dolls, and curtains.
DIY can also include children's painting and crafts. Handmade scrolls and knitted circles are a good start for minimal cozy living rooms.
2.14. The Window Art
The most unique design makes your living space look more lavish. The random window and gate arts with colorful paintings and carvings can be hung up for showcase purposes.
Although the look has no meaning per se the décor can imply the historic artworks and paintings.
3. Choosing Art According To Personality
The design of the living rooms should be such that it makes your guests comfortable and at the same time showcases your mindset and lifestyle. It becomes important to choose the right kind of décor for your wall rooms.
3.1. The Conservatives
The conservatives are the personalities who love to keep everything in its old and original form. Such people might love the traditional artwork designs in their living rooms. They can also look out for vintage options like old clocks or wooden artworks.
3.2. Flamboyants
The flamboyant love extravagant things and may love pretentious artwork. Such people should go for a luxury living room or some world-famous art pieces to decorate their space. A big beautiful chandelier would be perfect to complete the look.
3.3. The Minimalist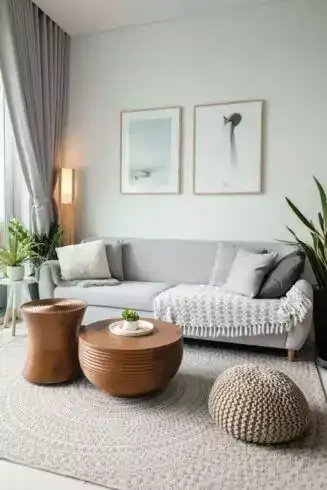 The minimalist love to keep things simple and decent. They should use miniature frames in their living room or the Aquarium theme to complete their look. Wall hangings can also be used instead of artifacts for a fun look.
3.4. The Aesthetic Lovers
The Aesthetic lovers must try oversized mirrors and canvas art prints. They can use color schemes to fulfill their look. The wall hangings could also be used but it would be better with the specific theme.
3.5. The History Lovers
History Lovers should go for old famous paintings and sculptures. It would be fun if they can add some kind of map work with LEd light or a monument to showcase an important moment in history.
4. Right Furniture For Your living room
Choosing the right furniture for your living room is also important else, the artwork doesn't complete the look.
For example, a minimalist room artwork would demand light pastel color furniture with proper ventilation.
If you are going in for a luxury room décor, a slight glimmer would work. You can also go for bold colors with the gold and silver work on them. Add a beautiful luxury tea table at the center and your luxury living room is ready!
Next, we can go for some historic living room ideas. First, decide on your theme. For example, if you plan to have a Victorian Era living room, then wooden artworks, large fancy round mirrors, an upholstery chair, and a carpet underneath would work wonders.
For a classic look, the furniture should be formal and classy too. Modern furniture with modern artworks is apt.
For wall accents, the furniture too can go for wall accent designs and color.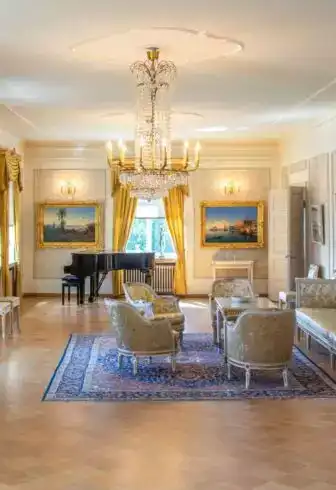 5. Where To Buy?
The best living room wall art work and furniture stores are listed here.
The living room wall art need regular maintenance. Therefore, it would be great if we choose darker shades for décor. For those having time, it would not be a big problem to keep high-cost maintenance.
If you liked this article, kindly subscribe to Icy tales and comment with your favorite kind of wall art décor. Also, check out 15 Super Cozy Aesthetic bedroom Ideas from Icy tales.
Also read about Lava Cake Strain.