As an affiliate-driven website, Icy Tales earns from qualifying purchases.
What started as a way for people to decorate their mud-clay houses and a skill passed down from a mother to her daughter has established itself well enough to be a recognized art form.
Madhubani art has come far from its original methods of using natural products to get color and portraying deities and man's connection. Today, it has become a traditional art form used to describe everything happening in the modern world. Based in San Francisco Bay Area, Megha Mocherla is among the several artists giving a contemporary spin to this renowned art form.
IcyTales in conversation with the up-and-coming artist, Megha Mocherla.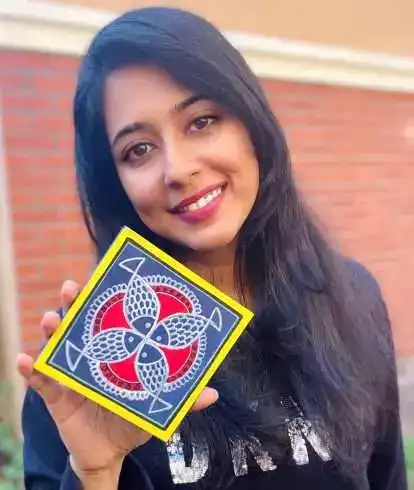 Q) How would you like to describe yourself and your work?
Megha Mocherla- I would describe myself as somebody who loves to have fun. For me, work is something I really like to do. Growing up, I loved to paint and create things. Eventually, my creativity led me to fashion design.
After I moved to the U.S, I also was a mom, and it took a while for me to get started again after a long gap. I was trying to get a foothold and decide what I really wanted to do, and then I stumbled upon Madhubani, which I got introduced to by a friend a little over a year ago. I just started doing small paintings and realized that it is something that I can do well, and it doesn't take too much time as well.
There has been no looking back since then, and here I am.
Q) What was your childhood like? Do you think those experiences have contributed to you becoming an artist today?
Megha Mocherla- Yes, absolutely. Many of my mom's family also painted, and she was very creative herself. She would make stuff from the things around the house and even sew some of my dresses. It is genetic, and I inherited the creative genes from her.
When we were kids, there was not a strong presence of the internet, and we did not watch a lot of TV. I kept myself amused through sketching wherever I was; when waiting in lines, traveling by trains, I would keep scribbling here and there. My mom realized that I was pretty good at it, and she made me learn it through classes. I was always encouraged as a child to draw and paint.
You become more involved in your education when you grow up, and your hobbies take a back seat. So when I was in that part of my life during college, I gave up and started looking at other avenues I was good at.
My childhood definitely has been a significant part of leading me to today. What inspires me more is looking at other artists and what inspires them. But also, inspiration is everywhere, and you need to pick it up and do something.
Q) In your opinion, what is the most crucial part of an artist's work?
Megha Mocherla- The most important part, in my opinion, is how you love what you are doing. If you don't put your heart and soul into your pieces, they will not resonate with your audience. If you create something personal to you, you will explain the meaning behind that work with a lot more passion. And that is what the audiences like; you are putting your life out there for them to visualize something.
It can be anything- something from your childhood, something you like, your favorite drink, etc.
Q) Do you think your career as a fashion and graphic designer has given your art inspiration?
Megha Mocherla- As a fashion designer, there was a lot of illustration happening, which involved a lot of sketching. We are just trying to put a concept onto paper in fashion illustration, and we want the other person to understand it. So, we are not very intricate.
Since graphic designing is all on the computer, it is a completely different craft. I don't think anyone has to be a traditional artist to become a graphic designer. I think anyone can be one if they're really good at it and know how to use the software really well. So to an extent, it has helped me.
I don't do traditional Madhubani either. Compared to traditional Madhubani, my work in Madhubani is more contemporary and modernized. It's about things people like to see in today's world. I'm still kind of experimenting with what people like to see and who I am as an artist.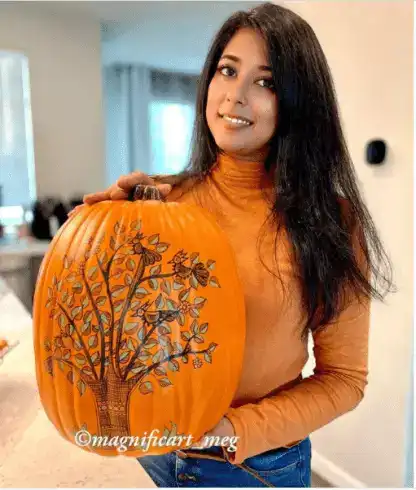 Q) What draws you the most to Madhubani art?
Megha Mocherla- Initially, I started Madhubani because it was less time-consuming than other art forms. And I don't do traditional Madhubani because that, again, is very tedious.
Madhubani was very doable with the materials that I had. I started with basic supplies which any mom would have around the house, like markers, papers, etc. As I started involving myself more in the art, my stationery increased, but I still work best with basic supplies. I don't use a lot of paintbrushes either because I don't want a mess. I want a place that I use for an hour, and I want that place clean within 5-10 minutes.
I don't have that much space in my house to dedicate a whole room to my art, so I want something that can get back into a box pretty fast.
The basicness of Madhubani and the fact that imperfections are always welcome in any form of folk art is what drew me to Madhubani.
Q) Any artists you look up to as an inspiration in your work and life?
Megha Mocherla- I think I get inspired by every artist I see. I follow so many artists; it is hard to pick one in Madhubani, Bharti Dayal Ji, the Karn brothers, and many others. There's something unique about each one of them.
Every artist has a different take on their art, and I get inspired by each one of them. There are certain things I can never do, and I know that I'll never be able to do them, but I would love to try.
Over time, when you keep coming across so many people, several artists keep inspiring me daily. Just naming three would be unfair.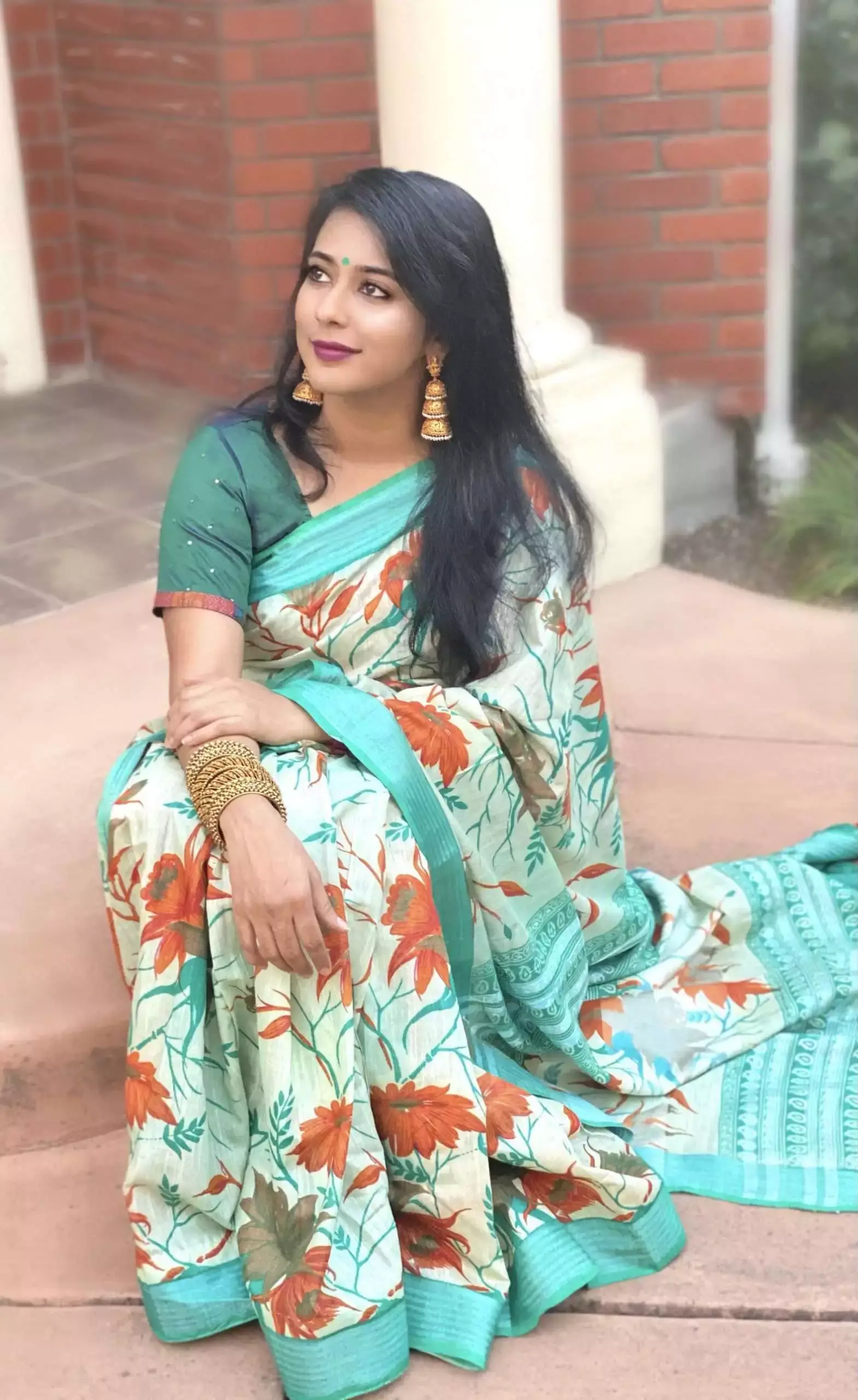 Q) According to you, how does art play an important role in shaping the society around us and influencing our culture?
Megha Mocherla- Art definitely does play an important role in shaping society. Like when the world was struggling with the pandemic, a lot of people took to different creative avenues to express their feelings. So let's say, if you're drawing happy things, everybody around you might be happy. I think art directly depicts your state of mind.
When people are painting things, they're describing how this virus is wiping out so many lives and how many people are affected by it, it pretty much describes the state of mind your people are in, or you are in as an artist also.
If happy things are coming from the artist, you know that they are happy, and if there are depressing and dark things, you know that they are going through a dark phase of their lives right now. The art depicts what people are thinking right now: their mental mindset, culture, and makeup.
Not just Madhubani itself, but art as a whole describes what changes people want to make through their art. A lot of movements require art as well. I believe that's because a picture tells a thousand words.
You don't need a whole page to describe how you want to be; a small smiley face is enough to make someone's day. I feel that graphically helps in improving someone's mood.
Q) Describe the moment when you got to know that you had been featured as artist of the month in Madhubani Culture's magazine.
Megha Mocherla- I was really excited! I was not expecting it, and I got a text from one of their representatives that they would like to feature me as their artist of the month and would like to be a part of it. I said, of course, and that I would never give up on an opportunity like that. I have been doing this just for a year, and for the short period of time, I have been involved in this, for people to be noticing my work and appreciating it does feel really amazing.
I'm also grateful for so many other wonderful artists I have met through this medium. I never thought that through an app, I would get to know people from all over the world who share the same feelings that I do, people just venturing into art and finding their foothold on it. It was an amazing experience, and I'm really thankful to them for featuring me as their artist of the month. I was thrilled.
Q) Would you like to tell us if you have any big plans or projects in mind for the future?
Megha Mocherla- A lot is going on in my life right now. And also, it's the holiday season; we're all just eating and sleeping, and the winter lethargy is taking over. I'm also currently studying, and I just finished. So, right now is the time for contemplation of my next steps and this month was exactly that.
I already mentor a group of artists I just started, and we are a group of 15-20 artists around here in the neighborhood. We all meet every month and discuss Madhubani and art in general, and we create something together, all of which I really like. I have also been a teacher; I have taught fashion previously, which gives me an educator background. So I'm also thinking about whether I should teach Madhubani.
I have started very recently, so I'm just thinking of how I should take this to the next level. It is still under construction, and in the future, there will be something, for sure.
Megha Mocherla has reignited her briefly lost passion and creates wonderful art pieces almost every day. Find Megha Mocherla at magnificart_meg. One thing is for sure: her artwork is something you won't get to see very often.