Winner of both The Arjuna Award and Padma Shri, Mithali Raj, the Indian Women's cricket team captain is a legendary player. Here is a list of things that most of us don't know about yet.
Born in Jodhpur on 3rd November 1982, her father Dora Raj was an officer in the Indian Air Force and her mother Leela Raj was a housewife. As a child she was very lazy and loved dancing. Cricket happened to her by chance.
According to sources, Mithali's mother became a housewife to support and help her daughter become what she is now. Since then, she never looked back and gave women's cricket the platform which they deserved.
 You will be surprised to know that Mithali defeated England on their soil, where the men's cricket team lost the game. 
At a very young age of 17 she was selected for the Indian Team. Mithali Raj made her test debut in 2001-02 season against South Africa at Lucknow.
You will be surprised to know that at a very young age (19), Mithali broke the world record of Karen Rolton by scoring a smashing 214 test score overlapping the 209 record by Karen herself. 
In her debut match (1999) against Ireland she scored a massive 114 runs without getting bowled. 
Mithali Raj started her career by playing for Air India with the other auteurs of the cricket world- Purnima Rau and Anjum Chopra. 
During the 2002 CrIcinFo Women's World Cup, Mithali Raj was seriously taken ill with typhoid which seriously hampered her progress. But Mithali's spirit was commendable, she led her team to their first world cup final in 2005, where they lost to Australia.
In August 2006 she led her team to the first ever test and series victory in England along with winning the Asia Cup.
Again in May 2008, Mithali led her team to the fourth successive Asia Cup title and reached the 3000 run landmark.
During the 2014 India vs West Indies Women's world T20, both Mithali Raj and Poonam Raut scored half century.
In 2013 she bagged the No.1 title in the charts of Women's cricket world cup. Regarded as "Lady Sachin",  Mithali is famous for both her batting and bowling style. She is an all-rounder and is currently at the top of the batting table with 703 rating points. 
Raj played 157 ODI'S with a record breaking score of 5029 along with 5 centuries and 37 half-centuries. 
On April 2015, Mithali became the first female to bag the "Wisden India Cricketer Of The Year" .
She is the second person in the world to score 5000 runs in an ODI.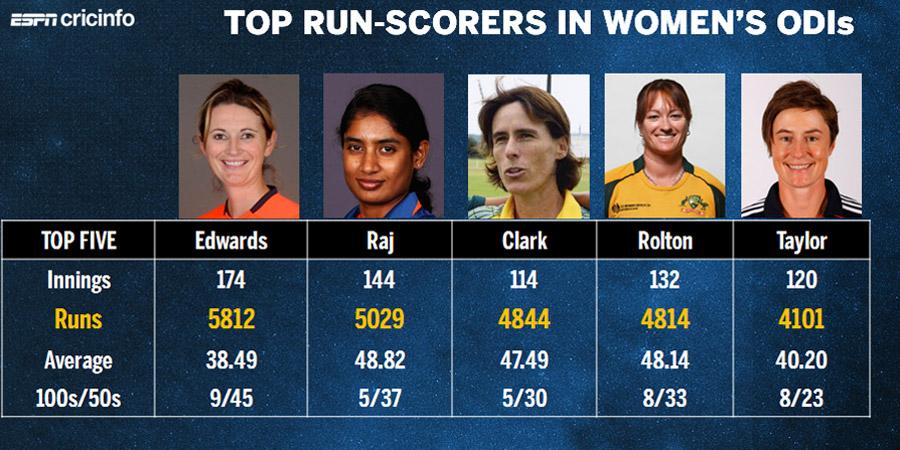 Apart from cricket, Mithali is a nature lover and loves to read books in her leisure time.She is a trained classical dancer and has done several stage performances. As a person she is very introverted and loves solitude (Well who dosen't).
She is a lot like me and you, an ordinary girl with just an extraordinary dedication towards her work. Though initially she never liked cricket, but she never gave up the will to learn the sport. Mithali respected her mother's sacrifice of leaving everything and becoming a housewife just to ensure that she received the proper training and care.
She is a real hero and a true example of determination and consistency.