Amid surging corona cases in Madhya Pradesh, many doctors are stepping up to their duty and leaving behind their family and children. After a video of a doctor named Dr. Sachin Nayak, who is doing his duty in Bhopal started living in his car to protect his family became viral, the government is being sensitive to the well-being of the doctors as they are facing isolation from their society in which they live. Here is a video which shows how he lives!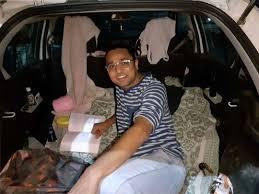 Another heart touching news of a similar heroic act of a BMO doctor, Dr. Shobhana Chaukse from Hoshangabad arose recently. She was a surrogate mother who was trying to conceive for 22 years. She recently got blessed with a beautiful pair of twin boys on March 26.The new mother had to leave her newborn babies in the care of her brother and sister-in-law to go back to duty. In an interview to Dainik Bhaskar, she said that since the corona cases were surging and the hospital had less workforce she wants to give her all to the field.
While taking the oath to become a doctor one swears to put the patient's life as the top priority which is what Dr. Shobhana did. A new mother has to be near her children which helps them grow and get the required nurturing but stuck in this life-death situation Dr. Shobhana chose to save lives and go back to duty with full energy and no regrets!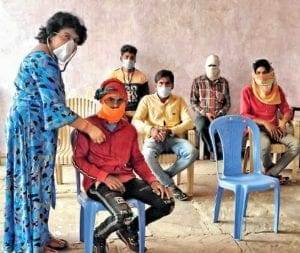 Dr. Shobhana is not the only one in the game of choosing the lives of patients or family. Many such stories of officers and medical staff are arising on the internet which shows the importance of social distancing. Amid the pandemic of COVID-19 these brave stories are giving hope and lesson to the citizens who fail to practice social distancing.
The tough times are demanding tougher sacrifices from the service sectors. Doctors, police force and all the other service sectors are taking proper measures to not spread the virus among their loved ones and practicing social distancing to the T. The government is taking steps to ensure that they do not face the backlash of the society as due to fear people are being skeptical of the doctors as carriers of the virus.
Many videos are surging on the social media platforms where the tenants are throwing out the doctors living in their apartments in the fear of getting contracted.Police are taking actions against these house owners and people who are being insensitive and discriminating towards doctors due to COVID-19.
It is being advised to all the citizens to respect and help the doctors who are slaving day and night to break the curve of the corona virus. The doctors and the hospital staff are a vital resource for times like this. Dr. Shobhana and Dr. Sachin are just a few among many brave stories that are arising among these hard times.