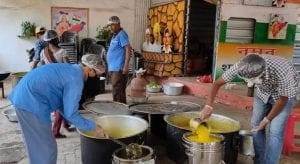 The COVID-19 pandemic led to the loss of many jobs and poverty. Many poor families are left behind hungry for days and nights. Daily wage workers and hawkers are suffering more loss, they are unable to earn daily and fill their empty stomach.
For such a cause, there are many such unsung heroes who come forward to help these poverty-stricken families distributing food free of cost.
One among them is Naman from Jamshedpur. In his 42 day lockdown period, he served food to 1 lakh people across the whole city. Nama assures that until May 17, he will be distributing food to the needy. Around 2500 people are served food daily.
Under the leadership of Amarpreet Singh Kale, Naman's family serves midday meals to the slum settlement areas, homeless, needy, and poor families left hungry in lockdown. Food is served in different sections of Jamshedpur and their team maintains social distancing. Food is changed each day and fresh food is delivered to the homeless.
To collect food, people had to stand properly in white circles drawn at a one-meter distance each. Their main concern focuses on serving hygienic food. Naman and his team followed precautionary measures and wore masks and gloves to cover their faces and hands. People waited patiently in white circles to receive food.
Naman shares the press release in his tweeter profile expressing happiness for this cause.
https://twitter.com/_NAMAN_/status/1260087401642201090?s=20
The former state minister Amarpreet Singh shared Naman's good deeds in his twitter and Instagram handle.
https://www.instagram.com/p/B_uoy5GgXBe/?utm_source=ig_web_copy_link
Food is being served for almost 42 days during the lockdown. Distribution started since lockdown period one, then continued till lockdown period two and three. It's going to be continued until the lockdown ends finally. So far around 1 lakh, people received free food from Naman's team in Jamshedpur.
वायुपुत्र श्री #हनुमान_जी की असीम कृपा से #नमन निरंतर 42वें दिन भी जरूरतमंदों की भोजन सेवा कर पा रहा है।

With the blessings of lord Sri #Hanuman ji @_NAMAN_ is continuing its #Food_Service to the underprivileged families

Today 42nd day

Big thanks to friends of @_NAMAN_ 🙏 🙏 pic.twitter.com/K0fkwxcuea

— Amarpreet Singh 'Kale' (@AmarpreetKale) May 11, 2020
(2)#नमन के सेवा कार्यों को हर 8-10 दिनों बाद स्थानीय अख़बार अपने लेखनी के माध्यम से शहरवासियों को इसकी जानकारी देती है।

आभार,
सभी अख़बारों को ,न्यूज़ पोर्तल्स को , इलेक्ट्रॉनिक मीडिया को।

इसके माध्यम से एक संदेश जाता है की हमें जितना भी संभव हो लोगों की मदद करनी चाहिये। 🙏 pic.twitter.com/uoHaCHFV04

— Amarpreet Singh 'Kale' (@AmarpreetKale) May 12, 2020
This lockdown led numerous families to lose jobs suddenly and face financial crises. Livelihood was destroyed, people had to sleep hungry for days and nights. The thought of this determined them to form a team and help the needy.
They started to drive and deliver since the first lockdown period, covering areas like Birsnagar Zone number 2,3,5,8. Other places included Nagadungri, Turiyabeda, Kalyan Nagar, Lal Bhatta, Belagadhi Basti, Bagan area, and Devnagar.
The members of Naman family who are playing a key role for this cause includes, Jugun Pandey, Ghanshyam, Bibhash, Suman, Arun Karmakar, Sandhya Rani Mahato, Abha Verma, Pintu Saw, Kola Mukhi, Ashok Das, Mohan Das, Sonu Singh, Subham Lala, Narayan Mahananda, Suraj, Sagar, Vivek Kamat, Martin, Bhagwat Mukherjee, Sashi Mukhi and Naman Akhilesh Pandey.
The media recognized this noble cause and Naman's good deed became viral all over social media. People came out to donate funds. It's not an easy task to deliver food free of cost to such a huge amount of people. Still, their team managed to stand out in the lockdown period and distribute free food.
We get to learn from Naman's social cause. There are so many needy people out there homeless and needy waiting for help in lockdown. We should also raise funds and reach out to them.