The Girl Who was Stranded in Pakistan Finally Reaches Her Home!
A long wait is about to reach its climax after those inevitable hurdles. Geeta, a hearing and speech impaired girl of Indian descent who was stranded in Pakistan for not less than a decade has set her foot back in her homeland on 26th October 2015. She was found strayed across the border at Lahore by the Pakistani Rangers in 2003. Since then, she was sheltered under a Karachi based charity home run by Edhi Foundation.
Geeta was 11 when she was encountered alone in the Samjhautha Express 13 years ago. She is in her early 20's and is eager to see her family, whom she identified from a photograph through the Indian High Commission at Islamabad. All the procedures for her repatriation have been cleared by the Ministry of External Affairs, India. On her way to India, she was accompanied by Bilquis Edhi, the co-founder and other Edhi Foundation members, for meeting Sushama Swaraj, the Foreign Minister of India.
More About Geeta
In response to the Edhi Foundation's demand, the MEA has endorsed a DNA test for an indisputable and conclusive parentage claim by the identified Mahato family hailing from the state of Bihar.  In the event of a negative report, arrangements have been made for her continued stay at an Indore based NGO operated by Gyanendra Purohit, a Madhya Pradesh police official and his wife Monica, despite the insistence of Mrs Edhi for taking her back to Karachi, where Geeta finds herself in a home-like environment.
Mrs Edhi also fears the trauma and pressure that they might induce her to undergo through such a sudden transition to a new atmosphere. Her acquaintance with the Hindi language and gestures were of great aid in discerning her nationality. In the meantime, she also availed herself of the opportunity to improve her linguistic skills and began writing in her own journal in Hindi.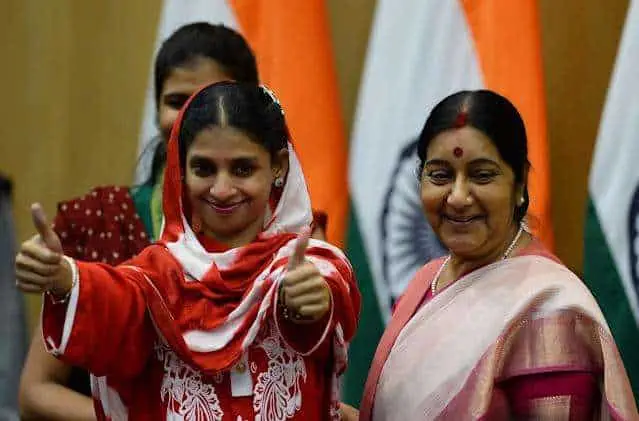 The Developments
Still, the sources show no regularities on her actual background. It is apparent that the information on her personal life and whereabouts, including the year of missing, are based on speculations and mysteries. Her aural and oral limitations stand as hindrances and narrow the chances of unearthing the reality. After a series of dramatic turns, the jaw-dropping story of this disabled girl is embracing new dawn. The story of Geeta was brought to the news desks soon after the release of a Hindi movie – Bhajrangi Bhaaijan – starring Salman Khan, which depicts parallels with her own journey: a path full of stones and thorns.
Her home-coming is a new feather in the cap of the Indian Government, which attempts to reveal it as a diplomatic victory. Amidst all these, Geeta is in her seventh heaven as she is brought back to her own abode, where she actually belongs. It was indeed a grand welcome back for India's daughter, and she has already reserved a place in the pages of historical anecdote of Indo-Pak relations. Now it's time for Geeta to breathe the aroma of her own home again.