As an affiliate-driven website, Icy Tales earns from qualifying purchases.
Dharamshala is a city in the Indian state of Himachal Pradesh. It is the best place to hang out with family and friends. There are lots of things to do in Dharamshala.
From quirky cafes to pure waterfalls, from hiking and trails to camping trails, from rough valleys to magnificent temples, the city has it all.
Sounds appealing, doesn't it? What if we tell you, you do not need to go far to prove this (at least if you are Indian), as they are here at Himachal's Dharamshala.
And before you pack your bags and head for Dharamshala, you do not want to know what exciting things they offer you unless you like to think. However, those who always plan will always plan. So, here it is for you guys, a mixed bag of famous works in Dharamshala.
Things to do in Dharamshala town for sightseeing are likes visit Dalai lama temple complex, Tibetan culture, Kangra valley, Kangra fort, visit dal lake for calm lake resting and enjoy till sunset, Church of St. John Serenity is a nice quiet church in the woods with such positive energy and very little noise.
Visit Jwalamukhi devi temple, visit Dharamshala for very cold water stream running, Kareri lake trek, scenic beauty of Bhagsu nag temple, must visit Dharamshala for definitely a typical waterfall, Dharamshala war memorial, lord shiva temple (very old temple), rock climbing, lush green cedars, delectable Tibetan food, most notably the Mughal, Dharamshala cricket stadium, Hindu goddess temple, fragrant tea gardens, Gyuto Monastery is a very important monastery in Buddhist history.
DHARAMSHALA, often quiet and invisible, is among the beautiful hill stations of Himachal Pradesh. And do you know what the best thing you can do here is to have Tibetan food in Mcleod ganj, an area under Dharamshala, as they say, Little Lahasa of India. We hope you enjoy this site for many reasons!
So, all of you 'nature lovers', if you follow the jaw dropping, twisting natural wonders, there is nothing better than standing in Dharamshala and getting involved in some fun activities I can do. There are many things you can do in Dharamshala that will keep you happy and happy.
So here we go! Enjoy this list of things to do in Dharamshala that makes it a one-stop shop experience.
Things to do at Dharamshala, Himachal Pradesh
Visit the Monasteries and Enjoy the Buddhist Heritage
Enjoy Paragliding
Enjoy your Taste Buds at Chic Cafes
Pay Your Honor at the War Memorial
Watch the Game on the HPCA Stadium
Take a long walk in the beautiful Tea Gardens
Visit the Most Famous Temples to seeking blessings
Go for exciting treks
Camp Under the Stars
Shopping by Open Heart
Ropeway
Aghanjar Mahadev Temple
Dharamshala War Memorial
Boating at Dal Lake
Mani Lhakhang Stupa
Meditating at Gyuto Monastery
Jwalamukhi Devi Temple
Lahesh Cave Hike
Traditional Day at Dharamshala
Galu Temple Trip
Triund Trek
Kareri Lake Trek
1. Visit the Monasteries and Enjoy the Buddhist Heritage – Dalai Lama Temple Complex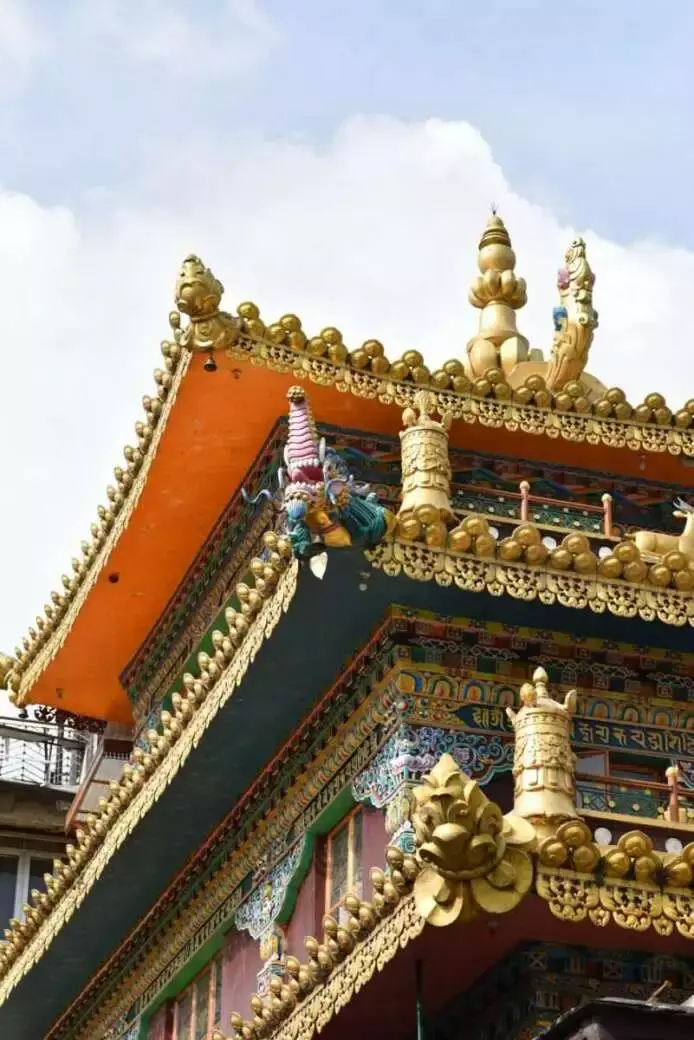 When you go to the monasteries, you will immediately feel a sense of peace and tranquility. And that is for sure! There are so many monasteries in Dharamshala including Dalai Lama Temple, Gyuto Monastery, Namgyal Monastery, Tsuglagkhang Complex, Nechung Monastery, and Tsechokling Gompa.
Undoubtedly one of the best things to do in Dharamshala. These monasteries are known for statues of Lord Budhha, temples and Stupas. Having said that, they are wonderful eternal places you can visit to relax and meditate and the teachings one gets from lifelong monasteries. Some of these monks have a park, a living area adorned with flowers and trees.
2. Enjoy Paragliding
Paragliding is the ultimate bird-like experience! In short – With the pilot you have to harness your harness, hang on a wing-like structure, and you both just need to escape the cliff!
Then there are two flying high in the sky! We hope it is a fun and completely safe job if you follow the rules and regulations as you are guided. Paragliding is a great way to see the amazing Dhauladhar snow-capped in the clear blue sky of Dharamshala. So, take a cold pill and take it.
Below is the highlight of Paragliding in Dharamshala-
Indru Nag is home to a mountain cliff where you will take off and fly at an altitude of 5200 ft.
A pilot and a certified trainer will keep you safe in a dangerous plane.
View views of Pong Dam, Green Tea Gardens, Dhauladhar & Shivalik Himalayan ranges.
Make a video of your paragliding to remember your exciting experience.
3. Enjoy your Taste Buds at Chic Cafes
Whenever you visit a new place the first thing that comes to your mind- what is a popular food? As a Tibetan settlement since 1959, Dharamshala has a unique culinary tradition influenced by Tibetan dishes.
The entire menu, from freshly baked beans to Soupy Thukpas, is worth a try once. It is one of the best things to do in Dharamshala. Now, aside from Tibetan food, did you know that Dharamshala has the best Momo?
If you inquire in the area, you will probably come to Kirpal, Aanand or Maximus vale Dai. Confused? These are the shopkeepers who sell the best momos in Dharamshala. Do you doubt us? Just ask.
Fill Your Hunger And Travel Pain! You must Visit Dharamshala Cafes.
4. Pay Your Honor at The War Memorial – Such a Positive Energy
Located on the doorstep of Dharamshala War is one of the most beautiful places to visit in Dharamshala. As the first monument erected in Dharamsala after independence, we pay tribute to those who died serving our country.
A monument symbolizing self-sacrifice and bravery, the monument is placed among beautiful landscapes. This monument contains the names of all the soldiers and martyrs who died in the wars and peacekeeping wars of 1947-48, 1962, 1965, and 1971. One of the best things to do in Dharamshala.
Our beloved media often forgets military sacrifices, but structures like these are a real inspiration for one to remember. and keep fighting the good fight. Don't miss this when you are in Dharamshala!
5. Watch the Game at the HPCA Stadium
In India, cricket is compared to a denomination, with many adherents who know no bounds regarding age, religion, race, creed, or gender.
Do I agree? The game would be even more exciting if it was played at the height of 1457 meters surrounded by spectacular mountains and high altitudes.
The HPCA Stadium is in Dharamshala and hosts many Ranji Trophy matches. Watch the game while you are here and be captivated by the magnificent landscape and the beautiful mountains in the background.
6. Take a Long Walk in The Beautiful Tea Gardens
Tea gardens in Dharamshala will die! Not only will you be enlightened about the whole process of making tea, but you will also be fascinated by inspiring ideas.
The fields are not as big as those in Assam or the North East, but they are big enough to keep a person busy for a few hours. The beautiful green of Dharamshala, along with the aroma of tea, should definitely be on your to-do list in Dharamsala.
7. Visit the Most Famous Temples to Seek Blessings
Your Dharamshala tour is not complete without visiting the Dharamshala temples, surrounded by spectacular natural beauty and spectacular views of the highest Dhauladhar Range.
This quiet place hosts several temples that are sure to immerse you spiritually. There are many temples to visit in and around Dharamshala, including: Aghanjar Mahadev, Chamunda Devi, Kunal Pathri, Brajeshwari and Bhagsu Nag Temple.
These ancient temples in Dharamshala are visited by thousands of devotees throughout the year. So be sure to visit them in order to receive blessings from the Almighty!
8. Go for exciting treks
Trekking is one of the top things you can do in Dharamshala if you love the hills. It does not matter if you are a complete beginner or an experienced traveler; Dharamshala is right for you.
There are many famous trips to Dharamshala, such as Triund, Kareri Lake, Lahesh caves, Snowline, and Indrahar Pass. Therefore, according to your schedule, you can decide which trip is best for you. Choose one and get international experience!
9. Camp Under the Stars
It is impossible not to have good camping in and around Dharamshala, due to the beautiful scenery and the hilly country. You will be tempted to throw away your concrete walls.
Dharamshala is a heaven for people with tents; with or without them (you can rent one). Hills with clouds over the clouds will urge you to pitch a tent at night. Clear skies and fresh air make camping more enjoyable. Summer or spring is the best time for camping.
10. Shopping by Open Heart
Shopping at Dharamshala is a pleasure. It is undoubtedly one of the best things you can do at Dharamshala. Whether you are looking for handicrafts, wool or paintings, Dharamshala never fails to impress you!
Without entering the showrooms, you can also walk the streets and shop. As you tour the Dharamshala markets, you will find jewelry made of various stones, woven wool right in front of you, prayer flags of various colors, and handicrafts that speak highly of Tibetan and Indian culture.
11. Ropeway
New baby on the block! Dharamshala now has a way to the sky, isn't that good news? In just few minutes you can now reach Mcleodganj from Dharamshala.
Get a glimpse of the Dharamshala bird below as you ride the cable. The ride will start at the Dharamshala bus station and drop you off at the Dalai Lama temple in Mcleodganj.
The cost of one trip to this ropeway is INR 300 per person, and the cost of two trips is INR 500 per person. Enjoy the ropeway during the ride!
So, it was! These are the activities and things to do in Dharamshala will make you feel happy from head to toe. And that is for sure! Don't forget and plan your trip to Dharamshala today!
12. Aghanjar Mahadev Temple
The Aghanjar Mahadev Temple is located at the foot of the Dhauladhar Mountains in the province of Kangra, about nine miles from Dharamshala. This lovely city is close to the Canaanite Temple and is known for its beauty and religious beauty.
The Mahabharata is deeply associated with the ancient history of the temple. King Shiva is said to have given the blessing of defeating Arjun before the battle of Mahabharata.
The temple is religiously significant because it recognizes and celebrates this blessing. In this area, there is also a beautiful stream that can be visited.
The region is adorned with large stones that add to its charm. For those who want a religious and spiritual revival at the end of Himachal, this temple is one of the best temples you can visit in Dharamshala with such stories.
13. Dharamshala War Memorial
The Dharamshala War Memorial is a memorial built to commemorate the heroic men and women who died for our country after independence, and is located at the Dharamshala city gate. The monument is placed in a lovely place and serves as a symbol of courage and self-sacrifice.
The names of all the soldiers and martyrs who died in the wars and peacekeeping missions of 1947-48, 1962, 1965, and 1971 are inscribed on the monument.
This is a very important structure. Sacrifice of soldiers is sometimes forgotten in popular media, and structures like these serve as a reminder and inspiration to remember and continue to fight the good fight.
Keep this on your to-do list and the places you can visit in Dharamshala is definitely the right thing to do.
14. Boating at Dal Lake
Dal Lake is one of the most famous lakes in Himachal Pradesh and is located north of Dharamshala and McLeodganj in Kangra district, on Dal Lake-McLeodganj Road.
Surrounded by streams of deodar trees add to the popularity of this small lake known for its elevation. The venerable Shiva temple with its charms of the ancient world is here, and it is well-known to the local people for its mystical significance.
This beautiful lake is a great day trip from Dharamshala because it is close by and transport to Dal lake from Dharamshala is easy. It is definitely something you can add to your Dharamshala bucket list of things to do and places to visit.
Summer and spring are the best times to visit because of the clear weather and the few chances of road closures due to snow.
15. Mani Lhakhang Stupa
The Mani Lhakhang Stupa is located near Uprali Barol, about 5 km outside Dharamshala. Prayer wheel is another name for this stupa. It was built in 2001 on the orders of the Dalai Lama as part of a series of five small stupas designed to withstand natural disasters.
An image of a Buddha adorned with gold in the place of a different lotus is placed on this beloved Stupa. There are many prayer wheels around for you to get good luck in the convent.
It is easy to get to Dharamshala because there are so many public transports available. In the evening, you can indulge your senses by listening to the monks sing songs that will make you want to come back often.
16. Meditating at Gyuto Monastery – Tibetan Culture
Gyuto Monastery is located on the Palampur-Dharamshala road, about 9 kilometers south of the town of Dharamshala.
As a leading tantric college, it is the most important castle in Buddhist history. Based on the ideas of the Gelug Society, the latest Buddhist program emphasizes discipline and ethics in order to achieve spiritual fulfillment.
This is a great place to visit if you want to relax and think. Anyone will be comforted by the pure beauty of the palace and its peaceful and peaceful environment.
The view to be seen is unbelievable and is one of the best places to visit among the many attractions in Dharamshala.
Best Time to Visit: Gyuto Monastery can be visited at any time of the year.
17. Jwalamukhi Devi Temple
Jwalamukhi Devi Temple is in Jwalamukhi town (Kangra district), it is about 55 kilometers far from Dharamsala.
It is named after Jwala, the Hindu goddess of fire and gas. The temple was founded by Raja Bhumi Chand Katoch and is another Mahabharata period building in Dharamsala.
The most unusual feature of the temple is that there is no god. Instead, the goddess is worshiped as she presents herself with flames emanating from the rocks by breaking the ground.
Best time to visit: All the temples in the city of Dharamshala are worth a visit at any time of the year. But the landscape is bright and vibrant in springtime as the valleys glow with a variety of flowers.
18. Lahesh Cave Hike
The journey to Lahesh Caves is a fun and exciting journey that brings new obstacles all the time. Caves, located at an altitude of 345 feet [3475 m] above sea level, have become a popular weekend resort for travelers seeking more trips.
The hiking track begins at McLeodganj, giving participants a beautiful view of the hills of Shivalik. The short walk offers participants many opportunities for a variety of exciting nature exploration while also providing a sense of calm that helps to relax.
The Lahesh Caves traversing the dense jungles of deodar, oak, and rhododendron to the ice line are unforgettable.
The tour ends in three days and two nights, and participants feel enlightened and encouraged at the end. The experience of spending time with and around the natural shelter of the Lahesh rock cave is unique and unforgettable, making the participants look back.
19. Traditional Day at Dharamshala
Visit Dharamshala, a beautiful town in the Kangra region north of Himachal Pradesh, and immerse yourself in a healthy rural life all day long. Visit the markets and busy areas of Dharamshala to learn how the economy works.
While watching the traditional Dharamshala dance, shake your feet and learn about their culture. Feel free to wear traditional costumes, take photos with local people, and bring back a lot of memories.
Take a seat for a delicious lunch that includes local food, and set aside some time to explore the various parts of the forest-covered village on your own.
If you are lucky enough, you could end up running for carnivals and/or village fairs. This is definitely one of those events where you can relax.
20. Galu Devi Temple Trip
At an altitude of 2,100 meters above sea level, Galu Devi is located near Mcleod ganj. A great place to enjoy the panoramic Scenic beauty of the valley.
It is also known as the beginning of the world-famous Triund Trek. Other highlights in this area – Camping is allowed.
Walk around the temple building, and meditate or just sit quietly for a while, immersed in the stillness of the atmosphere.
As you continue your journey, take in the stunning beauty of the blue cedars and the crimson red rhododendron. Enjoy a delicious lunch while watching the amazing views from the top.
21. Triund Trek
Triund is located north of Dharamshala, and McLeod Ganj is often called the crown jewel of Dharamshala.
The view from Triund Hill is spectacular, with Dhauladhar mountains on one side and Kangra Valley on the other. To start the journey, visit McLeod Ganj and rent a taxi to Galu devi temple.
You can also go to Bhagsu Nag and start your journey from there. Walking takes you to beautiful forests covered with trees that are only found at higher elevations.
As you cross the attractive woods with twisted twists and turns, as you approach you will be amazed at the treacherous beauty of your destination. Dharamshala, Himachal Pradesh Triund is one of the best places to visit nearby.
There are many restaurants along the way that offer drinks and snacks, making your trip much easier. This is not a walk for the weak, nor should it be taken lightly.
The journey is worth it, though, because the view from above is more than compensating for the difficulties encountered along the way.
This is an easy trip that takes 5 to 6 hours to reach the summit, so people of all ages can make the trip (Yes, a basic qualification should be there). Once you arrive, spend the night watching the star, dancing, and making fond memories.
Best time: Summer is the best time to participate because the route will not be difficult to navigate.
22. Kareri Lake Trek
Kareri Lake is located on the Dhauladhar Range, about 40 miles north of Dharamshala. The trail is lined with lush vegetation that can only be seen in the Himalayan mountains. To get here, you have to start your journey from the village of Ghera.
Ghera is easily located in Dharamshala, due to the regular bus services. The journey to Lake Carmel takes about 8 to 9 hours from Gera. The path is sometimes hard and difficult.
They are less well known than the Triund or Bhagsu Nag trek, which makes it a less-than-perfect route. There are many camping sites in the Caravan where you can spend the night and return to Dharamshala the next morning.
Keen to know about Manali, then please visit 20 Rejuvenating Things To Do In Manali Trip.
FAQS
1. Is Dharamshala Safe?
Dharamshala is the safest place, don't worry about anything; enjoy the dauladhars covered in snow and fresh air.
2. Single Day or 4 Days Trip for Dharamshala, What Is Better?
You can make a day trip, but 4 days is enough to enjoy the surreal beauty of Dharamshala.
3. Dharamshala or Shimla – Which Is Better?
Dharamshala is very nice and beautiful. Photographers will love it here. Although Shimla is also good, it is highly marketable and dense.
4. Does Dharamshala Have Snowfall?
In Dharamshala, winters are cold but not snowy. However, the Dharamshala above Mcleodganj, Naddi, and Dharamkot will not disappoint you. There is snow fall.
5. What Is the Best Time to Visit Dharamshala?
Dharamshala, Himachal Pradesh – you can travel all year round and each season has something amazing to offer.
Summer Season in Dharamshala (March to June)
In summer, the air temperature in Dharamshala varies between 20 ° C and 35 ° C. The climate of the former British colony is ideal for hiking and tourism. Make sure you plan ahead, as this season attracts a lot of visitors.
During the winter and heavy rains, some of these jobs may not be available. In summer, the weather is beautiful and thus sets the mood. During this time of year, the sun shines brightly and flowers bloom happily in the city. Summer is also a great time for hiking and other leisure activities such as hiking.
Monsoon Season in Dharamshala (July to September)
During the rainy season, the air temperature varies between 18 ° C and 22 ° C. The rains revive the Himalayan mountains, making everything green and beautiful.
Plan your day on the weather forecast to take advantage of any rainy season. The rainy season comes with its own set of dangers. Heavy rains can cause landslides, road closures, and communication disruptions.
At this time, free games are not approved or recommended. Rainfall gradually decreases from mid-September to November, eventually stopping.
Winter season in Dharamshala (Mid-November – February)
In winter, air temperatures vary between 4 and 7 degrees Celsius. Dharamshala is one of the most beautiful places to visit if you enjoy Tibetan nature and culture.
This is the perfect time to try out some fun winter sports, such as skiing and snowboarding. The landscape is dotted with glittering snow, which provides an ideal setting for visitors to enjoy snow and ice.
In the Indian state of Himachal Pradesh, packers can enjoy the finest snow. The best way to experience the city is to McLeodganj, which is 9 km from Dharamshala.
Keen to know more about Dharamshala, please visit Activities to Do in Dharamshala.
Click here to read more.