The small and exotic place called San Luis Obispo stands unvisited by many of us. This could be because the site is not connected to the rest of the busy areas or its calm and composed nature. San Luis Obispo county is lying in California and is one of the smallest cities.
The relatively smaller area that the city has makes it much walkable when you are on its streets exploring the best of San Luis Obispo that you definitely can.
San Luis Obispo is known for its museums and good quality farmer markets that sell most of the eatables at a much lower price.
Discover more about its hidden beauties by following this complete blog about San Luis Obispo.
 San Luis Obispo Guide For You
1.Mission San Luis Obispo de Tolosa
This is a really beautiful and peaceful place to visit in San Luis Obispo that would instantly make you understand the aesthetic value of the town itself. The location is named after Saint Louis of Anjou, who was the bishop of Toulouse. Most San Luis Obispo visitors turn around to this place as the place is filled with solitude and much tranquillity.
Talking about its interior, which is much subtle and plain. Simplicity is depicted at its best at the Mission San Luis Obispo de Tolosa.
Some chandeliers hand from the wooden ceiling and are completely lighted. The sides of the walls are painted in one color with some handmade designs in the lower region.
The church is quite famous among the parish community. The place also has some additional area that has been made a garden.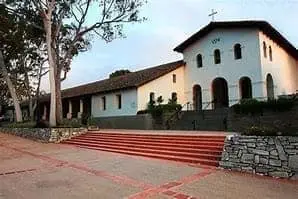 2.Bubblegum Alley
It is very much possible that most people would find it gross, but this weirdness makes the Bubblegum Alley one of the best and most different places to visit in San Luis Obispo.
Mainly it is an Alley, as the name suggests, whose walls are covered with bubblegum. Yes! People who visit the place leave a mark of their own by leaving bubblegum on its wall.
You are going to find some millions of bubble gums that are stick to the wall.
3.Bishop Peak
One of the coolest and adventurous places to visit in San Luis Obispo is Bishop Peak. Bishop Peak is one of the peaks in the whole range of mountains that extends up to Morro Bay.
The best time to visit Bishop peak is to see the sunrise or dusk see a mesmerizing sunset during the early morning. Apart from an outstanding view of the sun, the place is also going to provide you with a view of the entire town from the top.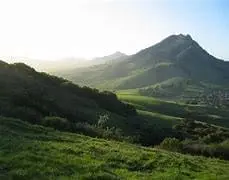 4.Sunset Drive-In
This place in San Luis Obispo will be one of the most romantic spots if you are visiting it with your loved one. A place is also a good place for people looking out for spending some time with friends.
The Sunset Drive-in is an open-air theatre where you can watch a movie on the screen during the nighttime while sitting in your car.
To make your movie more enjoyable and interesting, the place also serves some refreshments such as snacks. If you wish, you can also carry them with you.
5.Downtown SLO
Leaving this one of the best places in San Luis Obispo would turn out to be a major regret on returning home. The Downtown SLO is a much antique place with picturesque backdrops that the entire area is lined with.
People also visit the Downtown SLO to attend the farmers market that is organized here. The farmers market is a great place if you want to shop for fresh from the farm vegetables or fruits.
Local people also visit the market at frequent intervals t grab a whole lot of stuff.
Other things that the Downtown SLO is famous for are its best restaurants and some very hospitable bars.
6.San Luis Obispo Railroad Museum
If any place in San Luis Obispo has been given the toughest job, it must be the San Luis Obispo Railroad Museum. The San Luis Obispo Railroad Museum strictly follows its job of maintaining the history of the state of California.
The museum encompasses a library for research work. It also contains many documents that are needed for research purposes.
The museum opens up only on a particular day, that is one Saturday and just for few hours. If you wish to see this unique and historical place, you need to plan your trip accordingly.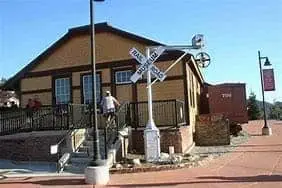 7.San Luis Obispo Children's Museum
This underestimated town has something for everyone. Presenting a children's Museum on the list of the best places to visit in San Luis Obispo. The museum is in the form of a building having a very playful setting on the inside.
The place also offers some regular visitor passes for the locals who often like to visit the place with their children. Almost every floor of the museum is different, unique, and interesting, presenting a completely vivid aura that is distinct from each other.
The interior presents a well-planned picture and is covered with illustrations and designs that are way colorful but totally in a subtle way.
Surely the place is enjoyable for all ages of kids and the visitors who would accompany them.
8.San Luis Obispo Museum of Art
Moving on from the kid's favorite, we land straight to a place that is appreciated by all as art always makes its way.
We are talking about one of the jewels of places in San Luis Obispo, its art museum. Though the museum is built in a small place, it contains a wide range of varieties that are enough to blow off your mind.
Not only the museum contains the works of some of the best-known artists from around the globe, but it values equally the works of the local artists.
9.Cerro San Luis Obispo
Offering one of the most valuable and rewarding hikes of all times, the Cerro San Luis Obispo is one of the places that should be visited in case you need some fresh air and rejuvenating outing.
It is a mountain that is also a part of a range of mountains called by the Nine Sisters' name.
10.History Center of San Luis Obispo
One thing is clear until now that the San Luis Obispo can never fall short of the best places to visit. Making this belief to become more engraved the next addition to the list we have of San Luis Obispo's History Center.
Covered all with red bricks that in totality gives it that a historic feel is definitely a place that should be visited.
The place contains some very important pieces of history that bind its entire culture together. The place also has a library with many books presenting a large variety.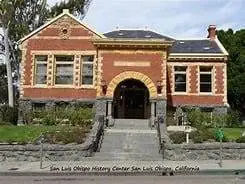 11.Central Coast Wines
If you have a common interest in tasting wine and luxuriating in its aroma for a long, then the Central Coast wines is a place that would give you some most valuable and memorable moments for life. The place specializes in wine tasting shops which are really lavishing and elegant to look at. Even calling them shops seems like an injustice to the place as it is nothing less than a heaven of wines and for wine lovers.
Not only the place displays its exclusiveness in the collection of the most premium quality wine, but it also has a tremendous collection of local wines and beers.
12.Dallidet Adobe and Gardens
This low-profile property would be an awesome place to visit for a walk and enjoying its closeness to nature. The place is covered with varieties of plants with a paved way in between for walking around.
The place has some unique and very photogenic spots where you can definitely spend some time.
Apart from this, the place can be one of the best marriage venues in San Luis Obispo. Couples who want to go all different and plan their wedding in a way that totally differs from the usual can opt for the Dallidet Adobe and Gardens.
The place would surely make their most memorable day a bit more exciting and awesome.
13.San Luis Obispo Skate Park
Who can think that a place such as San Luis Obispo can have some much hidden inside? The place has a whole park that is dedicated to skating and its promotion. You should definitely be visiting this place in order to see the variety that this place and the city in whole offers to its visitors.
With this, we come to an end of the blog in which you must have discovered some of the truly awesome places to visit in San Luis Obispo. After this blog, many of you would also be considered to visit this cloistered place as soon as possible. San Luis Obispo would definitely please you with its environment and friendly culture.