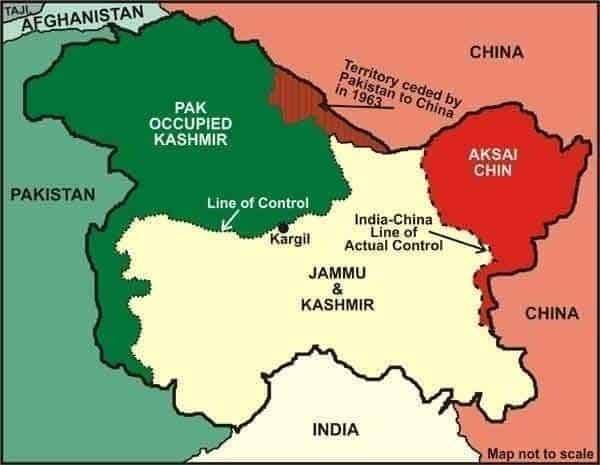 The Place we Indians so undoubtedly call Pakistan occupied Kashmir is called as Pakistan Administered Kashmir by United nations and many other International organizations.
It was never directly a part of the British Rule
Technically, Jammu was ruled by the then king, Maharaj Hari Singh, so british never really ruled the Place directly.
It was wished by Maharaj Hari Singh That Jammu and Kashmir remained Independent
When the partition was taking place, the state of Jammu and Kashmir was given an alterate to choe whether to be a part of either of the nations (India or Pakistan), but MAharaj HAri Singh Gave his view that  he wants the State of Jammy and Kashmir to form an Independent state without being a part of either of the  countries.
The Capital of Pakistan Occupied Kashmir is situated in Muzaffarabad
And the POK includes 13,297 square kilo meters of territory with a population of about 4.6 million humans.
Sino-Pakistan Agreement
The part of the Pakistan Occupied Kashmir situated at the utmost north is a gift of Pakistan to China, as a consequence of the Sino-Pakistan Agreement which took place in 1963
Pakistan Occupied Kashmir is home to its own supreme Court and High Court
And most of the laws applicable in India are not applicable in the whole of Jammu and Kashmir, let alone Pakistan occupied Kashmir
Home to many terrorist camps
The capital of the Pakistan occupied Kashmir, Muzzafarabas homes a lot of training camps of many terrorist organizations, like LAshkar-e-Taiba. As a matter of fact, Azmal Kasab, the convict of the terrorist attack in Mumbai which took place on 26/11, received his training at the same place.
Lack of Freedom of Expression
The whole of Pakistan occupied Kashmir is controlled by the Pakistan authorities and the place has no independent media or the freedom of expression.
The Ground Of dispute
Other than the war of 1971, all other conflicts which has even taken place between India and Pakistan has its roots related to the Pakistan Occupied Kashmir.