As an affiliate-driven website, Icy Tales earns from qualifying purchases.
What encompasses while visiting Varanasi? How would you define a trip to the holy city or the holy Ganges? Before we get on to it, let's see what the place is all about.
Varanasi, the birthplace of Kashi Vishwanath Temple, is situated in Uttar Pradesh, India. This city, known as the spiritual capital of India and said to be built by Lord Shiva himself, is an epitome of the country's belief and religious significance. This ancient city is home to several Hindu and Buddhist deities. Also including Aghoris as the main Ashram of Aghoris, Kina Ram Ashram is located in Ravindrapuri, Varanasi.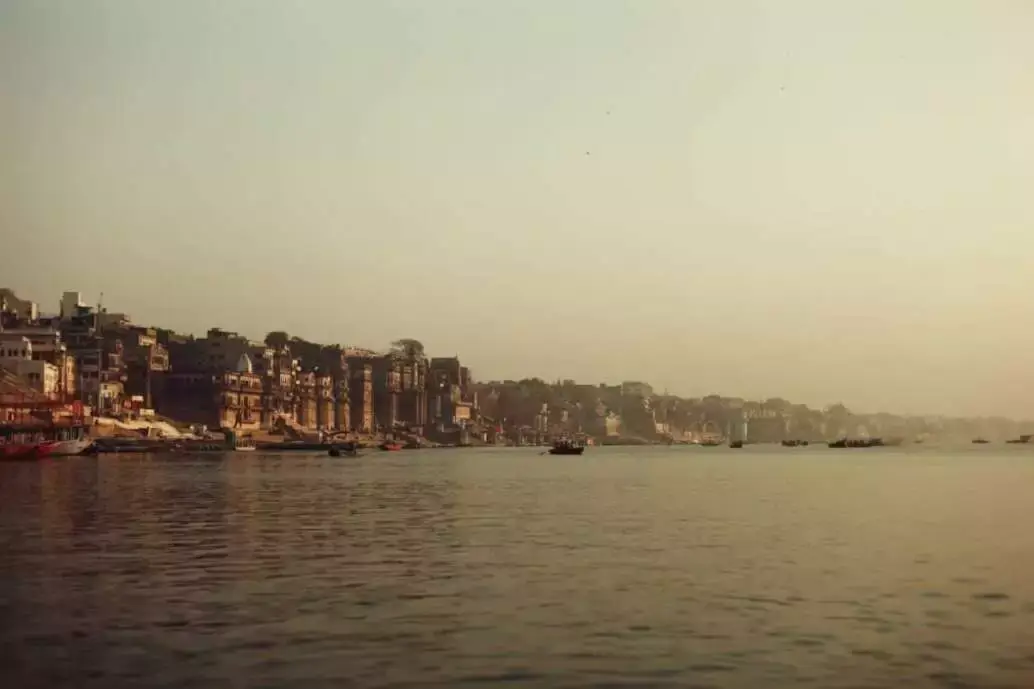 Here we will find out why Varanasi and all the things to do in Varanasi. They say you find Moksh if you live your last days in Manikarnika ghat. Along the Ganges river are based 84 ghats, each having a unique essence of its own. The veins of Banaras are also a hub for many rituals that Hindus follow.
One of the most important things to do in Varanasi is to experience serenity at the Ganges. The ever famous evening aarti ceremony is a sight to watch and feel blessed. When you go through these significant ghats, you can see a crowd embracing a powerful bliss. Another thing to do in Varanasi is the holy bath in the river Ganga, followed by the boat ride that displays the beauty of the ghats.
Taking your taste buds on an entirely new journey is one of the things to do in Varanasi. You may go through the streets of the markets to find the local specials, like the Banarasi silk saree and street food. However, let's not close out here. Let's explore the things to do in Varanasi and places to visit.
1. Take a Peek at Banaras' History
Varanasi has two sorts of past. A mythological one and a past where it was under reign. There is no doubt that Varanasi is rich in history and culture. Varanasi became a part of Uttar Pradesh in 1947 when the British left, and India gained freedom. This place, which has been under the rule of Muslims and British, has now evolved into a beautiful city.
From the destruction phase to becoming an independent kingdom, here are the antiquities of Varanasi.
a) Ramnagar Fort
From the list of ' things to do in Varanasi, 'on the top would be a visit to Ramnagar Fort. Located opposite Tulsi Ghat, this red sandstone fort was built by Maharaja Balwant Singh. This fort was once an ancestral home to the Maharajas of Varanasi. It is famous for its Mughal architecture and vintage collection.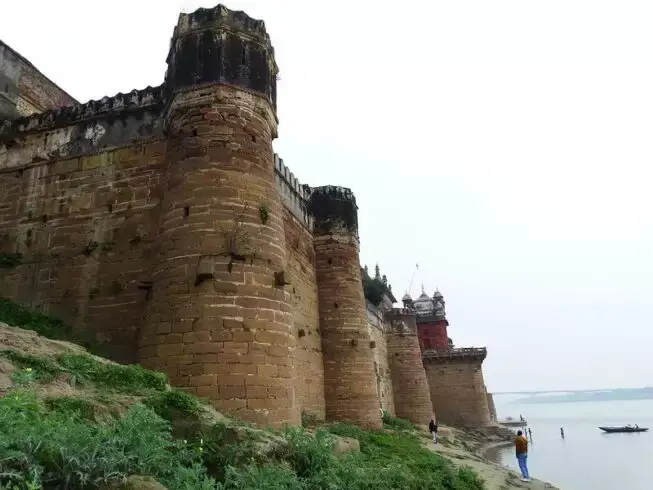 To travel to the historical Ramnagar fort, one can take a bus or a cab through the Pontoon bridge, or what would be recommended is taking a ferry from Assi ghat and enjoying the boat ride on the river Ganges.
The trip to this fort includes a lot more than the fort. It has the Saraswati Bhawan, the museum which once used to be a public audience hall. This museum now has a collection of vintage cars, guns, old ornaments, and tons more.
The best time to visit Ramnagar fort is in October when the Dusshera Celebration is a must-watch. Apart from this, the fort has a Veda Vyasa temple, Vishnu temple, and Dakshin Mukhi Hanuman Temple. It also is the place of the rare astronomical clock.
b) Sarnath
Another Indian site that attracts people from across the globe. This Buddhist pilgrimage was the place where Gautam Buddha delivered his first sermon on Dharma.
Sarnath is about 10kms away from Varanasi. It is advisable to hire a cab or a rickshaw. Dhamekh Stupa, where Lord Buddha first delivered his sermon, is said to be the main interest at Sarnath. This Thai temple has a museum, Sarnath Archeological Museum, and remains of Buddhist Monastries, Ashoka pillar.
Give your spirituality a new view by taking an excellent tour of Sarnath. There is a lot to explore in this Monastery regarding enlightenment and sightseeing tours.
c) Jantar Mantar
You must have heard of Jantar Mantar in Delhi, but did you know about the Jantar Mantar in Varanasi. Make this place on the to-do list of 'things to do in Varanasi' when you visit Varanasi.
Located on top of Man Mahal, this observatory was built by Maharaja Jai Singh II. The King was an astronomer who had a deep interest in science. It will not be a detour from ghat's stroll as it is near Dashashwamedh ghat. It is a sightseeing tour as the view of the Ganges river is worth the visit.
2. Temples of Varanasi
It is now vivid that Varanasi is a holy place. The next places to visit in the Varanasi explore are the temples. Surrounded by the holy Ganges water and birthplace of essential religions, you know it is time to visit Varanasi.
Now comes the part for those who like a tour of famous temples and expanding their knowledge of Hindu mythologies. Add these Varanasi temples to your 'things to do in Varanasi.
a) Shri Kashi Vishwanath Temple
Kashi Vishwanath temple is named after the first name of the holy city, Kashi. This temple is one of the major attractions of Varanasi as it is devoted to Lord Vishwanath, an incarnation of Lord Shiva.
This pilgrimage is also known as the golden temple, just 5 km away from the Varanasi Junction railway station. It is located on the banks of the holy river, river Ganges, and can easily travel through ghats.
The best time to visit this temple is during Diwali or Mahashivratri. Kashi Vishwanath temple is a whole new experience during these festivals.
b) Sankat Mochan Hanuman Temple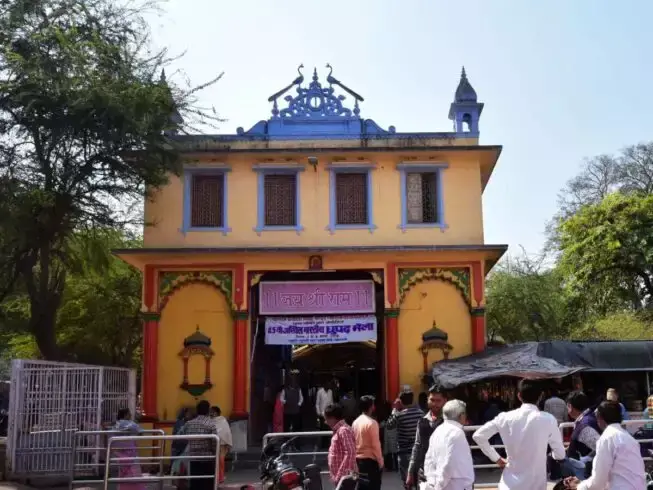 When it comes to visiting temples, this sacred temple comes next in things to do in Varanasi. Built by Pandit Madan Mohan Malviya, Sankat Mochan is 2 km away from Assi ghat.
On every Hanuman Jayanti, devotees organize a Shobha Yatra from the Durga temple to Sankat Mochan Temple.
c) Tulsi Manas Temple.
Not far from Durga Kund, Tulsi Manas Mandir is near Kashi Vishwanath temple. The entire Mandir is built with white marble. Built in the 1960s, this temple is most important for Hindu culture as Ramcharitmanas was written in this mandir by Goswami Tulsidas.
d) Annapurna Temple
Dedicated to the goddess Annapurna, a form of goddess Parvati, this temple is also of great significance to Hindu Mythology. This temple too is very close to Kashi Vishwanath temple and near Manikarnika ghat.
3. Ghats of Varanasi
We all know what comes to our heads when thinking of this ancient city, Varanasi. Almost a hundred ghats are situated on the banks of the Ganges river. Along these ghats, you may find the locals and the tourists exploring various experiences, like pilgrims bathing and enjoying a boat ride.
As aforementioned, each ghat has its unique essence. From Ganga aarti to a boat ride to bathing ghats, let's learn more about Varanasi ghats.
a) Assi Ghat
According to Hindu mythology, after Goddess Durga defeated Shumbha-Nishumbha, she threw away her sword. A river surfaced where the sword was landed, which was later Assi. Locals and foreigners both visit Assi ghat for the Ganga aarti and a breath-taking sunrise. The best time to visit Assi ghat is around 6:30 am when the golden light hits the river Ganga.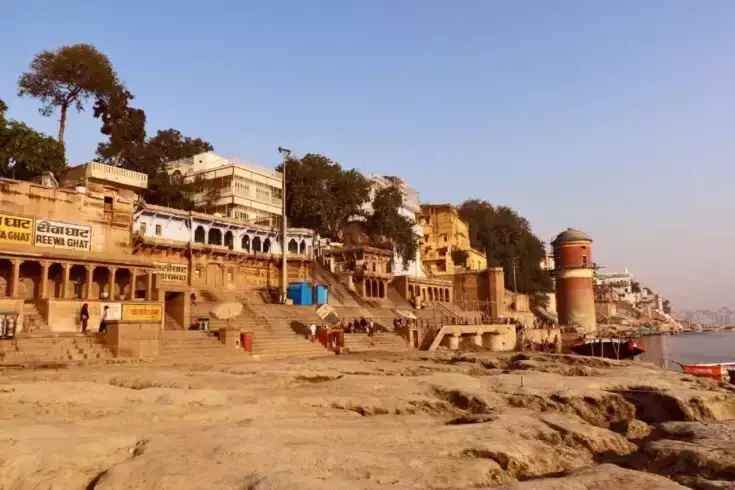 b) Manikarnika And Harishchandra Ghat
There are different ghats across Banaras, but these two ghats are way different from the others. Also known as the cremation sites, these ghats accommodate 300 bodies each day.
On the list of things to do in Varanasi, this burning ghat is next. Manikarnika ghat is known for people living their last days. Many people across the country make sure they live on this ghat to attain Moksh whenever they die.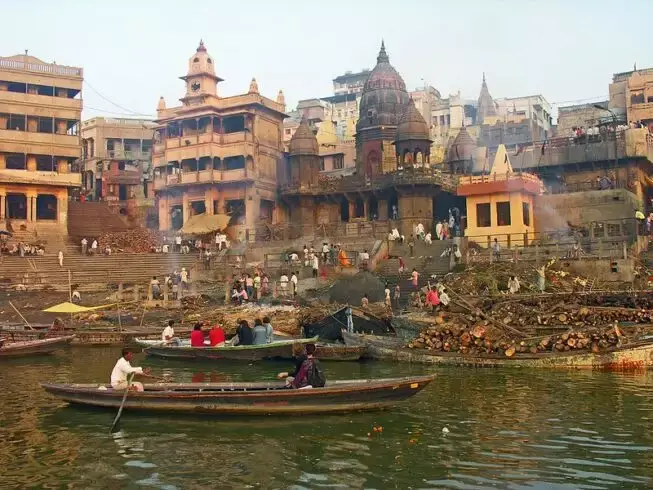 c) Raj Ghat
Rajghat is on many traveler's lists as it used to be the residence of the rulers. This northernmost ghat is possibly older than Banaras. It is near Malviya bridge and Kashi railway station.
Dasaswamedh Ghat is famous for its grand evening aarti ceremony for the river goddess. One should visit Dashashwamedh ghat, for it is one of the most sacred ghats where beautiful rituals unfold. Add this to your list of places to visit in Varanasi.
The Varanasi ghats have a special feeling to them; however, the following is the list of more important ghats, which includes sightseeing tours and praying ghats. Along these ghats, you can also find a few boats where you can enjoy a mesmerizing view of Varanasi in its true form.
Mata Anandamai Ghat, Tulsi Ghat, Pancha Ganga, and Scindia Ghat are some famous ghats, and visiting them must feature in your things to do in Varanasi.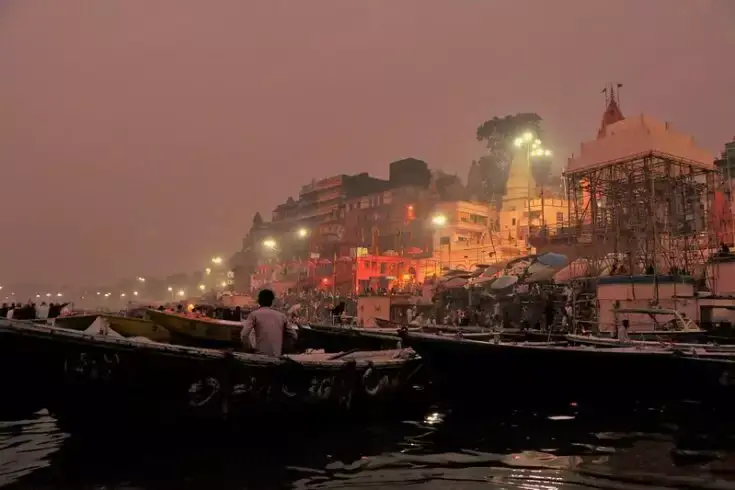 e) Ganga Aarti, Holy Bath & Boat Ride At Ganges River
This section requires a special mention. Ganga Aarti on Dashashwamedh ghat and the boat ride on the river Ganges are the things to do in Varanasi. When on the tour of ghats, these are the activities that can be done. Enjoy the boat ride and the pleasant weather of Banaras. The view from the boat is off the entire Banaras in one single frame.
Where not everyone would do it, but the holy bath is eccentric. The eastern bank of the river Ganges has no ghats but is used for 'pavitra snaan.' Apart from these, one can experience local street food and meet people from different cultures on the ghats.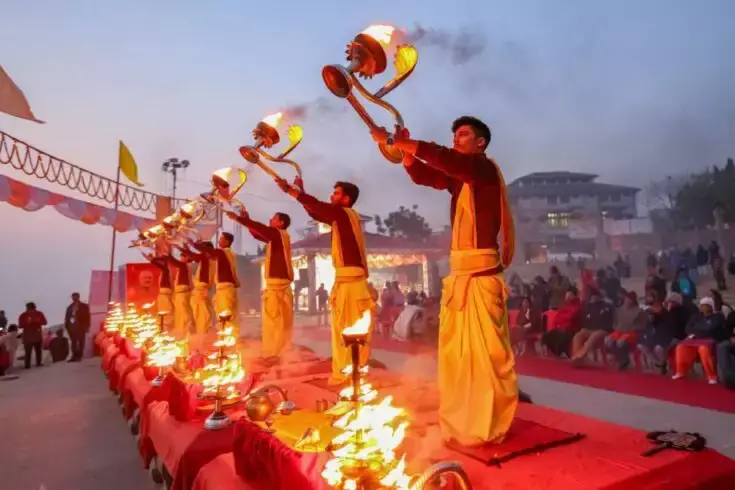 4. Experience What Banaras Is All About
Coming from the Ganges river, ghats, and place of two Hindu mythologies, you may wonder about all the art and culture this holy city has given birth to. Varanasi's culture and heritage have magnetized people across the globe.
Apart from a sightseeing tour, this place has an exquisite side of art, literature, and modern culture. Sarnath, where Lord Buddha preached, has modern-day temples. 
You know the backbone of literature is strong when Munshi Prem Chand hails from this district or Birju Maharaj, the legend of Kathak, which originated in Banaras. Upcoming is more originalities in this city.
a) Banaras Hindu University
Founded by Pandit Madan Mohan Malviya, IIT BHU is one of the well-established IITs in India. One of the two IITs in Uttar Pradesh, BHU, has been in existence for more than 100 years.
The campus has a beautiful and vintage architectural design. It accommodates over 30,000 students as of 2020. BHU is one of the places to visit and experience the educational part of Varanasi.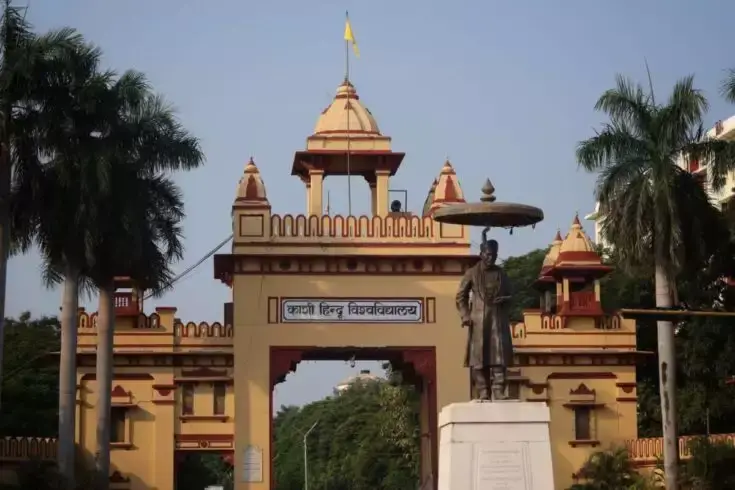 b) Bharat Kala Bhavan
This museum is a part of BHU and has showcased immense knowledge of Indian art and culture. A place with manuscripts and sculptures is one of the places to visit if you're an art and history enthusiast.
There is no hesitation when it comes to the Banarasi saree. Coming down from generations, fine work on silk and many other materials have run in Varanasi's art and heritage. The saree is most known for its amazing embroidery, and gold and silver brocade is usually worn for big events. Varanasi also is one of the biggest industries for carpets and textiles.
5. Explore The Market
Staying on the topic of sarees, the Banaras market has a wide range of Banarasi sarees to offer. Both modern and vintage, these sarees are the leader in these markets.
While on ' things to do in Varanasi ', make sure to check out the antiques. 'Kal Balta' and 'Khinbab' are the two techniques, the artists use for their crafts. The market comes alive during the dawn with these astounding shows of heritage and also is a great place for shopping.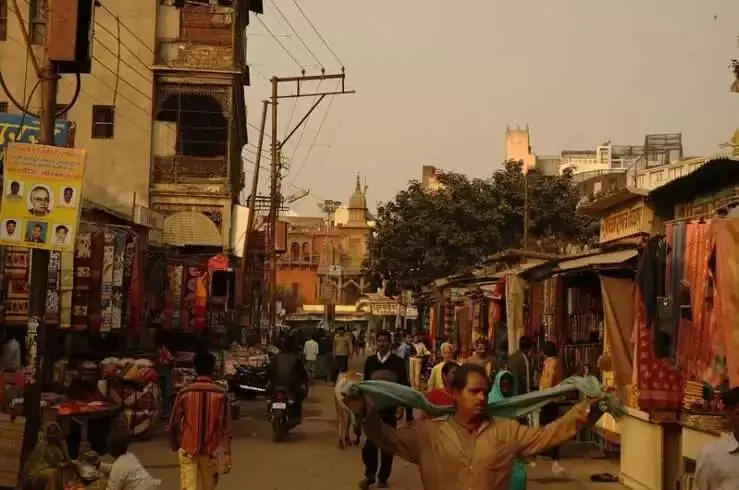 6. Local Street Food
The food pallette of a place defines the place, which is true. The street food of Varanasi lives up to the hype and does not let you down. On top of this list would be Kachori Sabzi. This most amazing breakfast will make every other breakfast food look mediocre. With that being said, make these top few things to do in Varanasi, savoring the local cuisine.
Next would be Malai Toast, available usually during the mornings, the bread of this dish is baked in a coal oven with a layer of delicious white Makhan (butter) and topping it with salt and pepper.
Another dish that speaks of the local food is Baati Choka. This dish is made of vegetables like potatoes, tomatoes, and brinjal. Even if you're not a fan of brinjal, you will not resist this dish.
Coming to desserts, Varanasi offers a quality collection of sweets. Rabri is a well-known sweet and even tastier when added to jalebi. Varanasi serves the best rabri and Pahalwan ki lassi makes the best use of it. Their lassi has a layer of rabri and one should not miss out on it.
Just like, one should not miss out on Malaiyo. This dessert is usually made in winter. Basically made from a milk foam and topped with dry fruits like almonds, cashews, and pistachios.
7. Be A Banarasi
This place in Uttar Pradesh has a lot to offer in terms of tours and experience. So just let all things lose and become a part of the place as it is very welcoming. Roam around the streets and have the famous Banarasi paan from Keshav Paan Bhandar.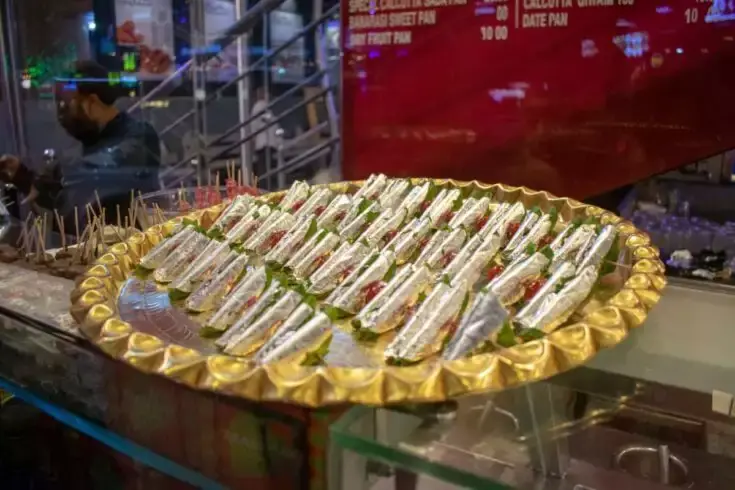 Meet and get to know new people of different ethnicities. Experience the local food, spiritual essence, and heritage that Varanasi has to offer. So remember this when you visit Varanasi and let Banaras do its magic.