Since its inception in 2015, Vacation Smiths had a clear goal in mind – To bring a change in the way people travel. They wanted to be not just any other travel agency, but the ones who carve out memories of a lifetime via holidays.
And they set out with their beautiful tagline, "We Fashion Memories", to bring exotic, unexplored destinations to the new-age travellers.
Today on Icy Tales, we feature Prasoon Kandpal, Co-Founder Vacation Smiths.
Q) Before knowing about your venture, we wanted viewers to have some background about you. How has your childhood been, and how did it shape you towards this field?
Prasoon Kandpal – I was academically a very average student. But tourism was all around as I was born and brought up in a small city named Nainital. It's a very highlighted place on the tourist map of India. So I've seen tourism all around during my early life. But there, the understanding of the tourism industry could be a taxi driver, a pony rider, and some mediocre hotel owners.
Other than that, the big resorts were considered on a different line altogether. So there was a little inclination towards this industry. There was a curiosity to know more about this industry. What is it that so many people are travelling to such destinations? 
But eventually, when I started working in this field with a company that was just a start-up back then – Make My Trip (laughs), that was a learning thing for me on how this whole industry works. 
Q) Talking about Vacation Smiths, the Instagram bio says it was born out of passion. What is the story behind it?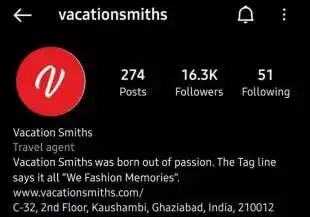 Prasoon Kandpal – Yes, Vacation Smiths was actually born out of passion. Apurva the founder of Vacation Smiths, actually started this way back in 2015. I and Apurva used to work together at our previous organization and have been really close for a long time. We always had this thing on the back of our minds that we one day will make a company that will bring a different kind of travel for the people and not the regular thing. In 2015, it was he who took the first step.
He said that it's too much for me to work for someone else, now we should start. So he started building the whole venture and bringing new destinations to people. And gradually, I too moved in full time, and things have been rolling since then.
Vacation Smiths' tagline says "We Fashion Memories" we actually do that because vacations are all about memories. As a goldsmith carves an ornament out of raw metal, we carve out memories from people's holidays and vacations.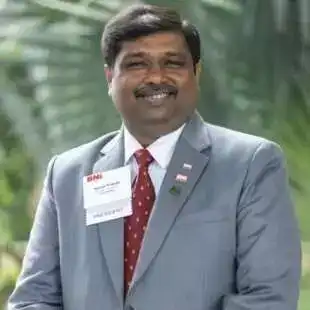 Q) "We Fashion Memories" is your beautiful tagline. How did that come into being?
Prasoon Kandpal – When we talk about taglines, they have a significant role in building the character of a company. So when we were trying to figure out what we should have for Vacation Smiths' as a tagline, we drilled down to what we were doing? What are we expecting to do in the coming days? How are we different from our competition? Because travel is a very competitive market.
The name "Vacation Smiths" was in our minds when we had thought of starting something like this, and we had decided to bring something different in the market, something that gives the consumer a lifetime memory. Even with an ornament, we have a lot of value and memory attached to it, and the craftsman putting in his efforts into the product plays a big role in it. Similarly, Vacation Smiths also put a lot of effort to make holidays memorable, and from there, the tagline came into existence. 
Q) In these times when COVID has immensely affected the travel industry, how is Vacation Smiths coping against the difficulty? We need to have some learning from you on this.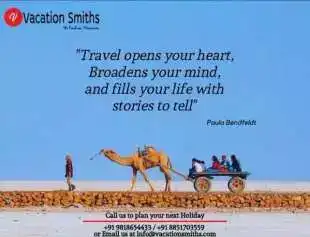 Prasoon Kandpal – I was expecting this question (laughs). COVID has been a learning phase for all. If someone says that they were prepared for it, I bet they lie. No one knew what it was going to be. If something of similar sorts ever happened, it was the Spanish Flu. But there would be barely any witness to that, alive today. Even if there were someone, they would be too young then and have faint memories of the incident. 
It was the same for Vacation Smiths as well. Not in our nightmares had we thought of something like this. It was something which we said, "Exam me out of syllabus aa gaya"  (What came in the exam was out of syllabus)(laughs). So the pandemic showed its real colours from around 2020 March, and around April, we were free with all our refunds, cancellation everything. Mid-April, May, and June.
These were the times when Apurva and I  did a lot of brainstorming. We were on continuous phone calls, zoom calls, deciding how to sail through these tough times. Back then, we were expecting it to last just around 3-4 months, not this long. But the good thing was, at the back of our minds, Vacation Smiths as a team always had the belief that we'll sail through this. 
July was when we thought, "No, we have to sit in the office and discuss this". So July 2020 was when we started our office again. At that time, everything was closed, everywhere. We used to come for 2-3 hours with all the precautions, comply with COVID protocols, sit in the office, and discuss.
The message we used to give our team members, clients, and vendors was all about positivity. As we say, as a whole company, our blood group is "B-positive". That's what we give out everywhere, be it on our social media or in real life. It's been around two years now, Vacation Smiths is sailing, and I know we will sail well. 
Q) What's been the biggest moment for you in your professional life post the inception of Vacation Smiths?
Prasoon Kandpal – I'd talk about a recent incident just about a few months ago. Post-COVID, we got a group movement of about 50 people from one of our regular corporate clients. This was for their top sales performers and people of their senior management. The whole time that we had in our hands was 15 days. To sit, plan, and execute the trip.  Believe me, and the event went flawless. 
It was a two-nighter event wherein the group returned on the third night. From preparing to execution, we had just 15 days with us. On the 15th day, everyone moved back to their respective locations. And it was a flawless event. 
So that's something special. We hadn't seen any of our vendors doing so well within such a short span of time, exceeding our expectations. That was one prestigious moment I can talk about that happened to Vacation Smiths. 
Q) What are your plans for Vacation Smiths? 
Prasoon Kandpal – Plans are quite laid out. We all wish for the first thing is covid chala jaye (Covid goes away) (laughs). Once this is away from our lives, we want to bring more new destinations to people via Vacation Smiths, staying true to our motto. 
Ladakh, for example, it's one of the hot-selling destinations that we are known for. When I talk of Ladakh, people have been selling Ladakh for ages. Apurva, my colleague, is one of the pioneers who introduced Ladakh to domestic tourism way back in 1999-2000 times. He was the one who brought it to the domestic audience earlier. It was mainly for international tourists. 
But Vacation Smiths was the one to introduce "Turtuk" to the itineraries that were sold in the domestic sector. Talking about Turtuk, it is a village in the Leh district. When travelling from Ladakh to P. O. K, Turtuk is one of the last inhabited villages of India. 
Similar to this was when the movie 3 Idiots came out, "Pangong Lake" came so much in the limelight people used to sell it like anything. But we were the ones who suggested "Tso Moriri" to our clients. And trust me, the view of Tso Moriri is breathtaking, and it's much better than what Pangong has to offer you. The kind of migratory birds that one sees there is extraordinary. 
Likewise, talking about international destinations, Iceland is one special place. If you talk about Europe, the regular destinations people recommend are Switzerland, Germany, France, or United Kingdom. But we tell people to go to the Czech Republic, though it's become more mainstream as many movies are being shot there, or Austria, which has wonderful sights to offer, or Moldova, about which people don't even talk about.
So this is the idea of Vacation Smiths. We want to bring more and more unexplored destinations to the travellers, but keep in mind how many travellers the country can be comfortable with to keep up with sustainable tourism so that those places aren't spoilt. That's the vision we have for Vacation Smiths. 
Obviously, the numbers are there too. If you are doing a business, numbers are always there. But apart from numbers, this is something we aim for. 
Even while being a company in the Travel Industry, Vacation Smiths didn't let their guard off sustainable tourism. They stood by their motto of bringing new places to people while ensuring that they didn't hurt the place. And that, along with loads of other things, is what makes them special.