Friendship-a bond that is considered by some, to be the most superior form of interpersonal relationship, is a bond between two or more people built upon mutual trust, love, care, and sympathy. However, when the term 'friendship' comes up, we generally tend to think of the greatest form of interpersonal bond than prevails among human beings.
Still, in this article, we will come across some of the unique, unusual yet adorable interspecies friendships that exist between human beings and some of the best friendship animals.
1. Dogs As Friendship Animal: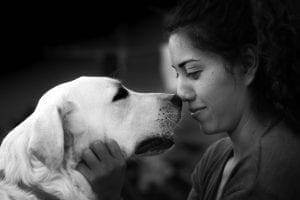 The first and the foremost thing that pops up in our mind when we think about the friendship between a human being with other animals is the bond with dogs. Apart from being the most loyal, selfless, and faithful creature for any human being on earth, dogs always prove to be the most caring and loving friendship animals any man can have.
History provides us with ample evidence of how deep and old is the relationship between a man and a dog, even more, profound than the bond between human beings. This is one of the vital reasons why some people choose to pet a dog over experiencing parenthood in recent years.
Certain species like Golden Retriever, Beagle, Yorkshire Terrier, Rottweiler are of high intelligence level, so they are considered to be the most active, friendly, and trustworthy playmate. Whereas athletic breeds like German Shepherd, Dutch Shepherd, Bloodhound, Belgian Malinois are chosen by police and military men for their heightened sense of smell, high energy level, quick movements.
2.Parrots as Friendship Animal: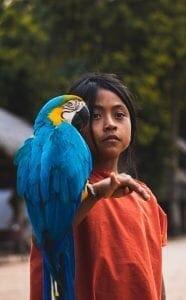 One can feel the liveliness and intelligence of parrots all over their house when they are let to live un-caged and move and fly freely inside the house. Once you bring them home during their infancy period and try to invest your time taking care of them, talking and singing before them, and providing them with nutritious food of their choice, you will feel how they like gradually establishes a bond with you as their primary caregiver.
They will eventually learn to speak the words that what you say before them too often, or they hear from the surroundings. There are various types of parrots. Cockatiels, Macaws, Cockatoos, Lovebirds, Parakeets. You should go for buying a Cockatiels or Budgies if you wish to pet a parrot for the first time. This is because of their adorable and friendly nature, along with their small size, which becomes an added advantage for the pet owners to train them with proper care.
3. Dolphins as  Friendship Animal:
We often have heard stories about dolphins saving lives of the human being in the sea from either drowning or the clutches of sharks.
The history of this relationship between dolphin and man can be traced back to 77AD when the notable Roman historian and naturalist Pliny, the Elder, recorded the story of friendship between a human child and dolphin, usually considered to be the first known man-to-dolphin friendship. The story goes like a boy befriends a dolphin, whom he names him Simo and gives him bread crumbs. Simo, in return, used to give him rides. After the boy died, the dolphin used to come to the same spot and expressed sorrow till his last day.
4. Cats As A Friendship Animal: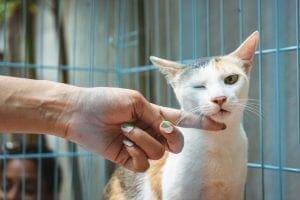 Unlike the stereotypical belief, according to which cats are intelligent, cunning, and evil, cats are smart and smart mammals. They are self-sufficient and would not require your undivided attention all the time, unlike dogs. However, due to their love for warmth and comfort, they usually like to be caressed and hugged. They can clean themselves and look out for food on their own. Some people are seen to complain regarding the hostile behavior of the cats. One must always keep in mind cats can never be generalized. The personality of cats can vary from one species to another.  Human beings fall in love with this cute little furry mammal because of their cuteness and intelligence, not to mention its narcissism
5. Rabbits as Friendship Animal:
While dogs and cats would require a large part of your time and energy ( cats for being too independent and naughty), rabbits would demand very little from you.  Beautiful and furry, rabbits prove to be very friendly mammals that can roam around freely in your house. The only thing those innocent eyes crave is to trust their owners.
Once you successfully gain their trust, you will find your bunny silently hopping onto your lap and snuggling in your arms. They like cuddling a lot and are incredibly adorable creatures. Kids generally tend to form a durable bond with these cute faces because of their social and funny nature.
Although you may sometimes find yourself to be complaining about a person's love for you, affection, or loyalty, you can never question the same with these cute and trustworthy friendship animals. They will never turn their back on you or stab you from the end after they have formed a bond with you, such is their friendship and loyalty.