As an affiliate-driven website, Icy Tales earns from qualifying purchases.
[amazon_auto_links id="280537"]
Do you know what is bubble tea?
Bubble tea is a beverage that has gained widespread recognition over recent years.
What comes to your mind when you hear the word bubble tea?
Bubbles? Sparkling tea? Ice tea?
Well, let us find out!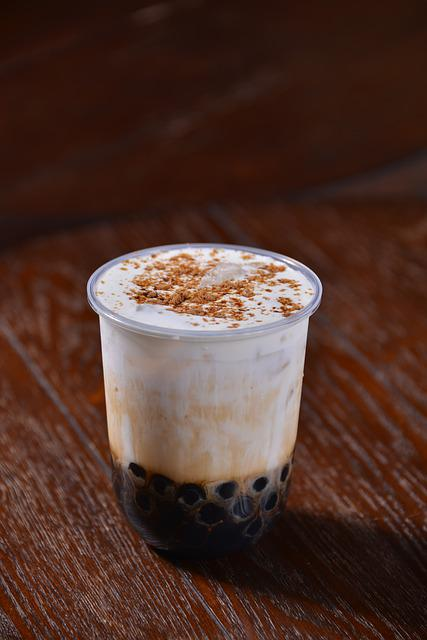 History
Bubble Tea is originally a Taiwanese drink since it originates in Taiwan.
There are few stories related to the discovery of bubble tea in teahouses from the period between the 80s and 90s.
Rise of Cold Tea
One such story is a founder who started serving Chinese cold tea after inspiration from Japan; this sparked the popularity of the new style of serving tea.
This was the start of serving tea cold, as speculated by many.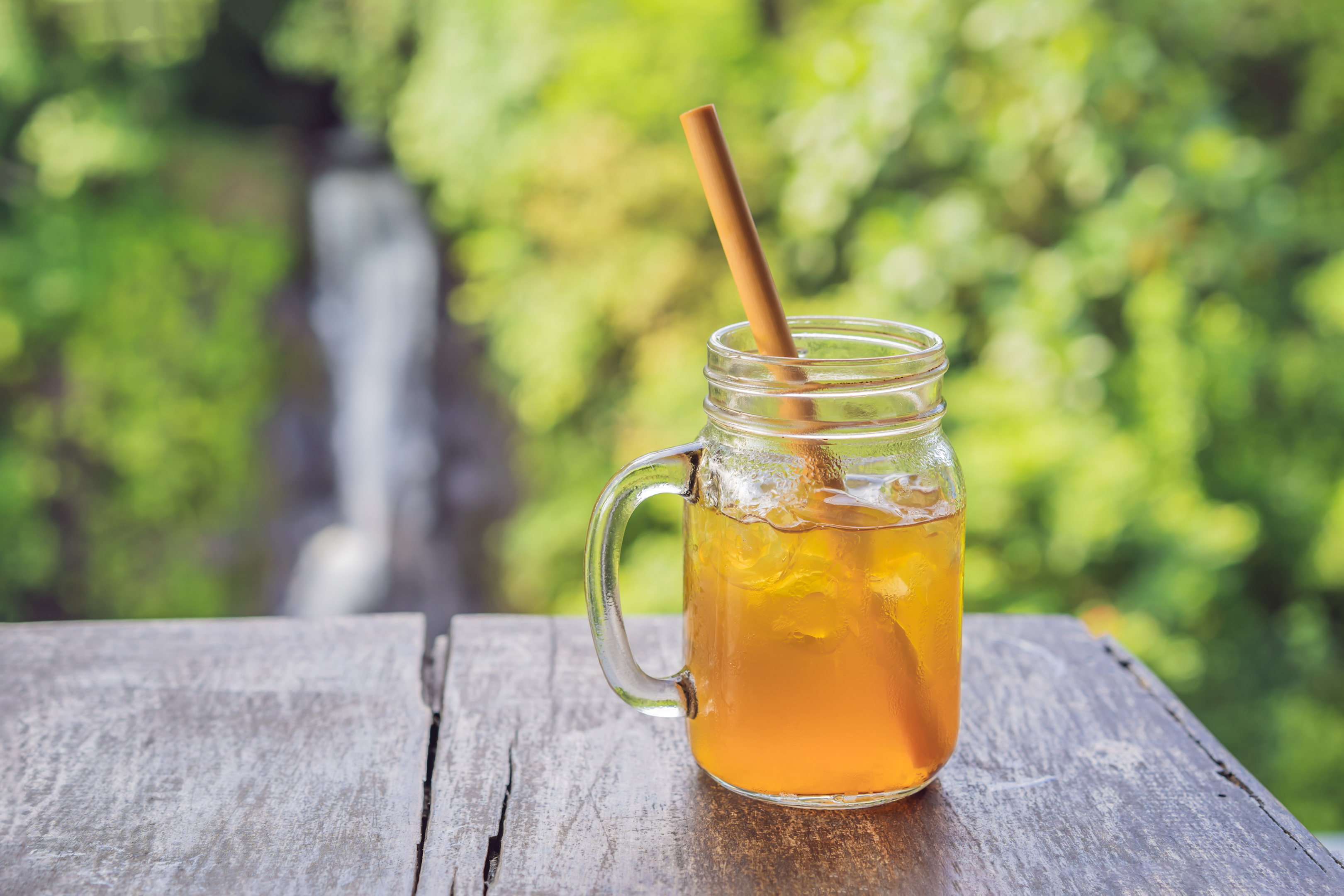 What is Bubble Tea?
Stories of Bubble Tea Origin
Bubble tea also had similar theories or stories regarding its creation.
One such story is the tapioca pearls being added to milk tea during a meeting and becoming included in the menu because all well receive it.
Another story that came up frequently was when one person came across tapioca balls in a local market and decided to add these traditional Taiwanese snacks into his tea giving rise to pearl tea or today's widely popularized drink, bubble tea.
This led to the widespread popularity of bubble tea, and bubble tea created more fame for cold tea.
Bubble Tea is also known as…
Bubble tea has many different names all around the world; they include :
Pearl Milk Tea
Pearl Tea
Tapioca Tea
Tapioca Milk Tea
Boba Tea
Bubble milk Tea
Boba
Boba Tea
So next time you hear the word Boba Tea, you will know it is nothing but Bubble Tea.
Traditional Boba Milk Tea Recipe
Boba Syrup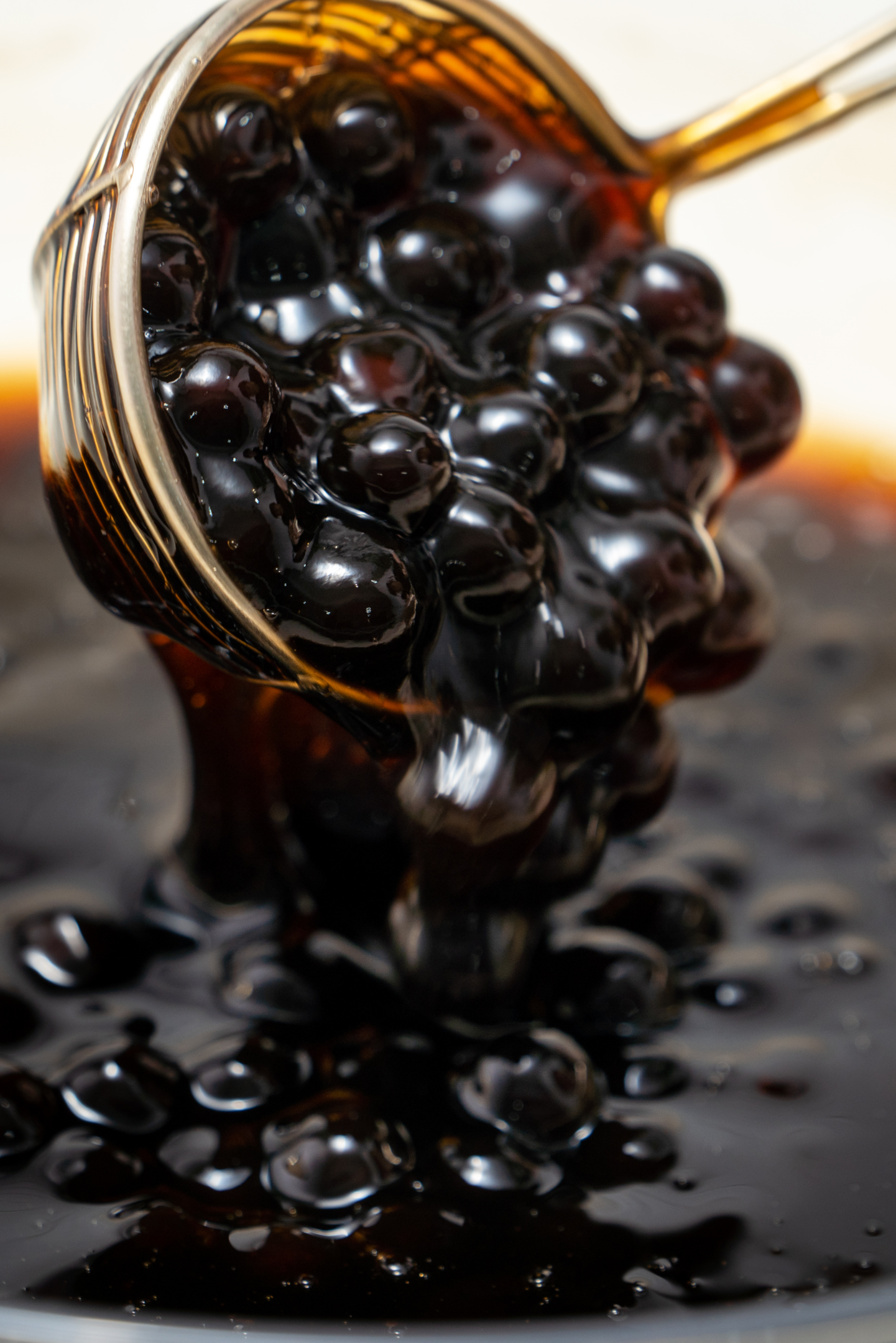 Take one cup of water.
Add either one cup of white sugar or one cup of brown sugar to this water.
Brown sugar is preferred as it acts as a natural colouring agent by giving a brown colour to the white tapioca balls when they are soaked in the brown sugar syrup.
Bring the mixture to a boil.
Pour it into another container.
The Boba syrup is ready!
Prepping the Tapioca pearls
Take one cup of tapioca pearls.
Add them to boiling water.
Cook for 30 to 35 minutes, initially at medium and low temperatures.
This makes the tapioca pearls soft and chewy.
Strain the tapioca or boba pearls and transfer them into another bowl containing ice water or wash it with ice-cold water for a few minutes.
Adding tapioca pearls into the earlier prepared boba syrup or sugar syrup is the next step.
This is to soak each tapioca pearl in the syrup to get a sweet flavour and an attractive brown-black colour.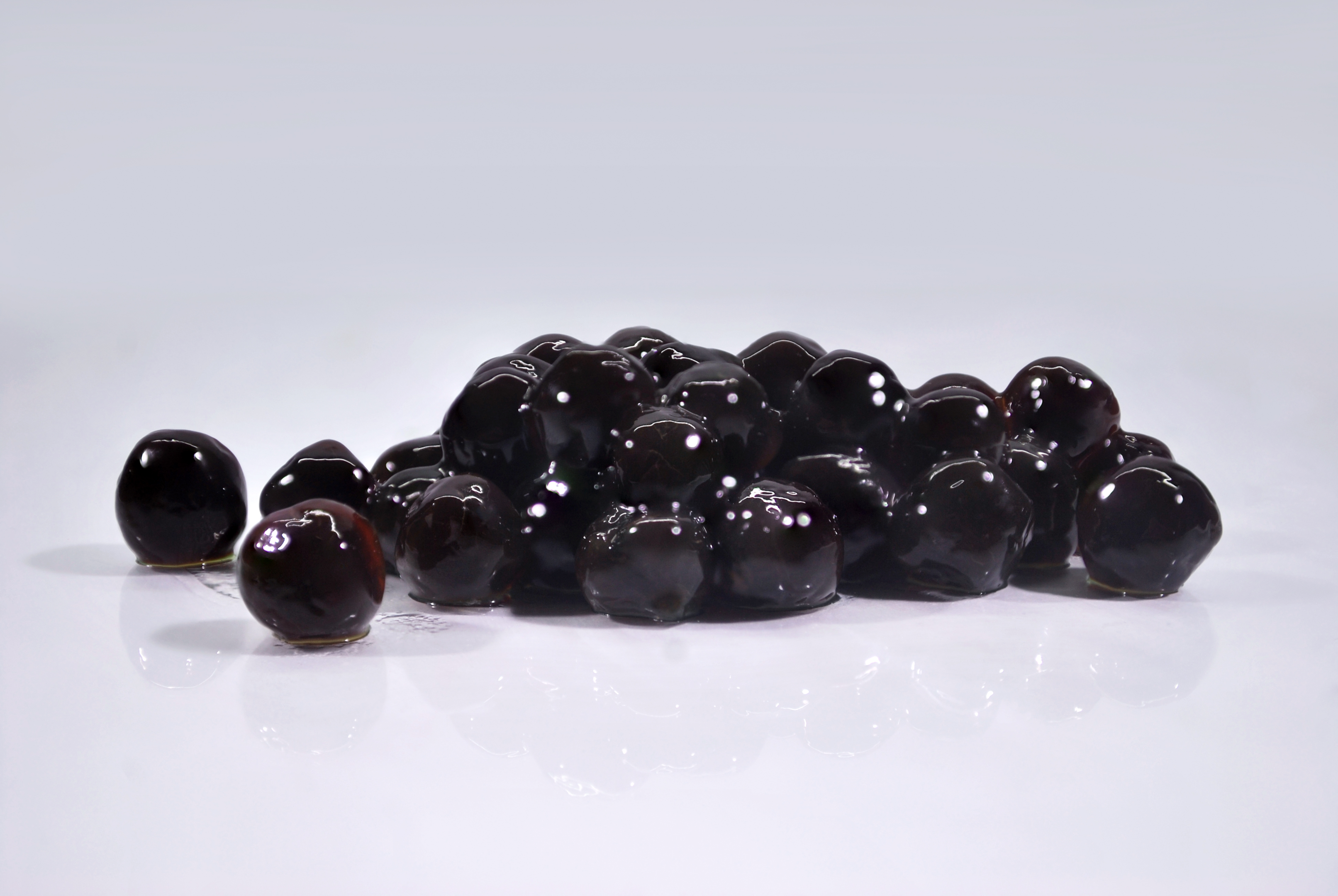 Brewing Tea
Boil two cups of water.
Add a little ginger for flavour.
Bring the water to a boil and add two tablespoons of loose-leaf teas or immerse tea bags.
Turn off the heat and let it sit for 4 to 5 minutes to ensure the maximum flavour is extracted from the tea leaves.
Adding a combination of Ceylon and Assam loose-leaf teas is preferable for an enhanced black tea flavour.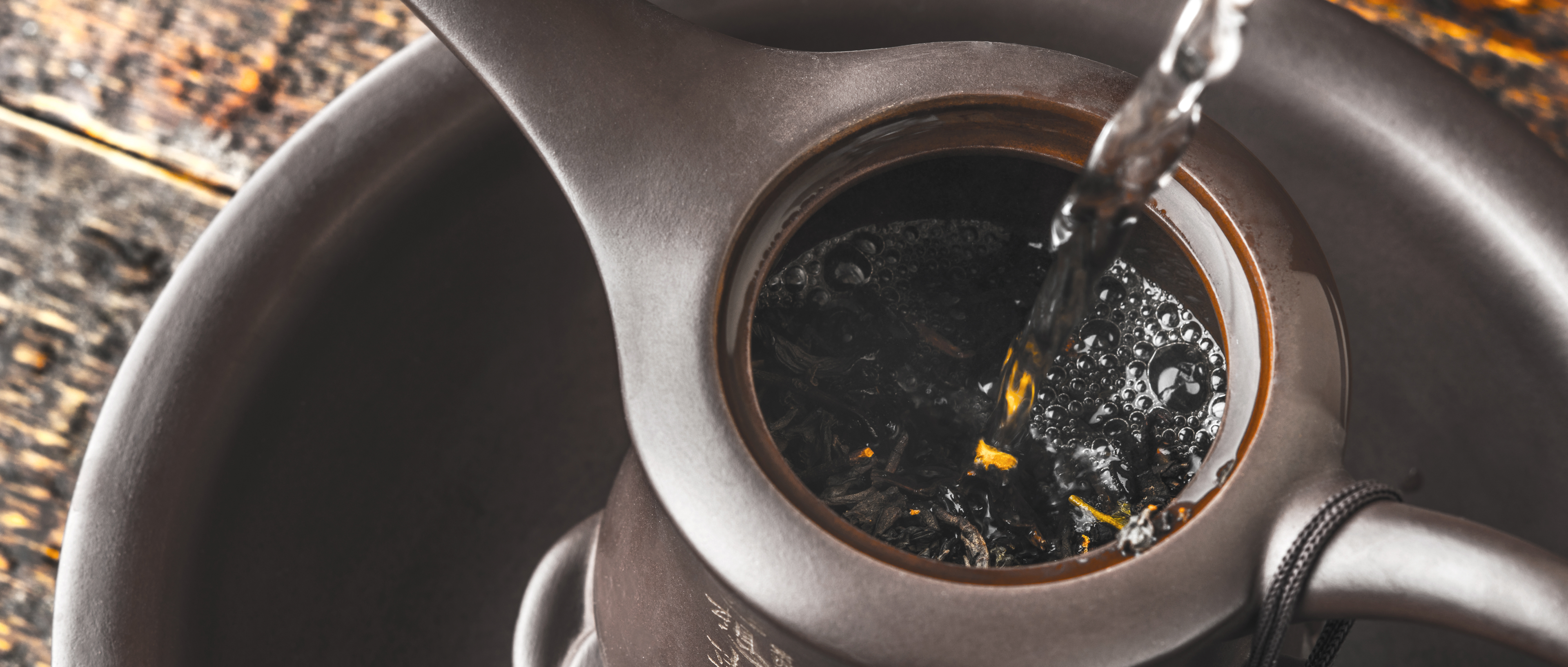 Bringing together the ingredients to make our traditional bubble tea
Take a glass, layer two tbsp of chewy tapioca pearls, and add two tbsp of the prepared boba syrup.
Add 4 to 5 ice cubes.
Pour one-fourth cup of black tea.
Lastly, add half a cup of thick cow's milk.
With a fat straw, stir the mixture to bring in all the ingredients.
Finally, after a long wait, relish your Bubble milk tea and become one of the worldwide boba enthusiasts.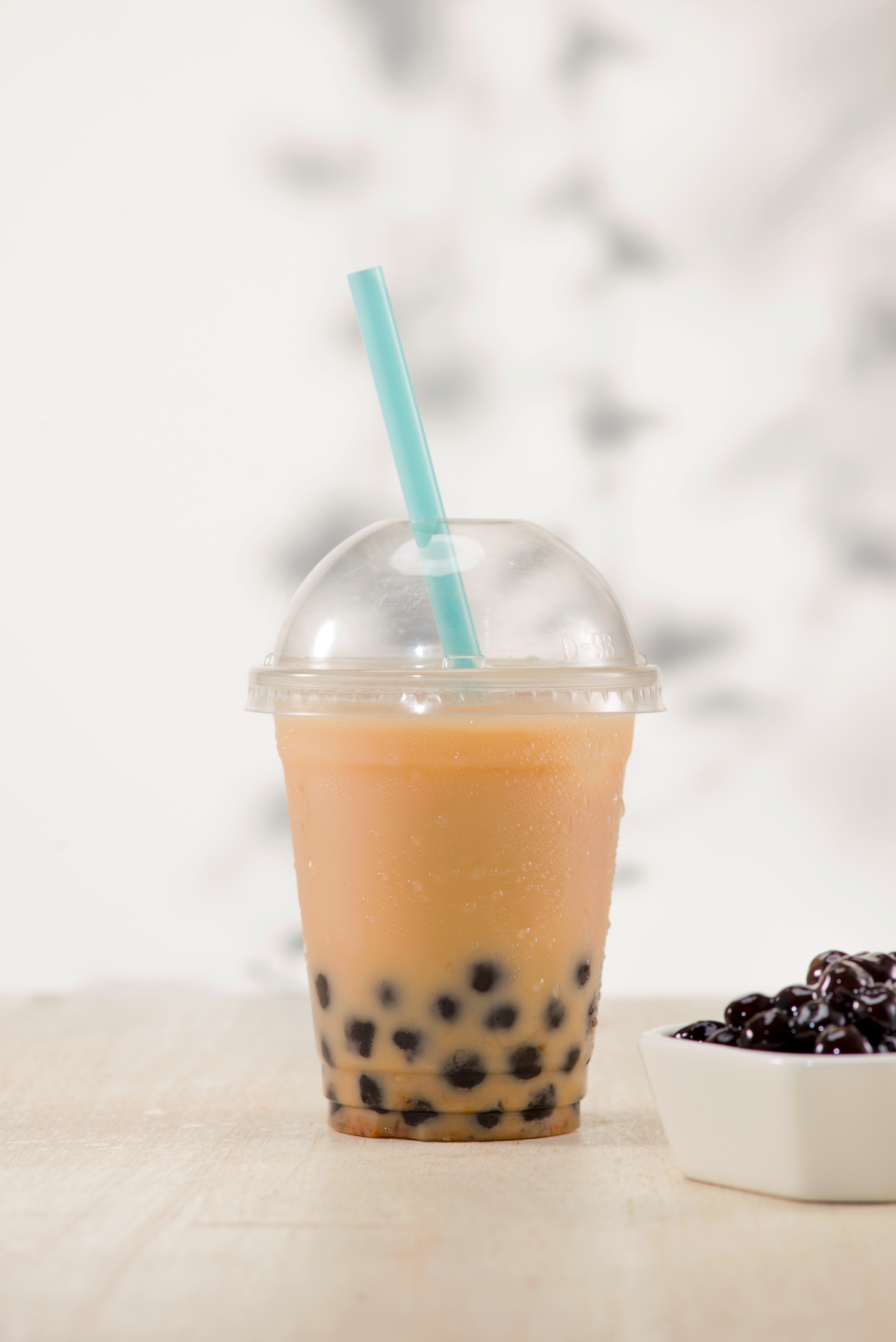 Variants
Bubble tea consists of two categories: Bubble Tea with milk and Bubble Tea without milk.
Tea Base
For both categories, the tea base used is common, including black tea, green tea, or oolong tea.
Either tea bags or tea leaves can be used.
Oolong tea is a traditional semi-oxidized Chinese Tea.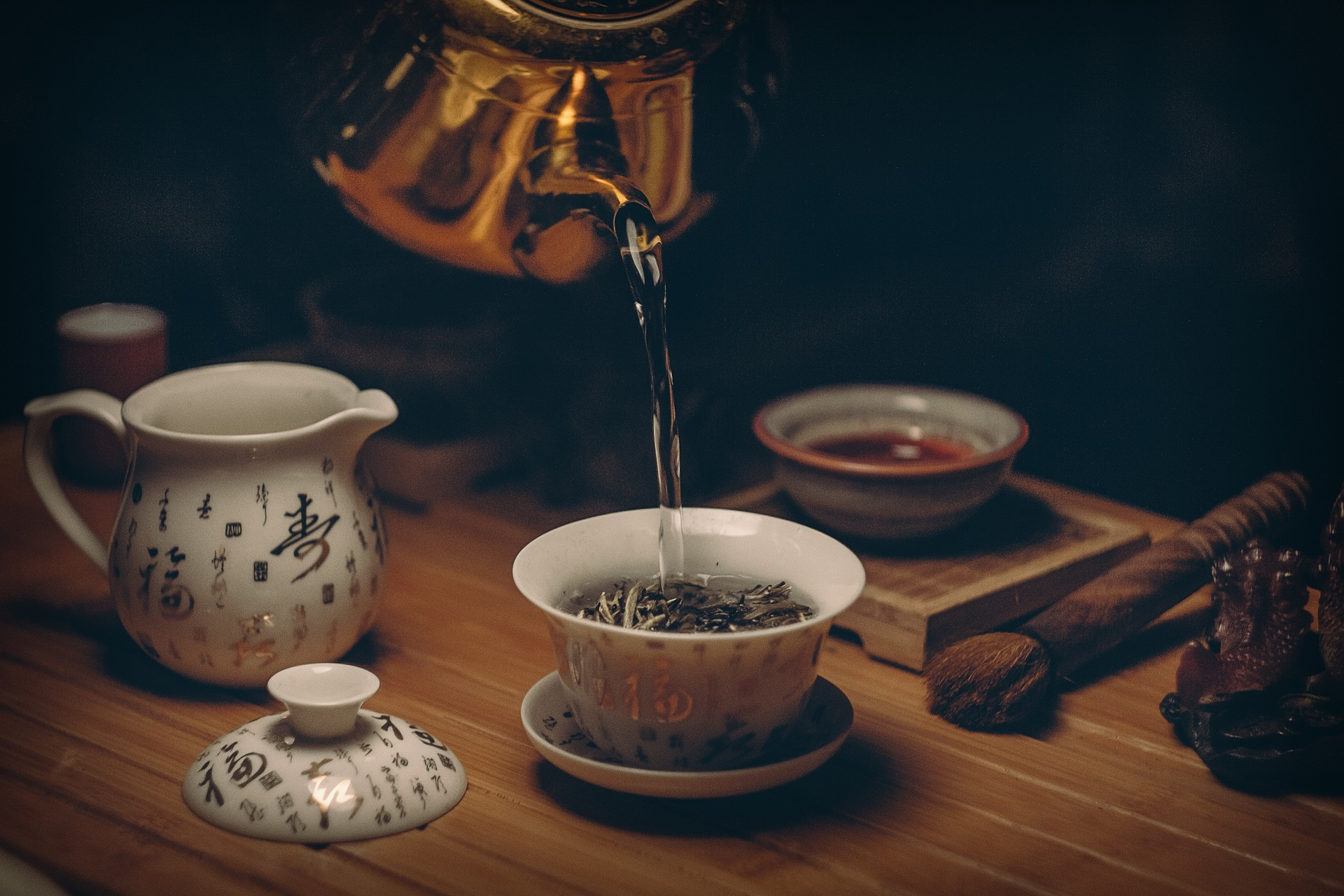 Milk Tea
Milk teas usually constitute powdered milk/powdered creamer or fresh milk.
These are the traditional or classic options.
But milk teas can also include almond milk, sweetened condensed milk, coconut milk, soy milk, oat milk, or nut milk.
Modifications
Alternative types of Boba tea include blended tea drinks.
These variations are usually blended using ice cream or shakes containing tea and fruit.
Another variation in Hong Kong is black tea, coffee, and milk.
Non-dairy creamer is also a milk substitute, especially for lactose intolerant customers.
Toppings
Tapioca balls or pearls, also called boba, are the most used ingredient for bubble tea toppings.
Although these chewy pearls can also be made from many other ingredients such as jelly, which comes in different sizes, shapes, and flavours like coconut, lychee, mango, etc.
Many bubble tea shops also use aloe, grass jelly, egg pudding, i.e. custard, and sago in their boba teas.
Red bean or mung bean paste, typical toppings for Taiwanese dessert, give Bubble tea an added flavour and texture.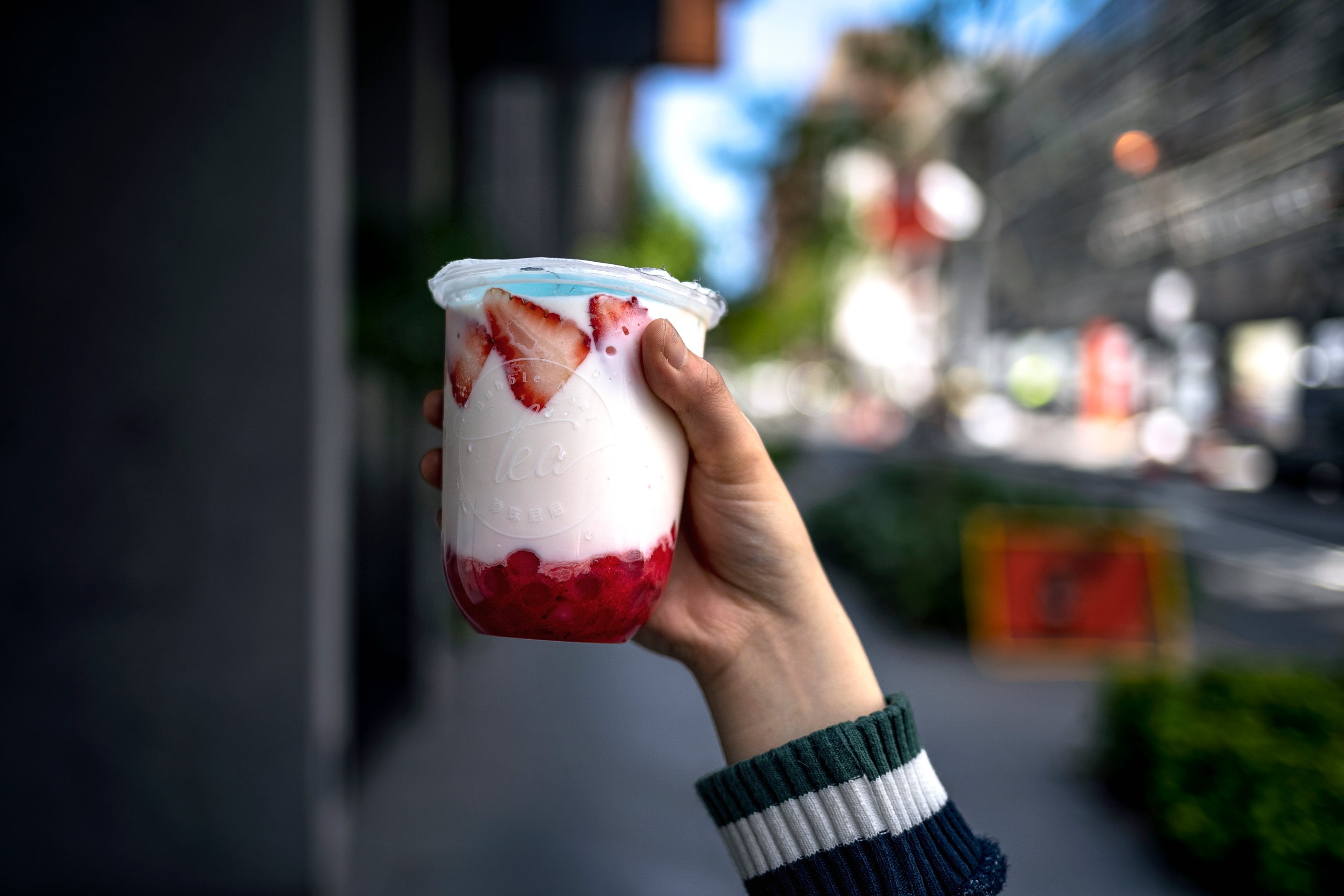 Popping Boba
Other popular bubble tea toppings include popping pearls or popping boba which are spheres that have fruit juices or syrups inside them.
This popping boba is made from seaweed extract.
Some popular flavours of popping boba include pineapple, passion fruit, strawberry, green tea, melon, mango, lychee, blueberry, and kiwi.
Popping boba is also used in smoothies and as a topping for frozen yogurt.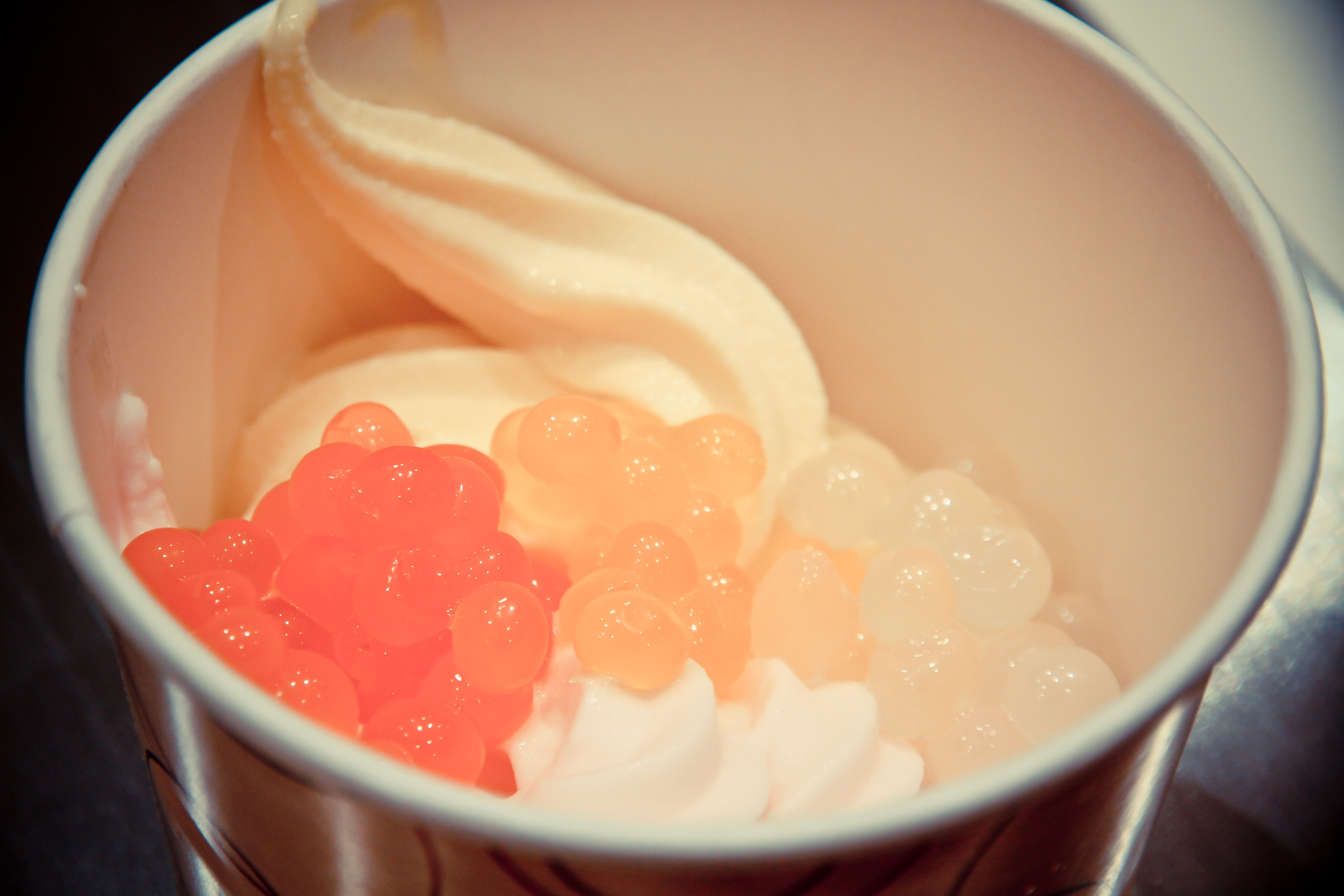 Customization
Bubble Tea shops offer customers many customized options, similar to Subway, where you can choose your fillings.
They can choose the amount of ice, sugar, and milk they want in their bubble tea.
Some of the Boba Tea shops allow customers to choose their ratio of mixing the bubble tea ingredients.
For example, some may prefer their bubble tea milkier, whereas others would want a strong brew or tea flavours, some may prefer a balanced blend of the two, etc.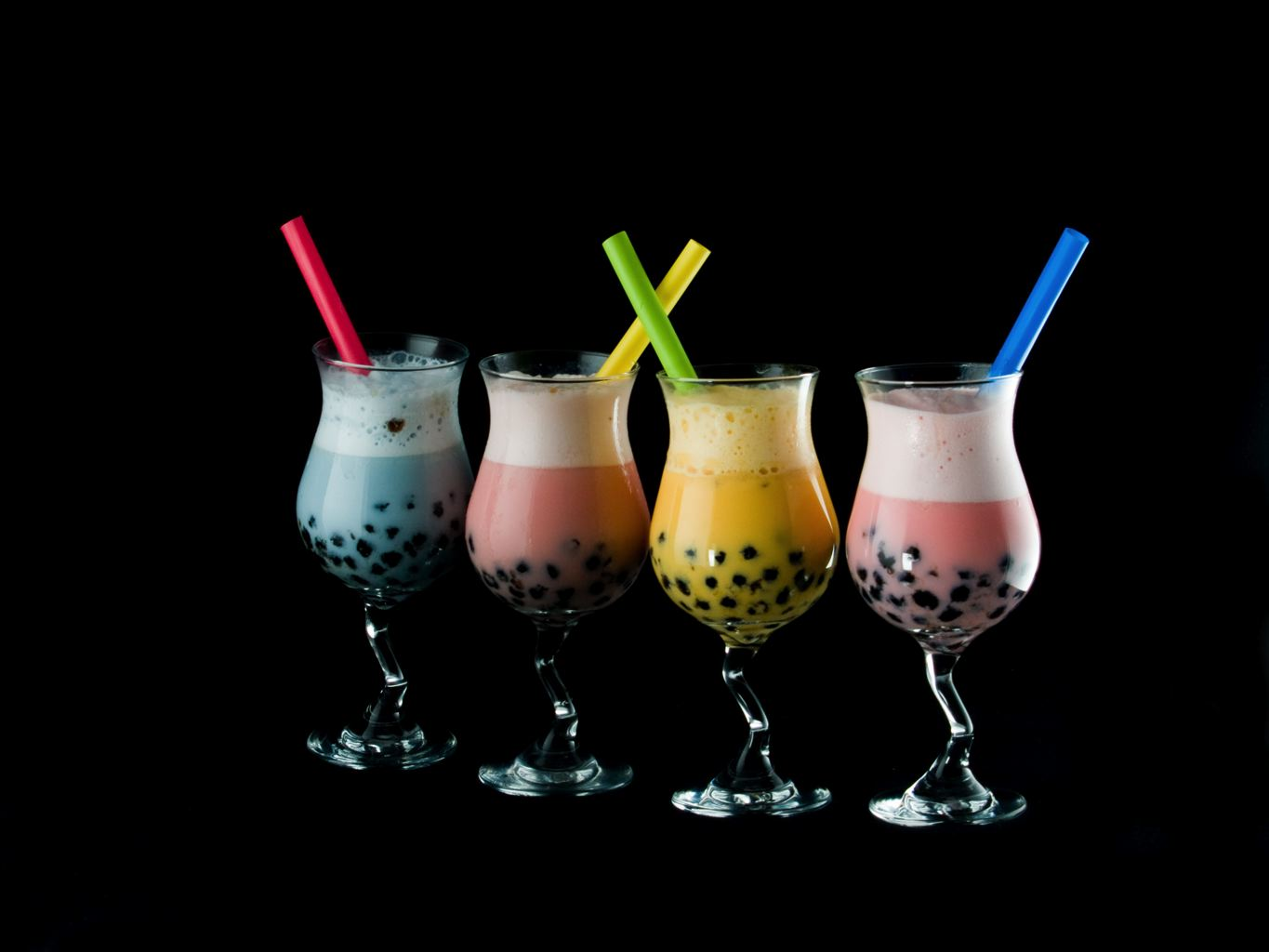 Know More About Tapioca Pearls
The tapioca pearls that made bubble tea so popular and widespread are made from Cassava root.
Cassava is a tropical shrub known for its starchy roots.
The Cassava root contains a good amount of nutrients.
The tapioca pearls vary in colour and flavour based on the ingredients mixed in with the tapioca. Most tapioca pearls are black from being soaked in brown sugar syrup.
This makes the boba drink look similar to passion fruit. Has this thought ever crossed your mind?
Most boba shops make black tapioca pearls, black boba being the original.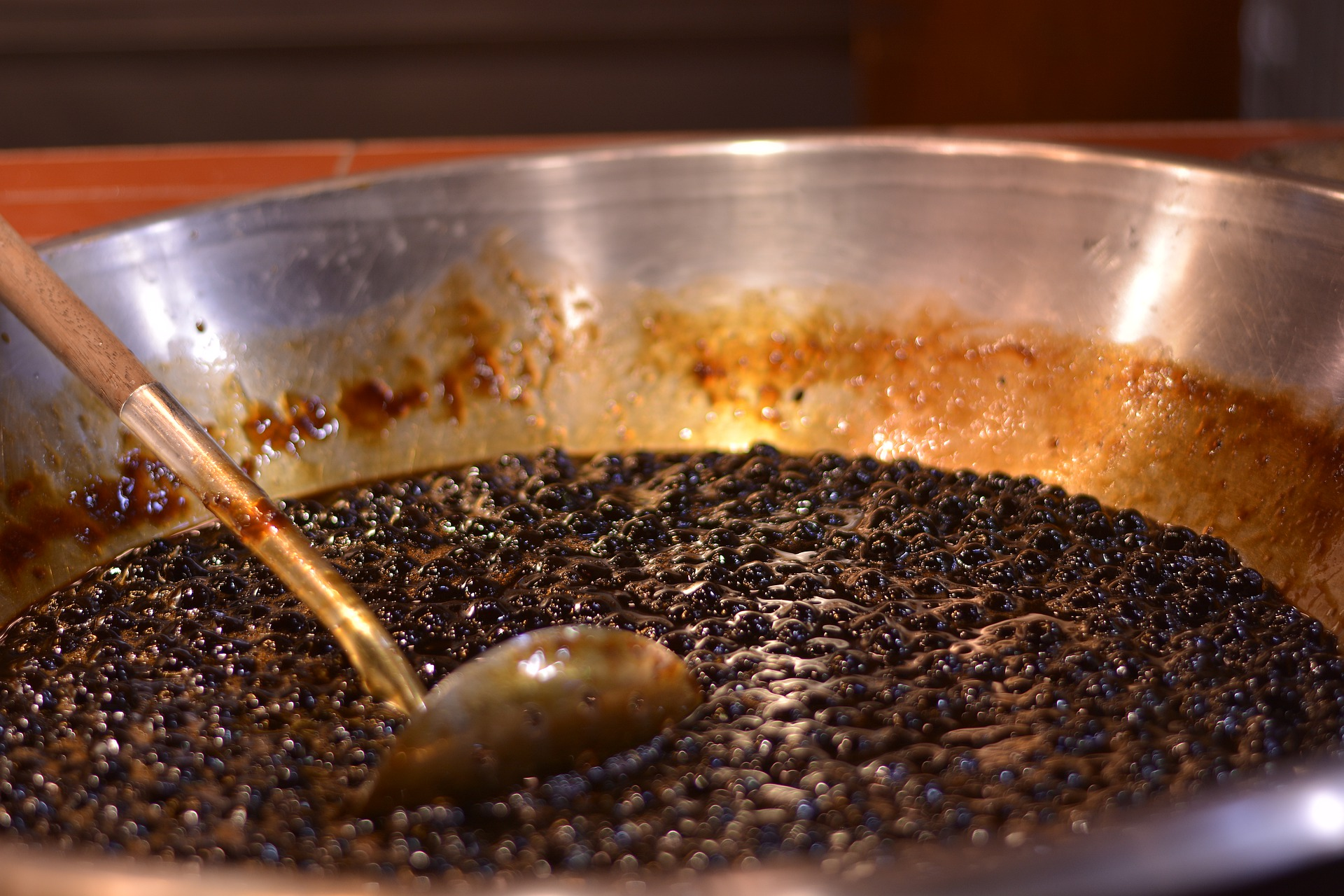 These tapioca pearls can also be made home from scratch using tapioca starch.
They have a chewy consistency somewhere between jelly and chewing gum.
Since tapioca pearls cannot be consumed through normal straws, bubble tea shops use boba straws or fat straws.
Since bubble tea consists of chewy pearls, they should be chewed properly before swallowing and shouldn't be gulped down along with the drink.
Since the tapioca balls are cooked by boiling them, including ice in the drink is necessary.
Letting the tapioca balls cool down naturally will make the pearls sticky and less chewy. Hence it is advised to cool them in an ice bowl after cooking them for some time.
What does bubble tea taste like?
It tastes very refreshing and acts as a snack and a drink due to its unique tapioca pearls.
The drink tastes like milk tea with a blend of fruit juice.
The taste also varies based on the tea brewed and the blend of fruit juice resulting in many flavours to choose from!
Different Flavors of Bubble Milk Tea
Bubble tea has many varieties and flavours, but the most popular are black bubble milk tea and green boba milk tea.
The brew used in Boba tea can be black or green tea. These two are the most commonly used options for the tea flavours of boba drinks.
Other flavours bubble tea flavours include
Jasmine bubble tea
Oolong bubble tea
Taro pearl tea
Cocoa bubble tea
fruit juice-based bubble tea such as strawberry, mango, passion fruit, grape, kiwi, etc.
Rose bubble tea
Thai bubble tea
White bubble tea
Some of the fresh fusion involves soda or coffee.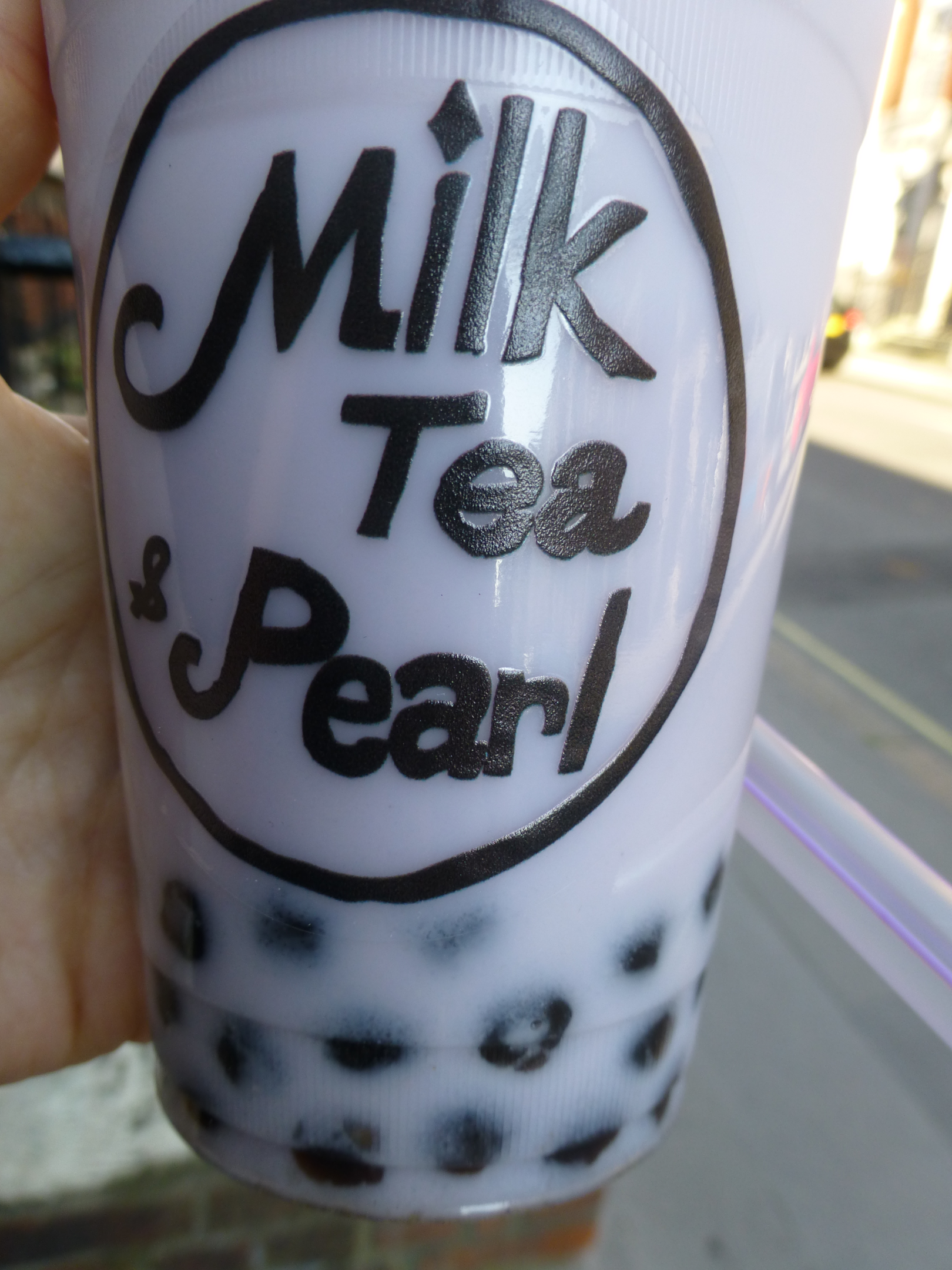 Relatively Healthy Bubble Tea Flavors and Ingredients.
It is better to use brown sugar instead of white sugar to make the syrup in which the boba pearls are soaked.
Honey can also be considered a ha healthy option for bubble tea sweetener.
It is also nutritious to go for nuts milk or oats milk rather than condensed milk
The healthiest of all the boba tea flavours is the Matcha boba tea. Matcha is known for its abundant health benefits.
Combine it with chia seeds, almond milk, and honey instead of sugar, and you have your healthiest boba tea ever made.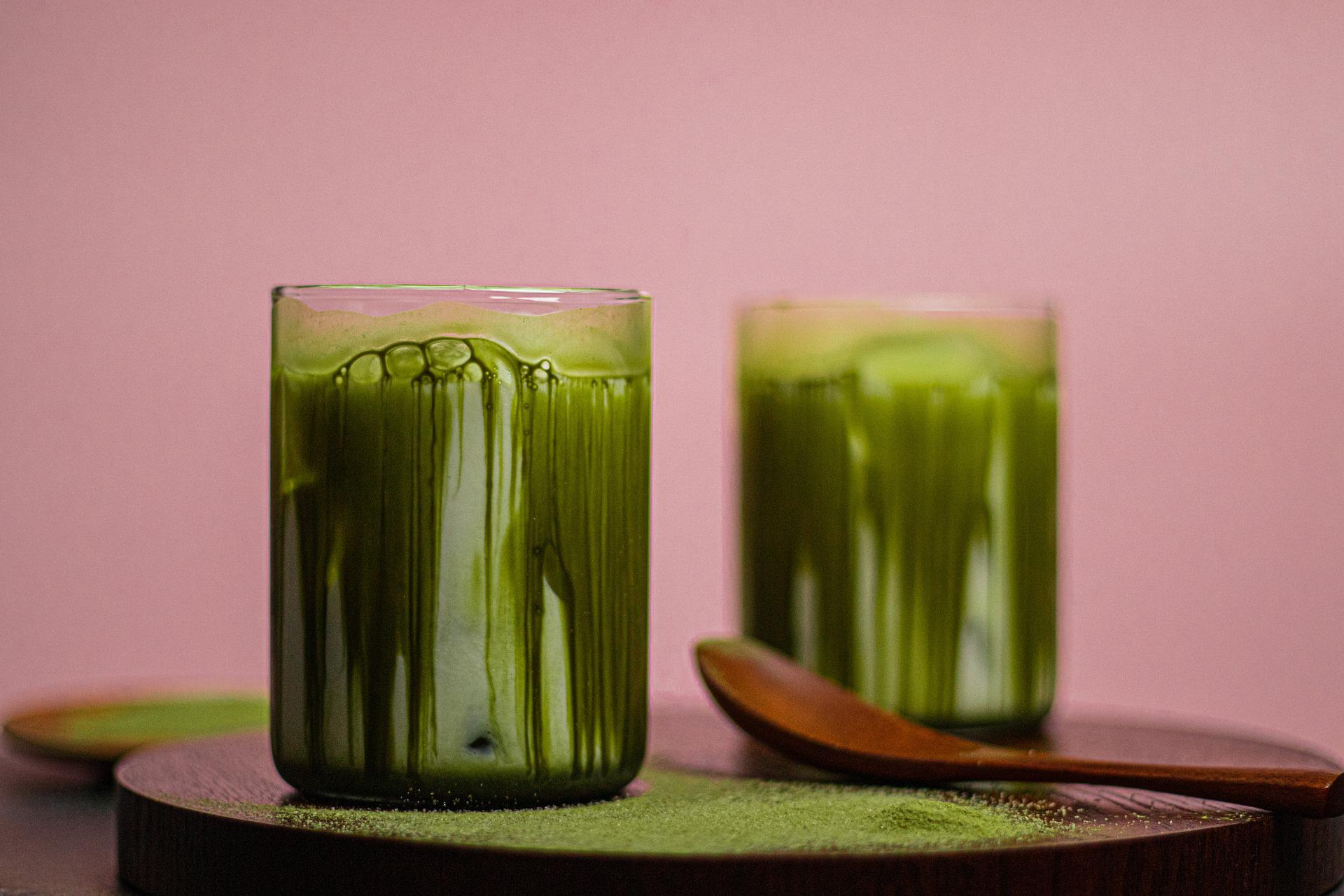 Other healthy alternatives include:
Low-calorie boba tea, which consists of zero sugar and iced tea
Taro boba tea is made with taro roots and yams. This bubble tea has a similar flavour to that of cookies and cream.
Turmeric bubble tea
Rose milk Tea
Jasmine bubble tea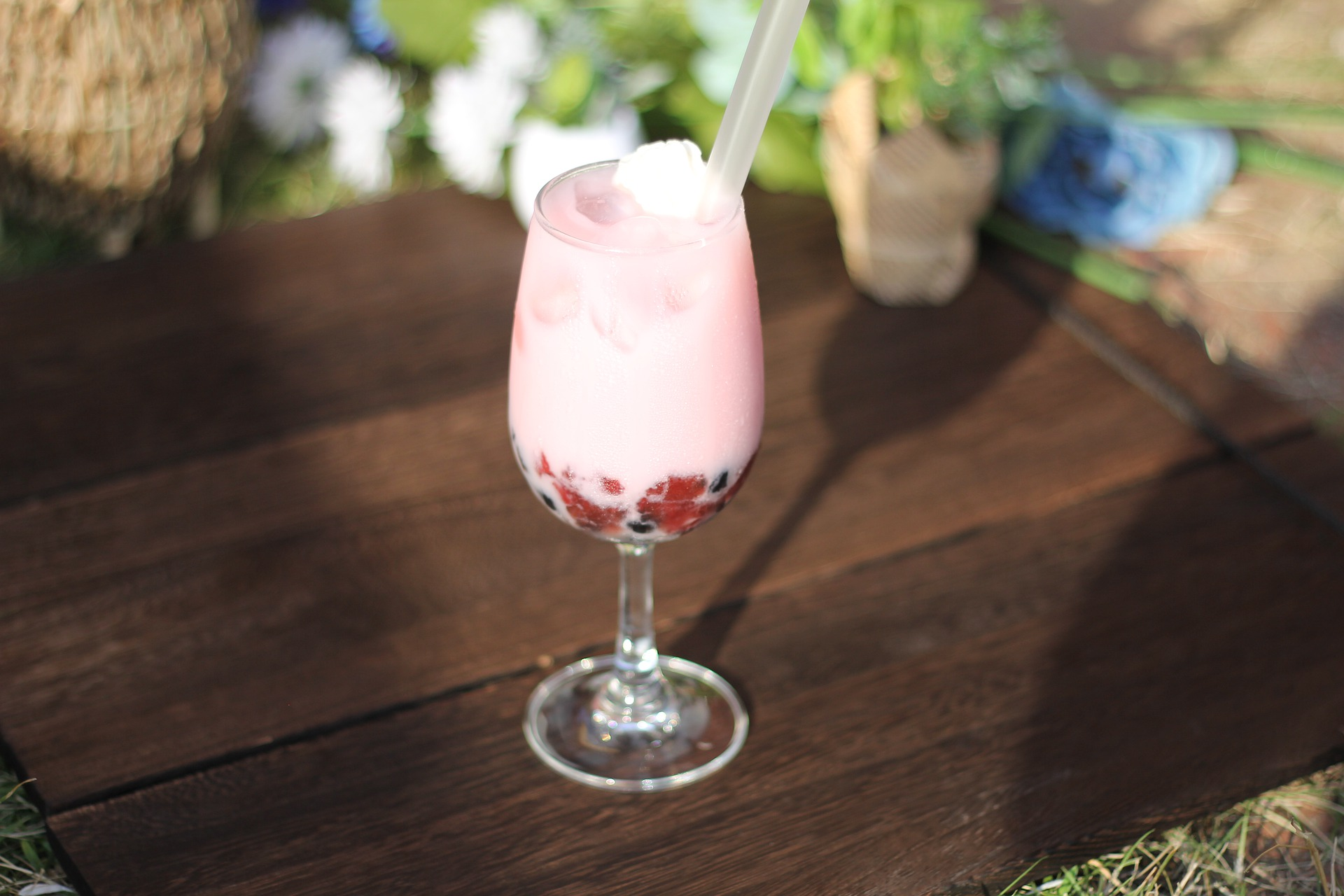 Other Bubble tea Recipes
Matcha Milk Tea
Boil one-fourth cup of water to brew the tea.
When the water starts boiling, add one teaspoon of Matcha tea powder.
Now the Matcha tea is ready.
Take a long glass and start layering the Matcha milk tea.
Add two tbsp honey and two tbsp already prepared boba.
To cook ready-made boba, refer to the initial recipe given above and to prepare homemade boba refer to the recipe given below.
Add 4 to 5 big ice cubes.
Pour one cup of almond milk or any other preferred milk such as almond milk, nuts milk, etc.
Finally, pour one-fourth cup of matcha tea prepared earlier.
Take a boba straw and mix the milk tea.
Your healthy matcha milk tea with boba is ready.
Taro Bubble Tea
Boil one-fourth cup of water to brew the tea.
When the water starts boiling put in a jasmine green tea bag.
Add two tablespoons of instant taro powder. It is a beautiful purple-colored powder.
Now the Taro tea is ready.
Take a long glass and start layering the Taro bubble tea.
Add three tbsp honey and two tbsp already prepared boba.
Add 4 to 5 big ice cubes.
Pour one-third cup of almond milk or any other preferred milk such as almond milk, nuts milk, etc.
Finally, pour one-fourth cup of taro tea prepared earlier.
Take a boba straw and mix the milk tea.
Your healthy Taro bubble tea is ready.
Thai Bubble tea
Boil one cup of water to brew the tea.
When the water starts boiling, put it in the Thai tea mix.
Steep the Thai tea for 5 to 10 minutes to get maximum flavour.
Add two tbsp of brown sugar to the tea.
Add one tbsp honey and three tbsp already prepared boba.
Add 4 to 5 big ice cubes.
Pour three tbsp evaporated milk and three tbsp sweet condensed milk.
Finally, pour one cup of Thai tea prepared earlier.
Take a boba straw and mix the Thai milk tea to combine the ingredients
Yummy Thai milk tea is waiting to be consumed.
Is Bubble Tea Healthy?
Since bubble tea is rich in carbohydrates and has a high-calorie count, they act as an energy booster.
It is a beloved drink due to its delicious flavour.
Bubble tea with green tea as the base is rich in antioxidants.
Matcha bubble tea is a very healthy bubble tea due to Matcha's abundant benefits.
It is rich in antioxidants, boosts brain function, and helps weight loss.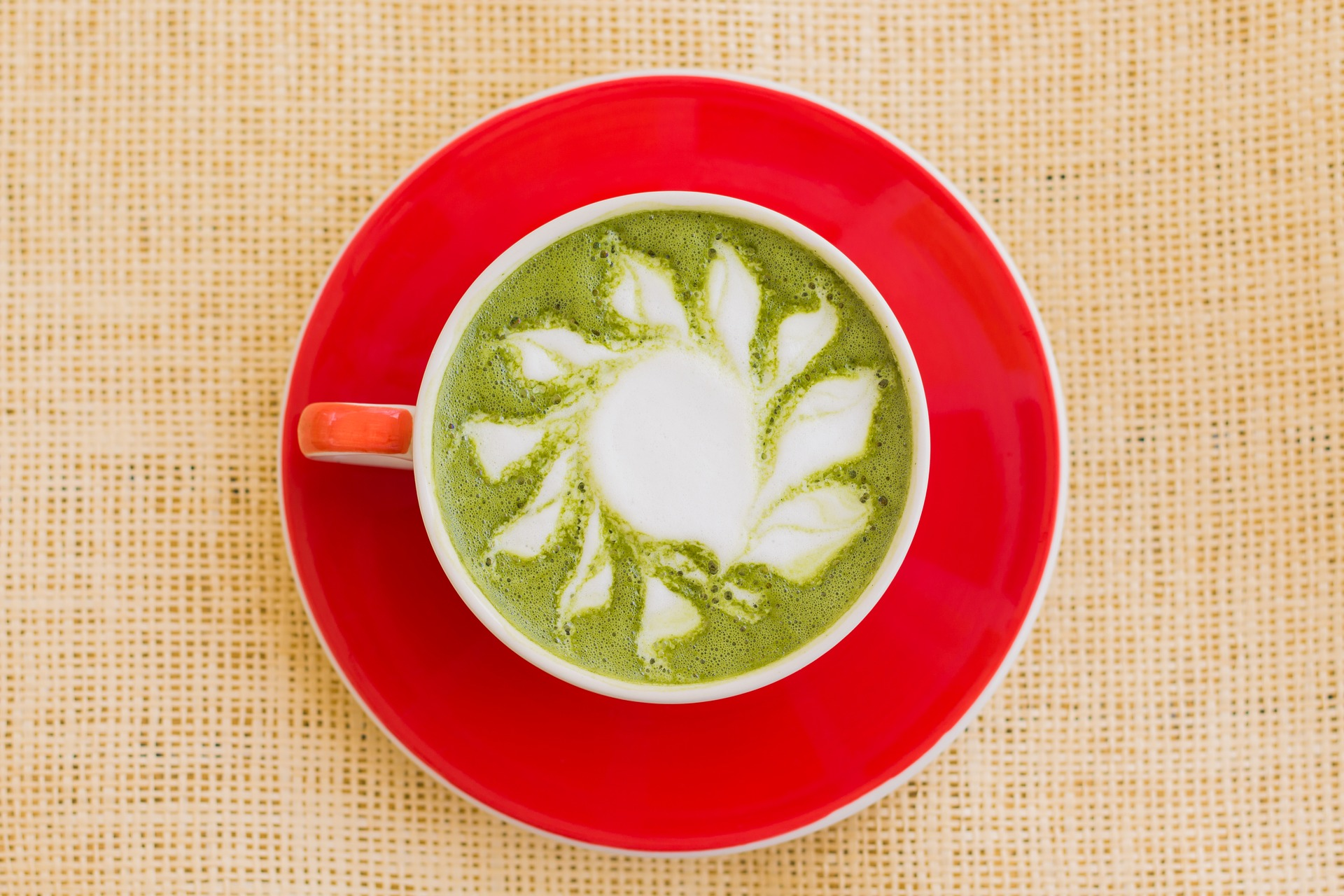 Why Bubble Tea is Not Recommended as a Daily Beverage
When consuming bubble tea, one must remember to chew the boba pearls as there is a chance for one to choke on them.
One more reason to chew the tapioca balls thoroughly is that they won't be easily digested when swallowed as it is.
Most boba drinks have high levels of sugar.
Hence frequent consumption can make you more prone to diabetes and obesity.
Some of the ingredients can cause allergic reactions for some consumers.
Tapioca balls are high in carbohydrates and calories but lack minerals, vitamins, and fibre.
This makes it a not-so-healthy drink, so it is okay to consume them occasionally but not frequently.
How To Make Classic Bubble Tea Pearls at Home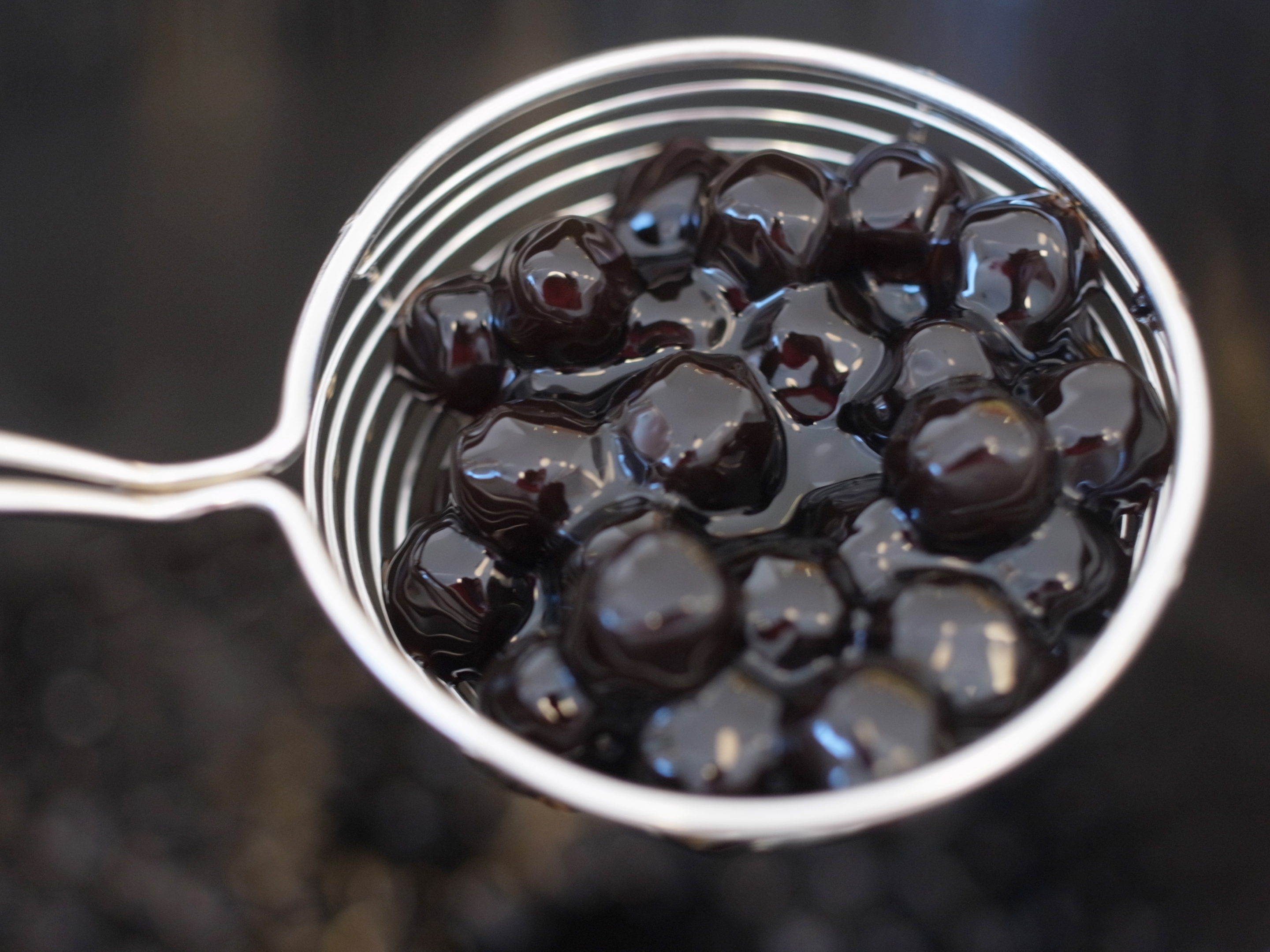 Classic bubble tea pearls or boba tea pearls can be made from scratch at home.
The boba pearls can be made from tapioca starch, water, brown sugar, and cocoa powder.
Boba Tea Pearl Recipe
Combining the dry ingredients.
Take 120g of tapioca starch in a bowl.
Add 15g cocoa powder to it.
Stir the mixture until both the dry ingredients have blended well.
Making the wet mixture
Take 50g brown sugar and 1og tapioca starch in a cooking vessel.
To this bowl, add 70ml water.
Mix the mixture using a spatula until everything is blended, and then place the cooking container on the stove with low heat.
Heat the mixture while stirring continuously.
Once the mixture starts boiling and becomes of a sticky consistency, immediately turn off the gas and take it off the stove.
Bringing together the dry and wet ingredients
Add the cocoa powder and tapioca starch prepared into this sticky mixture and mix with a spatula to combine the ingredients.
Since it is sticky and heavy, gently mix it not to get the mixture everywhere.
Drop the partially combined mixture onto the table and start kneading the mixture by hand when it is still warm.
First, it may seem dry, but soon the moisture will kick in, resulting in a perfectly kneaded dove.
Make sure not to burn your hands.
The mixture must be kneaded for quite some time to obtain the desired result.
Once the flour turns smooth, your boba pearls dough is ready.
Divide and conquer
Divide the big ball of bubble tea balls dough into equal portions of 4 or 6, based on the size of the bubble tea pearl you are aiming for.
Roll the divided dough into a long cylindrical shape.
Cut this dough into small pieces.
Ensure to cut them into small pieces around half a centimetre and not too big, as if the bubble tea balls are too big; they won't cook properly when boiled.
Cover the balls with tapioca flour or any other flour to prevent the balls from sticking together.
Now your bubble tea balls are ready to be cooked and can be used to make your favourite bubble tea recipe.
Adios Amigos
Well, hope that answers your question of 'What is bubble tea?' and that now you can confidently answer the question 'What is bubble tea?' to whoever asks you that question.
I am sure you were tempted by the beautiful shiny pearls and the delicious descriptions of bubble tea.
What are you waiting for?
Follow the below steps and be united with your goal
Step1: Find the nearest bubble tea shop
Step2: Ensure it is the best bubble tea shop amongst the boba shops in your locality
Step3: Experiment and enjoy your preferred choice of bubble tea amongst the many flavours available.
Other Suggested Reads
https://icytales.com/6-healthy-cookie-recipes-to-indulge-in/ 
https://icytales.com/12-quick-and-healthy-dessert-recipes/
https://icytales.com/benefits-of-drinking-colombian-coffee/
https://icytales.com/how-drinking-wine-could-beneficial/
https://icytales.com/what-country-did-tea-originate-from-amazing-flavors/
[amazon_auto_links id="280559"]