As an affiliate-driven website, Icy Tales earns from qualifying purchases.
From Adventure to Contemporary literature and fan fiction to non-fiction, you name it, Wattpad has it. If you've been wandering the internet for the answer to 'What'sWattpad', your hunt ends here.
Whether you want to know what exactly is the Wattpad app that your best friend can't stop talking about. Or what does "I've been reading this fanfic, and it's so awesome" actually mean?
Or maybe your child has recently discovered the world of online reading and has stumbled upon the App. You will find all you need to know in this exclusive guide by Icy Tales.
What's Wattpad?
Wattpad is an online platform where you can read and write original stories. It is a community hub for readers and writers.
The social reading and writing platform recently completed 15 years and was founded by Allen Lau and Ivan Yuen in 2006. The South Korean Conglomerate acquired Naver Corporation in May 2021.
Wattpad is often regarded as an app that can cure you of your boredom. You can read whatever you want and write whatever your mind wants you to without the fear of judgments from your immediate society and writing community.
Wattpad allows users to read and write a variety of genres limited by the Wattpad Content Guidelines, which honestly are not moderated to an extreme. Readers and writers can also interact through comments on the stories, message boards, and private texts.
Stories on Wattpad are available in over 50 languages, and some stories published on Wattpad have also been adapted into Web series and movies.
How to use The Wattpad App – Getting Started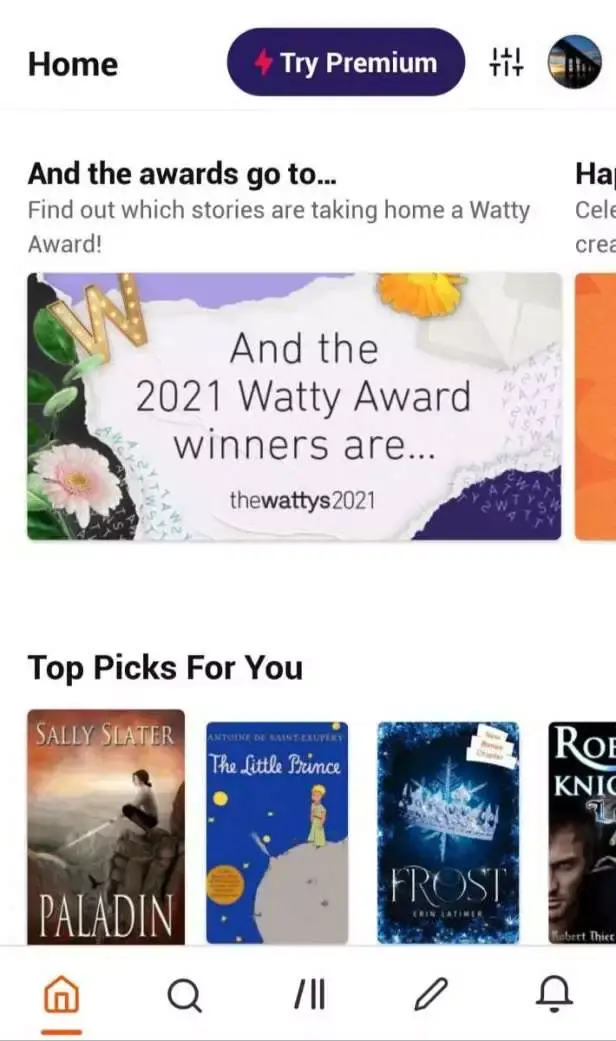 The majority of the users of Wattpad who prefer mobile reading access it through a mobile device. Most users are females and millennials.
To use Wattpad as either a reader or a writer, you need to have a Wattpad account. When you install the App on your phone, you will be asked to join for free before you start discovering a plethora of stories. Some are amazing, and some are not so amazing!
You can sign up on Wattpad by using your Facebook or Google account. There is also an option to sign up using an email. Wattpad services are accessible to only those aged 13 years and above. However, parents need to note that the age bar can be easily dodged.
Once you create your account, you will be prompted to choose whether you like to read, write or do both. A few more questions about you will follow this. Keep in mind that these are just for the analytics and will create no difference in your user experience of the App.
After you choose at most 3 genres that you would like to read primarily, you will be asked to get a premium subscription. You can then start reading and writing on the App.
The Wattpad app's homepage will feature hot stories, new authors, and recommendations based on your preferences and reading practices.
Is Wattpad Free to Use?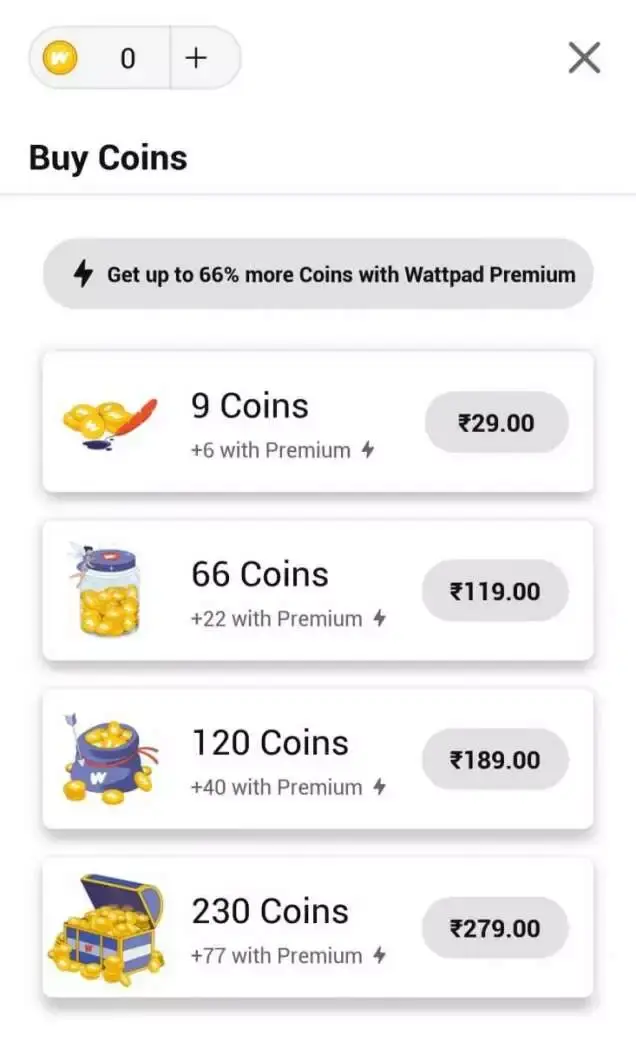 The Wattpad App, for the most part, is free to use. However, there are a few select features that you can avail yourself of with a subscription.
There are two types of subscriptions available. One is the Wattpad Premium, where you'll 'say goodbye to ads' and can download an unlimited number of stories for offline reading. The other is the Wattpad Premium +, where, apart from the perks of Wattpad premium, you'll also get to read 24 paid stories per year or 2 stories per month, at no extra cost.
Paid stories is an initiative by Wattpad where global editors and reviewers surf the Wattpad to find those gems of a story for readers to pay for. This helps support the writers with their own stories and other story ideas, apart from getting their Wattpad story published as a book.
Paid stories on Wattpad can also be unlocked using 'coins'. You can buy coins and spend them on the story you want to read.
Discovering The Perfect Wattpad Story
Wattpad users write on different genres, including but not limited to teen fiction, science fiction, fanfiction, romance, fantasy, poems, literature, horror, LGBTQ+, and so on. The stories are original and written by aspiring authors; hence, you will find that many stories are incomplete too.
While Wattpad allows aspiring writers to publish their story part by part, this is also a con for readers because some of the best stories are left incomplete or last updated eons ago.
When you search for a story in the search bar, you can filter the content using filters. These include the length, last updated, type of content (Mature, free, paid, or completed), and the tags.
When searching a story using tags, you will be shown the hottest stories under that particular tag. The stories are also labelled as either completed, ongoing, recently updated or rarely updated to let you know the current status.
Once you find a story that you want to read, you can add it to your' reading list'. You can create multiple reading lists and title them as you want.
There is also a private library titled 'current reads' where you can save stories offline. You can save up to 25 stories offline for free. With a premium subscription, you will get unlimited offline stories.
Wattpad has its content guidelines, according to which any story on Wattpad has to be appropriately tagged. Wattpad has the right to tag a story as 'mature' without informing the writer.
While the content is moderated regularly, many Wattpad books escape the radar. This is a major issue why parents are not too keen on letting their kids use the App.
The Wattpad Community
Bringing people together through stories is one of the main reasons Wattpad seems to have succeeded, surpassing other writing platforms. Every Wattpad user has a profile page to put in their bio, profile pictures, and curate their reading lists.
The stories published by a writer will also be shown on their profile page, and you also have an option to share links to your social media.
You also have an option to follow people on Wattpad. You can find your friends through their usernames and keep a tab on popular writers' books.
Wattpad has become such a social platform that you can make new friends, share your favourite stories, and talk about anything through the private text messages feature.
There is a message board for every user to post things for their followers to know. People can also post and comment on each other's message boards without following them.
Comment option is also available for the stories, and if you like a story, you can also vote for it, with every chapter having a vote option. A story gets ranked for the particular tags based on the votes, reads, and comments. Higher the ranking, the more the audience.
Recently, a new feature was rolled out for mobile users of Wattpad – Reactions. Previously available only on iOS, it can now be used on Android devices. There are various cute stickers available to react to a story in the comments section.
Writing a story on Wattpad
https://www.youtube.com/watch?v=T07pP_gRWKY
To write a story on the Wattpad app, go to the pencil icon and click on 'Create a new story'. Wattpad also allows you to use a book cover, and here is where you can show your graphic designing skills and writing skills.
Though a cover is not mandatory, books with an appealing cover get more attention for obvious reasons. After all, 'Don't Judge a Book by its Cover' does not apply to you, me, and everyone.
Once you give your story a title and a summary, you can start writing. To know how you can avoid the intensive brainstorming session for the Title of your book, read 11 Ways To Find Title Ideas For Your Book.
If you find writing on document apps like Word and Google Docs easier, you can easily copy and paste content written from elsewhere into Wattpad. Wattpad also enables you to use media in your story.
You can use a header image, GIF, or a YouTube video for the aesthetics. The inline media also allows the addition of YouTube videos, GIFs, and Images.
You can keep your chapters in the drafts, where they would be waiting for you to edit them further. Once you are happy with the final draft, you can publish it.
Your followers will be notified of the updates and anyone who has your story in their private library, regardless of whether they follow you or not.
You need to, of course, tag your story appropriately. Search for popular tags for the genre you have written and include any keyword that is popular on Wattpad and gives insight into your story.
Tagging appropriately will make your story more known. A major part of reader traffic is gained by adding the story to their reading lists, which other users then discover.
When you categorize your story under the genre you've written for, readers interested in that particular niche will find your story more readily. New authors will find it challenging to get their Wattpad stories out there.
Once you've published your first book, you need to have patience. Try building up your followers by interacting with other writers and readers on the platform.
Hundreds of thousands of books on Wattpad are abandoned by the writers, so to succeed in writing something that the audience will be interested in and engaged in, try to update your story regularly and don't forget to mention the schedule in the summary or your bio.
The writing process takes time, but your readers will appreciate a heads up on when to expect updates.
Beware! Your Wattpad stories can get stolen too. Despite Wattpad's firm stance on copyrights, some miscreants do not heed and post copied stories on Wattpad and other platforms.
There is no sure-shot way to prevent this, but readers often bring it to the notice of the original writers of the story.
Is Wattpad Safe – Parental and Privacy Concerns
Wattpad has such a vast reader and writer base that there's bound to be many perceptions and imagery coming together. When a reader disagrees with the writer's point of view and expresses their anger in the comments, it can affect the writer negatively.
The comments section often sees the use of inappropriate language. Only a few people know how to impart constructive criticism constructively.
Linking personal social media profiles like Facebook, Twitter, Tumblr also paves a path to dangers to the cyber world. Wattpad experienced a major data breach in 2020, where the users' personal information was exposed on a public forum.
Most of the content on Wattpad is mature. While the accessibility of such content depends on the user's age, kids more often than not create an account with fake credentials to access mature-themed stories.
Writers can publish inappropriate content stories, mostly based on themes like self-harm, physical abuse, explicit sexual content that gratifies sexual and mental abuse, etc.
Even though Wattpad claims to do so, the tags and labels for mature sexual content are not moderated.
Moreover, in the present era, kids thrive on acquired traits and perceptions. Books always have a way to alter mindsets; hence, the exposure of harmful content on the App is a major disadvantage to the users.
The presence of inappropriate content and its easy access by kids is why parents do not trust the App. There is no provision for parental controls, and kids do not want their parents breathing down their neck when they read romance stories.
However, all is not lost! Wattpad does have some privacy practices that can make Wattpad a relatively safe place for your kids when used along with communication.
Let your kids know what is appropriate and what is not by communicating with them and helping them shape their views to the right path.
Let them know that the stories on Wattpad are not reality for the most part. Sharing an account with your kids will help you keep an eye on their reads.
Ensure that your kids know how to report a story, user, and other problems through the in-app features. You can also mute users to prevent them from following and communicating with you. Remember! One's safety is in their own hands.
Opportunities for Budding Writers
While traditional publishing houses rarely take up new authors, Wattpad provides a comprehensive platform for young writers. Exceptionally good stories get reviewed by an editorial board and staff and get a chance to feature as a Wattpad Exclusive.
Wattpad Books is an initiative that gets well-written original stories a chance to be published as a physical book. Still, among millions of books, it's a rare chance that your book will be picked up for publishing. Hence, writers can also self-publish their books and use their fan base to sell them on Amazon.
The Kissing Booth by Beth Reekles was adapted into a Netflix film, and this story started chapter by chapter on Wattpad! The same goes for the After series by Anna Todd, who was initially a Harry Styles fanfic published on Wattpad!
Wattpad also hosts different writing contests driven by official and unofficial communities. Namely, the largest writing competition globally, 'The Watty Award', recognizes chosen stories across various genres. The Paid Stories program is again a support system for writers.
All in all, even though the App has its pros and cons, as a Wattpad reader and writer myself, I can confirm one thing for you – Even one single read on your story, one vote, and one comment can boost your confidence and make your day. Use the App responsibly and creatively and enjoy the platform for what it's worth.
The Wattpad app is easily the most used online reading and writing platform. While there are other websites like FanFiction.net and Archive of Our Own, they are exclusively for fanfiction. You will find that the Wattpad App has the most appealing interface with a huge diversity of genres.
This was a complete guide to the Wattpad app, with much-needed information. Wattpad always keeps on making changes to its App, and I assure you that at Icy Tales, we impart only the latest knowledge.
Please share this read to anyone who wants to know 'What's Wattpad', comment below, and let us know your views.
Edited – Steffy Michael|22/10/22