People always wonder why need to wear makeup. Some people think that women use makeup to impress men, which is not valid. The idea of women wearing makeup or not wearing makeup completely depends on how one perceives it.
For some, a full glam face is considered as makeup, and for some, it's just kohl and lipstick/lip balm. In this day and age, ladies are being bombarded with certain unrealistic standards set by the society about how little or how much makeup they should use.
Even during ancient times, women used animal fat on their cheeks or a mixture of red clay and water on their lips as lipstick. They would also use berries to add a tint on the lips.
Women would darken their eyelids by using burnt matchsticks and gold dust on their eyes. Even beeswax was used on lips in the form of lip balm. So, the trends of makeup have always been popular among women, and let's just say that the trend is not going anywhere any time soon.
From the beginning, there has always been a perception that women are supposed to look perfect all the time. If they do not have excellent features, they are criticized for it. If girls wear makeup, people criticize them for that as well. It feels like if women do not meet the standards of beauty, then they are not accepted at all.
There have always been unrealistic standards set for women. We have ever seen celebrities with makeup on their face, and that was heavily encouraged by people around the world. Be it Bollywood, Hollywood, or TV shows; stars have always displayed themselves with the full face of glam makeup on.
There were comparisons made as to how celebrities look different with and without makeup. While the side with makeup on was considered glamorous, the with no makeup on was considered "not so pretty."
Today, the scenario is quite different; At the same time, many people endorse "natural beauty" others prefer adding filters to their face and getting specific beauty treatments done to their face to feel prettier. We all are aware of how much influence celebrities have on people of each age group.
Every woman wanted those sparkly eyes and glossy lips. This led to young girls being notorious for stealing their mother's makeup and applying it secretly. Not that it is wrong, but that is what girls believe even when they are incredibly young.
Why Women Wear Makeup
There are multiple reasons, and if you are wondering the same, then let's find out.
1. Form of Expression
Makeup holds power to express yourself. The way you decide to represent yourself may be completely different from others. For some women, bright colored eye shadows, bold lipstick, and huge eyelashes may be their way to go, but for other women, neutral eyes, nude lipstick could be their form of expression.
Makeup is exceptionally subjective, and in this day and age, there's no rule to makeup.
2. Stress Buster
The makeup acts as a stress buster. Don't believe it? Try it for yourself. Whenever women feel stressed out, they sit in front of their mirror, grab their makeup brushes, pick their products, and just start doing their makeup.
There's something about it that feels so relieving and calming. The entire process feels therapeutic and relaxing. Watching your facial features transform and turn into the way you like makes you happy.
3. A Hobby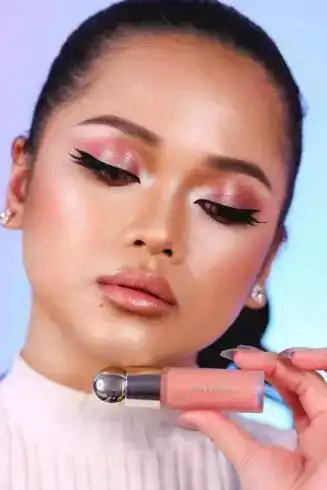 Another reason they use makeup is that they consider it a hobby. A hobby differs from one individual to another. Some may consider singing, dancing, swimming, etc. as their hobby. Likewise, makeup is done for fun.
Even on different social media platforms, women choose to showcase their talent in a playful and creative aspect by applying makeup on their faces. Various DIY techniques are shown to improve skills and make the best out of what you have. This gives a path to most women to try it out and feel good about it.
4. Confidence Boost
Some prefer makeup to boost their confidence. If you have a huge pustule in the middle of your face, wouldn't you love to cover it up for some time? I am pretty sure you would. Just a tint on the lips and concealer under your eyes can help boost your confidence.
Whether it is a formal meeting, small meet up with your friends, or a special occasion; women wear makeup to increase their confidence. A little tint on the lips can brighten up their mood.
Red lipstick has the power to change the look somehow and make women seem so much bolder and confident. To wear red lipstick is often considered extremely attractive, and that is why women who are attractive tend to make their lips appear fuller and luscious.
5. Form of Art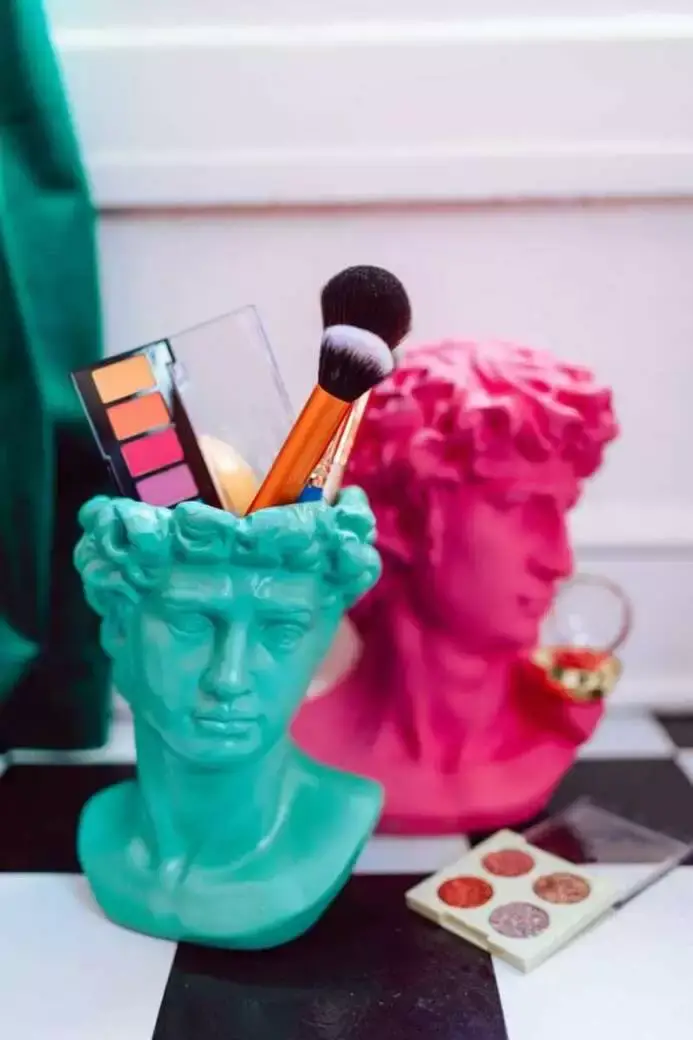 Makeup is a form of art. Some people wear makeup only on special occasions or maybe stage performances. During stage performances, it is extremely important to show your true self out. You can be as artistic or as simple as you want. There's no right or wrong way to do makeup.
For some women, their face is like an empty canvas that they can paint; however, they want to. Makeup gives you the freedom to be creative and to show off the side that you might have never shown before.
6. Form of Business
I think we all are aware of the fact that the cosmetics industry is booming nowadays. The best example of using makeup as a form of business is YouTube and Instagram. Many years ago, these social media platforms started bombarding women applying makeup and teaching how to do makeup.
It began by women doing it just for a hobby, but then it turned into a business. Many women came and changed the way beauty was perceived. The cosmetics industry became more inclusive and started identifying their audiences.
Many individual artists have become millionaires by just doing makeup. As a business, makeup has evolved into a revolutionary one.
7. Mental Pressure of Social Media
Now that we are speaking of social media let's discuss how it has created pressure among women to look a certain way.
Different makeup trends are popping up on social media every day. A few years back, there was a trend going around of women having fuller lips and filled in eyebrows that are perfectly arched.
This made women believe that having big lips and perfect eyebrows were a must. This led to people thinking that the reason why a woman wears makeup is that they are supposed to meet the beauty standards set up by the internet.
What women fail to realize is that trends like these defeat the entire purpose to use makeup. It should not be used because a page on the internet told you to do so or a post recommended you to.
Also, we see every other celebrity/social media influencer is launching their makeup line, which they heavily promote all over the platform. This intrigues women to buy more makeup because of the way it is cleverly advertised to them.
8. Enhance Features
One of the main reasons is to enhance their natural features. Studies show that a symmetrical face seems more attractive to people.
A technique of highlighting and contouring is used by women to bring forward the features that are attractive and push back the elements to create a shadow that would create an appearance of having a symmetrical face.
Women wear lipstick to enhance their lips or wear mascara for their eye makeup to appear bigger and eyelashes to appear fuller, in short enhancing one's natural beauty.
They wear makeup to give themselves a fresh look. It is lovely how few makeup products can help enhance the already existing beautiful features.
Want to know how to apply eyeshadow for beginners? Click here.
9. To Look Younger or Older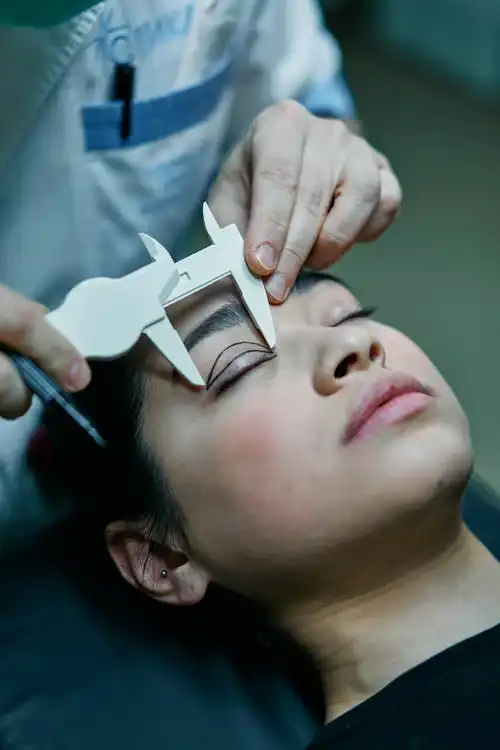 Another reason is to look more than their age or less than their age, especially young women in their adolescents love wearing makeup. Bold lipstick or smoked-out eyes using dark eye shadow colors are used to appear older and neutral eyes, and applying tint of blush along with glossy lips can help to look younger.
There is a myth that says women who are insecure tend to use a lot of makeup and those women who wear very little makeup are not insecure.
A little bit of foundation or concealer to hide hyperpigmentation, dark circles or acne can be used to help the skin to look clearer and more flawless.
With age, our skin starts to develop flaws that many women choose to cover to help them appear younger. That is why a good skincare routine and base makeup helps the skin to appear more plumped and healthy, and enhace your natural skin tone.
Do you want to want how to look young with makeup? Click here.
10. Unrealistic Standards of Society
When women are young, their mind is fed by people, always telling them that they are supposed to look a sure way to be accepted by society. The need to be feminine and be accepted by society also draws one to hide their flaws. Women somehow start finding it necessary to wear makeup because it makes them believe that by doing so, society will accept them.
Remember the Fair & Lovely advertisements that everyone loved and appreciated? Yes, those advertisements made women brood over the fact that they can only be pretty if they are as fair as snow and show that only fair women are deserved to be loved and be successful. With such mentality being put into their minds, they always felt the need to wear makeup.
People of all genders perceived it to be true. That is why women who were not fair or who did not wear makeup were considered less attractive. Such standards set by society turned out to be negative in the minds of women and other genders too.
11. To Impress
Women wear makeup for themselves, but at times they do wear makeup to impress men or other women. If that makes them feel good about themselves, then be it. Sometimes it feels good to receive compliments on your appearance, but that should not be the only reason for makeup.
Reassurance from others is good at times, and that could be another reason, but not all the time. Women feel happy when they are being complimented on the way they look. Imagine a woman not wearing makeup at all, suddenly puts on a full face of makeup. She looks remarkably different. Makeup gives you the freedom to do so.
So, whether women want to wear makeup for themselves or others, it is for them to decide. The perception of people that women who do not wear makeup are not pretty, or women who wear makeup are "too much" or 'so much makeup' should be changed.
As mentioned, there are multiple reasons wearing makeup makes them comfortable, but the top right for all remains the fact that it is their choice to do so. Being in constant need to be pretty by wearing makeup has shaken the willingness of women. Some women wear makeup because society tells them to and some wear out of choice. Makeup is a way to enhance the features that you already have.
A young girl can easily be influenced by the surroundings she lives in. If she is taught to be confident in her skin, then that is what she will choose while growing up. If she is always put in the dilemma of covering up her flaws, then she will become extremely insecure growing up and this is unfortunately common in a woman's life.
There is nothing wrong with covering up flaws that you have on your skin. Some women may have acne, dark circles, dark spots, wrinkles, etc. that they would want to cover up temporarily. That is why they apply foundation or concealer to hide it.
Today, with progressed makeup trends even men prefer wearing makeup not only as a form of art but also to enhance their features and to feel good inside out. So, there's not a right or wrong way to do makeup. There is no specific gender to wear makeup. It depends on one's personal choice to do so.
Therefore, the reason why they wear makeup is to express themselves and to boost their confidence too. Let us know what you think.
Originally posted 2020-05-20 20:24:52.