Have you begun healthy meal planning yet? If not, we will show you how simple it is. Now, what is healthy meal prep? Meal preparation is preparing components or entire meals ahead of time so that they are ready to eat throughout the week.
We constantly worry about eating healthy food, but in our busy lives and in between work, we lose this health balance by consuming junk in the name of nutrition. But if we start planning, managing, and prepping our meals way before, a healthy habit is formed. So, here we are, giving you some healthy meal prep ideas that are also easy meal prep recipes.
A healthy meal need not be tedious and challenging to prepare. Healthy meal prep ideas bring forth delicious recipes that can save money and time filling meals.
Why Meal Prep?
Many individuals enjoy meal planning, which may be especially beneficial for those who are busy. Some of the reasons people like healthy meal prep ideas include:
Healthy meal prep ideas save time — Since your meals are either partially or prepared ahead of time, you don't have to hustle to put anything together for lunch or supper. You also save time choosing your meal immediately before mealtime by planning it ahead of time.
Healthy meal prep ideas save money – Meal preparation ahead of time saves money by reducing food waste. You also won't be buying ingredients that will go to waste if you don't have a strategy for them. Also, if supper or lunch is fully prepared and ready to go, you'll be less inclined to order takeout.
Healthy meal prep ideas aid in healthier eating habits – Home-cooked meals are less expensive than take-out, but they are also generally healthier. When you prepare for yourself, it's pretty simple to include nutritious proteins, fresh fruits, and vegetables and reduce salt and preservatives.
Healthy Meal Prep Ideas for Breakfast
Nothing beats having a nutritious meal prepared and ready to go on a busy morning. P.S. Several morning's healthy meal prep ideas may also be used as snacks.
1. Overnight Oats
Overnight oats are a great option if you enjoy oatmeal in the morning but don't have time to prepare it before leaving the house. Whole rolled oats steeped in almond milk overnight with a hint of maple syrup are the basis of this recipe. The oats are soft and straightforward to digest in the morning, and the combination has a thick, porridge-like texture that is filling.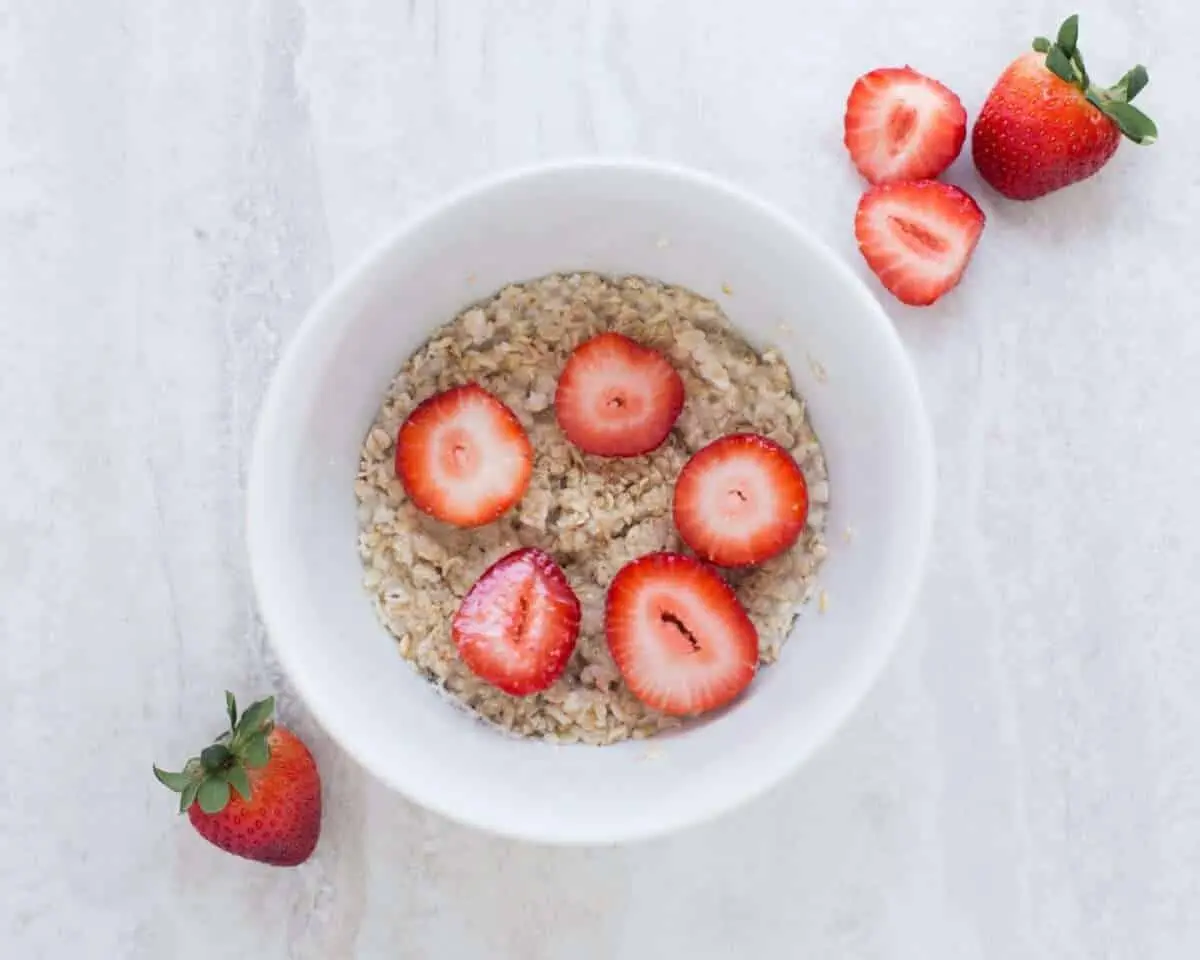 How to make Overnight Oats?
Combine 1/2 cup whole rolled oats and 1/2 cup milk the night before you want to eat your oats. You can use milk of your choice – coconut or almond milk, oat milk, soy milk, or cow's milk. Add 1/2 teaspoon maple syrup and a pinch of salt after that. Stir everything together!
Refrigerate the mixture in an airtight jar overnight.
They'll be ready to eat in the morning! Remove them to a bowl before topping and consuming, or top and go.
Make one of these tasty variations, or top it with your favorite nut butter, fresh or dried fruits, nuts, and more! You might also add spices or chocolate powder to the milk and grain combination. Feel free to use your creative, healthy meal prep ideas!
2. Hard-Boiled Eggs
Eggs are packed with nutrients and are a staple for breakfast. You can enjoy them with salt and pepper or any seasoning. Make a nice egg salad. You can put it on avocado toast and relish it. Numerous healthy meal prep ideas can use hard-boiled eggs only.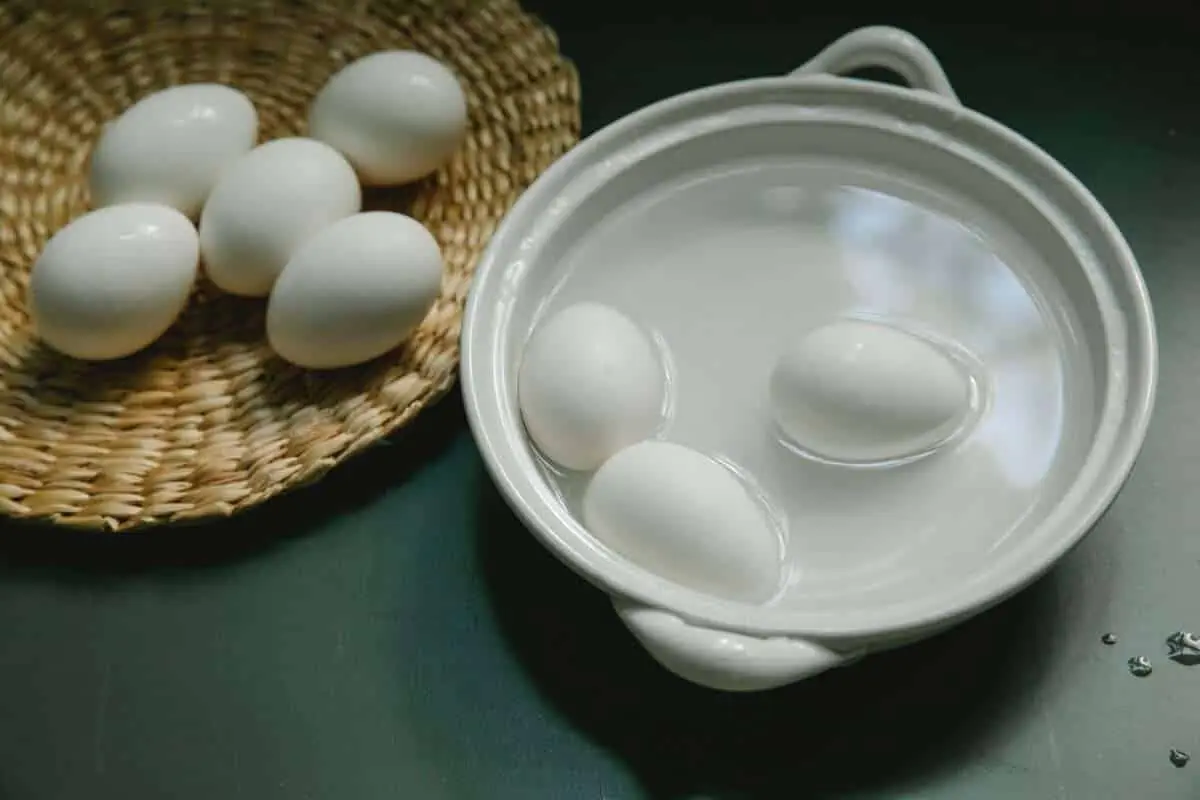 How to make hard-boiled eggs?
In a medium saucepan, put the eggs and cover them with 1-inch cold water. Bring it to a boil. After that, remove the saucepan from the heat and keep it covered with a lid.
Allow the eggs to simmer for 9 to 12 minutes, covered, depending on preferred doneness. Chill the eggs for 14 minutes in a dish of cold water. This makes peeling the eggs much simpler.
3. Chia Seed Pudding
It's chilled, creamy, and faintly sweet, with a dash of cinnamon adding a warm depth of flavor. It feels like dessert, but it's filled with fiber, protein, and healthy fats, thanks to fresh fruit, handmade granola, and a drizzle of maple syrup.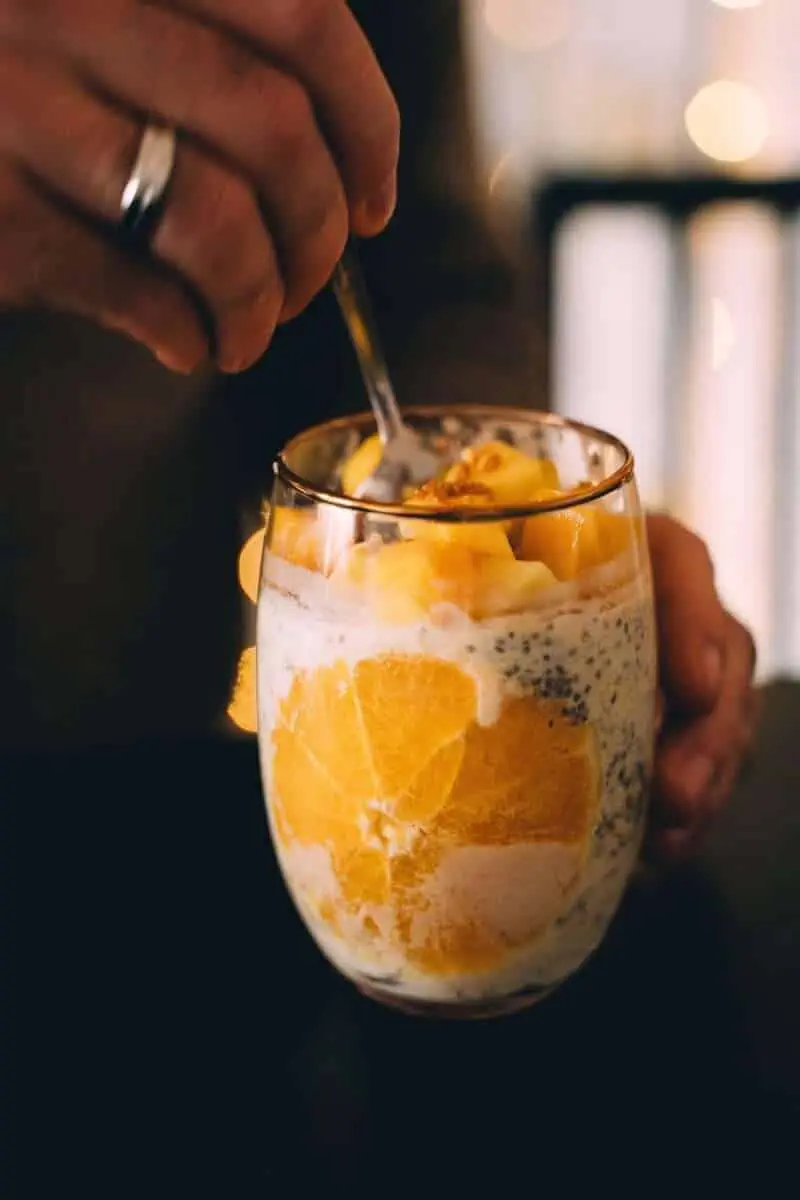 How to make Chia Seed Pudding?
Ingredients
2 cups coconut milk / homemade almond milk
6 tablespoons chia seeds
1 tablespoon maple syrup
¼ teaspoon cinnamon
⅛ teaspoon sea salt
Optional toppings
Tart cherries
Blueberries
Chopped nuts or granola
Coconut flakes
Maple syrup
Method
Mix the milk, chia seeds, maple syrup, cinnamon, and salt in a closed 3- to the 4-cup container. To mix, cover and shake. Allow it to chill for a few hours before stirring to dislodge any clumps. Chill the pudding for another 12 to 18 hours to allow it to solidify.
As desired, top with fruit, nuts, coconut flakes, and maple syrup.
4. Homemade Granola
This homemade granola recipe has a lot of appeal in it. It's simple to prepare, healthful, tasty, and will fill your kitchen with a beautiful aroma!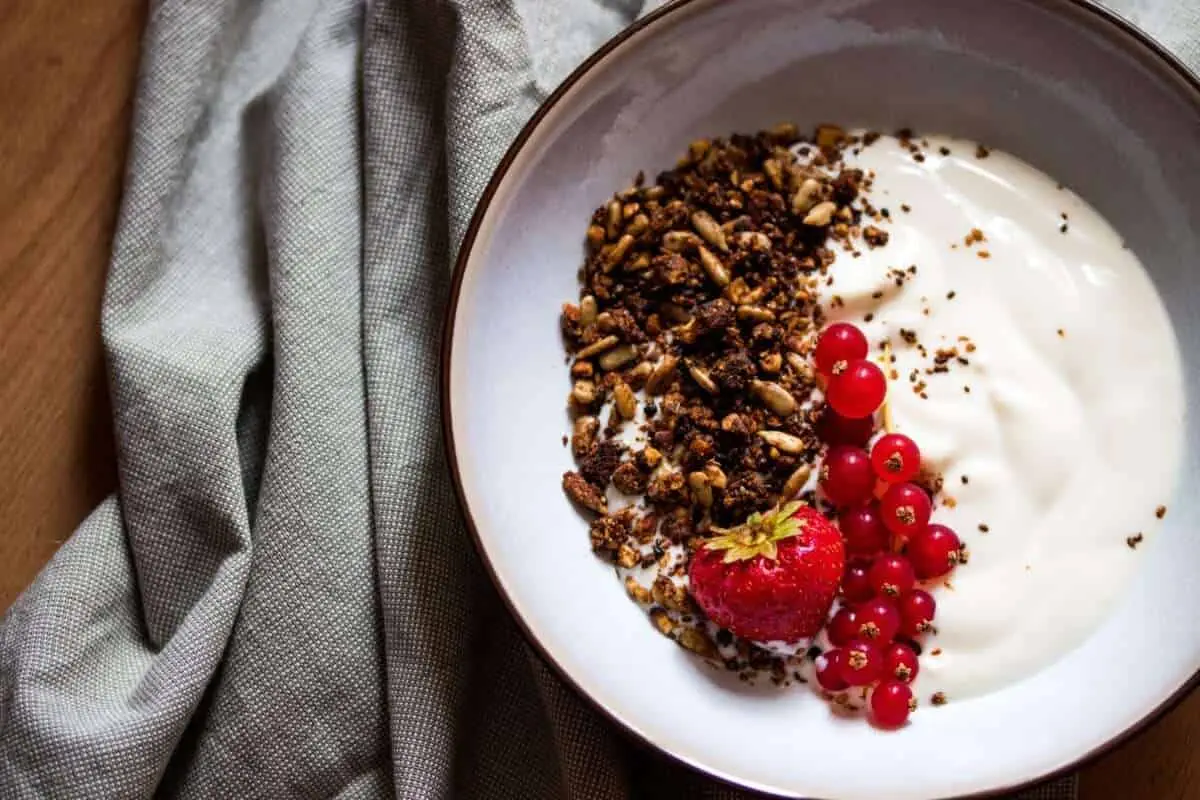 How to make Homemade Granola?
Ingredients
2 cups whole rolled oats
1/2 cup chopped walnuts
1/2 cup coconut flakes, optional
2 teaspoons cinnamon
1/2 teaspoon sea salt
2 tablespoons melted coconut oil
1/4 cup maple syrup
2 tablespoons creamy almond butter
1/3 cup dried cranberries, optional
Method
preheat the oven to 300 degrees Fahrenheit and line a baking sheet.
Put the oats, walnuts, coconut flakes, cinnamon, and salt in a medium mixing bowl. Add the almond butter and trickle in the coconut oil and maple syrup. Blend until smooth. Place the granola on the baking sheet and flatten it into a 1-inch-thick oval.
Bake for 15 minutes, rotating the pan halfway through and breaking the granola apart with a fork. Cook for 15 minutes more, or till golden brown. If desired, top with dried cranberries. Allow for cooling for 15 minutes before serving.
5. Healthy Banana Bread
This delicious, pleasantly spiced banana bread recipe is bursting with banana flavor! It's a fantastic breakfast or afternoon snack that's completely vegan.
How to make Healthy Banana Bread?
Ingredients
2 very ripe bananas, mashed (1 cup)
½ cup coconut sugar or regular sugar
¾ cup almond milk, or any milk
⅓ cup extra-virgin olive oil
1 teaspoon vanilla extract
1 teaspoon apple cider vinegar
1½ cups whole wheat pastry flour
½ cup almond flour
2 teaspoons baking powder
¼ teaspoon baking soda
½ teaspoon sea salt
½ teaspoon cinnamon
¼ teaspoon nutmeg
½ cup chopped walnuts
Topping
2 tablespoons chopped walnuts
1 1/2 tablespoon rolled oats
Method
Preheat the oven to 350 degrees F. Grease a 9×5-inch loaf pan lightly.
Whisk the mashed bananas, sugar, almond milk, olive oil, vanilla, and apple cider vinegar in a large mixing dish.
Mix the flours, baking powder, baking soda, salt, cinnamon, and nutmeg in a medium mixing basin.
Stir together the dry ingredients and the liquid ingredients until incorporated, then fold in the walnuts. Sprinkle the chopped walnuts and oats over the batter in the prepared pan.
Cook for 42–50 minutes, or until a toothpick inserted in the center comes out clean.
Healthy meal prep ideas for Lunch
The best lunch meals are these healthy meal prep ideas. Thanks to the fresh vegetables and herbs, they're light and tasty, but they're substantial enough to fill you up, thanks to healthy grains, beans, chickpeas, and avocado.
6. Black Beans and Corn Salad
This tasty black bean and corn salad are easy to prepare ahead of time. It's a terrific summer lunch and a great healthy meal prep idea.
How to make Black Bean and Corn Salad?
Ingredients
For the Dressing
¼ cup fresh lime juice
3 tablespoons avocado oil
1 small garlic clove, grated
½ teaspoon cumin
¾ teaspoon sea salt
Freshly ground black pepper
For the Salad
1½ cups cooked black beans
1½ cups fresh corn kernels
1 red bell pepper, seeds removed and diced
½ cup chopped cilantro
½ to 1 jalapeño, seeds removed and diced
⅓ cup diced red onion
3 tablespoons Cotija cheese
1 avocado, diced
2 tablespoons toasted pepitas, optional
Method
Combine the lime juice, avocado oil, garlic, cumin, salt, and pepper in a large mixing bowl.
Toss together the black beans, corn, red pepper, cilantro, jalapeno, and red onion.
Season to taste with the cheese and avocado. If preferred, garnish with cilantro leaves and toasted pepitas.
7. Honey Sesame Chicken Lunch Bowls
Chicken breast, broccoli, and asparagus are mixed in a sweet and flavourful honey sesame stir fry sauce in these Honey Sesame Chicken Lunch Bowls. This recipe is a very healthy meal prep idea for lunch.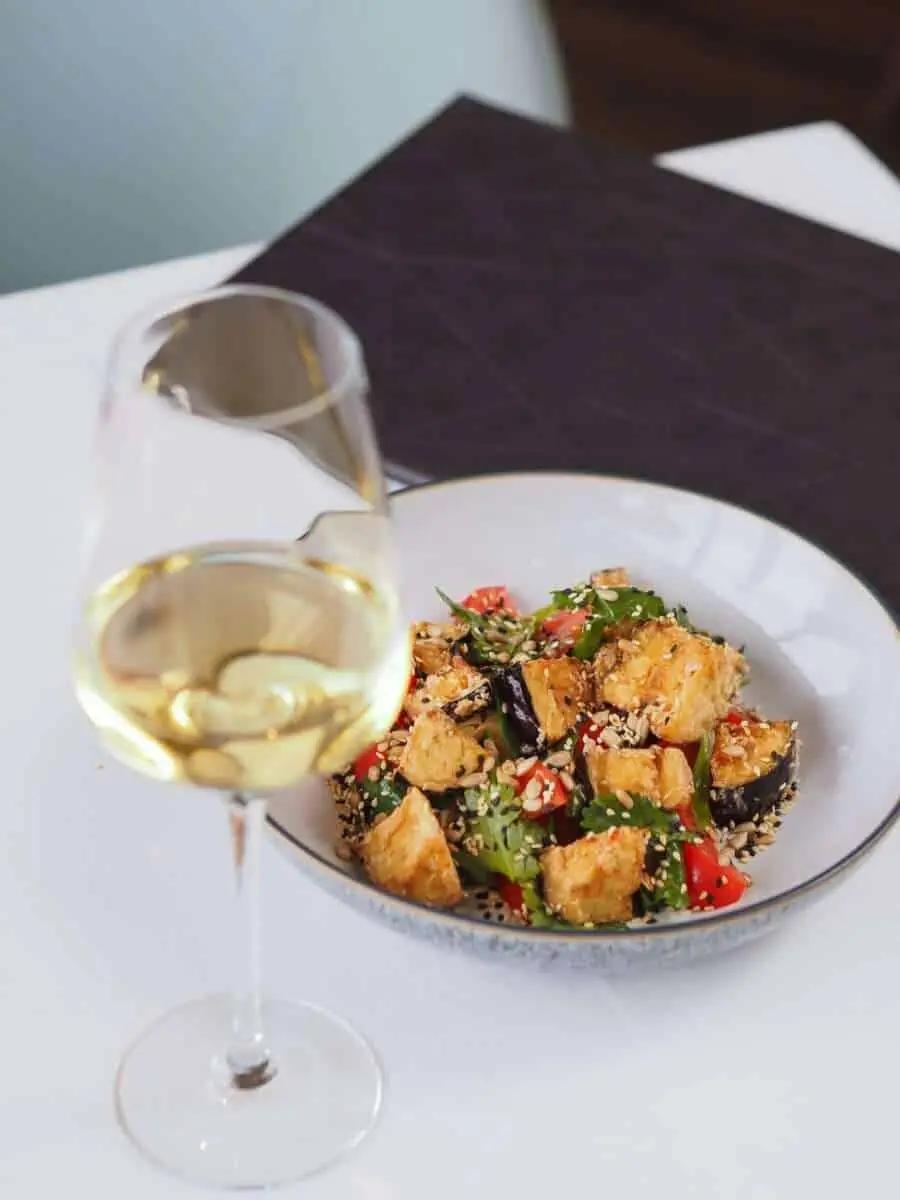 How to make Honey Sesame Chicken Lunch Bowls?
Ingredients
Honey Sesame Sauce:
¼ cup chicken stock or water
¼ cup reduced-sodium soy sauce
¼ cup honey or maple syrup
1 tablespoon sesame oil
½ teaspoon red pepper flakes
1 teaspoon corn-starch
Chicken Lunch Bowls:
¾ cup rice
2 tablespoons olive oil
3 cups broccoli, chopped
3 cups snap peas
2 large chicken breasts (1-inch cubes)
salt & pepper
sesame seeds
Method
In a bowl, combine all the ingredients for the Honey Sesame sauce and set it aside.
Follow the package directions for cooking rice. Divide the mixture into four storage containers.
In a large pan, heat 1 tablespoon of olive oil. Broccoli and snap peas are added last. Cook till bright green and tender, about 5-7 minutes. Combine with rice in storage containers.
1 tablespoon olive oil remains in the pan. In the same pan, add the chicken. Add salt, pepper, and red pepper flakes according to your taste. It will take 7 to 10 minutes to cook. Check it and add more cooing time if not done correctly.
Stir in the sauce and cook for 2 minutes, or until thickened.
Drizzle the sauce over the chicken in the lunch containers. Sprinkle with sesame seeds.
You store this bowl in the fridge for 4 days and reheat it for serve.
8. Chickpea Salad Sandwich
This vegan chickpea salad sandwich is a tasty and healthy lunch packed with protein and fiber! Prepare the chickpea mixture up to three days ahead of time and have it on hand for weekday lunches. This is one of the most accessible healthy meal prep ideas and very filling.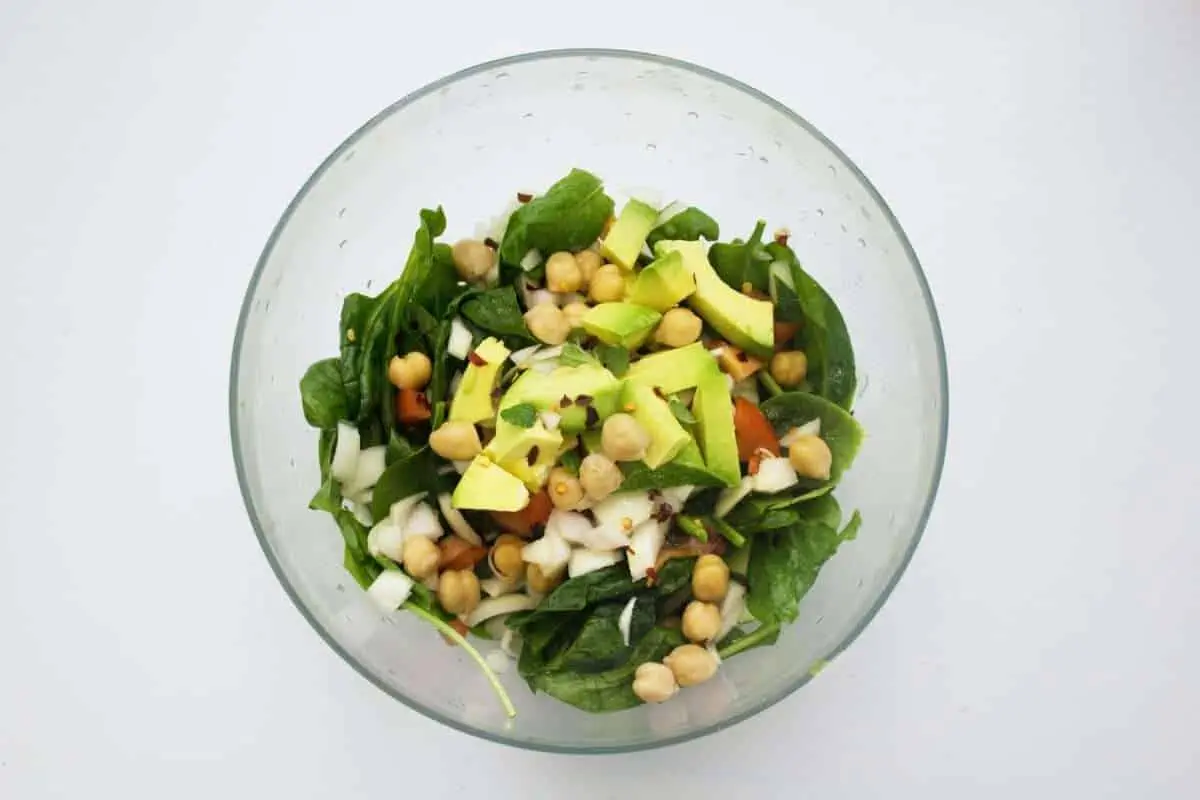 How to make Chickpea Salad Sandwich?
Ingredients
Chickpea Salad
1½ cups cooked chickpeas, drained and rinsed
2 tablespoons tahini
1 teaspoon Dijon mustard
½ garlic clove
1 teaspoon capers
1 green onion, chopped
2 tablespoons chopped cilantro
2 tablespoons fresh lemon juice
sea salt and freshly ground black pepper
For the sandwiches
handful of thin green beans, trimmed
1 soft baguette, sliced in half
8-10 Kalamata olives, sliced
thinly sliced red onion, rinsed and dried
vegan mayo (or regular mayo) for spreading
¼ English cucumber, thinly sliced
1 radish, thinly sliced
6 to 8 fresh basil leaves
sea salt and freshly ground black pepper
Method
Mix the chickpeas, tahini, Dijon mustard, garlic, capers, green onions, cilantro, lemon juice, and pinches of salt and pepper in a food processor. Blend until everything is incorporated, but don't purée it. Season to your liking.
Green beans should be blanched. Bring a small saucepan of salted water to a boil, and keep an ice bath handy. Cook the green beans for 112 minutes in boiling water, then cool in ice water to end the cooking process. Drain, pat dry, and slice into 1-inch pieces once cold.
Put together the sandwiches: Spread the chickpea salad on one half of the sandwich. Toss the chopped green beans with the olives and red onion pieces in the chickpea salad. On the other half of the baguette, spread a layer of mayo and top with the sliced cucumbers, radishes, and basil. Season to taste with salt and pepper. Combine the ingredients, slice, and enjoy!
9. Best Egg Salad
This egg salad dish will quickly be among your favorite healthy meal prep ideas for lunch. It's bright, acidic, and fresh due to lemon, mustard, and various herbs.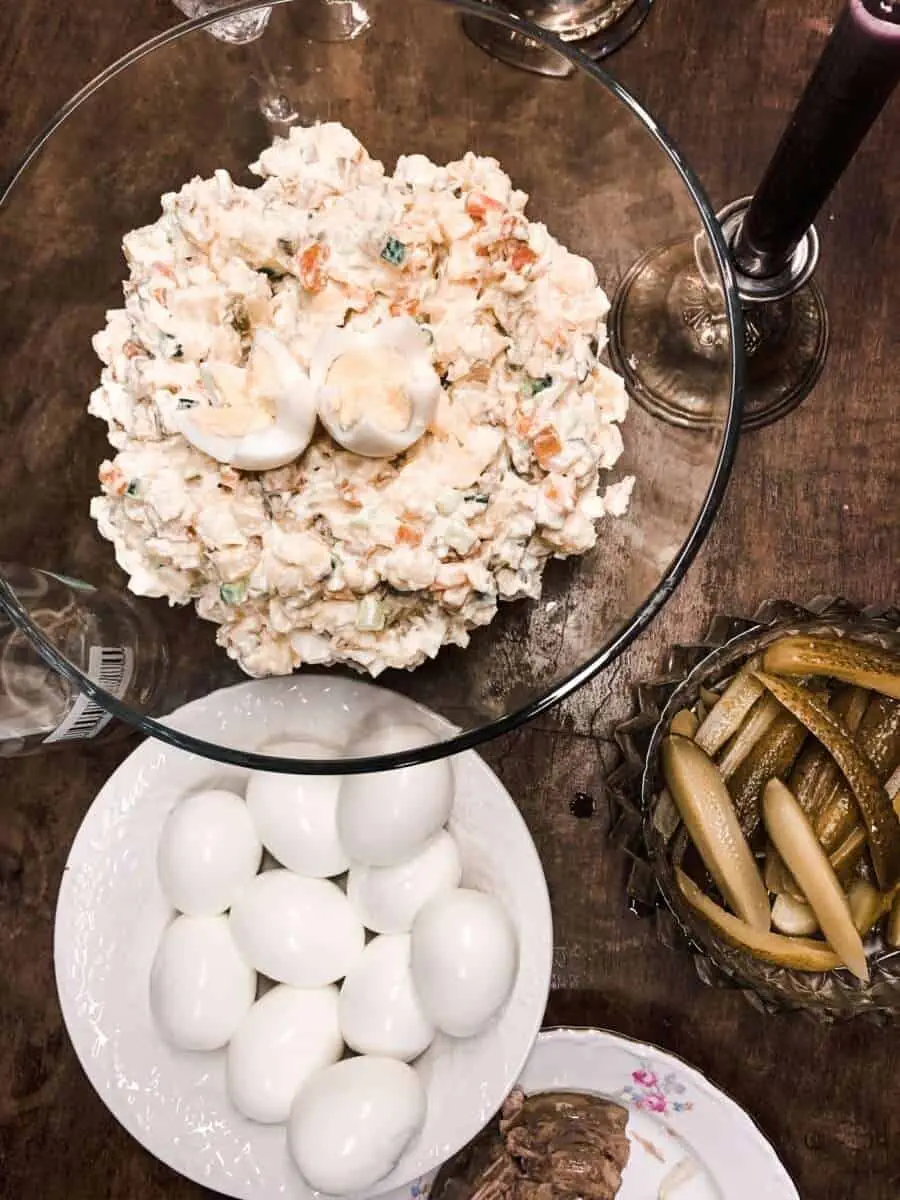 How to make Best Egg Salad?
Ingredients
¼ cup mayonnaise
1 teaspoon extra-virgin olive oil
2 teaspoons Dijon mustard
1 teaspoon capers
1 teaspoon fresh lemon juice
1 small garlic clove, minced
¼ teaspoon turmeric
¼ teaspoon sea salt
Freshly ground black pepper
6 hard-boiled eggs, diced
Pinches of celery seed
2 tablespoons chopped fresh dill
2 tablespoons chopped fresh chives
Method
Blend the mayonnaise, olive oil, mustard, capers, lemon juice, garlic, turmeric, salt, and a few grinds of black pepper in a small mixing bowl.
Mix the eggs, celery seed, dill, and chives in a separate bowl. If the mixture is too thick, gently mash it if required. Refrigerate until ready to serve.
Healthy meal prep ideas for Dinner
Soups and stews are excellent simple dinner health meal prep ideas. This is why: They're delicious for lunch or dinner. After the tastes have had a chance to combine, they usually taste better on the second or third day. They also freeze well.
10. Best Lentil Soup
The ultimate lentil soup recipe is here! Thanks to fire-roasted tomatoes, coconut milk, and curry spices, it's rich, nutritious, and very delicious. This amazing recipe is a complete meal. You can pair it with rice or naans for healthy meal prep ideas.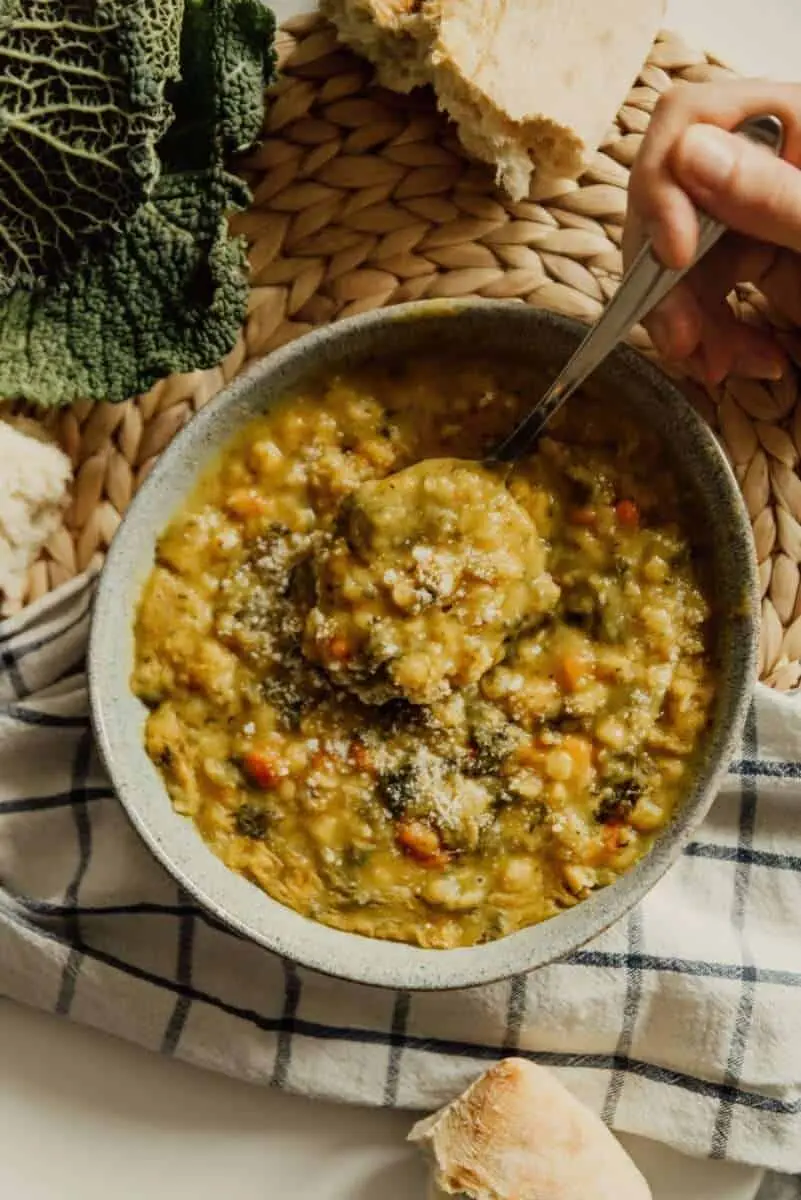 How to make the Best Lentil Soup?
Ingredients
2 tablespoons coconut oil
1 medium onion, chopped
4 garlic cloves, minced
3 tablespoons minced ginger
1 tablespoon mild curry powder
¼ teaspoon crushed red pepper flakes
1 (28-ounce) can of fire-roasted diced tomatoes
1 cup dried French green lentils, properly rinsed
2½ cups of water
1 (14-ounce) can of full-fat coconut milk
½ teaspoon sea salt, more to taste
Freshly ground black pepper
½ cup diced cilantro
2 tablespoons fresh lime juice
Method
In a big saucepan over medium heat, heat the oil. Cook, occasionally stirring, until the onion is tender and gently browned around the sides, about 8 to 10 minutes, decreasing the heat to low as required.
Cook, constantly stirring, until the garlic, ginger, curry powder, and red pepper flakes are fragrant, approximately 2 minutes on low heat.
Put half a teaspoon of salt, black pepper, tomatoes, lentils, water, and coconut milk. Bring to a boil, then lower to low heat and cook, stirring periodically, for 25 to 35 minutes, or until the lentils are cooked. If the soup is too thick, add 1/2 to 1 cup extra water until it reaches the required consistency.
Combine the cilantro and lime juice in a mixing bowl. Season with salt and pepper according to your taste, and serve.
Refrigerate leftover soup for up to four days. If it concentrates too much in the fridge, reheat it with a bit of water until it reaches the required consistency. This soup freezes wonderfully as well.
11. 10-Minute Chickpea Curry
This rich, creamy, and filling chickpea curry has a lot of flavors and comes together in about 10 minutes! Only a few items are required, and dinner will be ready in no time! It's also vegan, gluten-free, and dairy-free. This recipe is straightforward and is perfect for healthy meal prep ideas.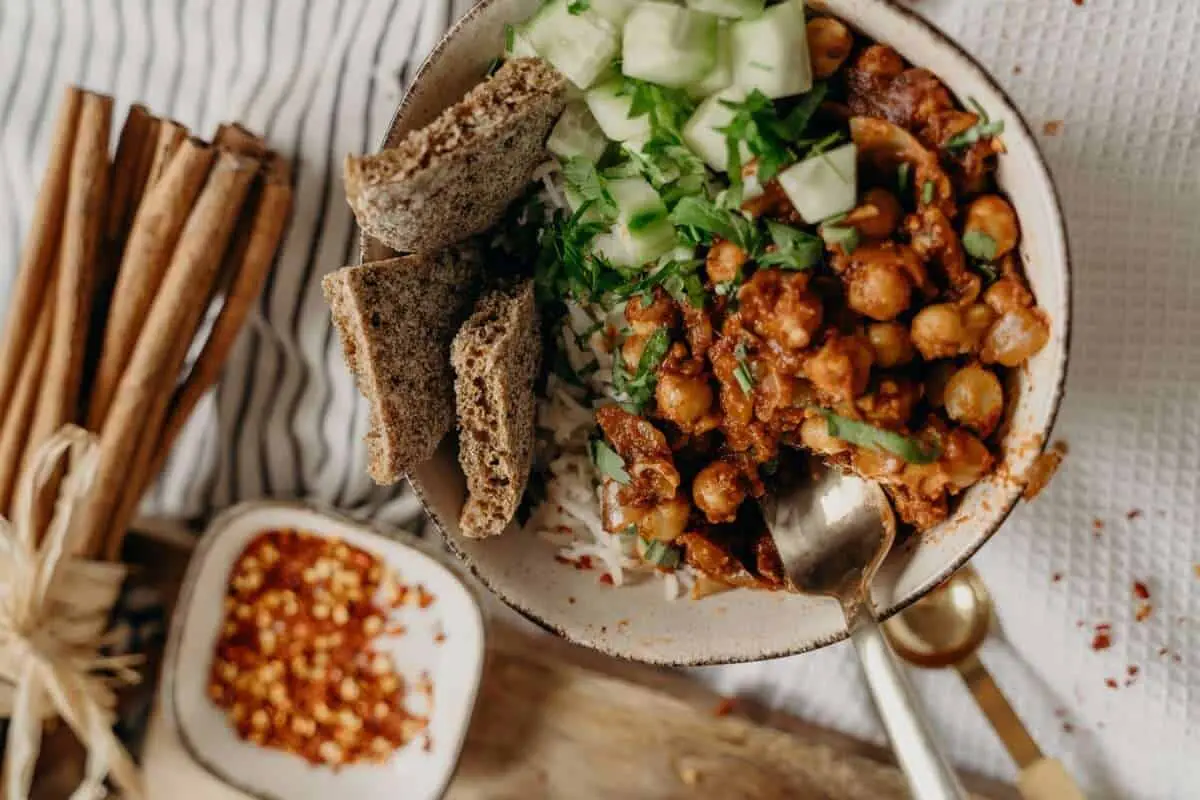 How to make 10 – Minute Chickpea Curry?
Ingredients
2 cans chickpeas, rinsed and drained
1 can coconut milk
2 teaspoon garam masala
2 teaspoon turmeric
1 teaspoon ginger powder
1/2 teaspoon chili flakes
1 medium-size onion, chopped
2 cloves of garlic, minced
1 tablespoon olive oil
10 oz fresh baby spinach, uncooked
salt
4 lemon wedges – (optional)
Fresh coriander – (optional)
Method
In a big pan, heat the oil. Reduce the heat to low and add the spices after the oil is hot.
Add the chopped onions and minced garlic after a few seconds.
Add the chickpeas and coconut milk until the onion and garlic are golden browns. Season with salt to taste.
Cook for 5 minutes before adding the fresh spinach and covering rinsed.
Cook the spinach for a few minutes till it becomes soft.
A squeeze of fresh lemon juice and some freshly chopped coriander can be added. However, it is not required.
Alongside basmati rice or naan bread, this dish is lovely. You can freeze this healthy chickpea curry for up to 3 to 4 months.
12. Spicy Chicken Meal Prep along with Rice And Beans
Spicy chicken meal prep with rice and beans, plus a delicious cilantro sauce = healthy meal prep for the week! Healthy, tasty, and appealing healthy meal prep idea!
How to make Spicy Chicken Meal Prep along with Rice And Beans?
Ingredients
1 cup long-grain white rice
1 cup of water
14 ounces of fresh salsa
1/2 teaspoon salt
1 teaspoon oil
about 1 lb. chicken breasts, cut into small pieces
Cumin, chili powder, garlic powder, and cayenne are the required spices.
For Adding In Later:
1 14-ounce canned black beans, adequately rinsed and drained
a handful of chopped fresh cilantro
Method
combine the rice, water, tomatoes, salt, and oil in a large saucepan. Stir everything together. Place the chicken pieces on top and season generously with salt and your chosen spices. Set the pressure cooker on high for 7-8 minutes. When you're finished, utilize the steam rapid release valve.
Take the chicken out. Combine the rice and black beans.
Using 4-6 meal prep containers, divide the rice and beans. Add a slice of chicken on the top of each. Garnish with chopped cilantro.
This dish is perfect for healthy meal prep ideas, and it is very nutritious and filling,
13. Whole Wheat Summer Pesto Pasta
This Whole Wheat Summer Pesto Pasta is the ideal one-pot dish for meal prep and batch cooking on hectic weeknights!
How to make Whole Wheat Summer Pesto Pasta?
Ingredients
1 lb chicken breasts, diced
1 lb whole wheat rotini
1/2 cup jarred pesto
1 zucchini
1 yellow squash or use 2 zucchini instead
4 plum tomatoes, diced
2 cloves garlic minced
1 red onion, diced
2 cups spinach, chopped
Method
Cook pasta in boiling water for 10 minutes or until al dente. Drain pasta and put aside 1/2 cup of the pasta water in a colander. Replace the pasta pot on the stovetop over medium-high heat.
Cook for 5 minutes until the chicken is browned in olive oil's remaining tbsp in the saucepan. Tomatoes, zucchini, yellow squash, red onion, and garlic should be included. Cook for 2 minutes, or until the vegetables have softened.
Return the pesto, pasta water, and pasta to the saucepan, tossing well to coat and cooking for 2 minutes. Remove from heat after adding the chopped spinach. Serve and have fun!
You may use whatever type of pasta noodle you choose, such as fusilli, penne, or macaroni. Pasta water should be set aside to thicken the sauce.
You may prepare your pesto sauce using basil leaves, olive oil, parmesan, garlic, salt, and pepper if you don't have any bottled pesto sauce.
Any leftovers can be kept in the fridge for 5 days. Microwave for 2 minutes after sprinkling little water on top.
Individual serving sizes may be frozen for up to 3 months and then reheated in the microwave for 6-7 minutes.
These recipes are straightforward to prepare, and they will form a healthy habit in your lifestyle. These healthy meal prep ideas are excellent and taste amazing. For more healthy meal prep ideas, you can visit this link 20 Amazing Breakfast Ideas for Kids.