As an affiliate-driven website, Icy Tales earns from qualifying purchases.
So, your first time in the capital and you are confused about all the places you want to visit with your friends or family?
One can't blame you, New Delhi is, after all, considered by many as the heart of India for a reason. It is a massive metropolitan area in the country's northern region, infamous for being the commercial and cultural hub of the country. It has great historical significance, which renders it a popular tourist destination.
New Delhi has a myriad of palaces and monuments of great cultural importance, not to forget all the Delhi parks, modern art galleries, architectural marvels and historical monuments, such as Mughal gardens, museums, tombs, temples, and the forts that one could visit in Delhi.
All of these add to the capital's charm, harbouring ancient history detailing back quite a few centuries. The list of tourist attractions and places to visit in New Delhi is endless.
A one-week trip might not be enough to explore this city's wonders, but for convenience's sake, we must boil it down to a shortlist of all the beautiful places to visit in Delhi. 
Most Beautiful Places to Visit in Delhi
Delhi is divided into eleven revenue districts. For convenience's sake, People in Delhi mostly refer to Delhi in terms of North and South Delhi.
1. INDIA GATE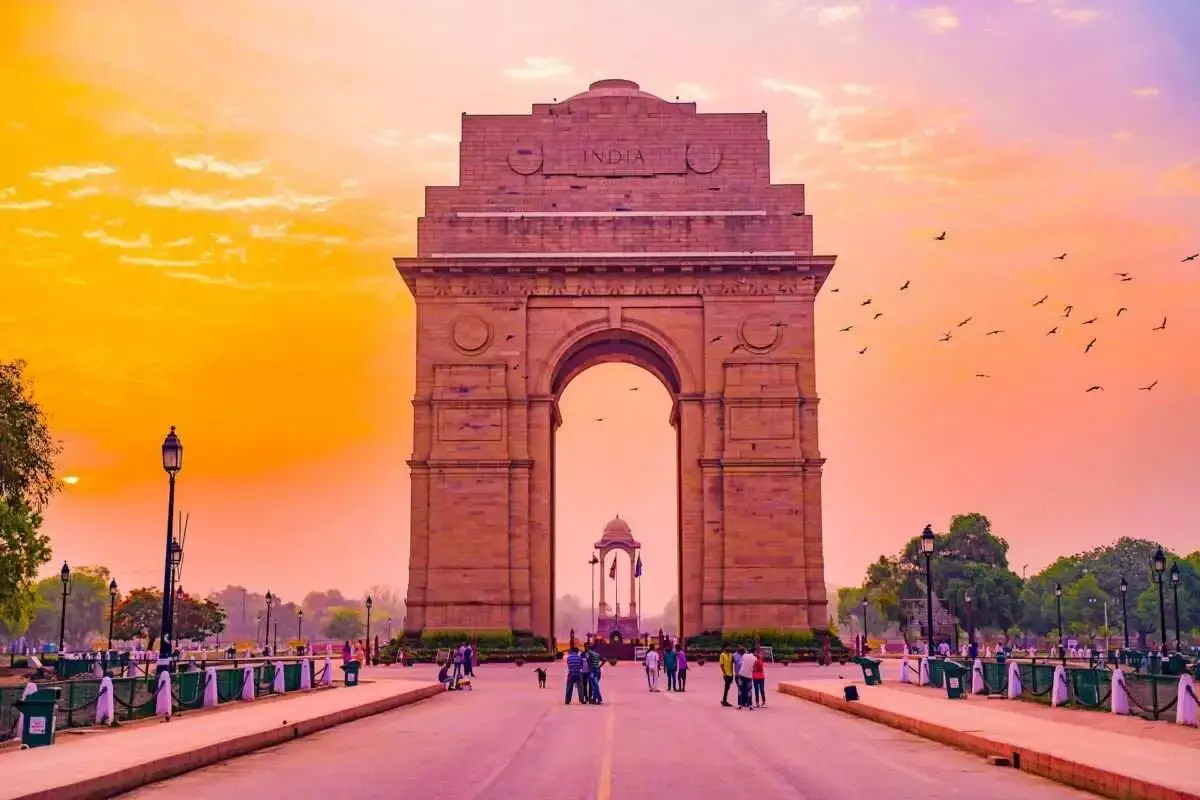 First of all, let's start with India Gate, the monument which defines New Delhi and serves as a major attraction for tourists all across the globe.
The India Gate (previously known as the All India War Memorial) is a war memorial located on the Rajpath, on the eastern side of New Delhi's "ceremonial axis,"
India Gate was built after the First World War to serve as the memorial for the 90,000 British Indian Army personnel who perished in the World War in France between 1914 and 1921.
On the 26th of January, a republic day parade, also known as the India Gate Parade, marches from the Rashtrapati Bhavan along the Rajpath to India Gate and Red Fort.
Today, the gate, illuminated every evening from 19:00 to 21:30, serves as one of New Delhi's most fascinating tourist places.
At a very close distance to India Gate is the Indira Gandhi Memorial Museum, the museum established to commemorate India's first and the only female Prime Minister, Indira Gandhi.
It is at a mere three-minute walking distance from the India Gate. If you happen to get an opportunity to visit India gate in Delhi, make sure you take some time out and visit the Indira Gandhi Memorial Museum.
The entry fee is not applicable for India Gate as it is free of cost.
Nearest metro station: Central secretariat metro station
2. RED FORT
Listed under UNESCO World Heritage Site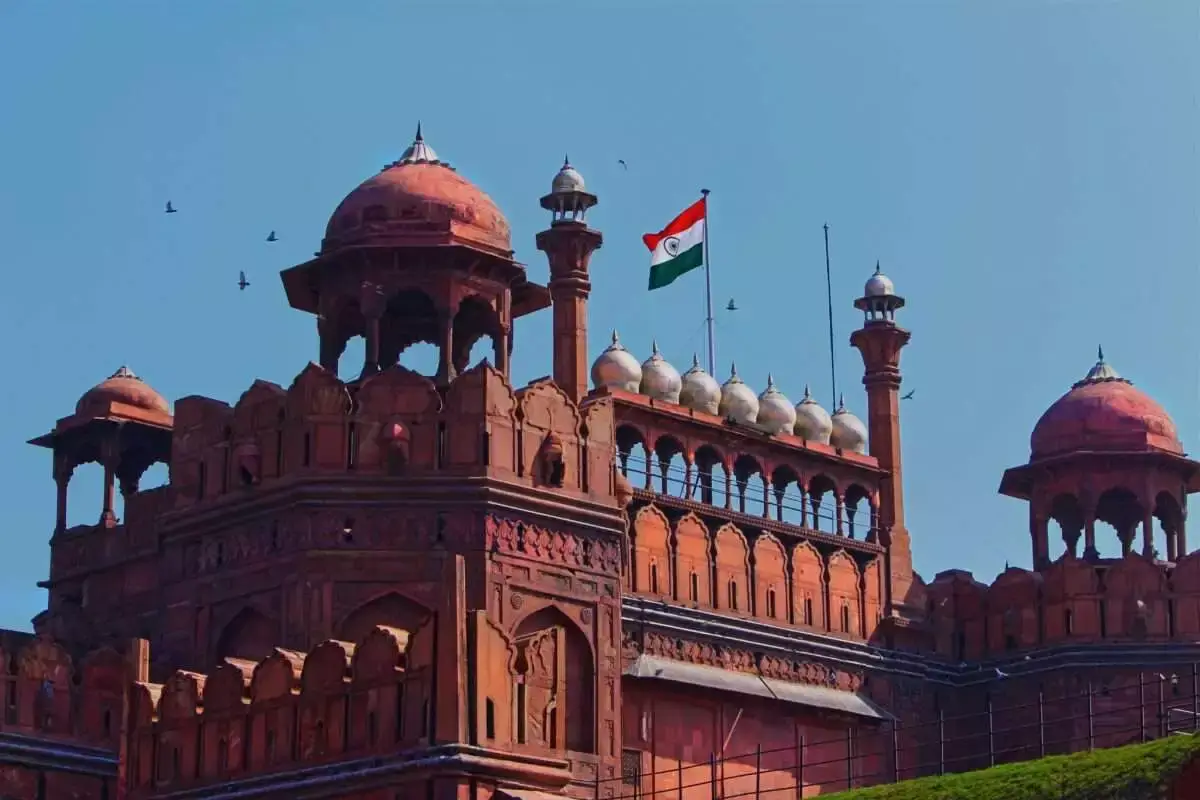 Red Fort is a marvellous structure built by Mughal Emperor Shah Jahan when he shifted his capital to Delhi in 1638. Red Fort is located in Old Delhi; built with red sandstone, this fort represents the zenith of Mughal architecture. It is one of the most popular tourist attractions and attracts thousands of visitors every year.
At present, the primary architectural components of the Red Fort are in varying states of repair; the enormous water features are dry. Some houses remain in relatively excellent shape, with their ornamental components unaltered; in others, vandalises have destroyed the marble inlaid flowers.
The tea house is a functional restaurant but not in its original state. The mosque and hammam Inside the Red Fort, or public baths, are not open to the public, although tourists can see in via the glass windows or marble latticework.
The walkways of the red fort are deteriorating; however, there are public restrooms at the park's entrance and within the park. The entry to Lahori Gate leads to a mall featuring jewellery and craft businesses.
Red Fort ticket price for Indians is Rs 35, and for foreigners, it is Rs 500.
Nearest metro station: Chandni Chowk metro station
3. JANTAR MANTAR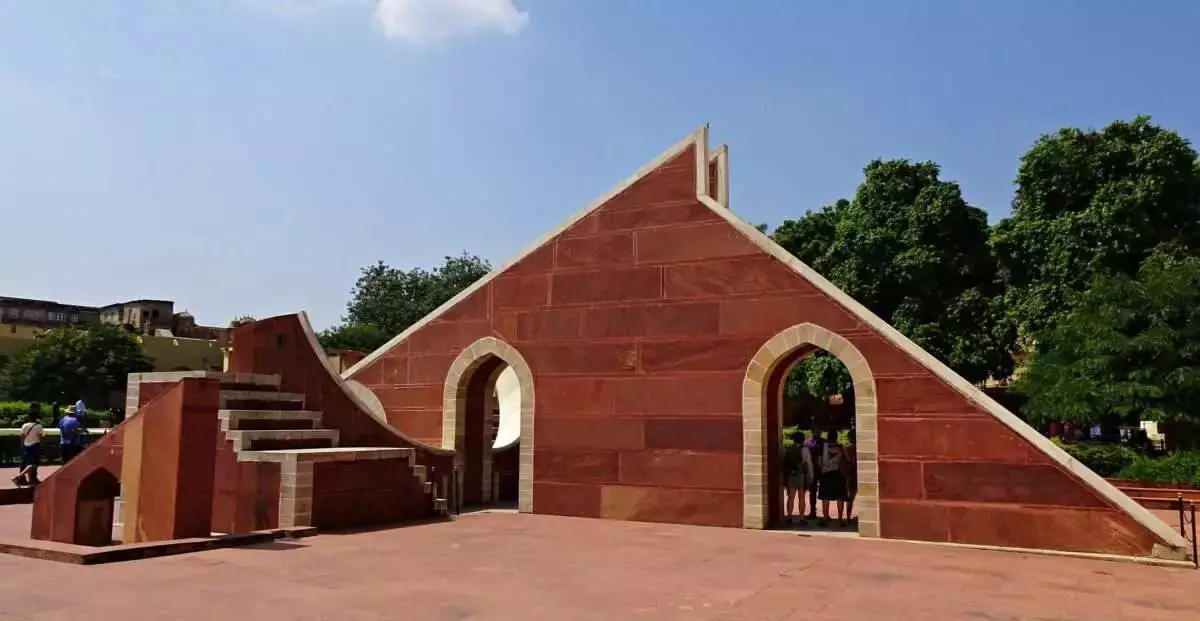 Jantar Mantra, located in the modern city of Delhi, consists of 13 architectural astronomy instruments constructed by Maharaja Jai Singh II of Jaipur in the early 18th century. The words 'Jantar 'and 'mantra' mean calculation instrument, and the literal sense of the combination of these two words is 'instrument to measure the harmony of the universe.
It is an assembly of stone-built astronomical instruments designed with the naked eye for the primary purpose of compiling astronomical tables and predicting the times and movements of the sun, moon, and planets. It has been speculated that Maharaja Jai Singh II was interested in astronomy.
In 1867, when India was under British rule, the observatory underwent considerable decay. After many years the Government of India finally came forward and took initiatives to restore the historical observatory and promote it as a tourist attraction in Delhi.
Entry Fee: 25 for Indian citizens and 300 for foreigners.
Nearest metro station: Patel Chowk metro station
4. QUTUB MINAR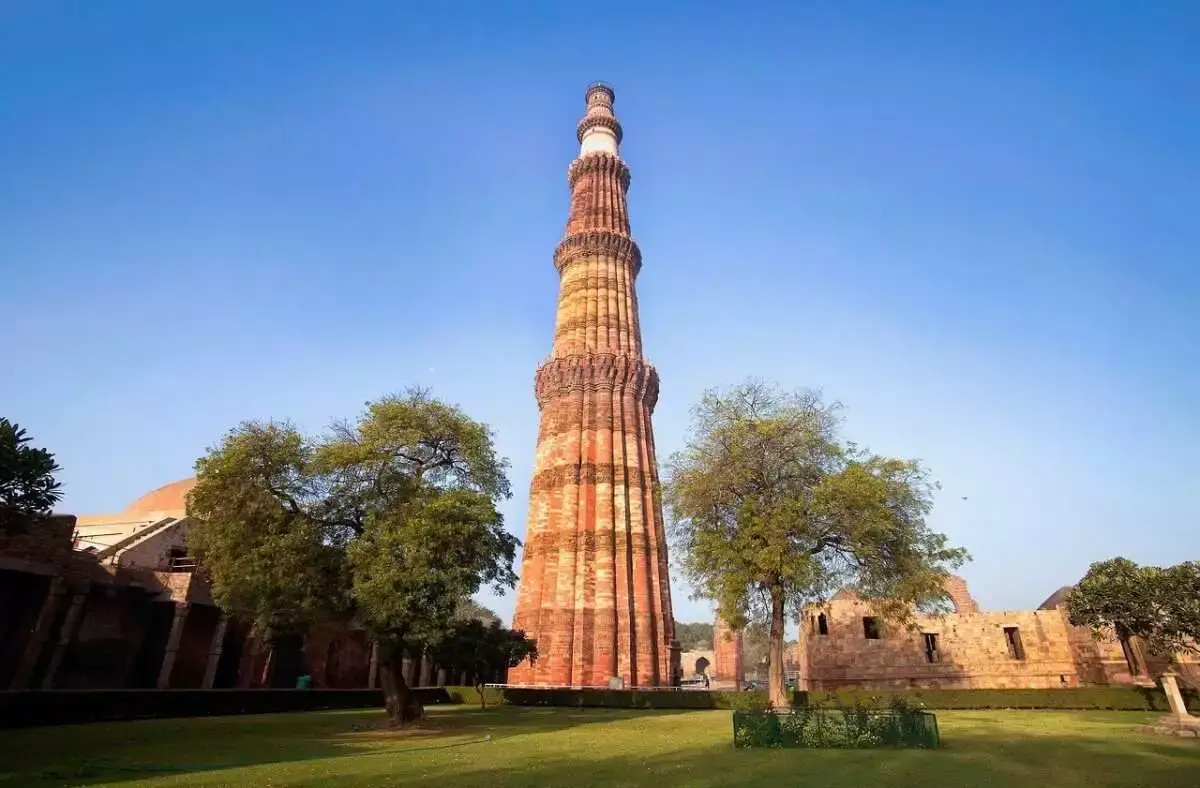 Listed under UNESCO world heritage site
The Qutub Minar, also known as the Qutb Minar or Qutab Minar, was constructed by Qutb-ud-din Aibak, the first ruler of the Delhi sultanate. It is a 72.5 m tall minaret and "victory tower" that is part of the Qutub complex, located on the walled city of Old Delhi, Lal Kot.
The minaret is decorated with inscriptions and beautiful geometrical patterns. It is a UNESCO World Heritage Site located in the Mehrauli neighbourhood of South Delhi, India. It is one of the city's most famous tourist places.
The normal fare is rs. 50.
Nearest metro station: Qutub Minar metro station
5. HUMAYUN'S TOMB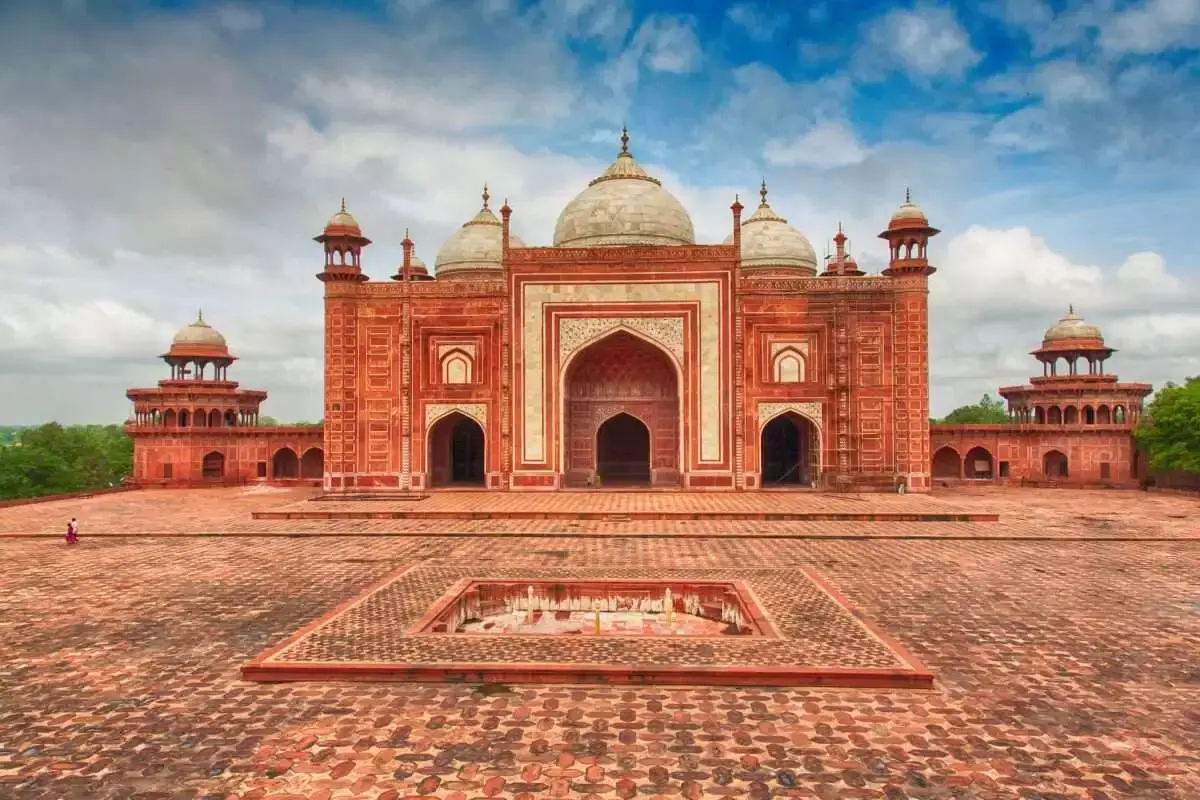 Listed under UNESCO World Heritage Site
Built by Humayun's wife Haji Begum in 1570 after his death, this magnificent tomb is another prime example of Mughal architecture. Humayun's tomb consists of the tombs of emperor Humayun, with the graves of Bega Begum, Dara Shiloh, and other important members of the Mughal dynasty.
It was the first garden tomb in the Indian Subcontinent. It is located in Old Delhi, India, close to the Din-Panah Citadel, also known as Purana Qila (Old Fort), founded by Humayun in 1533.
Humayun's tomb was declared a UNESCO World Heritage Site in 1993 and since then has undergone extensive restoration work.
This structure made of white marble and red sandstone exemplifies Mughal Architecture. Humayun's tomb is a delight to see and serves as a great tourist attraction in the city.
The normal fare for Humayun's tomb is Rs. 35 for Indian citizens and Rs. 550 for foreigners.
Nearest metro station: Jor bagh metro station
6. NATIONAL MUSEUM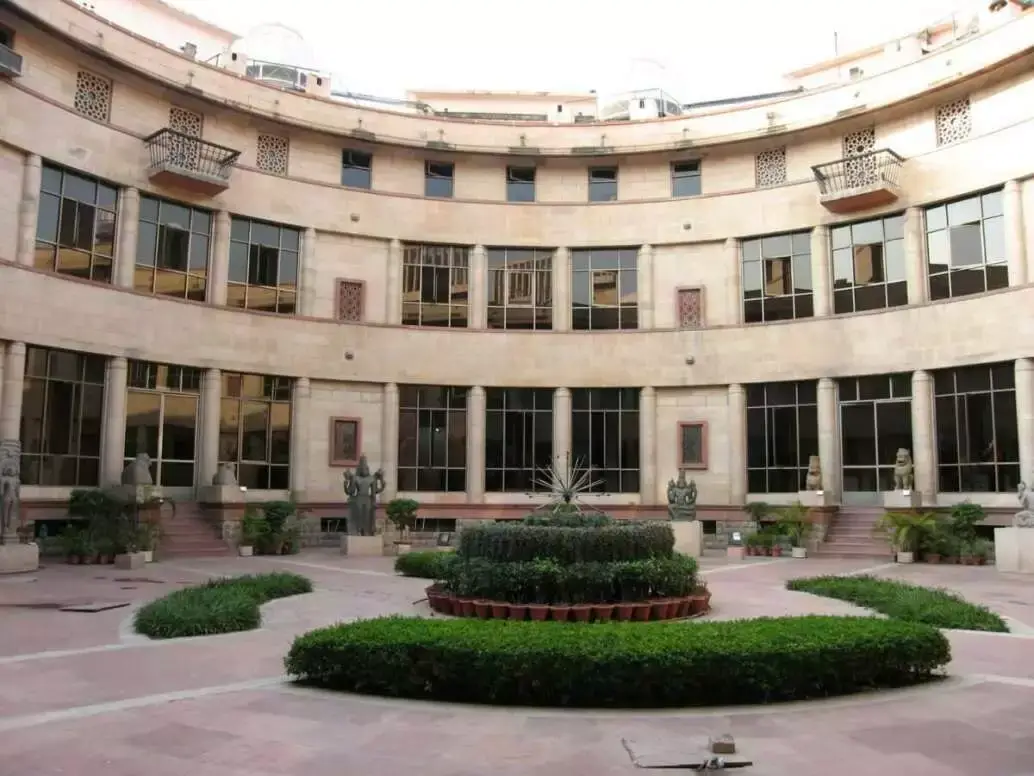 The National Museum of India is one of India's major museums. It was founded in 1949 and had many items spanning from prehistoric to current works of art. 
Janpath is where you'll find the museum. The Gwyer Committee, established by the Government of India in 1946, created the blueprint for the National Museum. The museum has about 200,000 works of art, most Indian, although others are of foreign origin, spanning over 5,000 years.
The collections of the Museum represent almost all disciplines of art: archaeology (sculptures in stone, bronze, and terracotta), arms, armour, decorative arts, jewellery, manuscripts, miniatures and Tanjore painting, textiles, numismatic, epigraphy, Central Asian antiquities, anthropology, Pre-Columbian American and Western Art Collections.
The museum holds over 200,000 exhibits, and currently displays 6-7% of its massive collection. 
The final expansion phase will allow it to display another three to four per cent of the treasures. The Museum of India is beautiful and allows us to glimpse into the various cultures throughout the country and is worth a visit.
The entry fee is Rs. 20 for Indian citizens and Rs. 350 for foreigners. Students up to standard 12th can enter free of charge with school identity cards.
Nearest metro station: Udyog Bhavan metro station
7. THE NATIONAL ZOOLOGICAL PARK
The National Zoological Park (formerly the New Delhi Zoo) is a 176-acre zoo located in New Delhi, India, in 1959. A 16th-century fortress, a large green island, and an eclectic variety of animals and birds are all in the heart of expanding metropolitan Delhi.
The zoo is home to over 1350 creatures from nearly 130 different animal and bird species throughout the world and is a good place to hang out when you visit Delhi. The zoo may be explored on foot or by renting a battery-powered car from the zoo.
Visitors are not permitted to carry food other than drinking water inside the zoo. However, there is a canteen on site.
Going to the right from the entrance brings visitors to the enclosures for animals, including chimpanzees, hippopotamus, spider monkey, African Wild Buffalo, Giraffe, Gir lion, and Zebras.
Going to the left, visitors will see animals, including migratory birds like peafowl and hyenas, macaques, and jaguars in the swamps designed for water birds. In the centre of the zoo is the underground reptile house. The Zoo is closed every Friday and during National Holidays.
The entry fee is Rs. 80.
Nearest metro station: Pragati maiden metro station
8. LOTUS TEMPLE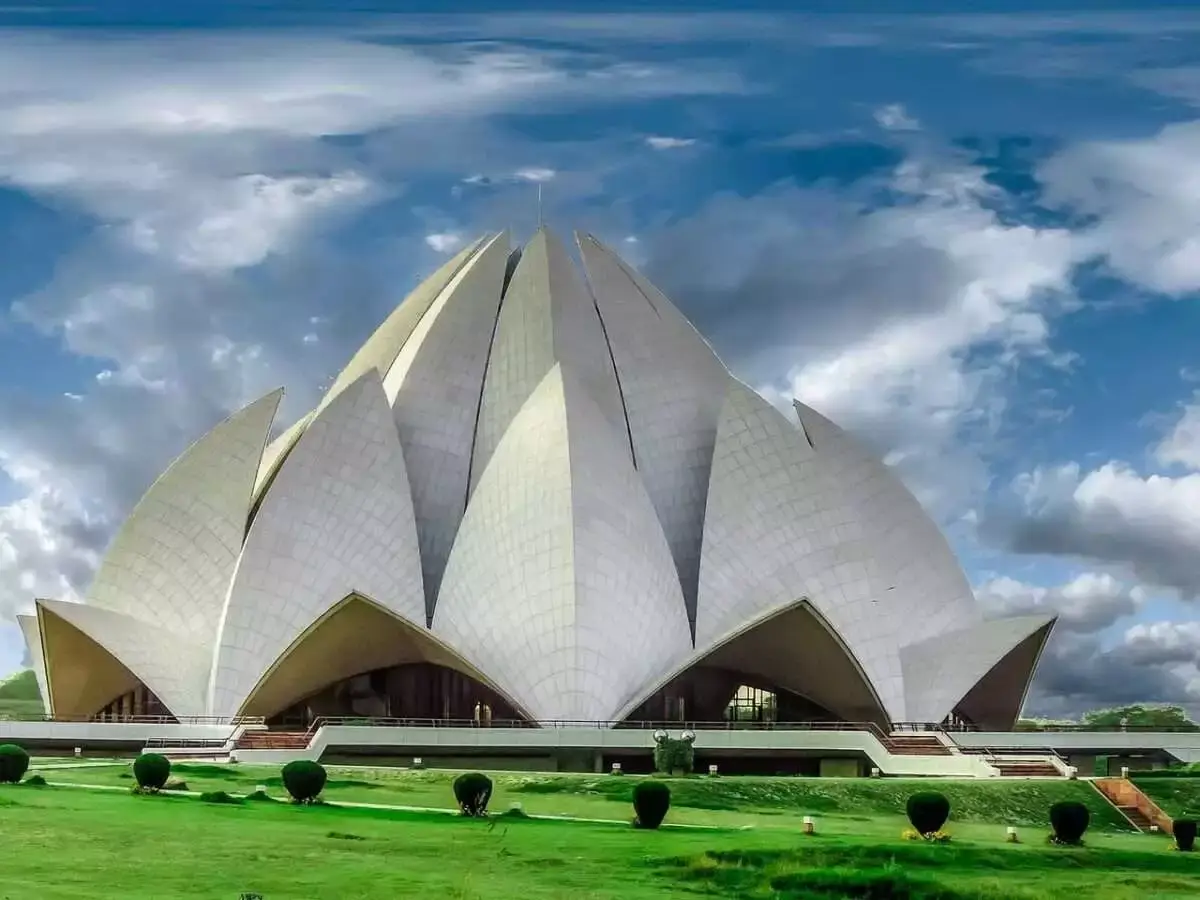 The Lotus Temple is a Bahá House of Worship in New Delhi, India, consecrated in December 1986. It has become a popular tourist attraction due to its flower-like design. The Lotus Temple, like other Houses of Worship, is open to anyone, regardless of religion or any other criteria.
The structure of the Lotus Temple is made up of 27 free-standing marble-clad "petals" grouped in three-pedal clusters to create nine sides, with nine doorways leading to a central hall with a height of little more than 34 meters and a capacity of 1,300 people.
Lotus Temple has received multiple architectural honours and has been the subject of numerous newspaper and magazine stories and makes a good place for you to go with your family while you visit Delhi.
The entry fee for Lotus Temple is not applicable.
Nearest metro station to the Lotus Temple: Kalkaji metro station
9. AKSHARDHAM TEMPLE
The term 'Akshardham' refers to God's divine habitation. Akshardham Temple is regarded as an eternal haven of devotion, purity, and calm. 
Its art and architecture reflect timeless Hindu spiritual themes, lively devotional traditions, and old architecture. Akshardham temple is a modest monument to Bhagwan Swaminarayan (1781-1830), one of Hinduism's avatars, devas, and great sages.
The structure was dedicated on November 6, 2005, with the blessings of HH Pramukh Swami Maharaj and the tireless labour of professional artisans and volunteers.
The entry fee For Akshardham Temple is Rs. 170 for Adults and Rs. 100 for children below 12.
Nearest metro station: The Akshardham temple metro station
10. CONNAUGHT PLACE
Connaught Place, also known as Rajiv Chowk, is a major financial, economic, and business district in New Delhi, Delhi, India. It is a significant retail, nightlife, and tourism attraction in South Delhi and the headquarters of some well-known Indian companies.
It was designed by Robert Tor Russell, a famous British architect associated with the development of the city of New Delhi.
Connaught Place hosts a wide range of cultural events such as the Urdu Heritage Festival, Awam ki Awaz and lots more. 
Nearest metro station: Rajiv chowk metro station
11. GURUDWARA BANGLA SAHIB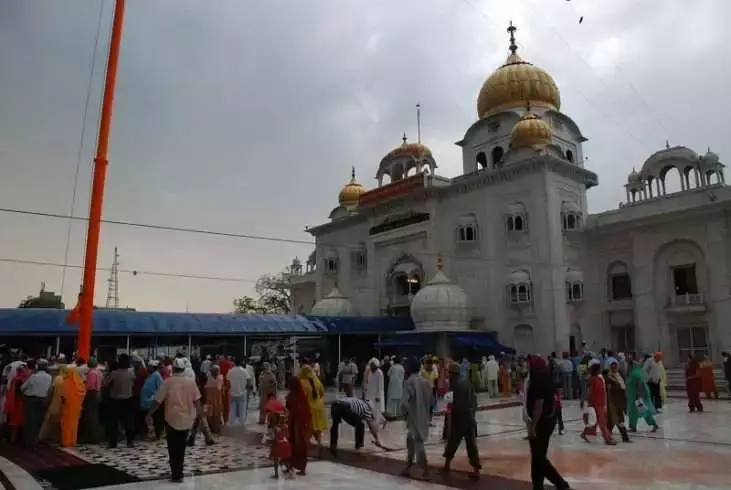 Gurudwara Bangla Sahib is a significant Sikh gurdwara, or Sikh temple of worship, in Delhi, India. It is noted for its affiliation with the eighth Sikh Guru, Guru Har Krishan, and the sacred pond inside its complex known as the "Sarovar."
It was founded in 1783 as a tiny shrine by Sikh General Sardar Baghel Singh on the villa granted by King Raja Jai Singh of Amer, who oversaw the construction of nine Sikh temples in Delhi that year under the reign of Mughal Emperor Shah Alam II.
Gurudwara Bangla Sahib is located on Baba Kharak Singh Marg near Connaught Place in New Delhi and is easily identified by its golden dome and towering flagpole, Nishan Sahib.
The entry fee for Gurudwara Bangla Sahib is not applicable.
Nearest metro station: Rajiv chowk metro station
12. CHANDNI CHOWK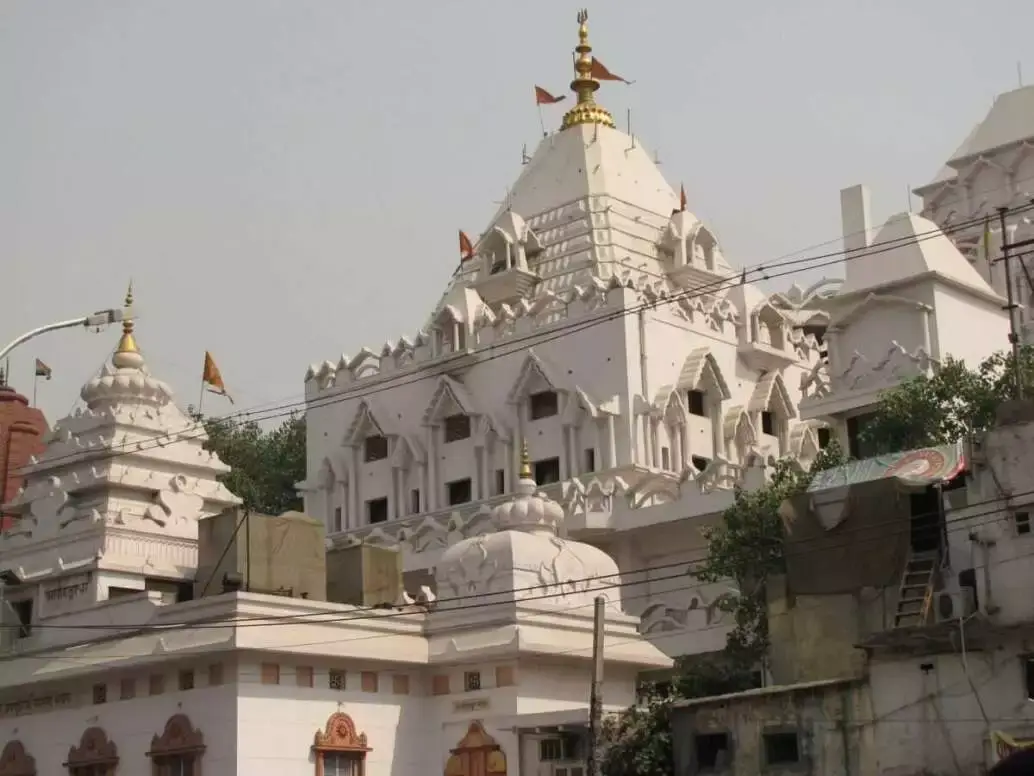 The Chandni Chowk, also known as Moonlight Square, is one of Old Delhi's oldest and biggest marketplaces. It is not far from the Old Delhi Railway Station. The Red Fort monument is placed on Chandni Chowk's eastern edge.
It was planned by the daughter of the Mughal Emperor Shah Jahan and erected in the 17th century by the Mughal Emperor of India Shah Jahan. The Chandni chowk market, originally split by canals (now closed) to reflect moonlight, is still one of India's largest wholesale marketplaces.
The original Chandni Chowk, a half-moon-shaped square, was located in front of the Municipal Townhall and its reflection used to shine in the moonlit water pool in front of it, hence the name "Chandni chowk."
The term Chandni Chowk originally referred only to the square located in Old Delhi. The whole straight road that runs through the middle of the walled city, from the Lahori Gate of Red Fort to Fatehpur Sikri, is Chandani Chowk.
Nearest metro station: Chandni Chowk metro station
13. RASHTRAPATI BHAVAN
Rashtrapati Bhavan, 'Presidential Palace'; formerly Viceroy's House and then Government House, is the official house of the President of India, located at the western end of Rajpath in New Delhi, India.
Rashtrapati Bhavan may refer to the 340-room main building that houses the president's official residence, including reception halls, guest rooms, and offices, also known as the mansion.
It may also refer to the entire 130-hectare (320-acre) Presidential Estate, including presidential gardens, large open spaces, residences for bodyguards and staff, stables, other offices, and utilities within its perimeter walls. It is the world's largest house for a head of state in terms of area.
The Rashtrapati Bhavan Museum Complex consists of a world-class Museum in a high-tech story-telling format, with contextual stories woven around original collections; the uniqueness of this museum lies in its concept of an event-based history museum in contrast with traditional object-based museums in the country.
The Mughal Gardens are situated at the back of the Rashtrapati Bhavan, incorporate both Mughal and English Landscaping styles and feature a great variety of flowers. The Rashtrapati Bhavan gardens (Mughal Gardens) are open to the public in February every year.
The entry fee is Rs. 50
Nearest metro station: Central Secretariat metro station
14. LODI GARDENS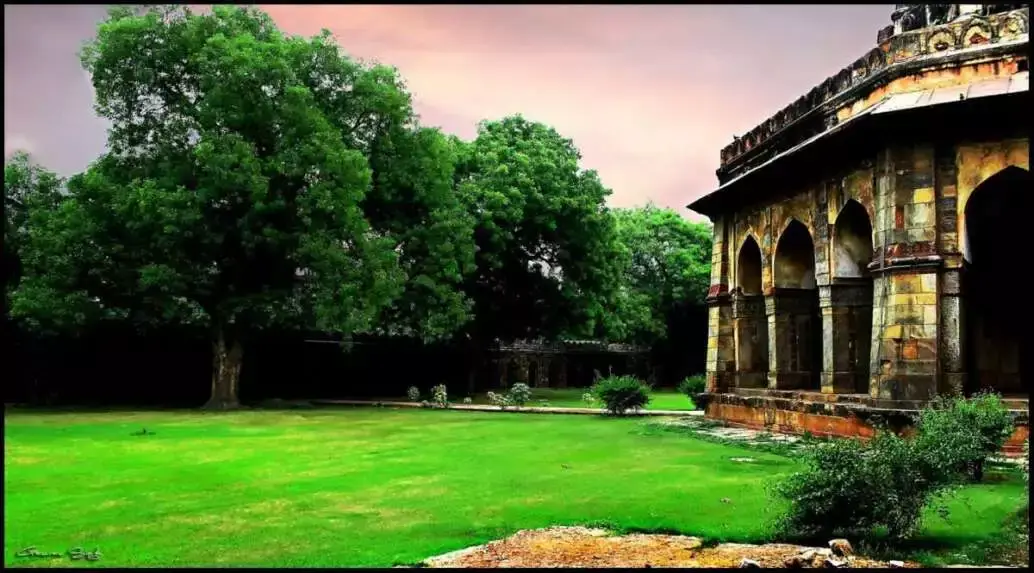 Lodhi Gardens is a city park situated in South Delhi. Spread over 90 acres (360,000 m2), it contains Mohammad Shah's Tomb, Tomb of Sikander Lodi, Shisha, and Bara Gumbad, architectural works of the 15th century by Lodis. They ruled parts of Northern India and the Punjab province of modern-day Pakistan from 1451 to 1526. The Archaeological Survey of India now protects the site.
As there is little architecture dating to the Sayyid and the Lodi periods still standing, Lodhi Gardens is an important archaeological site to go to when you visit Delhi. 
It is a good example of a combination of the Hindu and Islamic styles of architecture and is major attraction for locals and tourists alike.
Lodhi Gardens is famous for exercise and walking enthusiasts. The gardens are situated between Khan Market Lodi Road and are a popular spot for morning walks for people living in this area of South Delhi.
The entry fee is not applicable.
Nearest metro station: Jor bagh metro station
While Visiting Delhi, you should get a map of the Delhi Metro as it would certainly assist in your travels.
Apart from the above-mentioned historical monuments and heritage spots such as the Red Fort, Humayun's tomb, Akshardham temple and India Gate, one can also visit other famous tourist places in Delhi such as the Chhatarpur temple, ISKCON temple, Jama Masjid, Sacred heart Cathedral Church and many more.
Other tourist attractions include, The National Modern Art Gallery, The Indian Habitat Centre, Okhla bird sanctuary, Mehrauli archaeological park, Deer Park in Hauz Khas South Delhi, Garden of five senses and Mughal Gardens are ideal places to visit in Delhi for a nature enthusiast.
There is also the National Rail Museum you could check out when you visit Delhi. The National Rail Museum has a fascinating and exotic collection of over 100 real size exhibits of Indian Railways.
A strange place to go while you visit Delhi would be the Sulabh International Museum, run by the Sulabh International, dedicated to the global history of sanitation and toilets. According to Time magazine, the museum is one of the weirdest museums among the "10 museums worldwide that are anything but mundane."
There are also many cafes and bars like the Blue bar, Club Pangea, Kunzum Travel cafe, and more for you to enjoy with your friends and Markets such as the Sarojini Nagar market, Delhi Haat, Karol Bagh market, Khan Market, Lajpat Nagar central market, Palika Bazar and Janpath Market would be perfect for fulfilling your shopping needs.
New Delhi is a place for foodies, explorers, and every one of you out there. So, enjoy!