With the world increasing its pace with each passing day, the digital media world is also increasing.
We've come from paperback books to eBooks, from theatre plays to movies, from movie theatres to OTT platforms on our devices, from in-store shopping to online shopping, from living in caves to having high rise buildings, from music videos to just music, and also, from videos to podcasts.
The podcasts industry is on the rise for the last few years, especially after either famous people started podcasting or people became famous after podcasting.
Platforms like Spotify (available on Google Play, App Store, Microsoft Store), Apple Podcasts (available on macOS and iOS devices), Google Podcasts help you listen to and upload your very own podcast episodes. And in most cases, for free!
Tips on Getting Started with Apple Podcasts
So the podcasting game is quite easy to start because podcasts don't need you to devote a major chunk of your day to them. A podcast can be shot in your free time, edited (if needed), and uploaded to platforms like Apple Podcasts and others. The number one step is to have good, engaging podcast ideas.
Struggling with finding a good podcast topic? Worry not, we got your back.
Best Podcast Topics and Podcast Ideas for Beginners
Podcast Topic 1
Instagram stories = Podcasts?
Alexander Shatov/ Unsplash
If you have a pretty decent social media following, and you feel that your audience is quite productive, do a "QnA" session on your social media, handpick the best questions you feel are worth sharing and make them into a podcast. This will be a good plan to start with.
When your podcast audience starts growing, direct them towards your social media, and keep growing your social media too.
Use that social media following to do more such episodes and slowly make it regular.
But keep in mind not to make this practice a daily habit. Do this at good, healthy intervals, and you'll roll on smooth.
Podcast Topic 2
Make your Friends your Content
If possible, call your good ol' friends over, and become a podcast host. Talk over different interesting topics, and put the conversation up as a podcast. Not only will it be fun to put up your conversations, but it will also give multiple perspectives towards the same topic, as everyone has a  different view of the world.
Always remember to choose a broad topic when you have multiple people in your podcast. Don't let the podcast be narrow, where only some have the window to speak.
If you feel the talk ran quite long, break it into two or more episodes, and Lo! You have multiple episodes from one shoot.
Podcast Topic 3
Speak your Heart Out
One of THE best podcast topics for anyone who's starting off.
Talk about things you enjoy talking about.  Talk about gaming, aliens, history, your favorite TV show, sporting events, or any of such topics which you feel will keep your audience glued to your podcast episode, as well as you have interest in
This idea can come in handy when you have no guests on your show but still want to upload more episodes than none.
If you are comfortable with it, then share deeper things about your life like your life responsibilities, your guilty pleasure(s), and so on. This type of engaging content will make the audience feel more connected to you. And in the process, you will be your loyal listeners.
Also, if you have some problem and are comfortable sharing it via podcast, you might attract some people with solutions to your problem(s). So it becomes a win-win situation.
Always remember that the topics you chose for solo podcasts should have your genuine interest in them.
Podcast Topic 4
Be a Travel Guide via Podcast
If you are a constant traveler, use those beautiful trips you had for your podcast.
Share your experiences of trips to various places. Funny incidents, sad incidents, shocking incidents – anything and everything is welcome.
Even if you are not a constant traveler but have a knack for traveling and always surfing the internet for places to travel to, I'm sure you might have some tips, tricks, and ideas related to traveling up to your sleeve. And there you go, you just got some podcast topics!
It'll be better if you start with places within the country your audience is from. If a major part of your audience is from India, do quite a few podcasts on the best places to travel in India, and then start going outwards. It would be best if you connected with the local audience.
Podcast Topic 5
Bring in Local Guests
Find any prominent figure in your locality who has done pretty well in their field of work. An attempt to interview people will be a good idea. They'll have interesting stories to tell you, and you get to know about their experiences, also tell the world about them. Learning from experienced people gives you a fresh perspective too.
If you plan to have a target audience in kind, right from the start, then bringing in guests related to the genre will be a better idea. But if not, it's okay. Build your target audience. Bring in variations till you find what your audience likes.
 Podcast Topic 6
Your Life = Podcast
This is one great podcast idea (what I personally feel) for someone who's just stepping into the podcast game. Share your life's experiences, share various incidents of your life, share sweet dreams and nightmares which are still stuck in your mind. This was how most podcasters started out and now are masters of the game. Doing so will help you create content easily and quickly. If not many, then at least one episode is sure to come out of this.
(It's okay if you are not comfortable sharing things about your life. Have a look at the rest of the podcast topics. )
Podcast Topic 7
Become a Teacher via Podcast
If you feel you are good at a topic and teach it just via audio, step into the podcast game as a new-gen teacher!! Use the digital media field to spread your knowledge. Being an online teacher will also make it easier for you to form your marketing strategy.
Teaching will give you podcast content that will be of a lot of value to your audience. And what is valuable attracts customers.
Podcast Topic 8
Use your Contacts
Remember that if you plan on keeping this practice up, use your guests to invite more famous people with each proceeding podcast. If by any chance you have any contact with a well-known figure, bring them in and have a lively conversation. Interview CEOs, actors, short film directors, tech firms experts, and others on your podcast. Each is sure to give you a different perspective towards the world.
With different guests, you will have different podcast topics. For example, a fitness coach will give you a fitness podcast, someone who's lived in the wild for long will give you some crazy stories from the wild, and so on. That helps you maintain different flavors per podcast.
Podcast Topic 9
Take the BOLD Step.
If you are super determined to make your voice heard and have the apt courage to do so, politics will never fall short of giving you various podcast topics. Talk about the government's laws, praise them when good, suggest changes in them when not. Voice out critical questions to whomsoever you feel to.
But remember, while doing this, you NEED to have an unbiased outlook; only then can you question the government and its moves when needed. Your audience should feel that you are genuine in what speaks in the podcast. Don't do a political podcast only to spread your propaganda (if any). Ask questions when needed, praise the same government when needed.
Podcast Topic 10
History of the Past = Podcast of the Present
If you are someone with an immense interest in history, that side of yours can give you podcast topics for more than one podcast. First, begin with something as simple as narrating stories from The Mahabharata, The Ramayana, and others in your podcast. Find interesting stories from the pages of history and spread the word.
Try to create your podcasts in a way that attracts the younger generations, make them your potential listeners. Use the podcast arena to make people aware of our history.
Podcast Topic 11
Reactions not Just on YouTube, but via Podcasts too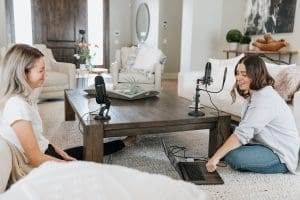 Do you feel that you can react to something and make it enjoyable with bare audio? Please do it!
React to something you like, or feel will attract the audience and upload it as a podcast.
The media you would be reacting to should preferably be audio-based so that your audience won't feel that they're missing out on anything.
Podcast Topic 12
Channel your Zeal via Podcast
Do you have the energy inside you to energize others? Start doing motivational podcasts. Tell your audience stories and incidents which made you stronger and can make them too.
Doing motivational podcasts is a good podcast idea only if you feel that you have achieved a good chunk of what you wanted in your life. When your audience sees that you live by your words and not merely speaking, they are more inclined to be inspired by you. And more belief equals more listeners.
Podcast Topic 13
Make People Financially Literate
Making people financially literate is a good podcast topic. Many people have money but don't know how to manage it, and they need tips for that. Be their mentor. This is one of those podcast topics which not only help you with content but the whole country because the more financially literate people are, the more they will contribute.
So if you feel that you have enough financial literacy to give people the basic education regarding finance, then do so. There aren't many people who do financial teaching via podcasts, so step in quickly and make a mark!
But always remember, before advising people on buying something like stocks, be 100% sure yourself about it. If you are not, then give a disclaimer beforehand, or choose not to do it.
Podcast Topic 14
Become the Voice for the Unheard
Many incidents are not given light by the mainstream media, either due to media houses' political inclination or because they didn't know of it. One good podcast topic idea is to bring up the latest news, small-town news via your voice. This will also act more or less like a news podcast.
The incidents might sometimes be good, sometimes bad. But if you feel that it deserves your voice, don't shy away from making a podcast on it.
Remember, when you talk about such incidents, use bare, raw facts to support your statements. Talk unbiased, talk facts.
Podcast Topic 15
Be a Part of the Solution
There are many problems which a lot of people would talk about. You can be one of those who talk about solutions. . If you feel something is a matter of grave concern and a solution isn't being found, use the podcast field to provide a solution.
Your solution may or may not be implemented, but the fact remains that you did your part in coming up with a solution.
While doing something like this, always be open to healthy debates, as someone might have a more effective solution than you. And when you bring up solutions for a common problem, you aren't doing it for you, and you are doing it for all those affected.
Podcast Topic 16
Audio Blogging, the (Probably) Upcoming Trend
While visiting places, take some time to record, and explain what you see. We've seen many Video blogs on traveling, but how many of us have seen audio blogging explaining a trip?
But always be 100% sure that you can pull off the explanation without your audience feeling the lack of visuals. Be super-expressive and super detailed, and this might soon be your go-to topic out of the many podcast topics.
The Top 11 Podcast Ideas You Can Try Out
1. Preparation First
If you are about to start your first public podcast, it's better to do a preparation podcast to see how the final product comes out.
Once you feel that you are following a particular vibe/mood, stick to it by using similar (in terms of mood) podcast topics. Still, if you feel like you can smoothly transition amongst episodes, then so be it.
Make the title of your podcast your podcast's identity. The title should inform the listener what he should expect. Like if you have some funny story in store, give funny headlines to the episode. But make sure you have content-relevant headlines. Don't clickbait your potential listeners.
The digital product deserves Digital Marketing-
Your digital product (podcast) deserves digital marketing. Use your Instagram, Koo, Twitter, Facebook, and everything to get more audience. Your podcast is in your shop, and e-commerce marketing will give you customers plenty.
2. A Niche Topic Makes you Stand Out
Try to have different and specific podcast topics. The podcast industry is on a rapid rise, many people are stepping into the field, and you need to stand apart.
3.Stream your Podcast Live
If possible, stream your episode as a live event, as live events tend to make your audience enjoy the episode more, with all the live chats and you interact with the audience directly.
4. Give Importance to your Guest(s)
When having guests, especially those you called because of their field of work, remember to keep your subject matter is closely related to your guest's field as possible. (Unless your guest brings in some other topic)
For example, avoid talking about politics with a person who is from the field of fitness.
5.Start Soon, Conquer Soon with Podcast Ideas
The most important thing of all these is to take that step of starting your podcasting journey. There's hardly a reason to be shy in today's world, the world which has become smaller thanks to the internet. So throw away your fear and start rolling. And now that your dilemma of looking for podcast topics has ended, you shall be good to go.
6. Maintain Good Audio Quality
This is what sets podcasts apart from other digital media. Along with your content, your audio quality also needs to be top-notch because a podcast only has audio to make an impact, so work hard to maintain good audio quality.
7. Audience = Critics
Always pay heed to how your audience reacts to the podcast. Accept their suggestions/ criticism and improve on those points. Even if no one in your audience has done a podcast, their feedback is still important, as they are at the receiving end of your podcast.
But always remember to keep negativity afar. Accept constructive criticism, but not hate comments.
8. Know What you Speak
Don't do podcasts just for the sake of doing so. Do it only if you have 100% confidence in yourself and your podcast topics.
Remember, you want people to hear your podcast while at the gym, while going to work, while cooking, while chilling, and many other times. So make your podcast worth their time. And that you can do by using the given podcast topics.
9.Play to your Strength (s)
The podcast industry isn't a place where you have the window to turn your minuses into pluses. Please start with your pluses and keep sharpening them till you become proficient.
This advice especially comes in handy when you are doing solo podcasts. While having guests, learn about the topic from them because there is a reason why your guest is a known figure in the field.
How do You Decide a Podcast Topic?
Listen to aspiring podcasters, who are doing pretty well in the scene, listen to other podcasters who have already established their empire in the podcast world, listen to some of the top podcasts of all time, and take out podcasting tips you can find from them. Tips on how to interview people, tips on how to increase your audio quality, tips on how to engage with the audience, and so on.
The most important of them all is first at least to start a podcast. Start a podcast and build the momentum on moving forward because, till the time you start, nothing will happen. Start it as a one-person show, take help from the give podcast topics, and you might soon be able to interview guests you dreamt of.
Remember, good podcast ideas don't always give you good podcasts, but your efforts do.
It doesn't matter if you have a podcast stand or not, doesn't matter if you interview people who are super famous or not, doesn't matter if your style of presentation matches other podcasts' or not; the only thing that matters is your podcast topic, and your efforts.
So keep these things in mind, and you might just be the next alpha of the podcast industry.
Over to you
And with that, we come to an end.
I'm sure you would also have a few ideas in mind too, so why not comment on them under this post because we are always up for new ideas, and also, your ideas might help out some upcoming podcasters.